Weddings are not simply just a day for two people to unite in matrimony. Wedding days are made special because it also unites two different families and bond two souls in one. Most importantly, a wedding is usually held in the presence of all the loved ones and close friends of the bride and groom which they choose to spend one of the best days of their lives with.
Being invited to a wedding is surely a great experience and an exhilarating one. You will feel honored that the couple wishes to have you as one of the witnesses of their union and fantastic love story. However, no matter how nice the invitation can be, you still find yourself at a lost as to what kind of gift will you give the newlyweds. It is already hard to think of a gift to give to one person alone in special occasions such as birthdays and Christmases. So it is definitely double the headache when you think about giving something, not to one but to two people, during a wedding day. You have to think of what the groom likes, then what the bride likes. And if they also have clashing likes and dislikes, it made shopping for a wedding gift a bit harder too.
Worry, do not. We have made a fantastic list of the things that you can buy for a newlywed couple. Remember, you do not buy for one person alone but for two people already. Hence, you do not have to worry about each of their personal preferences considering that unity in marriage also means they must share whatever it is that is intended for them as couples.
From inexpensive pillowcases to unique candelabras, this is the list of the Top 50 wedding gifts ideas that will surely rock the newlywed couple in awe when they open that gift box of yours.
1. Pioneer Collage Frame Embossed "Wedding" Sewn Leatherette Cover Photo Album ($17.39).
Photo albums are made to protect important and well-cherished memories. Giving a photo album as a gift to a newlywed couple symbolizes that you want them to remember those happy memories that they have shared together on that special day. Memories are way too important to take for granted, thus, saving these memories inside a wedding album is a great way to preserve it. They can also take any journey down memory lane whenever they want to together.
2. Spring KING QUEEN 09 Lovers Hoodies Couple Sweatshirt Pullover ($9.38-$16.98).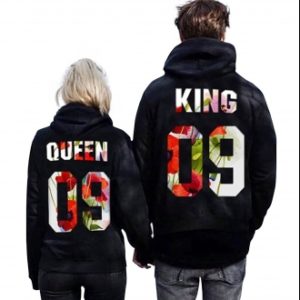 Well, couple shirts are always a clean bet to give to a couple. This couple hoodies with the Queen and King title printed at the back is a cool gift for the bride and groom. The day of the wedding marks that the King ultimately found his Queen, and that the Queen finally gave her heart to the King.
3. Sleepwish One Pair MR and MRS Pillowcases Personalised Pillow Cases for Him or Her ($8.90).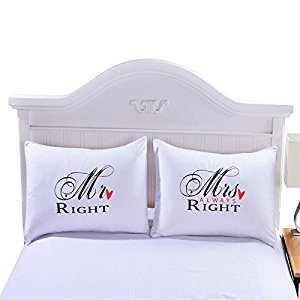 This couple pillowcase looks so good on their matrimony bed. Whenever they see it, they will always be reminded of their union as husband and wife even, and especially, after a tiring day at work or simply in just running errands. The Mr and Mrs pillowcases will compliment whatever the design of their bed is and the color of their room considering that the letters are printed in black and red on a white pillowcase. Certainly chic!
4. Lillian Rose Mr and Mrs Passport Covers, 4 inch by 5.5 inch ($12.95).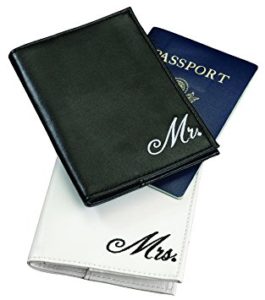 This is a gift for the couple who loves to travel. Surely, a traveler couple needs to always have their passports handy and well-protected. Hence, this passport covers will already do the trick. And this can come in handy too when they are about to take their honeymoon – right after their marriage – somewhere out the country. This is an excellent gift to start the beginning of a happily ever after for your traveler buds.
5. Kitsch n Charm Mr and Mrs Aprons with Mustache and Red Rhinestone Lips ($9.99).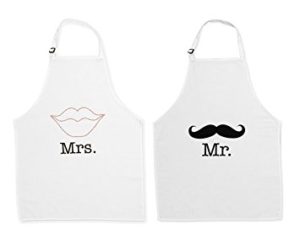 This product is currently on sale for $9.99 from its regular price of $24.99. A perfect gift for newlyweds who love the kitchen to fault! But even if they aren't chefs or certified cooks, these aprons will still be a perfect gift because couples would normally make surprise home-cooked meals for their other half where they can put these aprons to good use.
6. Mr Right & Mrs Always Right Wine Bottle Stopper and Opener Special Gift Set by Haysom Interiors ($12.50).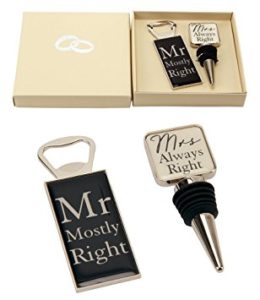 If you want some funky stuff for a wedding gift, this bottle opener and bottle stopper set is an excellent choice to have. As the couples agreed to marry each other, it only means that they complement each other perfectly. Hence, a set of this bottle opener and stopper is a unique choice. This also comes in an elegant cream box which makes the gift even more endearing to the newlyweds.
7. Custom O Single Decanter Stemmed Wood Tray Set by Riedel Engraved & Monogrammed (Custom Stemmed Wood Tray Set)
($429.99).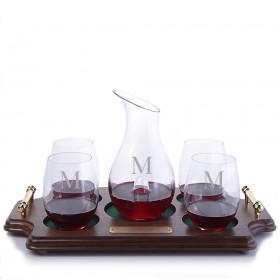 The price may be hefty for this decanter set, but every wedding couple will certainly love this glass set. Why? It is made from premium brass with stainless steel wire and polish glass. Colors also vary from light to dark in each of the set, hence, each of the pieces are unique from one another. The decanter set is also handcrafted which provides subtle differences. Moreover, it is a well-made product that has heirloom quality making it one of the best wedding gifts ideas for a lovely couple as they can let future generations of their family keep this set safe.
8. Whiskey Stones – Set of 8 titanium gold plated stainless steel beverage chilling rocks ($29.95).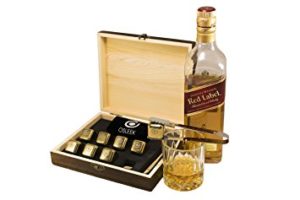 Sure whiskeys are usually for men, and the groom will probably enjoy this more than the bride does. But then again, as a wife, the bride will serve as a gracious hostess to her husband's friends, colleagues, and business partners in the coming years. Therefore, these whiskey stones will come in handy in due time. The stones replace water ice cubes and maintain the perfect undiluted cold taste of the drink. This can also be used for wine and bourbon too. Rest assured that this product is FDA approved and is odor and taste-free, which means it is also safe to be mixed with the drinks and has no harmful chemicals.
9. AmazonBasics 16-piece classic white dinnerware set, square, service for 4 ($50.99).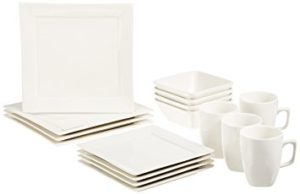 A dinnerware set is always a staple for a home, more so for a new home that the new couple are about to build together as they start their own family. This simple dinner set from AmazonBasics is a good choice if you are looking for a good and useful wedding gift. It is made from high-heat porcelain, thus, making it very durable and can stand maximum temperature up to 572 degrees.  The dishes are also microwave and dishwasher safe which will make their married life quite easier and hassle-free.
10. ANE Designs Martini Gift Set – Engraved Pitcher with 2 glasses ($175).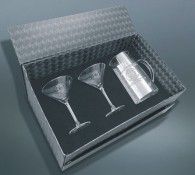 A Martini gift set is also a great choice for a wedding gift. This particular product from ANEDesigns includes 1 Martini pitcher that can hold up to 44oz of fluids and 2 5oz Martini glasses. Moreover, the best part of this product is the fact that you can have the names of the couple or your own personalized message to them engraved on the glass. This gift set is worthy of several cheers for its great quality and elegant presentation too.