Okay, so here is one of the challenging things a female partner faces and that is shopping something extra special for him on your anniversary. When it comes to men, it is a little difficult to shop gifts because unlike women, they like things that are functional and practical. If you are confused, we are ready to help. We have shortlisted the ten best anniversary gifts for husband. Pick the one suiting his personality.
10 Best Anniversary Gifts For Husband
Women tend to adore almost anything – may it be with or without use. But choosing a gift for a man can be tricky at times. As much as possible, you would want to give something that he can use, something that he would appreciate, and something that fits his taste but does not go beyond your budget and that can be very challenging! So, here are the top 10 Anniversary Gifts that you can give your partner or male friends that they will like and you can afford.
1. A Stylish Chronograph Watch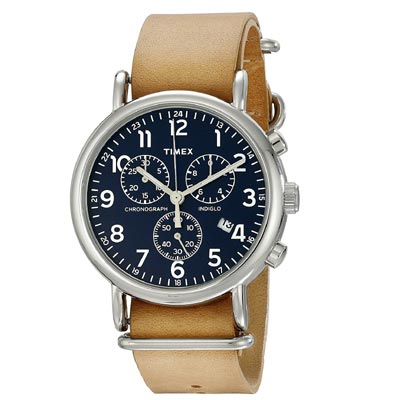 Price: $52
Time is one of the most valuable elements ever created because everything is acquired in time: food, clothing, love, recovery, wisdom, good business, wealth.etc. If your partner values every minute of every day but he loses the track of time, then a watch would be the most appropriate gift that you can give to your partner. Time does not go out of style and it is always a necessity.
There are so many watches for you to choose from. This particular watch has an interchangeable band with a black oversized black dial which numbers and hands are identifiable, is great for any color, any style, and this watch has a water resistance property that will ensure its lasting properties.  So if your partner is formal yet can be crazily cool who doesn't intimidate, then this watch will be a perfect fit for him.
2. A Gadget & Accessories Organizer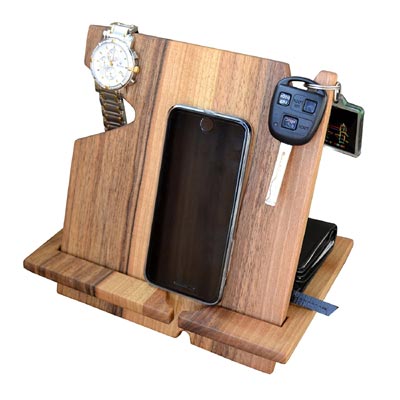 Price: $39
A man who likes to travel would get tired of things that are here and there. This jigsaw furnishing is designed to organize your cellphone, a beautiful watch, wallet, etc. There are additional fine details that would valet cellphones, keys, watches, etc. It can easily be assembled/disassembled that can easily be stored and packed in your backpack.
It is made out of durable, high quality plywood that is known to craftsmen and woodworkers.  The functionality of this furnishing is pretty amazing and it's going to be a perfect gift for your partner who travels or who just like their stuff to be tidy and organized.
3. A Personalized Bamboo Chopping Board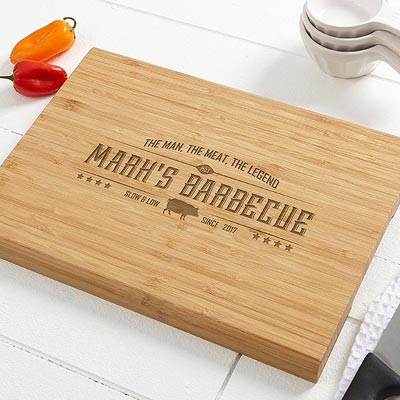 Price: $30
Nothing is more romantic than a man who will bring you breakfast in bed every morning or see him in his kitchen and his sexiness with the way he moves around his cutting board; every slice of every ingredient he prepares to cook.  For me, tasting the product of his effort in preparing a meal for me or for the both of us is something that every woman will fall for repeatedly.
If your man loves cooking, then I am pretty sure that he will love this personalized chopping board. This unique piece of bamboo is handcrafted beautifully with natural tones unique to each piece. The board measures about 14" in length, 10" in width with 1" diameter. This material absorbs very little moisture but should be periodically treated with mineral oil so to avoid drying out. Every carve and letter can be personalized and even the animal too.
4. A Picnic Set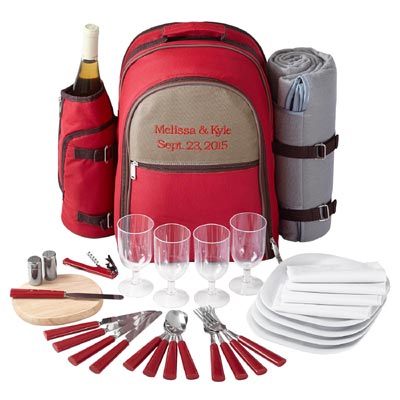 Price: $100
An amazing outdoor bonding moment could also be a great way to celebrate the love you found with your partner while enjoying fresh air, nature, oh, a picnic by a waterfall is super romantic. It's your anniversary and buying something that the two of you could enjoy would be a perfect gift for him.
It has a detachable wine cooler, felt blanket, 4 melamine plates, 4 wine goblets, 12 pieces of flatware set, 4 napkins, pepper shakers, cutting board and the backpack itself that measures 18"Lx16" H. This is the newest release and it doesn't go out of your budget. You get more by paying less.
5. A Quoted Canvas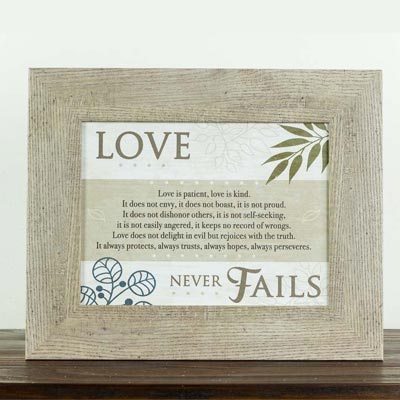 Price: $36.95
A romantic bible-inspired piece of art that reminds him of the kind of love your share would be a very thoughtful, heartwarming gift to your husband.
6. An Expensive High Quality Camera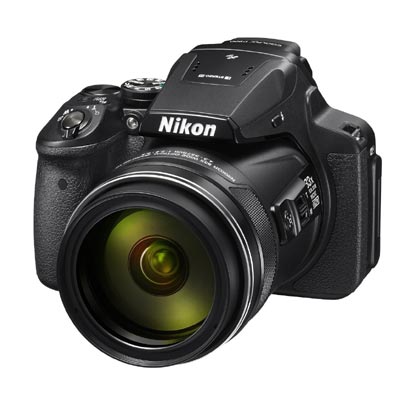 Price: $ 579
How else are you going to capture the sweetest moments in your life but through the fine lenses of your camera? You can tell stories through them. However, it is best if you have the top of the line Nikon camera. If your hubby's hobby is capturing moments other than getting sexy with his kitchen, then the Nikon Coolpix black camera.
It has the capability of capturing sharp images and videos at extreme lengths.  The user can easily frame their subjects through its built-in electronic viewfinder. It is a bit expensive but the bottom line, you will get your money's worth and, your husband will think he places a high value on you.
7. A Leather Tech Organizer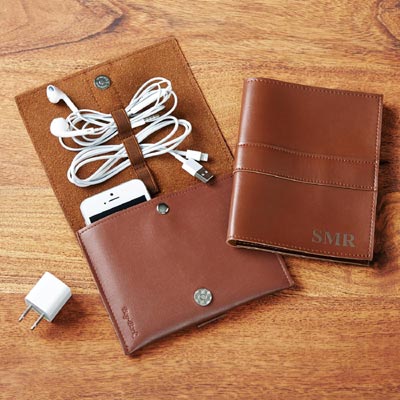 Price: $29.99
Worry no more of the clutter of cords. Here comes a perfect gift for your hubby who likes to travel with style. The letters on the leather can be personalized with up to three letters so you can place your initials there. It comes with a 7"wx10"hx1/4"d closed.
8. Then & Now Personalized Anniversary Photo Frame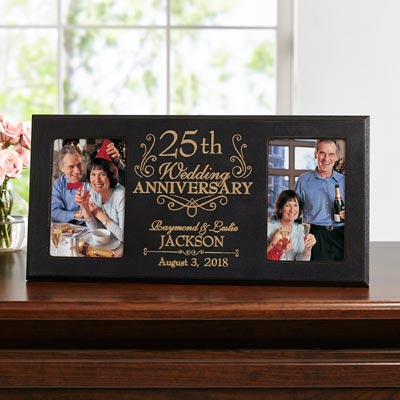 Price: $39.99
Now here is what, again, you can always tell stories through the lenses of your camera and newly released photo frame will be a perfect place to display the photos you captured perfectly! It can hold two 4"x6" photos and you can place the frame on a tabletop or you can just hang it on the wall which works well either way. The writings on the picture can be personalized and the 2 first names of up to 10 characters and the last name up to 12 characters and date.
9. A Branded Noise-Canceling Headphones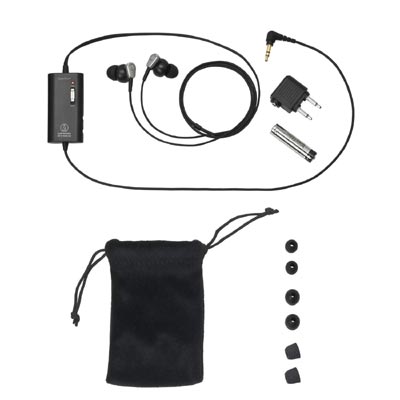 Price: $45
Music plays an important role in our lives and if your partner happens to be loving music, then this should be a perfect fit for your husband. It is so good that it cancels out all the surrounding noise that could hinder you from tuning in to what you are listening to. The battery life will last up to 40 hours! So for long flights, in the crowd, getting in touch with you or the kids, this is a perfect gift.
10. a Personalized Coffee Mug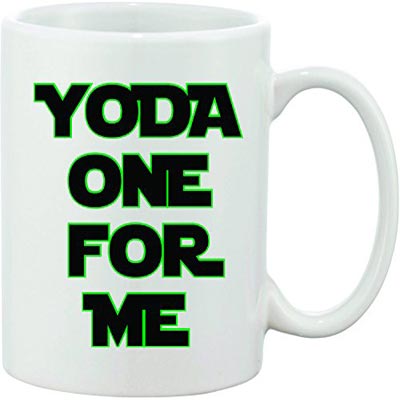 PRICE: $13
A ceramic mug that is best for your husband's coffee time and every time he uses the mug you gave him will remind him how lucky he is to have you and he will enjoy more every sip he makes.