Christmas is not just a festival. It is also the only time in the year when many people get to meet their family and friends. It is when people take their one and only vacation in an entire year. Christmas is when people shop a lot and make use of all the discounts and sales. It is when people give gifts and receive gifts. Christmas is the festival that celebrates the joy of giving. Kids dream of Santa leaving presents under the Christmas tree when they go to bed on the eve of Christmas. To celebrate all this, we have a list of the most amazing Christmas gifts that you can give to your near and dear ones to make this day even more special than it already is.
50. 
Coffee Grinder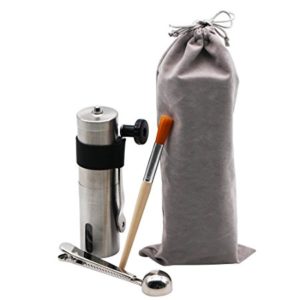 Price: $18.99
This is one of the best quality coffee grinders out there. This will make for an ideal gift for your aunt, mom or even your neighbour. Even a friend who lives alone will appreciate this. This comes with 18 different settings to give you the best ground coffee.
49. 
Desk Lamp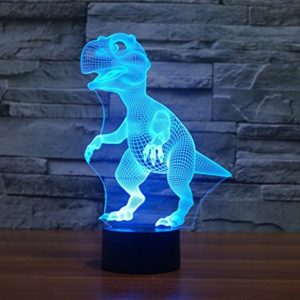 Price: $17.95
This Christmas, gift your dino loving friend or son this lamp to keep at their bedside. They can turn it on with a simple touch of their fingers. This lamp lights up in seven different colors from which you can pick one to suit your liking or you can even choose to have all seven colors displayed one after the other.
48. 
Christmas Drawstring Bags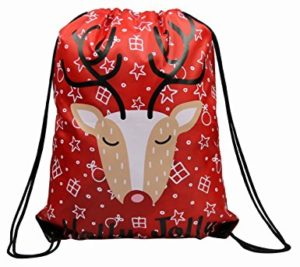 Price: $12.99
These drawstring bags can be used to put in goodies for kids and teens. They come in various christmas like designs and colors and you will love them These bags come in packs of five and all bags are washable.
47. 
NutriBullet Blender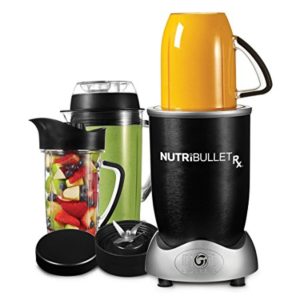 Price: $129.99
Many people believe that when fruits and vegetables are blended or ground, most of their nutrients are lost. And it may be true. But this NutriBullet blender retains 95% of the nutrients in your fruits and vegetables while they get blended. So gift this to someone who is conscious about what they consume and they will love it.
46. 
Cushion Pillow Cover
Price: $7.98
There are various designs available in this cushion cover so you can gift them to anyone you want. You can write messages or even draw on your cushions once you put them in this cover. Kids and teens will love it. The sequins on it are reversible.
45. FUNNIEST WINE SOCKS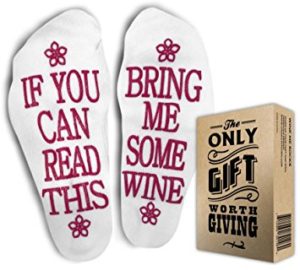 Price: $13.90
If you know someone who walks around with a glass of wine all the time or someone who loves wine more than themselves and has a sense of humour, then gift them these pair of funny socks this christmas.
44. Night Lamp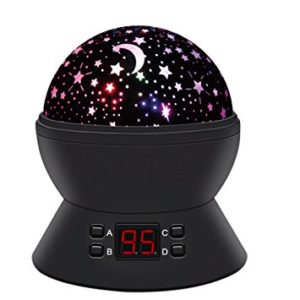 Price: $22.99
This lamp has four vibrant variety of colors and has a timer in which you can set a time limit of 5 – 95 minutes within which the lamp will turn off on its own and will not be a hindrance to your sleep. The colors are nice and warm. And this will make a very cute gift to your kid or even an adult who can keep it at their bedside.
43. 
Rainbow Gold Rose
Price: $44.99
This is a romantic christmas gift from our list of best christmas gifts. So pick this rose to put a smile on your girlfriend's or your wife's face. This rose is actually dipped in gold comes in a nice luxury box and will last forever just like you guys will. The rose is 11 – 12 inches long.
42. 
Dancing Tin Angels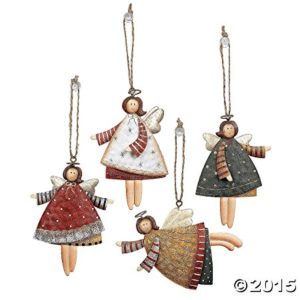 Price: $13.99
These angels come in a pack of four and are all extremely cute and pretty to look at. They also portray different poses and are wearing different colored dresses. If you know people who love decorating their christmas tree with such fabulous ornaments, gift this to them and they will love it. These angels can be hung on both natural and artificial trees.
41. Tabletop Christmas Tree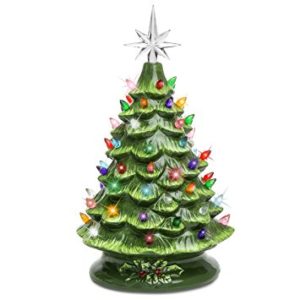 Price: $44.99
This is a beautiful christmas tree that you can keep on top of your table. All guests will give you compliments when they see this tree atop your dining table. The tree also comes with led lights that will light up in different colors and will give your christmas dinner a wonderful look. It will also increase the ambience of your dining room. This is a perfect gift for your christmas dinner host. Combine this with a bottle of wine and your host will love you forever.
40. Christmas Calendar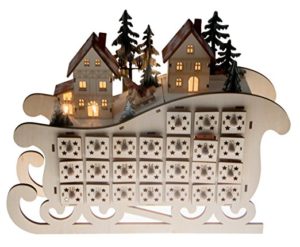 Price: $59.99
This is an extremely fancy christmas calendar that anyone will love. This is a very classic gift that everyone will love. The calendar looks like a sledge on which two houses stand. The houses are surrounded by beautiful trees and there are led lights that can be lighted inside the house. Extremely amazing Christmas gift. Once you buy it, you may not have the heart to gift it to someone and you will end up keeping it for yourself. This will make a perfect gift for your mom, grandmom or aunt.
39. Baking Mold Set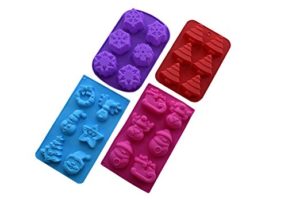 Price: $16.79
If you know someone who enjoys baking and looks at Christmas as an opportunity to bake for all family and friends, you should gift this to them. This comes with four different rubber crates with six different molds in each of them, which means that your baker friend can bake whatever they want in 24 different shapes. And you get to taste it all in different shapes and sizes.
38. Inflatable Santa Truck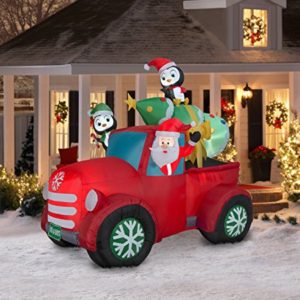 Price: $95
This is a truck that will make an adorable gift for your host. This truck can be inflated to up to five feet in height and can be kept outside your house in the driveway or inside your house by the fire place. After the festivities get over, you can even shift it to your kid's room. And they will love playing with this. This is also very colorful and will look amazing on snow. Definitely worth the price. This will be the highlight of your christmas decorations.
37. Wine Bottle Lights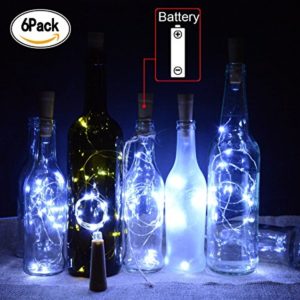 Price: $9.99
These are an amazing light decoration. This is so much more different than the regular serial light decoratives. This will also look classy. And you can shift this to your bedroom once the festivities are over. It will work with just one battery. And the set comes with 6 corks that will fit into regular wine bottles. The LED lights are also available in different colors and will definitely get compliments from all your guests. If you don't want this for yourself, get this for your neighbours or your parents.
36. Merry Christmas Banners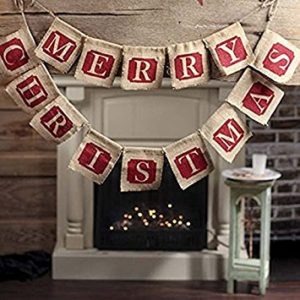 Price: $8.99
There is no Christmas without Christmas banners. This is a very good quality banner that you can gift to anyone. This will also make for a very formal christmas gift that you can give to someone you don't know that well. Also, you can gift this to your boss and hang it in your office. This banner will instantly pump up any space and will make the mood all christmassy. The best place to hang it at home would be above the fireplace like in the picture.
35. Baby's First Christmas Ornament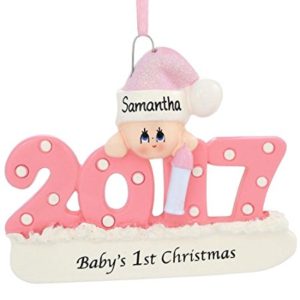 Price: $14.99
This gift is obviously for a house with a newborn baby who is celebrating its first Christmas. These christmas tree ornaments can be customized to carry the name of your newborn. Once Christmas is over, the parents can save it as a reminder of a lovely Christmas and cherish it forever. This will be the highlight of your Christmas decorations.
34. Hallmark Keepsake – A Christmas Story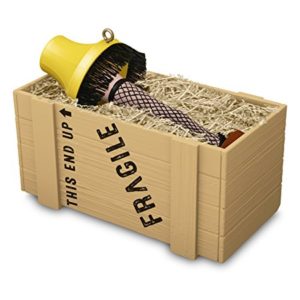 Price: $16.53
This is a lovely lamp by Hallmark. True to the name that they have built over more than a hundred years, the lamp is of extremely good quality. It also comes in a box that says fragile and there are also other keepsakes that are available for purchase.
33. Throw Blanket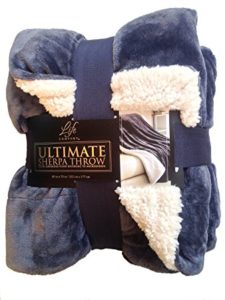 Price: $36.49
This is an extremely cozy blanket that can be used on the bed or the sofa. The blanket will make you feel instantly at home and comfortable. You can forget about all the hassles of the day. The blanket is very soft and will make for an ideal gift for your mom or grand mom.
32. Christmas Story Village Ralphies House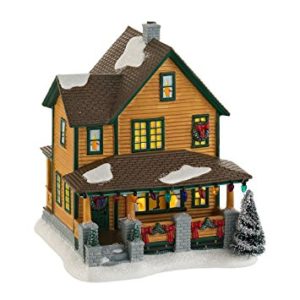 Price: $58
This is an ideal gift. It looks beautiful and classy and will make for a very thoughtful gift this Christmas. The house looks very English and has a Christmas tree outside. The house is also decorated with LED lights and is covered with snow. These lights operate on a battery. The house is also covered in snow which is a very beautiful addition to the christmas aura of the house. Gift this to your Christmas dinner host or your mom or whomever will appreciate this gift.
31. Table Cutlery Set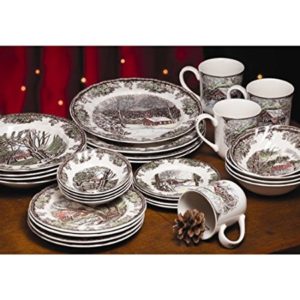 Price: $126
This is a very elegant dining set that looks like it came from the Victorian Era. The dining set is available in other designs as well. So if you host a very English dinner, you should get this for yourself. Or if you know someone who does, you should get this for them. This set is definitely worth the price. And your mom will love you more for getting her this.
30. Flameless Candle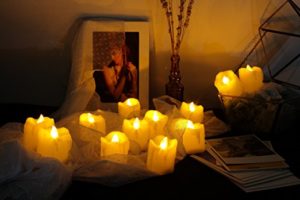 Price: $15.99
This is a set of flameless candles. The candles operate on a battery and an LED light. The candles have a 6 hour on and an 18 hour off timer. The candles can be turned on and off as you like as well. The batteries last very long and the candles with burn for more than 200 hours and the batteries can be changed on your own. This is a small yet cute gift that you can gift to anyone.
29. Rotating Christmas Tree Stand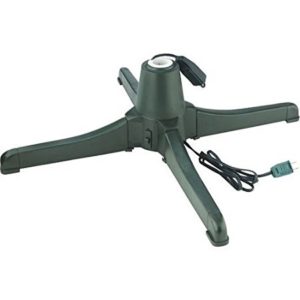 Price: $39.95
This is a rotating christmas tree stand that is suitable only for artificial trees. The stand also comes with lights. So the stand can rotate with lights on, or just rotate without the lights. This will add so much more decor to your christmas tree. And if you know someone who decorates their house with an artificial Christmas tree, get them this rotating stand and they will love you for it.
28. Christmas Ball Ornaments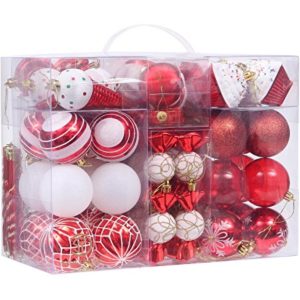 Price: $39.99
Everyone wants a perfect Christmas tree. And everyone loves decorating Christmas trees. In many households, decorating the tree is a Christmas eve ritual. If yours is one of those households, gift this to your kids. Otherwise, gift this to someone you know who loves decorating Christmas trees. This set comes with around forty pieces of Christmas ornaments. And all the pieces are complementary to each other. Two of these sets will take care of the decoration of your Christmas tree.
27. Starbucks Holiday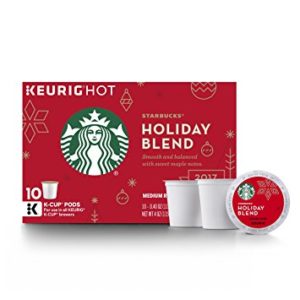 Price: $61.70
This is a Starbucks coffee kit with which you can make 60 cups of Starbucks coffee and enjoy it within the walls of your house. So if you know anyone who absolutely loves Starbucks coffee and cannot go one day without a cup of it, you should gift them this. This also comes in a holiday pack that looks all Christmassy and festive.
26. Snow Globe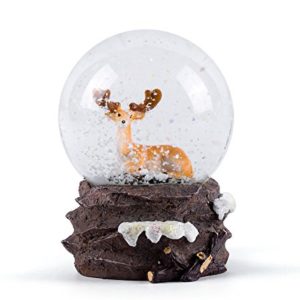 Price: $11.99
What is Christmas without a snow globe? If your family has the habit of hosting Christmas dinner and then giving Christmas gifts to all your guests, this will make for a lovely one such gift. This is not too expensive and all your guests will love it and will wait for you to host Christmas dinner next year as well. And these globes also come with other structures within them like Santa and reindeers, snowy houses and such. Even if you don't host Christmas dinners, this will make for a cool gift for a colleague or a friend.
25. Christmas Tree Storage Bag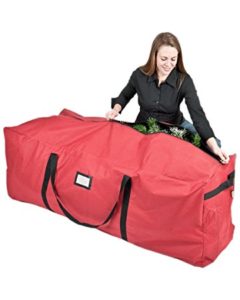 Price: $32
Artificial Christmas trees have to be stored carefully if you intend to use them the following year as well. So, get this bag for storing your Christmas trees neatly and safely until next year. This bag can store Christmas trees that are between 8 feet and 10 feet tall. This bag is also easy to carry and store in a loft, under the bed or any other storage unit. The bag will also store Christmas ornaments that you intend to use again. This is the perfect Christmas bag. You can gift this to someone you know who does not have a bag to store their artificial Christmas tree.
24. Christmas Santa Claus Flameless LED Candle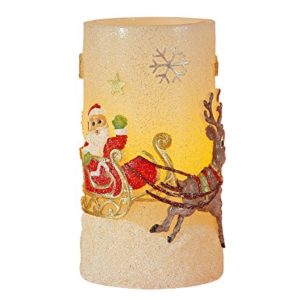 Price: $22.99
This is a single LED flameless candle. This comes with Christmas designs on it. This will make for a cool informal or formal gift. So you can gift this to anyone. This candle is also of extremely good quality and will last for an extremely long time.
23. Meteor Shower Rain Lights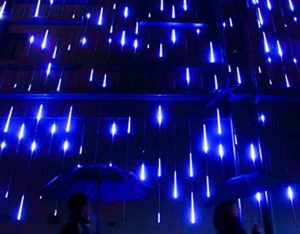 Price: $14.99
These lights can be used outdoors to decorate your house. The lights are a delight to look at. And when you turn it off, the lights will go off one by one like meteors descending to the earth. This is extremely pretty to look at. Gift this to someone who will appreciate something that is easy on the eyes.
22. Inflatable Mickey And Minnie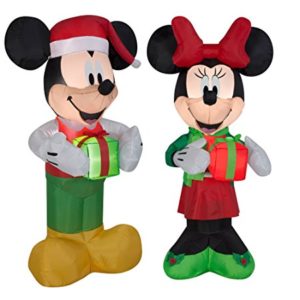 Price: $111
This Mickey and Minnie inflatable decorative is an amazing addition to any household. They are five feet tall and look great outdoors as well as indoors. If a lot of kids are there, they will love it. And do not worry about this being pricey, it can be used over and over again. And it is not easily punctures. These inflatables are of extremely good quality and when placed outdoors, will make your house look more welcoming. Supplement this with Christmas lights and you are good to go. The inflatables can also be shifted to the kids' room once the festivities are over.
21. Christmas Wreath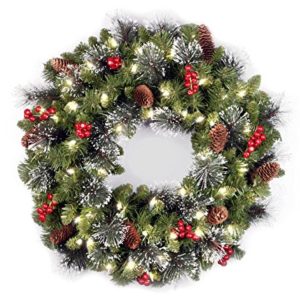 Price: $27.59
This is a must-have for every household. So gift this to anyone you know. This is something that you can give a month before christmas as it can hang on the door all month long or even all year long in some households.
20. Palm Tree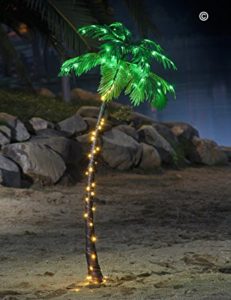 Price: $72.99
This palm tree is probably the best Christmas decorative on our list. Standing at five feet, this can be kept outdoors or indoors. This will look even better if you have a beach house. You can gift it to someone with a beach house. This palm tree is totally worth the price and can be reused. So store it safely and use it for any beach parties or get-togethers that you might host. From a distance this palm tree might even look like a real one that you have wrapped lights around.
19. Santa's Musical Christmas Clock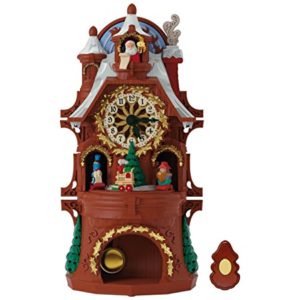 Price: $202
This clock is the classiest gift on our list of best Christmas gifts. With different Christmas tunes available for you to choose from, this is the most adorable gift that you can gift to someone you care about. This is like the Christmas version of the Cuckoo clocks. The clock looks really fancy and will be a classy addition to any home. This clock is also colorful and has miniature Santas and reindeers and everything Christmassy.
18. Heirloom Angels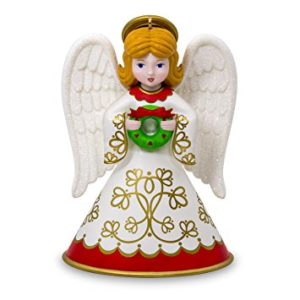 Price: $15.93
This is an adorable keepsake doll that you can gift to anyone. This looks like a little angel. Everyone will love it and will feel like it is a blessing from heaven. This angel has a halo and is dressed in a beautiful white gown. It also carries a pretty wreath in its hand. This is a small keepsake doll and is only around 3 inches tall. The doll can be stored in its box itself and call be used later.
17. Candle Holder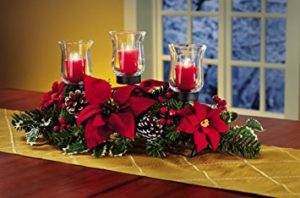 Price: $17.99
This candle holder can be kept on the dining table or on a centrepiece in the hall or even on a show case. Cos no matter where it is, it will catch your guests' eye and get you compliments. You can use these every time you have guests over and not just for Christmas. You can also use them for romantic candle lit dinners. So gift these to yourself or someone you know who loves and adores candles and will use these.
16. 
Artificial Classic Christmas Pine Tree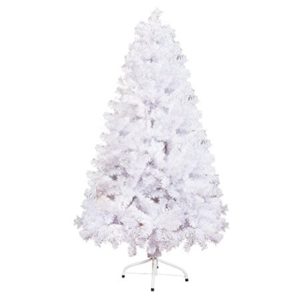 Price: $34.99
These days not everyone prefers getting real Christmas trees. Real trees are very expensive and you will have to go through some trouble to dispose the tree as well. For some people, it may seem like a lot to spend so much on a tree that you can only use once and then get rid of. So, you can get artificial trees instead that are available at various prices and use them to decorate your house or yard for during Christmas after which you can safely store them along with their ornaments until the following year. This is what most people do these days. And these artificial trees can definitely be used for more two or three years or even more if they are of very good quality which means that they could also be expensive. This white pine tree is a unique and beautiful addition to your Christmas decorations. Buy it for your home or office or gift it to someone who loves decorating such trees for Christmas.
15. 
Handmade Swedish Tomte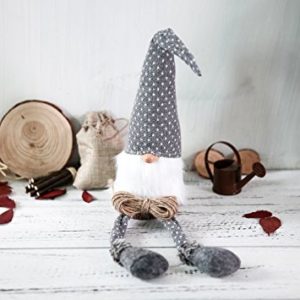 Price: $14.99
A lot of people actually collect such lovely dolls. If you know anyone like that, just go ahead and order this gift for them from our list of best Christmas gifts. This would make a lovely addition to their collection which can be displayed in the living room or dining room. The best part about these gnomes is that they are handcrafted and designed by an artist. Yes, you read that right. Each of these dolls are designed by hand. It was originally done by a Swedish artist. Also, there is a Scandinavian belief that these gnomes protect one's family, friends and households from any kind of misfortune that may happen. If your friend has such beliefs, they would love this gift even more. The doll is around 20 inches in height around 3 inches wide. So it is not easy for your guests to miss. And they can easy be cleaned with just a damp cloth.
14. Santa Claus Holiday Statue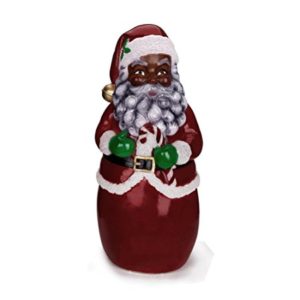 Price: $15.99
This statue comes with a light and that is what makes it a perfect object for night time display. You can display it both indoors and outdoors. This doll is something that both kids and adults will love. If you have the habit of creating a vast Christmas display or showcase for your friends and family to gawk at, this would make a lovely addition to your showcase. You can also pose with this doll for your annual Christmas picture. The doll is almost 24 inches tall and is pretty big and will definitely catch the eye.
13. Christmas Stockings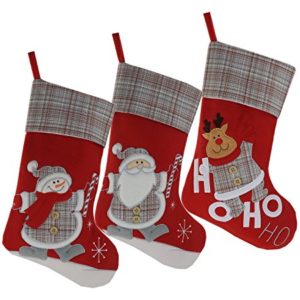 Price: $22.99
Just like Christmas banners, these Christmas stockings are also a must-have for Christmas. If you are yet to buy your set of Christmas stockings order them now. And if you don't know what to pick for someone else, Christmas stockings are always a good idea cos people love hanging them anywhere in their house during Christmas. It can be hung over the fireplace, in the front porch and anywhere else in the house. This set comes with a pack of three Christmas stockings, each with a different design, One with have Santa Claus, one will have reindeer and the last one will have Snowman wishing you and your family a Merry Christmas. One look at these Christmas stockings and your kids will know that they are going to be filled with goodies by Santa Claus himself.
12. Tealight Candle Holders
Price: $18.99
These are candle holders that are shaped like reindeers. It comes in a pack of six candles that look similar to each other. The reindeers are made of metal and have an antique bronze finish and look unique and are a beautiful addition to your Christmas decor. They look extremely classy. The product also has amazing reviews so you can also give this as a gift without the slightest hesitations or doubts about the quality of the product.
11. 
Christmas & Holiday Tablecloth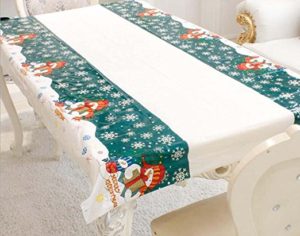 Price: $10.99
This is a lovely and beautiful table cloth but is a little high maintenance due to its colour. The best part is that it comes in a pack of four with four different designs. The cloth can be used for Christmas dinners, holiday parties and even picnics. The dimensions of the table cloth are 70 inches and 40 inches respectively.
10. Keepsake 2017 Dr. Seuss's How the Grinch Stole Christmas!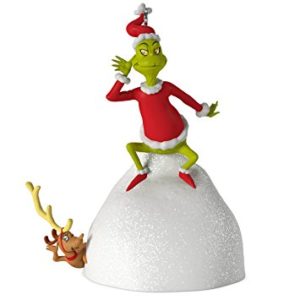 Price: $17.95
This is my favourite keepsake from our list of best Christmas gifts. This shows the grinch and his dog cum reindeer Max, listening to the Christmas celebrations happening down in Whoville. The doll plays "Welcome Christmas" and will get your Christmas party started. Two replaceable LR44 batteries are needed for this keepsake to play music which are included in the kit. Since it is made by Hallmark, quality is not a concern. Hallmark has the reputation of making very high quality Christmas toys for the last hundred years. The keepsake comes in a holiday gift box and this box can also be used to store the ornament. This is made of plastic and there are loads of other designs and characters available. The keepsake is around 3.5 inches tall and looks funny and nice.
9. 2017 Disney Christmas Express Hallmark Train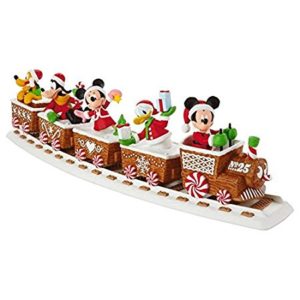 Price: $109.95
This Christmas express with Disney characters is every kid's dream. Your kids can collect them all with this set containing Mickey, Minnie, Donald Duck, Goofy and Pluto. The pack includes a train track and batteries as well. And each character can play two Christmas to get the festivities started. All kids and even adults will love this little gift. This will not be one of those toys that makes an appearance every Christmas but will definitely hold a permanent spot in your house decor.
8. 
Christmas Lights Projector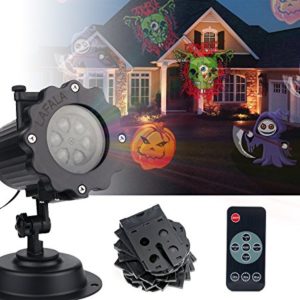 Price: $45.99
These are projector lights that can be set up outside your house at night. The projector will project all kinds of stuff on your house. Passersby will take a minute to realise how those things are displayed on your house. This is the coolest gift on our list of Best Christmas gifts. The projector comes with sixteen different inbuilt patterns which include themes for Christmas, Halloween, Valentine's day, White Snow Flakes etc. So this is a projector that you can use throughout the year and not just during Christmas. This is suitable for both garden and wall projection. The illumination from the projector is also really bright. The projector is very user-friendly and can be easily set up and has a long wire to aid projection in the garden or yard and is made with waterproof material so that it can be used both indoors and outdoors. So you do not have to worry about rains or snow. It can project across a distance of about 8 to 10 metres and can project on an area of about 30 square metres maximum. This also comes with a remote with which you can turn it on and off, set a timer and adjust the intensity of the projection. Another fun feature of this projector is that it can rotate which gives a funny twist to the images. Make sure you read the user manual thoroughly before you start using it.
7. Christmas Crackers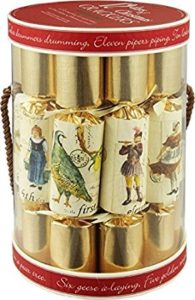 Price: $24.95
This box contains crackers that illustrate the twelve days of Christmas. This box is the ultimate Christmas package with games such as Charades, Trivia quizzes and the Who am I game. It also has a Party hat, a snap and an amusing joke. And a set of 12 crackers come in a gift box. Each of these crackers are 10 inches tall. This can be used during Christmas and other occasions.
6. 
Iron Man Ornament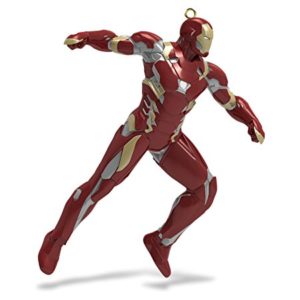 Price: $6.75
This is made of plastic and is the perfect gift for the iron man fan in your family.
5. 
Handmade Mermaid Tail Blanket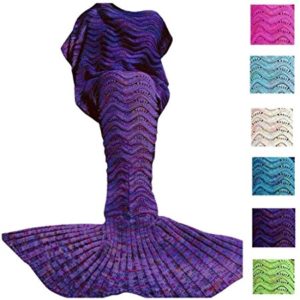 Price: $22.99
This mermaid blanket is perfect for the princess of your house. She can use it during movie nights, car travel, sleepovers or picnics. This'll keep her comfortable and cozy. This blanket is crocheted by hand and is made with eco friendly material. And both the back and bottom of the mermaid blanket are not closed. Its dimensions are 71 inches by 35 inches. This mermaid blanket has to be washed before its first use. And there after, it has to be hand washed or dry cleaned only due to the hand crocheted intricate design.
4. Lantern Decor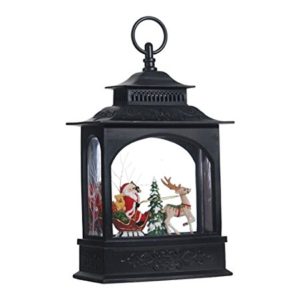 Price: $49.99
This is a glitter globe lantern. All you have to do is gently swerve it to get the glitter going. Both kids and adults will love it. This is an amazing gift for anyone and everyone as it holds the spirit of Christmas. It needs three C batteries that are not included in it. Also, this has a six hour on, eighteen hours off timer. It is more than ten inches tall and is available in other designs as well.
3. Thomas the Tank Engine Christmas Ornament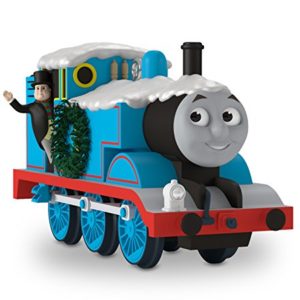 Price: $15.79
This is not just Thomas the tank engine. This is Thomas the tank engine during Christmas. The blue train engine is covered with snow and has wreaths around it and is looks all Christmassy. Your kids will love it. And they will fall in love with your Christmas tree even more if they see this ornament on it. Get this for your kids if they love Thomas the tank engine or get this for other kids in your family or in the neighbourhood. This ornament measures around 3 inches in length. This comes in a gift ready box and the ornament is made of plastic. And have no doubts about the quality of the product as it is made by Hallmark who have a reputation built over a hundred years. There are also ornaments available in other designs and with other characters.
2. Disney Tabletop Christmas Tree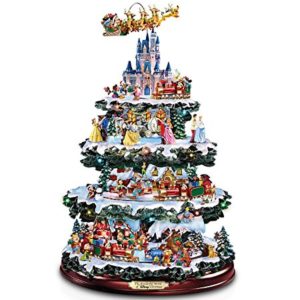 Price: $200
Tabletop Christmas trees are trending now and everyone wants one. Almost no Christmas dinners are hosted without this beauty atop the table. This would be the best gift for your Christmas dinner host. Although this would be a perfect addition to the Christmas dinner, this can also be used during other celebrations. The Christmas tree showcases ten different holiday scenes that feature around fifty of your favourite Disney characters. The tree is sculpted by hand and all Disney characters are also painted by hand. The best feature of this Tabletop Christmas tree is yet to come. Four levels in this tree can rotate thus making all the characters appear so much more lively. This is my favourite item from our list of best Christmas gifts for your near and dear ones.
1. Teak Isle Christmas Outdoor Nativity Set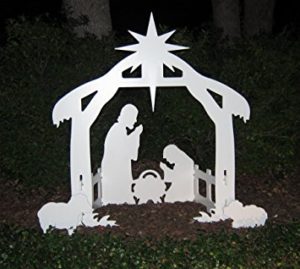 Price: $169.99
If you know someone who has a huge yard, you should get them this outdoor set. This is a silhouette kind of design and will look fabulous on any yard. This is made with marine grade plastic and will not tarnish that easily. The set can stand strong through any kind of weather. The whole set can be dismantled and packed in a very compact manner. There are also many other designs available.This is probably one of the most beautiful gifts from our list of best Christmas gifts.