Whether it is mother, girlfriend, or sister, women play a very important role in our lives. Talking about sister in specific, she holds a special place. She is someone who has seen you grow as a beautiful person, has been a part to all the mischief, a trustful human who always maintained your secrets, and of course, always walked together back from school. So, doesn't a special person like her deserve a beautiful present on her birthday? Choosing the right gift is truly a tedious job. To help you out, here are best birthday gifts for sister.
10 Best Birthday Gifts For Sister
As a sibling, you are sure to get what you want from this list. So, surprise and impress her on her amazing day.
1. A Tagged Coffee Mug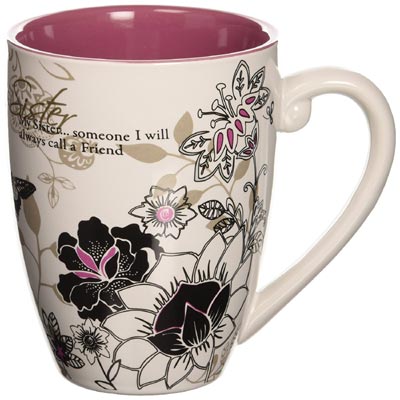 Price: $12.00 & FREE Shipping on orders over $35.
Pavilion Gift offers you one of the finest birthday gift ideas for sister. The "Mark My Words" Mug is sure to inspire your sister.
The mug flaunts an elegant design that is unrivaled in appearance and complemented with a beautiful message depicting sisterly love.
The mug is easily cleaned in a dishwasher and it is microwave friendly. The mug is sufficiently large, holds 20 ounces of fluids, and is made from the best ceramic.
2. A Gorgeous Bracelet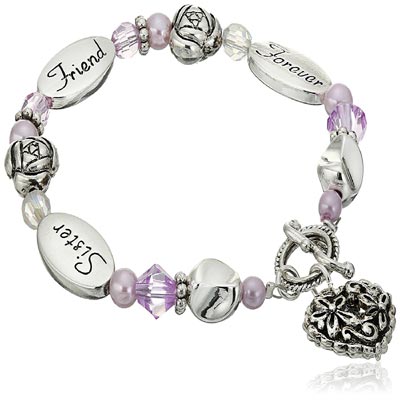 Price: $8.49 & FREE Delivery on orders over $35. FREE Returns.
Since girls adore wearing jewelry, your sister will love wearing the Forever Expressively Yours bracelets that are made of silver and crystals that make it look adorable when worn on wrists.A gorgeous looking bracelet is one of the best gift ideas for sister.
The bracelets are 8' long and are suitable for children older than 13 years. The bracelet also bears an inspiring message "Sisters care and sister's share, sometimes they disagree, a sister is a special friend, forever family." The gift is packaged in a cute hard case gift box.
3. World's Okayest Sister Mug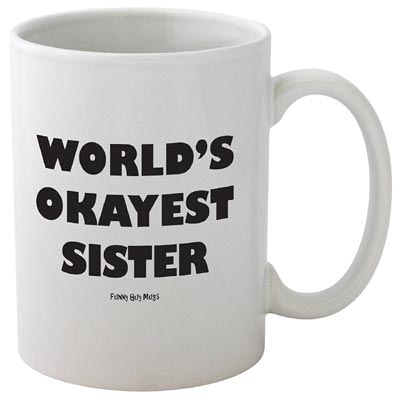 Price: $9.99 & FREE Shipping on orders over $35.
Mugs are adorable gifts that can make anyone remember the person who gifted them because every time it is used to drink; it will remind them of the one who gifted the item.
So, hurry to choose our product before it is sold out. Gift your loving sister a mug that says "World's Okayest Sister." It weighs 11 ounces, is easily cleanable with a dishwasher, and is microwave friendly. The funny guy products have helped memories last between relationships with their finest range of products.
4. Italian Style Jewelry Box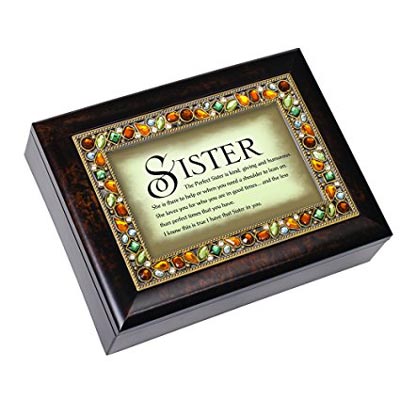 Price: $37.95 & FREE Shipping
If you are choosing a gift that your sister can comfortably carry around, you should gift her Italian style Musical Jewelry Box. A compact Musical Jewelry box is finished using burlwood and has a jeweled lid.
The Box has an inbuilt Sankyo music mechanism that plays a cute music every time the box is opened. In the lid, you can insert a personal picture to make the box extra special.
Extra care has been devoted to making the box. The base of the box is made of cushion to prevent it from being scratched. The insides are velvet lined to give it a pristine look. The music mechanism is placed beneath a transparent surface and can be seen through a glass. The box is an excellent gift to preserve the memories for years to come.
5. A Beautiful Statue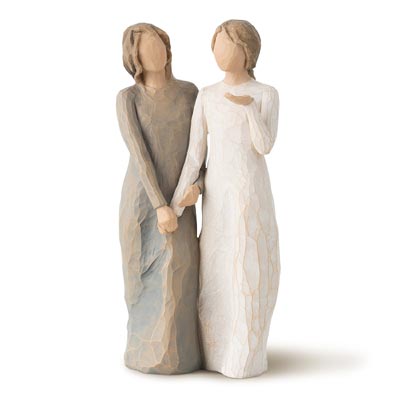 Price: $24.88 & FREE Shipping on orders over $35.
The 8.5" tall figurine is an excellent birthday gift for your sister. She will adore the beauty and tenderness of the inanimate figurine. It is hard to ignore design as is it is a true delight to look at.
She would want to place the figurine at a place where she will be able to see them often to help her wander into memories. Each figurine is handcrafted by the artisan, Susan Lordi at her studio in Kansas City using the finest willow.
The figurine expresses intricate emotions such as love, healing, closeness, hope, courage and all the cheerful feelings that make her smile. You will also receive an enclosure card when you have ordered the artifact. It will arrive in a gift box tenderly packed and ready to be gifted.
6. A Chain With Pendant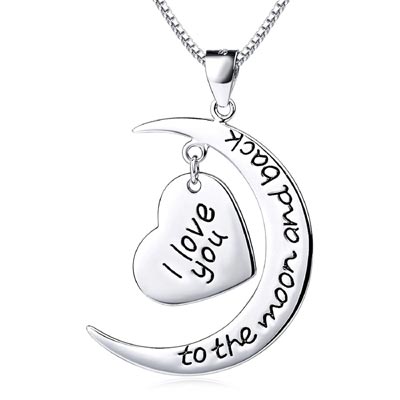 Price: $22 & FREE Shipping
Some girls love wearing junk jewelry, if your sister loves flaunting creative handmade gift, you need to gift her a silver plated chain that says I love you to the moon and back necklace pendant.
It is a cute gift to appreciate her presence in your life. The length of the chain is fairly long and easy to wear. She will feel privileged to wear this chain that is gifted to hem as a remembrance from her sibling.
7. A Handmade Sisterly Bracelet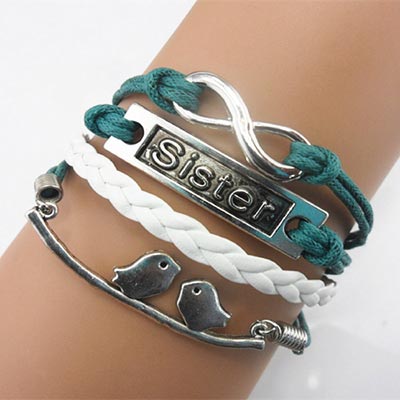 Price: $2.99 + $2.98 shipping
A completely handmade jewelry that will make your sister cheerful will certainly qualify as a birthday gift. It is made fo everyday items that are significant to care, love, and heartwarming feelings.
The artisan who crafted this bracelet is willing to make a custom design based on the ideas you provide for your special order.
So, if you are welcome to get creative to personalize your order. The design is warm and pleasant to wear on the wrists. It is made from materials such as leather, cotton ropes, and metal.
8. A Nice Wall Art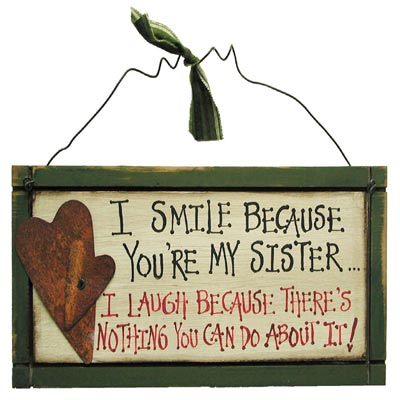 Price: $8.77 & FREE Shipping on orders over $35.
A wall art as a birthday gift for your sister, why not? This creatively designed gift is unique in build and makes an instant first impression that she will remember you every time she gazes at the wall art. It is an excellent home décor worth the value and appearance.
The sweet sister message is screen printed using high-quality ink on the wood so that it lasts longer and do not fade away in time. It is a gem to anyone who has a loving sister. Ohio wholesalers have been cherishing customers with their intuitive products for over 35 years and continue their family tradition of making the best gifts worth the money.
9. A Classy Candle Holder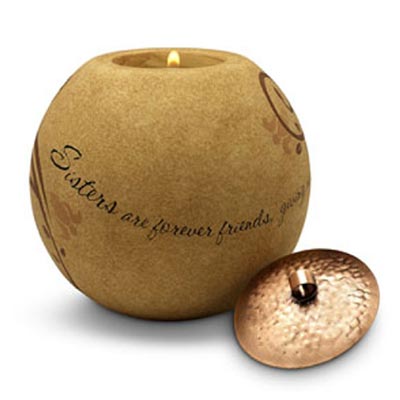 Price: $19.00 & FREE Shipping on orders over $35.
They are the fine range of candles with inspirational saying inscribed on them. They are a visual delight when lit up. The candles come with 4-1/4 –inch tea light holder that has a beautiful message printed on them. The message reads – reads "Sisters are forever friends, giving us smiles, laughter and joy without end."
The outer surface is made of terracotta and has a copper lid to cover the top when not being used. The comfort candles from pavilion are a gift that your sister can easily carry without hassle.
10. Special Rose Printed Sister Blanket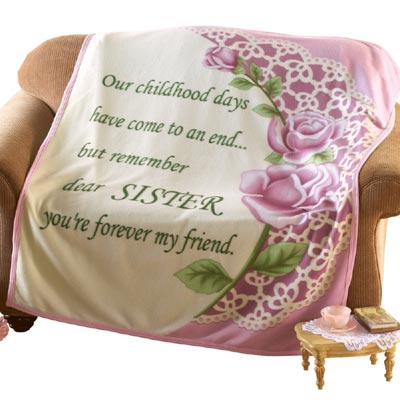 Price: $12.99 + $4.99 shipping
Some girls like throw blanket that is warm and cuddly. The sisterly love is all over the blanket with the message printed on the fabric that reads – Our childhood days have come to an end… but remember dead SISTER you're forever my friend.
The blanket is made from polyester and can be machine-washed.  It measures 50"X60."