It turns out to be the most arduous time of the year and you just cannot keep calm because it is your beloved brother's birthday. This excitement also brings many confusions while choosing a gift for him. Though the shops and online stores are piled with different things, it becomes hard to pick the right suiting his personality. To ease you work, here are ten best birthday gifts for brother you can choose from.
10 Best Birthday Gifts For Brother
Here are the ten cool gifts to pick for your brother:
1. A Brother Mug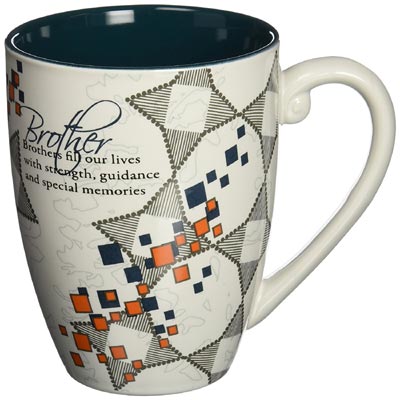 Price: $11.68 & FREE Shipping on orders over $35
Pavilion Gift offers you one of the finest birthday presents for your brother. Inspire your brother with Mark My Words Mug. The mug features an elegant design that is complemented with a message depicting brotherly love. The mug is dishwasher friendly and can also be used in a microwave. The mug holds 20 ounces of fluids and is made from finest quality ceramic.
2. A Funky T-Shirt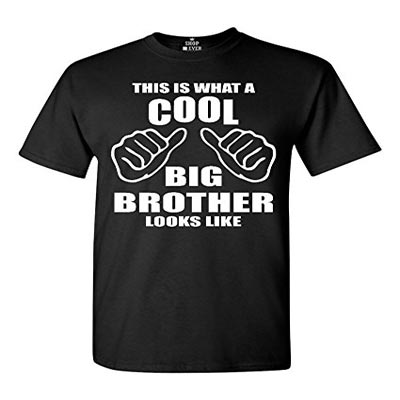 Price: $6.99 – $9.99
It is a preshrunk cotton blend t-Shirt with a banner message that says "This is what a cool brother looks like" that gives the wearer a splash of coolness. The unique art is heat pressed on the front. While washing the t-shirt, it is recommended to wash it inside out using cold water. Also, it is safer to hand dry the fabric for durability. The t-shirt fits most sizes and is ideal apparel for your brother to wear on his birthday.
3. A Designer Sports Watch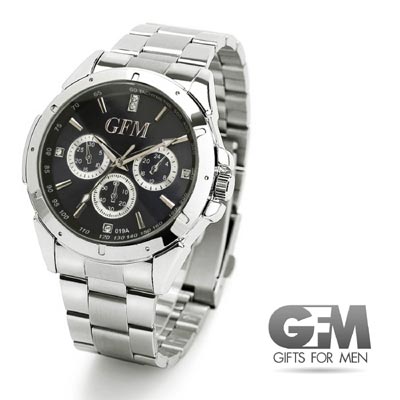 Price: $19.99 & FREE Shipping on orders over $35.
A designer watch is something your brother will love to wear if you were to choose it as a birthday gift. It is made of high-grade polished stainless steel that gives the wearer a sharp look to complement any attire. The high-quality build makes it indistinguishable from many other premium brands that cost $1000 and above. The watch complements the masculine quality of the wearer with the patented timepiece technology.
Let your brother feel the thrill of unboxing it from a premium faux leather casing that is elite is appearance. It has a coin-edge bezel, row link bracelet, and a chrome dial to define the elegant build quality.  The fabulous crystals on the watch are made of Gorgeous Cubic Zirconia, and the crystals are almost identical to diamonds.
It also has a protective crystal dial window. It features a Swiss Quartz movement with a unique looking analog display. It features the best timekeeping, losing just a millisecond yearly. You will also receive a battery with the product and is water resistant up to 50m. You can comfortably snorkel and swim without damaging the watch, but it is unsafe to dive, wearing the watch.
4. A Wonderful Wall Hanging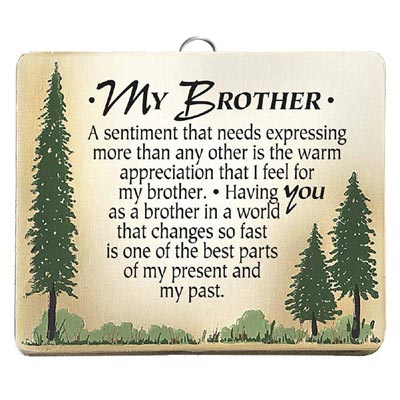 Price: $11.18 & FREE Shipping on orders over $35.
If your brother stays away from you why not send him a wood plaque that is ideal for wall mounting or to rest it on a table? It bears an inspiring, sentimental message that will make your brother miss you.  The plaque is built using high-quality composite wood with the message embossed on the wood surface. It comes with an easel back and has a D-ring for easy hanging.
5. Okayest Brother Tee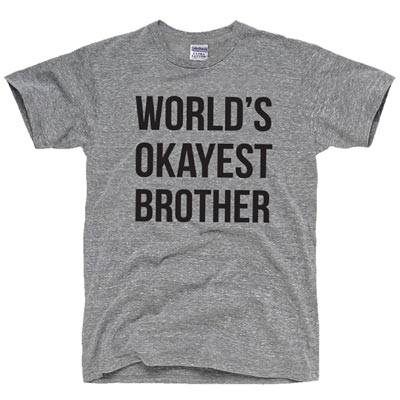 Price: $1.33 – $9.99
T-Shirts are a great way to make your brother feel like a real man, especially t-shirts with embossed messages that says World's most okay brother. The message is screen printed using quality ink that is designed to last longer without cracking or fading. The t-shirts from DirtyRagz are made for people of all size and age. Check their store for more designs.
The t-shirt is made from 90% preshrunk cotton and 10% polyester mix. The DirtyRagz t-shirts are not printed using heat transfer or garment process.
6. A Nice Looking Pendant With Chain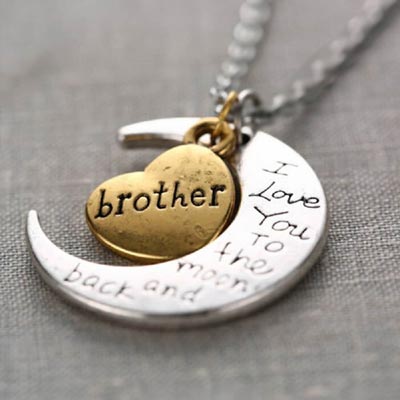 Price: $4.19 & FREE Shipping
If your brother loves to wear junk jewelry, you need to gift him a silver plated chain that says I love you to the moon and back necklace pendant. Indeed, this is one of the best birthday gifts for brother.
In fact, it is a generous gift to appreciate his presence in your life. The length of the chain is comfortably long and easy to wear. He will feel privileged to wear this chain that is gifted to him as a remembrance. So, what are you waiting for? Get it soon and have it neatly gift wrapped.
7.  Tea & Coffee Maker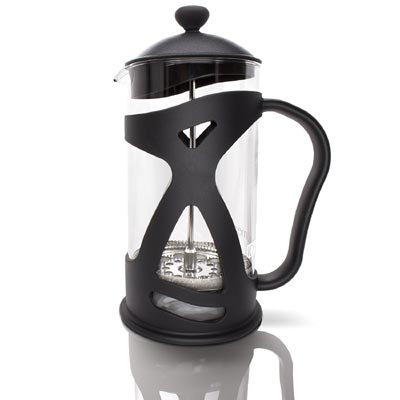 Price: $25.98 & FREE Shipping on orders over $35.
Your brother will love the coffeemaker from Kona, which is sleek, trendy and portable. Let him make a delicious coffee while he thinks of your affection towards him while he is away from you. The coffee maker effectively extracts the tender flavor of the coffee bean as you pour them in the cup. You will enjoy the exotic taste of the coffee till the last sip.
Every expert baristas are aware of the crucial method of making a mind satisfying coffee that depends on a reliable coffee press. The coffee maker has three pieces stainless steel infuser system that helps to preserve the flavor and lets you enjoy the brew in its pristine form.
Unlike the typical coffeemaker with a brittle glass attached to the system, our coffeemaker is built with robust materials that are not vulnerable to cracks and damage. The design is trendy and inspired by best baristas, demanding quality and durability. The glass teapot used in our coffeemaker is made of resilient borosilicate glass that is tough against heat and impact. So, why not take it outdoors? When you aren't using it, let it flaunt its gorgeous self while it sits on the kitchen counter. Let summer come and you will know how convenient it is to use it to brew iced tea and iced coffee.
8. A Cute Teddy Bear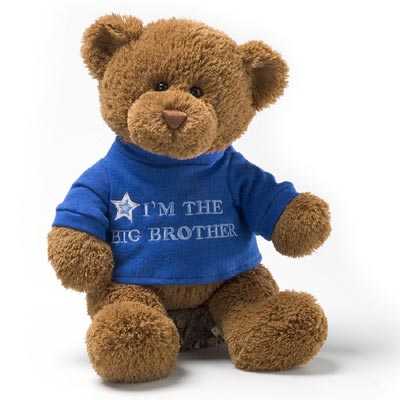 Price: $11.25 & FREE Shipping on orders over $35.
If your mother is expectant, you can choose a perfect gift for your brother who is yet to arrive. So, hurry, buy your little brother a soft plush fluffy bear with a t-shirt that says "I'm the big brother".
The Gund products have been a reliable gift for several years and have cherished many customers on many occasions. They continue their tradition of making the finest and innovative plush products. Their toys are built high-quality materials and offer unrivaled softness and huggability.
9. A Hunting Knife Set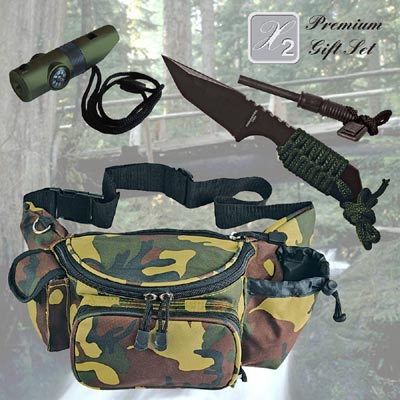 Price: $29.99 & FREE Shipping
A survival kit is the best gift you could present your brother on his birthday if outdoor adventure thrills him. The rugged kit is ideal for the outdoors. The knife and the blade are made of high-grade stainless steel.
The kit contains magnesium alloy fire starter that helps you get the fire started in the rugged environment. The 7 in one survival kit is built using outdoor friendly materials that do not degrade with intense outdoor usage.
So, if you are caught in the emergency fret not! Unwind your survival kit and use them to your advantage. It is one the best utility gift that will remind your brother about the person who gifted him every time he uses it.
10. A Manly Tote Bag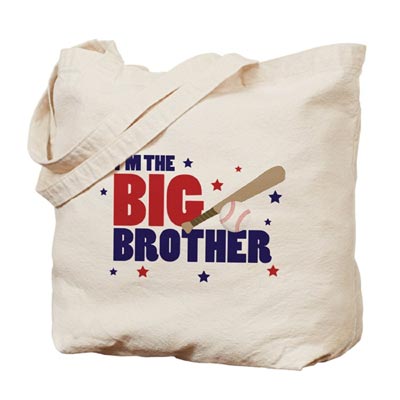 Price: $14.99 + $4.99 shipping
If your brother is a sports fan, you can gift him an "I'm the big brother" tote bag that is sporty and trendy to carry around. It weighs 10 oz. and is made of high-quality canvas. The tote bag comes with reinforced self-fabric handles and is machine washable.