What would we do without our mothers in our lives? Our mothers are our guiding lights. The central force in our lives that drives us forward. They give and give without expecting anything in return. Even though almost all of us take them for granted, we have to admit that our mothers are one of the best things that has happened to us. So this Mother's day, let's get our mothers something amazing from our list of Best Mother's Day gifts to make her feel loved and appreciated. Because even when we give her the gift, she will politely deny it or scold us for spending money unnecessarily. A mother's love is unconditional and irrevocable.
25. PRINTED CROSSOVER JUMPSUIT by Zara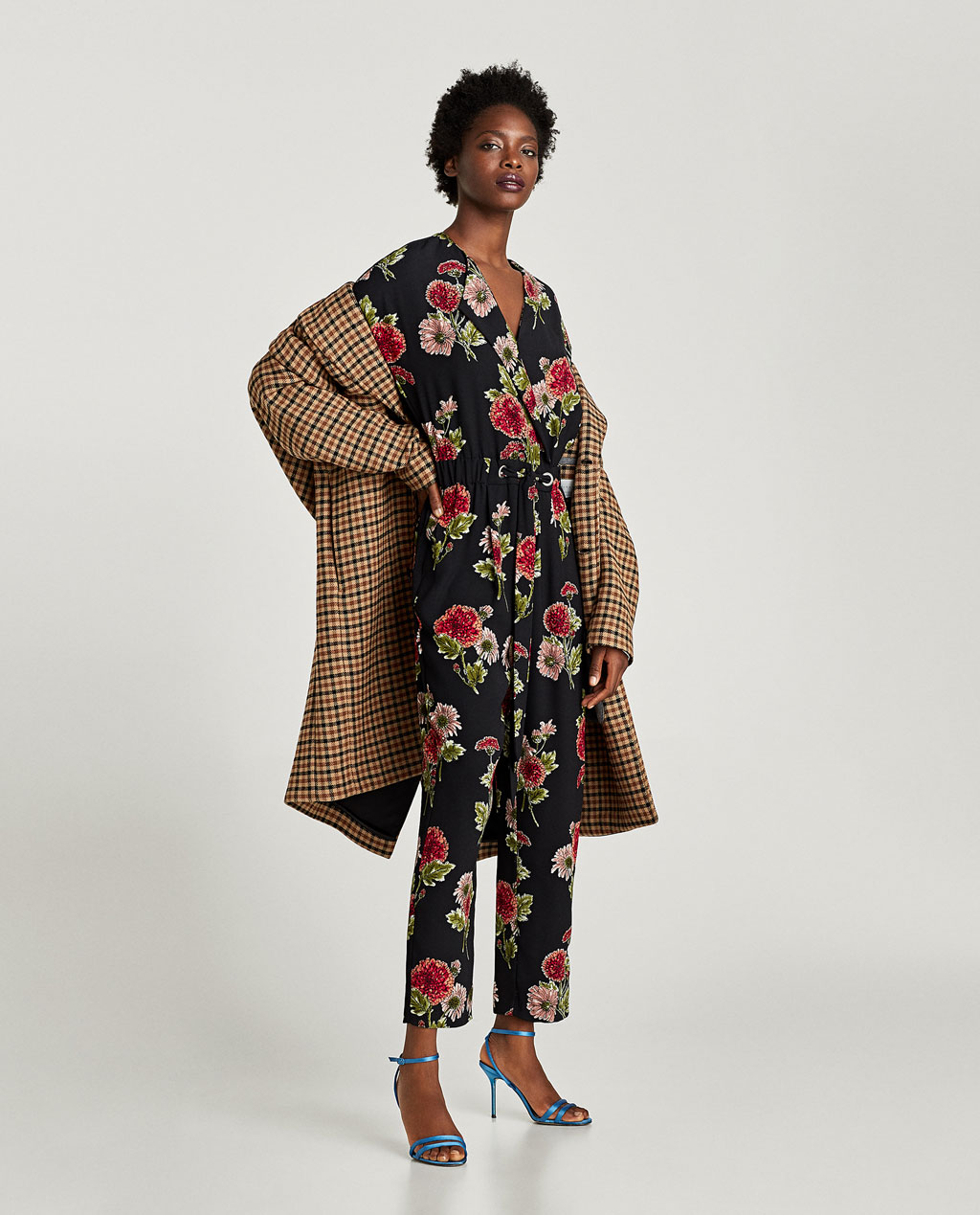 Price: $69.90
This jumpsuit is for the mother who is still in the clouds of her youth. This is for the mother who isn't afraid to take on the world everyday. The beautiful flower print on the jumpsuit will be what she loves the most about it. Other than how comfortable it is. She can wear it on a casual sunny day. Or choose to look casual at an important non-casual event. This jumpsuit is what your mother needs, to feel confident in herself. Some of you may feel that this jumpsuit is not ideally suited for your mother because she is too old to pull it off or because she would never wear something like this. Remember that your mother probably does not wear it because she is scared of how you might perceive her. Because only the family's opinion matters to her. She does not want to risk her motherly image. So when you gift her this, you are telling her that she need not be afraid to be who she is and do what she likes. You are telling her that you are going to be there for her. That is what this gesture is telling her.
24.

CLINIQUE

Take The Day Off Cleansing Balm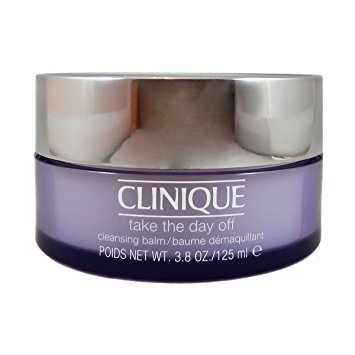 Price: $31.59
This is an amazing cleansing balm by Clinique that'll help your mom wash the stress of her day away. This balm feels a little greasy and oily but is really amazing. You will only need a little. You can apply it all over your face and then just wash it off. When I say wash it off, I don't mean splashing your face with water initially. First apply the cleansing balm on your face and remove all the makeup. Follow it up with splashes of water and this will leave your skin feeling incredibly soft and smooth. Alternatively, you can also use wet wipes to wipe the cleansing balm off. It removes everything off your face, leaving your face smooth and clean. You do not have to worry about it stinging. You can use this cleansing balm by Clinique to even remove eye makeup. It effortlessly removes makeup without any tugging or any sort of pressure. You might be surprised but this cleansing balm removes even waterproof makeup. Yes, even something as stubborn as waterproof mascara. This is a lovely gift for moms who go to work everyday or for moms who attend kitty parties very frequently.
23. The Park Row City Cruiser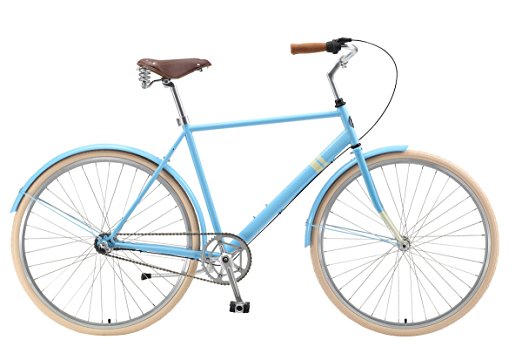 Price: $162 onwards
This cycle does not look like it belongs on this list. But it definitely does. And you know why. Everyone around us is lazy. We cannot blame a particular person for this. We have all become used to everything finding us. Instead of us finding it. Technology has made it so easy for us to do everything that we want right from where we are. Earlier, our parents used to cycle to nearby stores to get some urgent supplies for the house. What do we do? We order everything online and prefer paying extra for quick delivery. And somehow, our parents are used to this kind of lifestyle now. So wake your mom up this Mother's day and give her this cycle. So that she can relive her childhood and also be active and hail and healthy. This is an especially ideal gift if your mom lives in the suburbs and even you can take it for a ride when you visit her. This cycle is available in three different sizes.
22. Italian Food by Elizabeth David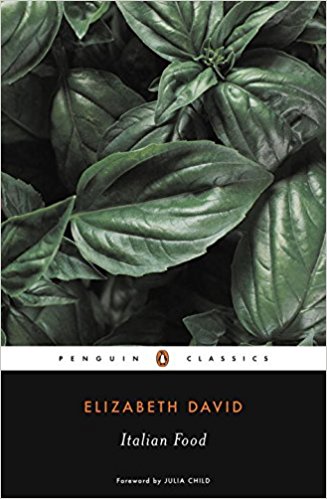 Price: $13.97
Almost the entire world loves and relishes Italian food. Pizza and pasta is a favourite of many non-Italian people. If your mom is also one such person, and is also a super foodie, she will love this book. Elizabeth David loves food and has explored Italian cuisine lock, stock and barrel. She has tasted authentic Italian food from the streets of Milan. And this was one of the first books completely dedicated to Italian food. Her passion for food led her to live in Italy for many years as she researched, tested and tasted some of the best ingredients in the world. This is not just a cook book. This is much more than that. Along with the recipes, Elizabeth David also passionately explains the history of the recipe and how changes have been made to it over time. Gift this to your mom if she is passionate about cooking. This cook book will make cooking a wonderful experience for your mom and it will not be just some household chore. Do not be surprised if you find her reading this book even when she is not cooking.
21. Leaves, Bath & Body Works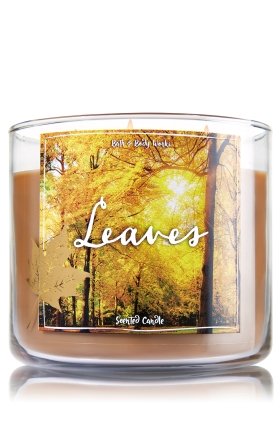 Price: $23.35
Bath and Body Works claims that this is the best scented candle ever. And we agree. This candle is made with the best essential oils and has the highest concentration of fragrances. This candle comes with three wicks. These candles are made of vegetable wax. And the wicks have absolutely no lead in them. Which is amazing because the smell of burning lead might ruin the scented candle experience and it is not advisable to inhale smoke from burning lead. So you will be able to smell fragrances in the likes of crisp red apple, warm clove spice and golden nectar. All these fragrances together will numb your mom's senses and transport her to another world. Another world filled with peace and tranquility. The candle will burn for approximately 25 hours to 45 hours. This candle is about 4 inches wide and 3 and a half inches tall. If your mom is one of those classy and fancy women who can only enjoy a nice bath or a quiet evening when scented candles are burning around her, she will love this one. This is also bound to become her new favourite. These candles also come in other fragrances like autumn and sweater weather.
20. MAGIC IN THE AIR
Get Your Glow On Gift Set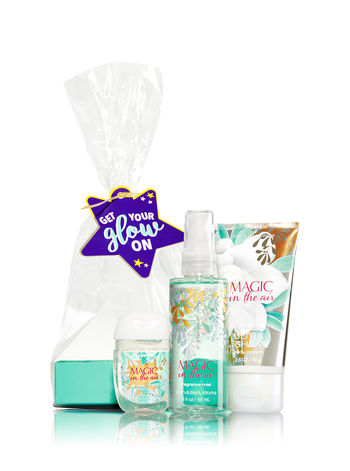 Price: $11.50
This is a Get Your Glow On gift set by Bath and Body works. This is one of those brands that all women love. So if you are unsure about what to get your mom this Mother's day, pick up this gift set for her and she will love it. Provided she is a beauty conscious woman and spends a lot of time and money taking care of her skin and looks. This kit comes with a body cream that your mom can apply after a bath. It'll leave her skin feeling soft and supple. The set includes a fragrance mist that will leave her smelling like Magic in the Air. And the fragrance will last a long time. And the last item in the gift set in a sanitiser which is also in the lovely Magic in the Air scent. Now, don't be in a hurry and order it immediately for your mom. Because there's a catch. This gift set is a travel kit. All these three items come in travel sizes. The body cream measures 2.5 fl oz, the fragrance mist measures 3 fl oz and the sanitiser measures 1 fl oz. If your mom is going to take a trip or travels often on business, she will appreciate this gift on Mother's day.
19. PIPER THE PENGUIN
Shea-Infused Lounge Socks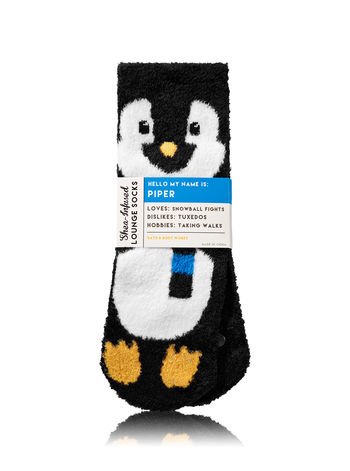 Price: $5.99
This is a really comfortable pair of socks that is infused with shea. You can just use this to kick back after a long day or just use it as a stocking to stuff things in it. This is made from polyamide and polyester. This is a really cute gift that you can gift your mom and it will put a smile on your mother's face. This is one of the cutest gifts on our list of Best Mother's Day gifts for your mom.
18. ULTRA-SOFT LIMITED EDITION BLANKET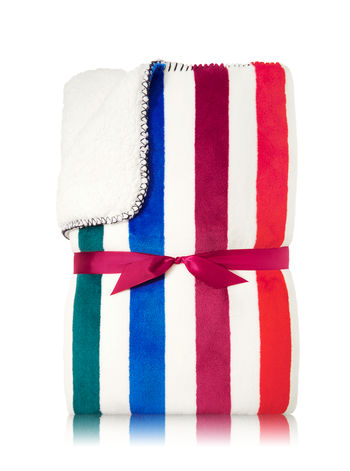 Price: $49.50
This blanket from Bath and Body Works is extremely soft and cozy. Your mom will feel really comfortable when she wraps herself in it. The best companion for a nap is this super soft blanket and if you realise it before your mom does, you may not gift it to her. This is also a limited edition blanket so order it as soon as possible. This blanket has beautiful stripes in various colours that make it look bright and colourful. This blanket is 60 inches long and 49 inches wide.
17. A THOUSAND WISHES
Basket of Favourites Gift Kit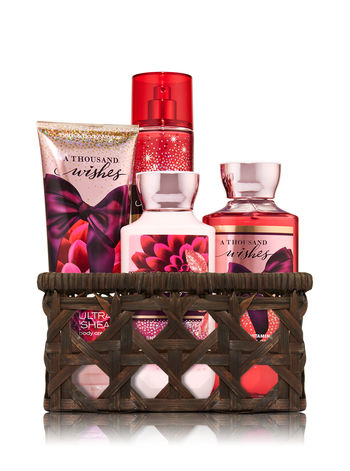 Price: $37.50
This is for your mother because she deserves the best. This is an amazing gift set that your mom is sure to love. So if you don't really know what to get your mother this Mother's day, you should definitely get her this very lovely bath set from Bath and Body Works. But make sure your mother is a little beauty conscious and enjoys using such products. This kit comes with a shower gel that will leave her skin feeling clean and fresh. This set also includes a body lotion that smells amazing and is also very hydrating and is good for dry skin. The product that is included in the basket is a fragrance mist that smells out of the world and lasts really long. The last product in our basket is a Shea body cream that'll have your skin looking healthy and feeling very soft. The shower gel comes in a 10 fl oz container, the body lotion measures 8 fl oz. The fragrance mist is in a 8 fl oz container and the Shea body cream measures 8 oz. This is a beautiful gift that blends the flavours of crystal peonies, sparkling champagne & almond crème. This is one of the most pampering gifts you can get your mom from our list of Best Mother's Day gifts.
16. ASOS Jumper with Embellished Doughnuts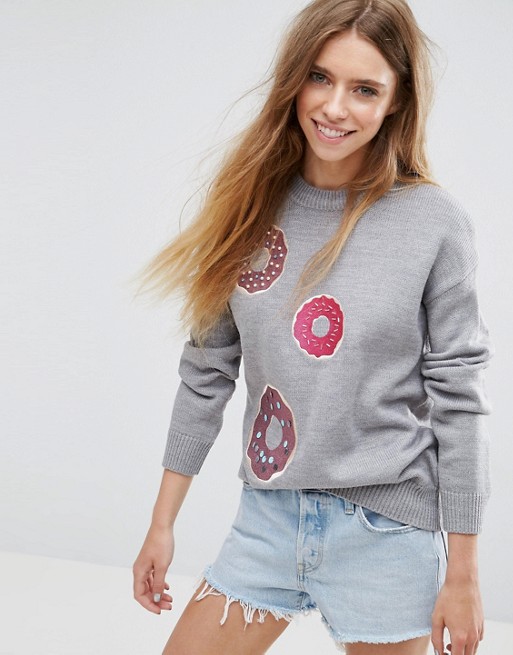 Price: $34.74
This is a really cool and chic jumper for a very cool and chic mom. This is a very light weight jumper that is knit very finely. The jumper has a crew neck. The grey jumper has doughnut designs on it. So if your mom is cool and loves doughnuts, she will love this jumper. She will feel super cozy while she is wearing it. This jumper is 100% Acrylic and can be washed in the washing machine. No special care and attention needed. This is a perfect gift for a mom who loves clothes and has a wardrobe full of them but still finds the need to keep buying more. Or keeps complaining that she has nothing to wear even though she has a wardrobe full of them. Once you gift this to your mom, she will love it so much that she will wear it every chance she gets. This jumper will keep her warm while making her look cool and chic. This jumper is available in various sizes. Make sure you order the right one for your mom. You don't want to order one size too small or one size too big.
15. ASOS CURVE Pack of 5 Stone Etched Ring Pack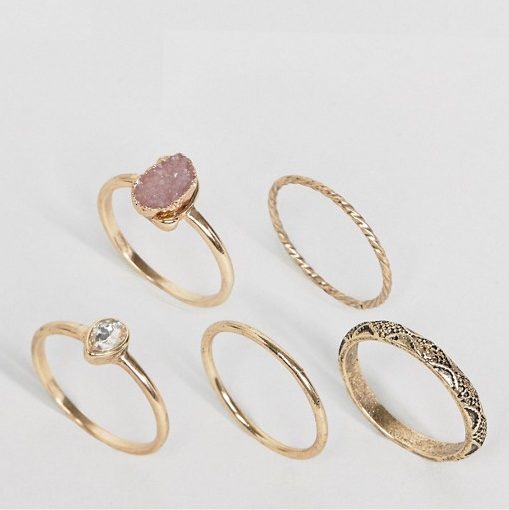 Price: $6.32
This is a pack of five rings that your mom can wear on different occasions. She will definitely find that one of these rings are perfect for all occasions. All these rings come with a gold finish and look really classy. They will look beautiful on her finger. Two of these rings have beautiful stones on them. One is a beautiful metal ring with some beautiful designs engraved on it. One is a classic plain metal ring and the last one is a non-plain kind of spiral designed metal ring. The rings are made with 60% Zinc Alloy, 15% Resin, 20% Steel and 5% Glass. Just make sure that your mom does not bring these rings in contact with water. Because any contact with water may cause the metal to tarnish and develop a dark green or black coloured coat. And in case the ring comes in contact with water, immediately wipe the water off and dry the ring and continue using it as usual. Storing the rings in plastic containers will help maintain the ring really well. It will always look as good as new. These rings are shipped to any destination in the world for free.
14. 
TOO FACED 
Just Peachy Velvet Matte Eyeshadow Palette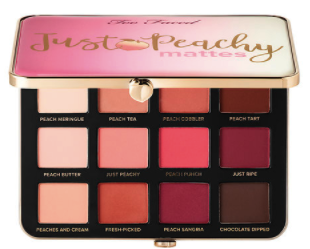 Price: $45
If your mom is into makeup at all, she will love this amazing Eyeshadow palette by Too Faced. This eyeshadow palette has natural shades and also some dramatic ones. Your mom can even mix a few colours to come up with a unique shade that will get her amazing compliments for her pretty eyes. She can go with the natural shades when she does not want to overdo her makeup but wants to look casual. And she can go with the other shades when she wants to make an entrance. In other words when she wants to be noticed and complimented. These shades are extremely long wearing and are also 12 highly-pigmented. The matte finish will give you a very classy look. The shades ranging from  warm peaches to rich browns can be very easily blended into the eyes. And the colour will lay over your eyes very intensely due to its high pigmentation. At any time during the day if you feel the need for a touch up, you can casually do it as it is buildable. As an added advantage, the shades smell like cream and peaches. The various shades in the palette are Peach Meringue (ivory), Peach Cobbler (toasted peach), Peach Tea (caramel), Peach Tart (deep brown), Just Peachy (matte peach), Peach Butter (peach cream), Peach Punch (peach daiquiri), Peaches and Cream (peach sherbet), Just Ripe (spiced plum), Fresh-Picked (ginger peach), Chocolate Dipped (smoky brown) and Peach Sangria (wine) which makes twelve amazing shades. The palette also comes with a How to Glamour step-by-step guide. And also, this Eyeshadow Palette by Too Faced is not too harsh on your skin as it does not contain sulfates, parabens and phthalates. And also, if you forgot your eye liner and have just this palette, use a liner brush along with any of the darker brown shades and you will have solved your problem.
13. Mansur Gavriel Mini Suede Bucket Bag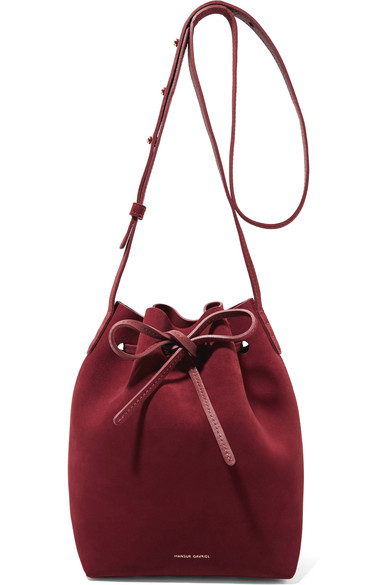 Price: $495
This is a bag that your mom can carry when she goes out. No matter where she goes. She can casually fling it over her shoulders when she goes out to run errands. She can take it to a dinner party. This bag will hold all of her belongings. It will carry everything that she needs. She can carry this bag without worrying about whether or not it will go with her outfit. This bag is made with rich brick suede and looks extremely classy. Your mom will fall in love with it the minute she lays eyes on it. The length of the leather straps can be adjusted with the polished pale-gold studs. The bag has a drawstring on top to open and close it. The bag is available in two different shades and weighs 1.1lbs/ 0.5kg approximately. This chic bag is made in Italy, which is all the more reason to buy it. And since the material is very delicate natural veining may occur. Similar bucket bags are also available in various colours and are made of leather.
12.

Sarah Chloe

Gold Lana Monogrammed Oval Signet Ring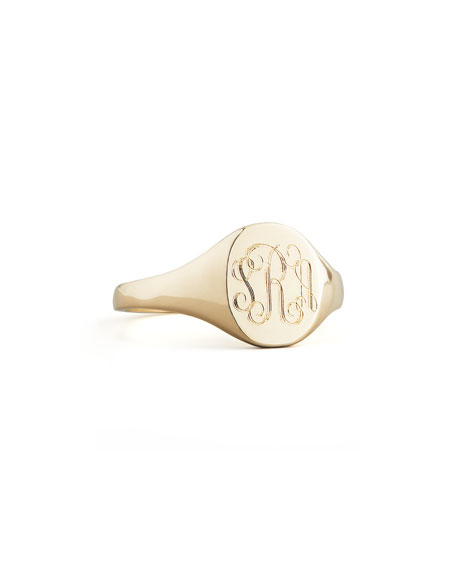 Price: $498
This is a beautiful ring that you should definitely buy for your mother this Mother's Day to make her feel super special. This is a 14 karat yellow gold ring that she will absolutely love. The ring design has an oval on top except which there are no designs on the ring. The oval on top can be monogrammed to have your mother's initials on them. This is what makes this is extra special and so worth the price. The oval can be monogrammed with the initials of your mom's first, middle and last name or even with your dad's if you think your mom would like that. The band is tapered and the ring is made to order in the USA. The ring is available in different sizes and make sure you order the right one for your mom. You will have to pay in advance because the product is made according to your order. But don't worry about having any issues with your product. They have a reputation of always satisfying their customers by delivering the best products to them.
11. Printed Silk-Chiffon scarf by Etro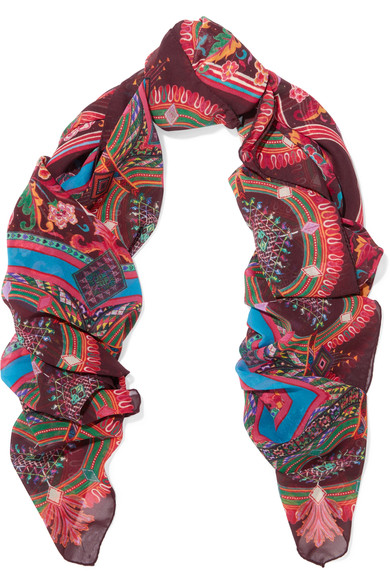 Price: $610
This scarf looks like it was stolen from a runway in Milan. I say Milan because this scarf that is made in Italy is made of pure 100% silk. This scarf looks extremely chic and your mom can pair it with anything. This scarf has designs of florals and swirling paisley in blue, burgundy, green and pink hues. This is one of the best gifts on our list of gifts for Mother's day. Your mom will love it especially if she has a keen sense of fashion. At $610, you should definitely get this for Mother's day if you forgot her birthday or have something to make up for. This scarf can be worn in many styles. You can wear it around your neck or simply braid it and let it hang. You can also check out youtube to see the different styles in which the scarf can be worn or ask your mom to do it so that she can pull off the look with style. The scarf has to be dry cleaned only.
10. Rockstud Leather Gloves

VALENTINO GARAVANI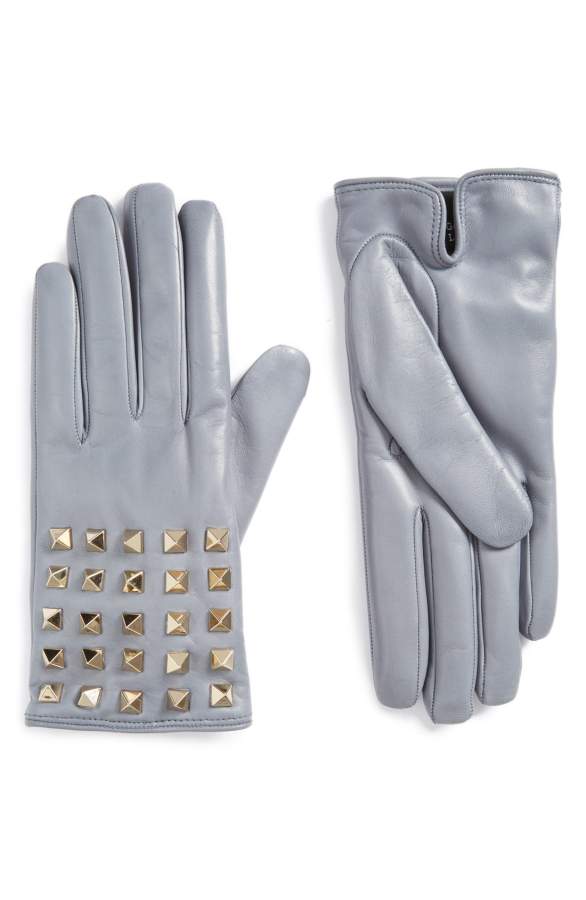 Price: $625
These are an amazing pair of gloves for your mom. If she is the kind who is appreciative of gloves and wears them when it is cold, she will love these gloves. These gloves are made of genuine leather and look very classy and is expensive. It is available in two colours, black and grey. The wrist part of the gloves are lined with rows of polished rock studs that look chic. These gloves are made of  refined Italian lambskin-leather gloves. These gloves come in various sizes and make sure you order the right one for your mom. This also has 100% cashmere lining.
9. Cozy Cable Slippers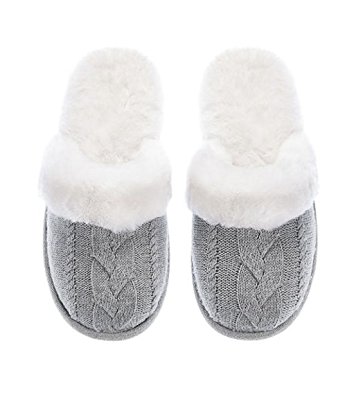 Price: $38
Get your mom these pair of slippers this Mother's day so that she can pamper her feet and have them feeling cozy all day long. These cozy cable slippers by Victoria's Secret will be what your mom looks for as soon as she enters the house after being out in the cold. These cozy knit slippers are available in different colours like dark pink, light pink and grey. This slipper comes with a rubber sole that is skid-proof. These slippers are also available in various sizes (S-5,6 , M-7,8 , L-9,10 ) so make sure you order the right size for your mom. This is the coziest gift on our list of Best Mother's day gifts. This has faux-fur trim and lining. There are also braid designs on the slipper that your mom will love. These pair of slippers are definitely worth the price and will last long.
8.

 

TechLoom Pro by APL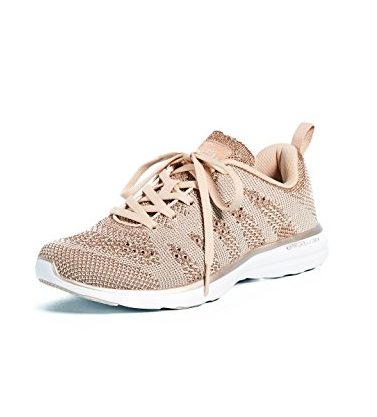 Price: $65.99 onwards
These shoes are for the moms who care about fitness and can't go one day without getting their dose of exercise. These shoes are extremely comfortable and come in a variety of colours and sizes. These shoes will be your mom's companion during her morning walks and jogs. These shoes have skid proof soles and will give your mom the propulsion that she needs. It also has extra cushioning for extra comfort. These pair of shoes are ideal for the athlete who has a sense of fashion. These shoes will give your mom a very clean look. You can also get her some tracks and t-shirts along with this. The price of this shoe depends on the type you choose and the colour. The designs on this footwear are very intricate and look very chic. These shoes are unisex. This is one of the healthiest gifts you can get your mother from our list of Best Mother's Day gifts.
7. PEACOCK MIX SEED BEAD WRAP BRACELET ON NATURAL GREY LEATHER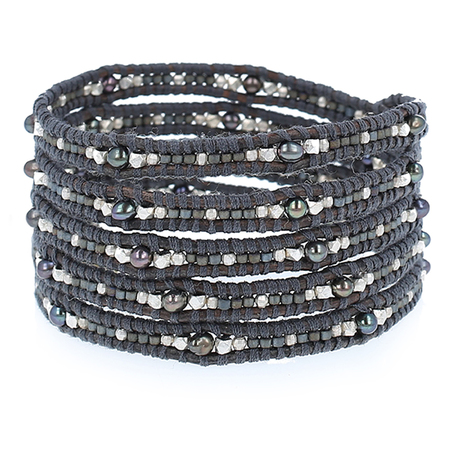 Price: $220
This bracelet has a slender strap and a variety of beads imbedded on natural grey leather. These beads include sterling silver beaded accents, peacock blue freshwater pearls and glass seed beads. The bracelet is essentially a thin strand that can be wound around your wrist multiple times. The grey bracelet not only looks chic but also feels chic. Your mom will love it. She can wear it on all casual as well as dressy occasions. The bracelet has an adjustable strap so you don't have to be doubtful about the bracelet fitting your mom's wrist perfectly. This is one of the most chic items on our list of Best Mother's Day gifts for your mom. The bracelet is handcrafted in Vietnam and is a really cool gift to give your mom this Mother's day. If she has a good fashion sense, chances are she might already have one like this , nevertheless, she will instantly love it.
6. Mina Sweater by Paige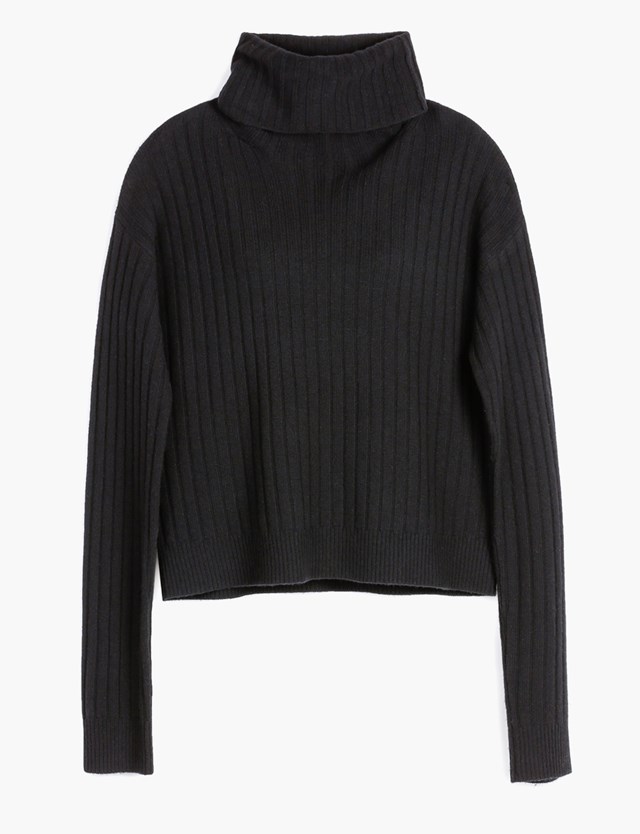 Price: $298
This is a wonderful turtleneck sweater that you should gift your mom this Mother's day. The sweater is in a classic black colour although it appears like dark grey and your mom will instantly love it. It is available in various sizes so make sure you order the size that is right for your mom. She will feel really warm and cozy in this sweater and don't be surprised if you see her wearing it everyday this winter. The material consists of 20% of Polyvinyl Acetate, 24% of Nylon and 56% of wool and that (the ribbed wool blend) is the reason this sweater is so soft and comfortable. The turtleneck can be folded up or down according to your wish. The sweater also has extra long sleeves to complement a modern silhouette. Also get her a nice pair of jeans to go with this turtleneck sweater so that your mom can pull this look off easily. This sweater will make you your mom's favourite for the rest of the year. Or at least until her birthday. Or at least a week.
5.

ANITA KO
Spike rose gold earrings
Price: $395
These earrings are shaped like a pyramid and are perfect for everyday use. These earrings will add a classic and trendy look to your mom. She can wear them everyday to work. They are made of 14 karat rose gold and look amazing. You can wear these earrings with anything from casual t-shirts and pants to fancy dresses. You can wear it everyday to work and to fancy dinner parties as well. These earrings have a very rich rose gold finish that'll make the earring look like they are shining. Remember that these earrings are only for pierced ears and these earrings have butterfly fasteners. The earrings come in a designer stamped box that is ideal for gifting. You might be tempted to keep these earrings for yourself but muster the heart to gift it to your mom this Mother's day. She deserves it after everything she has done for you. This is your chance to make her feel loved and appreciated for all the effort she takes for you and your family.
4. The Petra Backpack by Everlane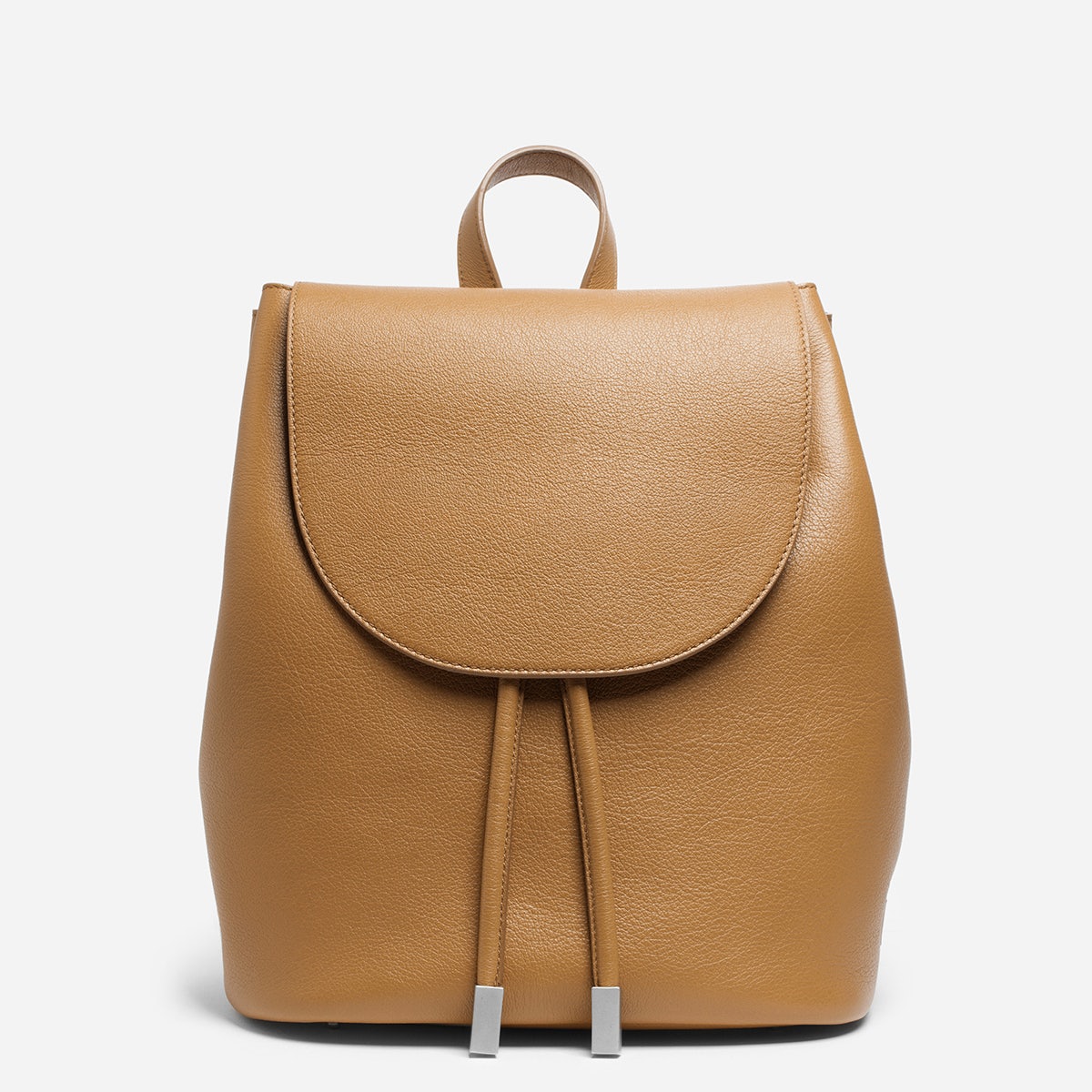 Price: $231 onwards
This is a very trendy looking backpack that is ideal for the mom who does not really have the time for anything. This backpack is perfect for work and travel. This will hold all her daily essentials and sit perfectly on her back. This is also extremely practical for use. This bag will go with everything yo. This backpack comes in three colours namely black, white and tan. The bag is completely made with Italian leather that is 100% full grain. That is the reason the bag is very durable. The bag has ultra suede lining. The bag has to be wiped with a damp cloth if you want to clean it. Do not wash it with water or dry clean it. But if you have used it for a long time and cannot give up on your favourite bag, do not worry as you can apply leather conditioner and water repellant spray to make to appear as good as new. The bag is made in Italy. If your mom goes to wrk and uses a laptop, she will have to carry the laptop separately as this bag will not fit a laptop. The bag measures 9 inches in width, 5.5 inches in depth and 10.5 inches in height. For secure closure the bag also comes with a hidden loop. There is also a snap pocket inside. There is also a top handle measuring 4 inches to make it easy to carry the bag by hand. The leather drawstrings have gunmetal-finish hardware. This is also found on the base of the bag. A lot of people have said that the quality of this bag equals or even surpasses many major more expensive brands.
3. Live Edge Cutting Board by Jayson Home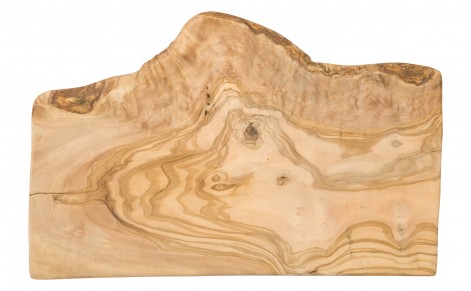 Price: $60
If your mom enjoys cooking and loves experimenting with new dishes, you can be sure that she will absolutely love this gift. If she loves surprising your palette and you want her to feel encouraged to make many more new dishes to please your taste buds, you should get her this for sure. This board is extremely durable and your mom will enjoy cutting fruits and vegetables on this board as this is such a breath of fresh air and a very welcome change. Three sides of the board are sanded while the fourth side is a gnarled and twisted tree trunk. Your mom can slice and dice as she pleases. This cutting board can also be used by your mom to present food. If she hosts dinners frequently and is the most talented chef in your house, she will enjoy presenting her very yummy food on this Live Edge Cutting board. This cutting board is made of organic wood. The board measures around 15 inches in length, around 7 inches in breadth on one side and around 9 inches in breadth on the other side. Make sure you get this cutting board for your favourite chef because we seldom appreciate our mothers for what they do for us. And also, this gift will encourage your mother to cook more of your favourite dishes. This is one of the most useful gifts on our list of Best Mother's Day gifts for your mom.
2. Duvet Insert by Casper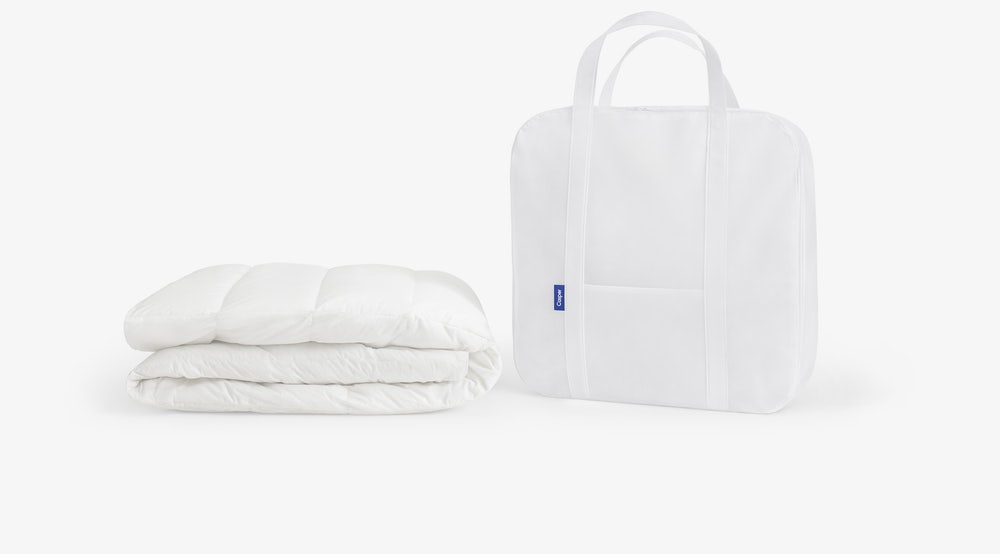 Price: $290
This is an insanely comfortable duvet that is bound to keep your mom comfortable throughout the year. Chances are, your mom has been eyeing this duvet for a pretty long time and now it is high time you buy it for her. She will thank you every time she snuggles into the duvet for a nap or for a good night's sleep. And after a long day of hard work, your mom definitely deserves a nice long sleep in this cozy and comfortable duvet. More than your mom snuggling into this duvet, this duvet will embrace your mom. It will feel like she is sleeping on a bed of roses. But no thorns. Absolutely. This duvet is inspired by performance outerwear. Meaning that it will make you feel as warm and cozy as your favourite jacket does. This duvet is made so that it would last for years. Just like your mattress. Although this is a huge duvet, it is really light weight duvet. This is a nice and fluffy duvet and this is precisely what your mother deserves this Mother's day.
1. Ted Baker Luggage Tag & Passport Set Chelsea Border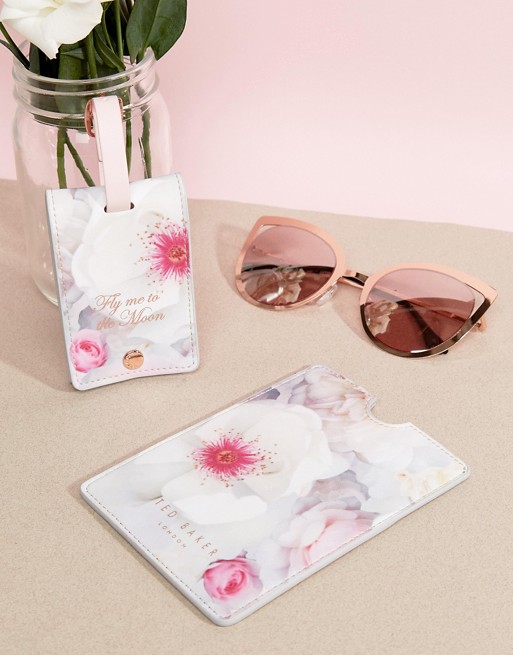 Price: $47.37
If your mom travels often and is a fan of some major brands, she will love this luggage tag and passport set from Ted Baker. This is a multi-coloured luggage tag and passport holder with floral designs. Whether she is going to take a vacation or travels often for work, she will find this gift extremely useful and lovely. This will definitely supplement the classy woman that she is. The luggage tag and the passport holder has the brand name embossed in gold foil. The passport holder has a transparent photo ID sleeve as well. This is extremely ideal for any kind of travel. Make your mom feel loved and appreciated this Mother's Day by gifting her one of the best items from our list of Best Mother's Day gifts.