Do you believe that housewarming can drive away evil spirits by creating an atmosphere of warmth? Well, this has been said since the medieval times, where each guest would bring firewood as an offering to provide warmth to the house. In our times, fire woods are no longer necessary because not all houses have fireplaces anyway. However, presents are customary and here the top ten housewarming gift ideas to think of giving at the party.
10 Best Housewarming Gift Ideas
The practice of housewarming is not new. It dates back to the ancient times when the uninhabited house was believed to be inhabited by spirits, both good and bad. Hence, it required proper cleansing so that the house was safe enough for the next occupant to live in. This is how housewarming began and it has always been a tradition since then.
1. A Drinking Game Set

Price: $12.99
Say goodbye to a boring party! This drinking game can be a great way to make the party filled a little twist and fun, well, for those only who are allowed to drink because this is a game intended for adults. Truly, this is one of the perfect and useful housewarming gifts to give someone. The centerpiece of the item is the gold-color revolving wheel with numbers and a ball that comes along with it.
So, the shot glasses are filled and each glass along with it has numbers too and it should have different owners. Spin the wheel and whoever has the glass that matches the rolled number drinks and after the drinks are consumed, refills it or it can be removed from the rim. Then the players take turns in spinning.  It is very easy
This drinking roulette set measures 11.5 inches in diameter and 1.5 inches tall. It comes with 16 once ounce shot glasses with two roulette balls and wheel. This fun-filled item cannot only be perfect for housewarming parties but also for bachelor or bachelorette parties.
2. A Pack Of Beer Glasses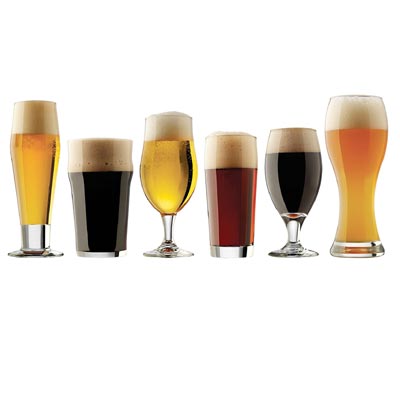 Price: $33
Different styles of beer glasses for different kinds of beer. That's what this is about. These assorted beer glasses are inspired from different places like the classic pilsner that came from the Czech Republic, the English Pub from the pubs in the United Kingdom, Belgian ale is from Belgium, crafts porter/stout and wheat beer from London.
What is most interesting in these glasses is that each glass has different profiles and descriptions ideals for those who are inquisitive as to what this glass is for, what food that is the best pair with it in line with the purpose of creating that kind of design on each glass which I think lots of drinkers doesn't know. The quality of each unique glass piece is of the best quality there is in the US.
The set contains the Classic Pilsner glass that is 15.25 oz or 451 mL, the English Pub glass 20 oz or 591 mL, the Belgian Ale glass which is 16.6oz or 490 mL, the Craft Pub glass which is also 20 oz or 591 mL, Porter Stout glass which is 14.75 oz or 436 mL and the Wheat Beer glass is 23 oz or 680mL.
3. A Designer Wall Clock
Price: $64
Talking about housewarming gift ideas, this beautifully crafted flower burst wall clock is amazingly unique that will give a house a glow, love, and warmth. This gorgeous wall clock is designed with dials that are made of diamond-cut glasses with the frosted background to represent mists. It's unique, beautiful and sophisticated that I would want one for my own!
Unlike other clocks that every tick of the hand comes with noise, this, on the contrary, is silent. This particular product has gained 5 stars all across the board. That's how amazing it is plus the top notch customer service that you can rely on.
4. A Personalized Wall Decor
Price: $81.79
Make a note that the product features a special promotion now for $39.99 with only $5.99 shipping (may change). If there's one thing I would want inside my house would be a sign that is uniquely my own and I will love receiving a gift that is as nice as this!
The dark colored edges on the canvas give a classic touch and since the color is neutral, it will perfectly compliment every color on your wall.  The aged canvas texture will bring you back to the times of King Arthur or Shakespeare or the times of the Baratheons'. This classic canvas features of the personalized family name in a warm brown with a popular quote in the faded script.
5. Side Sofa Table by Carol Wright Gifts
Price: $30
This elegant artisan crafted piece is uniquely beautiful with a flat surface wood on top which is perfect for a very wide living area, a farther center table, and television set if you have one. Side sofa table is designed for your convenience to place this table either on the side or at the center of your sofa furniture. It is compact and can easily be stored. It has 12 L x 81/4"W x 20" H.
6. Turkish Blue Evil Eye Wall Hanging Decor
Price: $12
The name of the product would give a shiver to those who do not understand the meaning of the name. Nazar means Blue Head or an eye-shaped amulet which is believed to repel bad spirits. This design is actually popular in Turkey, India, and Afghanistan.
The moon size has a height of 3.5 and a length of 9.5". This is a perfect gift for a housewarming party to bring charm, good luck, and good life!
7.  A Metal Basket Stand For Fruits & Vegetables
Price: $11.99
This beautiful three level hammock designed metal basket is great for your fruit on the lowest level, some fruit vegetables on the second level and spices on the first level bringing these three kinds of ingredients for your convenience. It has a durability feature and a sophisticated look because of its construction. Air can circulate easily around them so your produce can last longer. It is simply elegant, convenient and durable.
9. A Silicone Cooking Utensils Set with Revolving Holder
Price: $39.95
This may look like a plain plastic that burns when in contact with heat but think again. This premium silicone is of top quality. It is heat resistant that can be used up to  480°F and is non- stick and so you can cook in your pans or bakeware without hassle.
These amazing utensils are strong and sturdy yet flexible. Most importantly, the top-grade silicone is hygienic and safe for everyone. This set includes a Stainless Steel Tong with Silicone Tips, a Spatula, a Spoonula, a Ladle, Mixing spoon, Turner, Revolving Utensil Holder.
9. A Multi Purpose Fire Extinguisher
Price: $19.98
This is one of the most important things that every kitchen should have because of the possibility of fire. This is a multi-purpose disposable extinguisher with a clear instruction level and is therefore very helpful to use especially to those who did not have any experience in using an extinguisher.
10. A Stunning Bathroom Wash Set
Price: $20
This is a great addition to the collection for your bathroom. The color Red has a reputation of warding off evil spirits because of its warm, vibrant color plus red signifies love. So this could also be a great housewarming gift.