It is not always easy to find your wife the perfect anniversary gift. This becomes even more difficult if your wife is the kind of woman who has everything and also has a very unique taste. Even if she is the most difficult person on the planet to impress, you will still find a gift that will amaze her on our list of best anniversary gifts for her.
50. 
Trimmed Natural Rose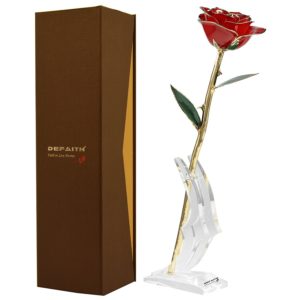 Price: $44.99
This is a rose that is actually dipped in gold for your incredibly precious wife. This is a very classy gift for a classy woman. If your wife is into flowers and chocolates, she will definitely love this. This is probably the most romantic gift on our list of best anniversary gifts for your wife. The rose is accompanied by a stand to keep it in. This can adorn your wife's dresser or can even be kept in the living room or dining room. This rose also comes in a beautiful luxury box. The rose is about 10 inches tall.
49. 
Rabbit Wine Bottle Opener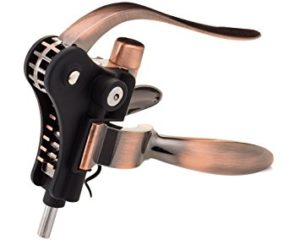 Price: $20.99
If your wife is the kind who loves unique and different stuff, she will definitely love this wine opener. This is not one of those boring wine openers. This looks nice and classy and is a conversation starter. This has the best corkscrew available and you will never ever have to worry about a broken cork. This is made of a zinc alloy and will last really long. This is a must-have at every party if you want to open multiple bottles with ease. This also comes with a 100% money back guarantee. So if you are not 100% happy with the product, you can have your money back.
48. 
Titanium Stainless Steel Couple Pendant Necklace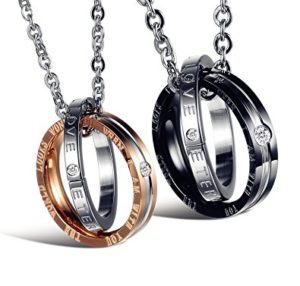 Price: $14.99
This is a gift for both of you. You can feel like little teenage lovers with this dual couple's pendant. You can wear one and put the other one around your wife's neck. Seeing it or merely feeling it around her neck will remind her of you and will put a smile on her face. This is made of stainless titanium metal through the laser cut and polishing technique. It is very light weight and comfortable to wear. It also comes in a beautiful little gift box and a lucky bean with wishes for the couple is also included.
47. 
Fizzy Bomb For Woman Relaxation Toxin Rid Detox by Premium Nature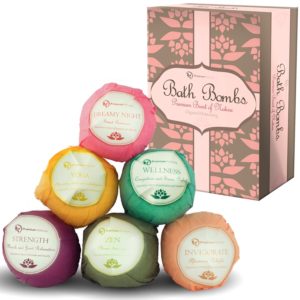 Price: $10.44
Does your wife like to unwind after a loooooooong day at work with an even longer bath every night? Then this is the most amazing gift you can get her. She can totally unwind and relax with this pack. It comes with six bath bombs in six different fragrances. She can pick one for each day depending on her mood. These bath bombs are made with natural ingredients only. Get this for your wife so she can have spa quality aromatherapy and relaxation at the comfort of her home itself and she will thank you everyday for this.
46. 
Romantic Red or White Wine Glass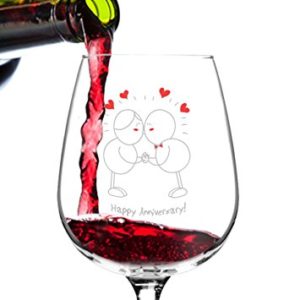 Price: $13.99
If your wife enjoys the occasional glass of wine as she relaxes with a book or in front of the television, she would love this wine glass which has "Happy Anniversary" printed on it. So every time your wife takes a sip, she will be reminded of what a darling you are and this will put a wide smile on her face. Also this pack comes with a beer pint for you so you can relax in front of the fire or in the patio or you guys can just chill together as a couple with your new beer and wine glasses that tell the world what an amazing couple you are.
45. Heart Bowl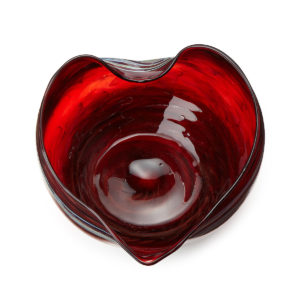 Price: $97.74
This bowl is definitely one of a kind. Shaped like a heart and coloured like blood, this heart shaped bowl will be appreciated by your wife. She can choose to add it to her cutlery in the kitchen and use it to serve soup or something. Or alternatively, she can use it to display something cool on the centrepiece or the showcase. This heart shaped bowl is symbolic of placing your heart in your wife's hand.
44. 
Date Night Gift. Romantic Poem + Your Favorite Photo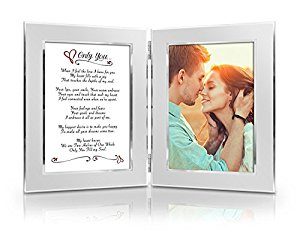 Price: $27.95
This is a lovely gift. If your wife is crazy about pictures of the two of you together and your house is full of such pictures in pretty frames, you can be sure that she will love this gift. This is a customised gift that is tailor made for each customer. You can pick a picture of you and your wife that she thinks she looks good in and also pick a poem or a few lines from a song that means something to her. Or you could write your own poem and dedicate it o her. Anyway, you can completely customise this gift to make it the best anniversary gift ever,
43. Handmade Real Wood Card Love You He and She (Soulmates)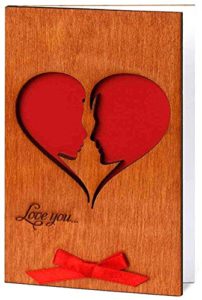 Price: $13
This is an Anniversary card. But why is an anniversary card on our list of best Anniversary gifts for her? It's because it is not just an ordinary card, this card is made of wood. And as if that's not enough, it is also handmade. And that is enough for you to make your wife fall in love with you all over again.
42. Preserved Flower Rose, Antique Jewellery Box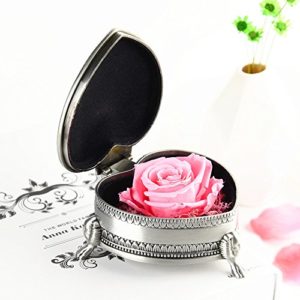 Price: $36
If your wife loves small boxes and keeps buying such small boxes and pouches for no reason, she will love this tiny jewellery box that she can keep on her dresser. She can use the box to store the flower forever or she could use it to store her wedding or engagement ring since the box looks perfect for that. And the rose is a symbol of eternal love that shall not alter.
41. 
LadyColour "A Little Romance" Crystal Bracelet Series, Made with Swarovski Crystals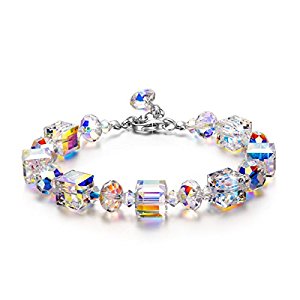 Price: $35
If your wife loves dolling up for occasions and takes a lot of time to match her accessories, get her this lovely bracelet that will go with most of her clothes. And she will definitely love this classy bracelet. The bracelet is made of swarovski crystals and will shine and reflect light like crazy. Your wife is sure to get loads of compliments while she is wearing this.
40. 
Best Wife Ever
Two Tone Black Mug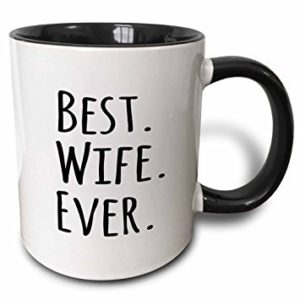 Price: $13
This is the simplest way you can tell your wife that she is the best. Hands down. This'll make her day. This does not even have to be an anniversary gift. You can get it for her just because.
39. Garden Heart Shaped LED Light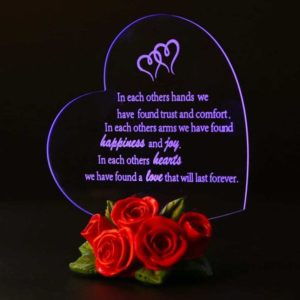 Price: $13
These are some beautiful words that you should tell your wife on your anniversary to remind her that she is the best. Over a period of time, a couple may get busy with their own lives and not have time for each other. But this anniversary, get this for your wife to make her feel really special and like the most loved person on the planet. The LED light on the panel can be turned on and off as you please. Batteries are included with it.
38. Spa Gift Basket with Refreshing Ocean Bliss Fragrance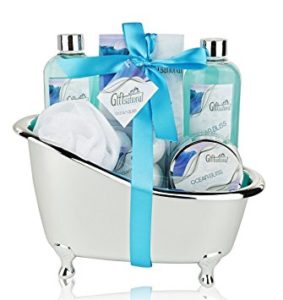 Price: $35
If your wife is extremely beauty conscious and spends a lot of time to take care of her beauty and her skin, you should gift her this lovely gift basket this anniversary. This is the ideal stress remedy. Both you and your wife can enjoy a luxurious bath after a long day at work. This basket contains a shower gel, bath salts, body scrub, an exfoliating sponge and everything else that you can imagine to give you the most amazing bathing experience.
37. 
Folded Book Art, Handmade Paper Anniversary Gift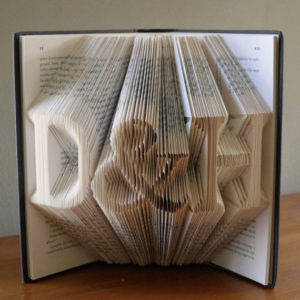 Price: $60
If your wife likes romantic things, you should gift her this. This is a book customised to read initials, names or even dates when opened. This is a gift that is customised to suit your needs. The pages of the book are folded to display whatever you ask to be displayed. Dates upto five digits can be done with dots or even hearts to separate the digits. The only drawback is that you cannot pick the book. The book is chosen by them according to the message displayed.
36. Willow Tree Around You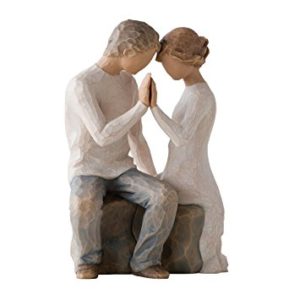 Price: $35
This is a beautiful piece of artwork carved and painted by Susan. There are various themes that you can choose one. You can pick one that'll have the most impact on your wife. These sculptures look exactly like they do in the pictures. This is a beautiful reminder of the things that the two of you have been through.
35. 
Personalized Custom Text Rectangle Crystal Carousel Colorful LED Music Box With Remote Control, Carousel, Bluetooth Base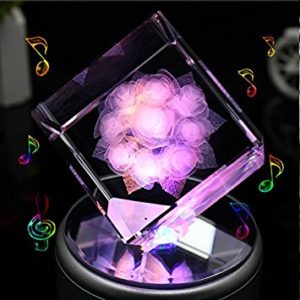 Price: $63
This is a lovely music box that'll display beautiful flowers in 3D with LED light. It also comes with a remote control. You can play your favourite songs by connecting the box to your phone via bluetooth. Alternatively, you can also download some of your favourite songs onto the TF card that it comes with and play your music through that. Excellent gift for your anniversary if your wife is a music lover.
34. The Kiss Wood Figurine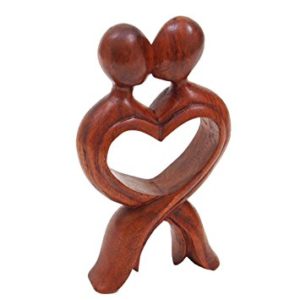 Price: $42
This is one of the best gifts on our list of best anniversary gifts for your wife. This is about 8 inches in height and is carved out of sugar wood. This anniversary gift your wife the everlasting symbol of love.
33. "Eternal Love" Luxury Austrian Crystal Pendant Necklace Eco-friendly Triple White Gold Plated Upgraded Chain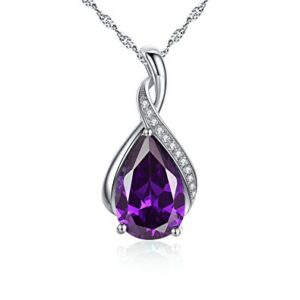 Price: $35
If your wife loves jewellery, get her this beautiful chain and pendant. This is white gold plated in three layers and is extremely thick and durable. The finishing has been done with German mirror polishing. It also has excellent Austrian crystals.
32. Love Balloon Heart Night Lights 3D Illusion Lamp Led Desk Lamps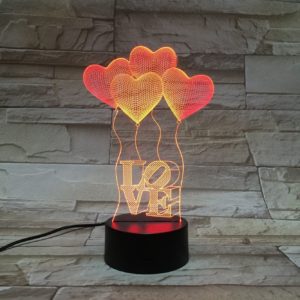 Price: $17
Gift this to your wife this anniversary so that she can keep it on her bed side table, her desk at work or somewhere because each time she sees it, it'll remind her of you and the love that you two share. This is a beautiful gift.
31. 
"Heart in Heart", Personalized Artwork with Names and Date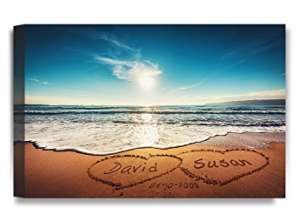 Price: $45
This is another personalized gift that you can give to your wife. You can have to customised to display both your names. Your wife will love it so much and hang it in your bedroom. You can also include dates and choose from a lot of designs and themes that are available.
30. 
"I Love You To The Moon and Back" Love Heart Pendant Necklace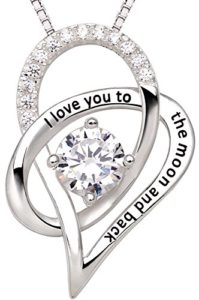 Price: $40
This is also a beautiful necklace on our list of best anniversary gifts for your wife. This is a beautiful necklace that has the words "I love you to the moon and back" inscribed on it. If your wife loves jewellery, what better way to tell her that she means the world to you? She can flaunt it around and make her friends and colleagues jealous.
29. 
5 Years of Marriage
Engraved Natural Solid Wood
Photo Frame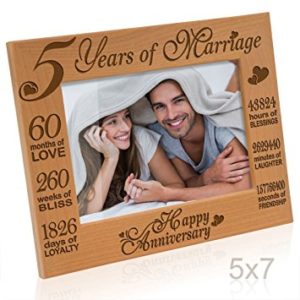 Price: $20
As the name suggests, this is a perfect anniversary gift if it is your fifth anniversary. This will remind your wife of the amount of time that you guys have spent together and what a strong couple you are foe going through everything that you did in all these days.
28. 
Happy Anniversary To My Wife "The Love of My Life" Love Poem Card in Black Frame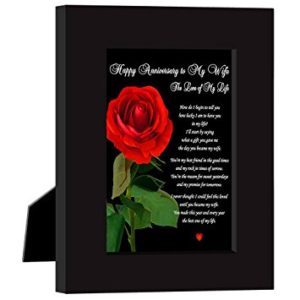 Price: $30
A lot of us are not good at writing. We may not be able to put into words how exactly we feel. So this time, instead of picking up a greeting card, let's make it extra special by picking up this card in a beautiful black frame.
27. "Rose Lover" Rose Gold Bangle Bracelets Made with Swarovski Crystals, Promise of love!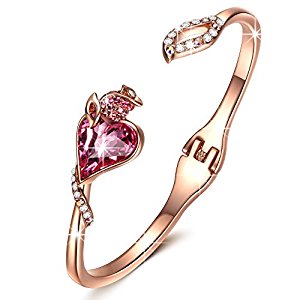 Price: $29
Leave this on your bed, as your wife gets ready for your traditional anniversary dinner so that she loves you more. This is an extremely beautiful bracelet that your wife will absolutely love. This is made with pink heart shaped swarovski crystals.
26. mamre Moon Ambient Light DIY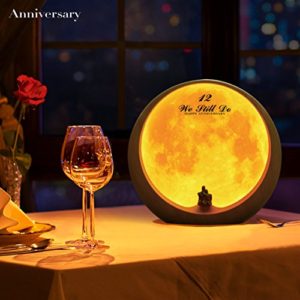 Price: $29.85
This is a beautiful gift that you can give your wife on your anniversary. You can keep this on your dining table for a romantic candle lit dinner setting or even on your wife's bedside table. It has touch sensors, so all you have to do is simply tap the light to choose from three levels of light intensity.
25. First Wedding Anniversary Wall Plaque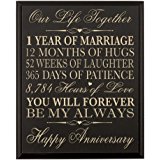 Price: $49.99
Just like the perfect gift for the fifth year anniversary, this is one such gift for the newly weds who are just getting the idea of what marriage really is. And how easy or difficult it is to share your life with another human being. Gift this to your wife on your first anniversary to let her know that you have enjoyed every single minute of the last year.
24. Luxor Linens Egyptian Cotton His/Hers Waffle Weave Robe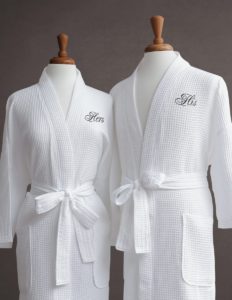 Price: $86.45
If you and your wife are a very couply couple and enjoy doing everything together. You should get these bath robes so everything in your world has two in it.
23. Wood Roses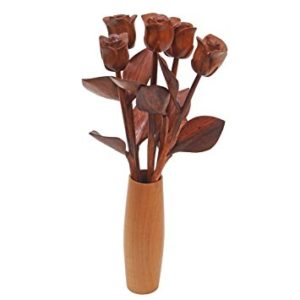 Price: $116.32
Natural roses are a beautiful and classic gift to give your woman. But your wife's heart will break when she sees it wither. So get your wife these roses carved out of wood that are just as beautiful and will stay in your lives forever. This is the symbol of the timelessness of your relationship.
22. Soulmates Lovers Hands Entwined Sculpture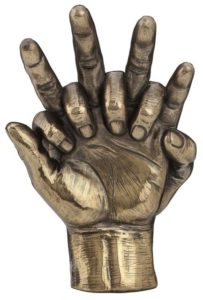 Price: $29.95
This is a beautiful gift that you can gift to your wife on your anniversary to remind her that her hands are always in yours and no matter what, you always have her back. This gift can give your wife the reassurance that she needs and looking at it, will give her the confidence to face each new day knowing that she has you come what may.
21. TABLE TOPICS Couples: Questions to Start Great Conversations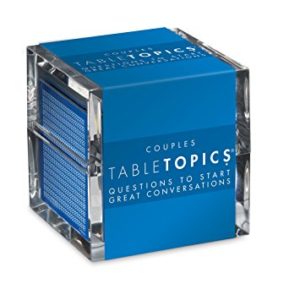 Price: $25
This is kind of like a board game for couples. If you and your wife dated for a long time before you got married, or if you have been married for a long time, it is totally normal to run out of new stories and childhood memories to share. If there is silence, after the whole "How was your day?" charade, you should definitely pick this up. This has great questions and stuff to help both of you get to know each other at a whole new level. And your wife will definitely appreciate the effort.
20. Bond of Marriage Sculpture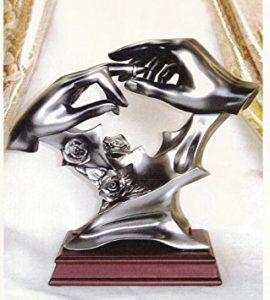 Price: $42.95
Just like the hand intertwined sculpture, this sculpture is a reminder of the happiest day of your lives. The day the two of you promised yourselves to each other in sickness and in health, through good and bad, always and forever. Remind your wife by gifting this to her on your anniversary that your vows mean everything to you and that you will uphold them until your last breath.
19. 
"Perfect Couple" Hypoallergenic Rose Gold Plated Earrings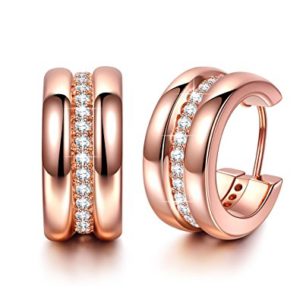 Price: $25.99
This anniversary, gift your wife these very classy and elegant pair of earrings. Combine it with a nice dress and you are good to go.
18. 
Bracelet Engraved with "5 Years"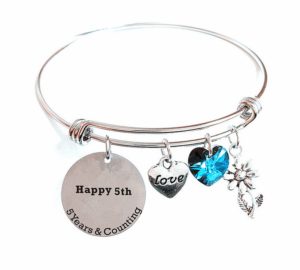 Price: $15.99
This is another gift for the fifth anniversary celebrators on our list of best anniversary gifts for your wife. Get her this bracelet that says "Five years and counting" to remind her of the time the two of you have spent together and how important it is to you.
17. 
Matashi "Happy Anniversary" Double Heart Table Top Ornament With Crystals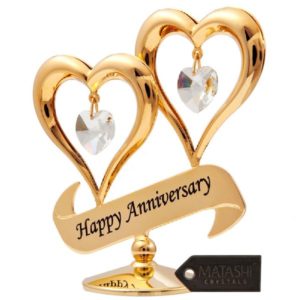 Price: $22.99
This is a beautiful anniversary gift for your wife that she can proudly display to the world. She can keep it on a showcase at home or even on a shelf in her office.
16. Outdoor & Indoor Flameless Candles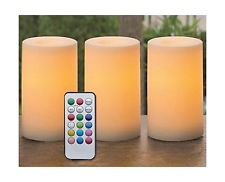 Price: $23.97
These are adorable flameless candles that burn with a LED light. There are 12 different colour options for you to choose from. The set comes with a remote control and three similar looking flameless candles. The batteries are also included. You can use this to adorn your dinner table during a candle light dinner or to just set the mood in the bedroom.
15. Hammered Moscow Mule Copper Mug with Welded Handle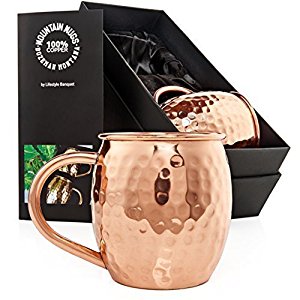 Price: $34.95
Using copper containers for food and water has a lot of health benefits. If your wife is health conscious, she will love and appreciate this gift from you on your anniversary.
14. 4th Wedding Anniversary Pen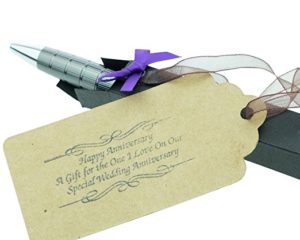 Price: $4.99
Why have special gifts for just special numbers? All anniversaries are special. Each anniversary is a benchmark that a couple crosses and therefore, get your wife this special pen to commemorate your fourth wedding anniversary. This will be a perfect wedding anniversary gift for your wife is she is an author, a magazine or newspaper editor. Otherwise, not so much.
13. 
Teddy Bear with Leather Rose Gift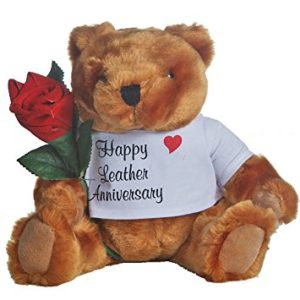 Price: $42.17
Teddy Bears are a classic. Just like roses. Who doesn't like them? The teddy bear is really cute and cuddly and is 11 inches tall. There is a specific design for each anniversary. So pick the one that suits you best.
12. Earrings For Women Tree of Life Fire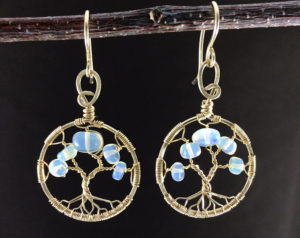 Price: $119.99
The tree of life is a symbol of family, continuity, strength, rebirth and growth. If your wife believes in stuff like that, she will love this. Get this for her if her zodiac is cancer, pisces, libra or scorpio. There are different items of jewellery that you can choose from.
11.Interlocking Hearts Bronze Sculpture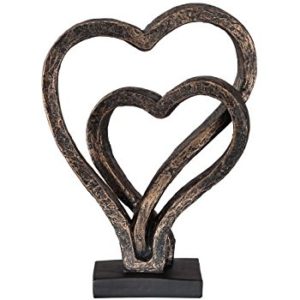 Price: $34.99
This is a beautiful sculpture to let your wife know that you love and cherish her and every moment that the two of you spend together. The sculpture has a black base and has a brushed nickel finish.
10. Blue Crystal Music Box Plays "Can't Help Falling in Love"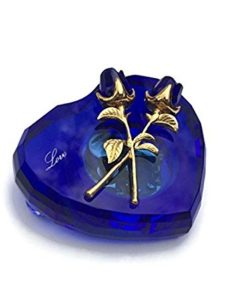 Price: $94.99
If this is your song or if you want to dedicate this beautiful song to your wife on your anniversary, gift her this beautiful blue crystal music box that plays "Can't help falling in love".
9. Embrace Sculpture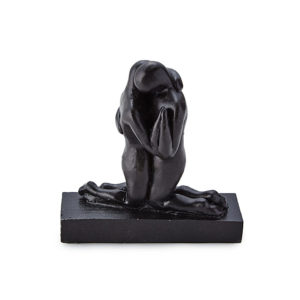 Price: $63.83
This is another sculpture on our list of best anniversary gifts for your wife. But this one symbolises the intimacy and love that a couple share. It shows that a couple is not two people but in fact one person. If you are married, you probably realise that the two bodies one soul thing is probably true. This is an anniversary gift to tell your wife that she is your soulmate.
8. Smartphone Charging Reversible Tote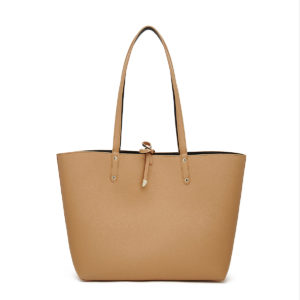 Price: $119.63
This is a gift for the business woman who is out all day challenging the world. This bag comes with a sleek pouch kind of space to beautifully store a small sized battery in. You can charge iPhones as well as other phones with it. It also makes finding your completely charged phone very easy to find. This is a very useful gift to give your wife on your anniversary.
7. Platinum-Plated Sterling Silver Swarovski Zirconia

Ring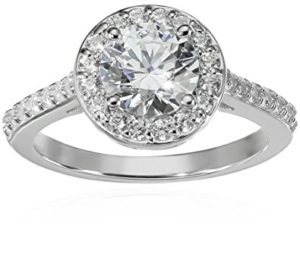 Price: $30
This is a very beautiful ring that will look even more beautiful on your wife's finger. Propose to your wife again in probably the same place that you proposed to her first but just don't propose. Rather get down on one knee and tell her what she means to you, what being with her means to you and she will definitely have tears in her eyes.
6. Women's Origami Taffeta and Jersey Dress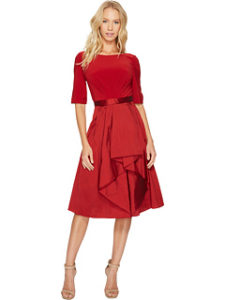 Price: $159
Get your wife this beautiful dress on your anniversary. Leave it on your bed in the morning with a note that reads "Pick you up at 7" and your wife will smile wide for the rest of the day.
5. cRay-Ban Round Sunglasses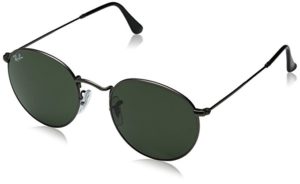 Price: $95
If your wife is a really cool and chic woman, gift her this on your anniversary. Or if you are taking a beach vacation this anniversary.
4. Women's Donnali Fabric Heeled Sandal ($49.99).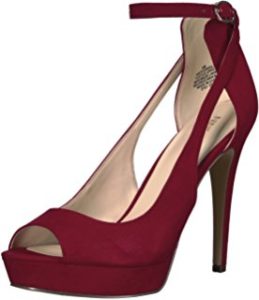 Price: $49.99
Pair these heels with the dress on number 6 on our list of best anniversary gifts for your wife. These heels are on any woman's wish list and if your wife does not own one, get her this stat.
3. Zen Reflections Juniper Bonsai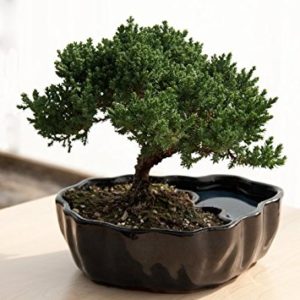 Price: $26
This is a beautiful bonsai that your wife can keep in the living room of your house or on her desk in office so that when she looks at it, she can forget about all her stress and calm down. This is the perfect anniversary gift for the wife who has got a lot on her plate. It shows her that you care.
2. "Heart of the Ocean" Bowtie Pendant Necklace Made with SWAROVSKI Crystal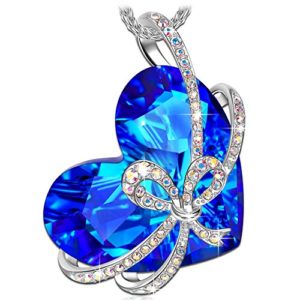 Price: $26.39
This is almost a replica of the Blue Diamond aka "Heart of the Ocean" from Titanic except that this is wrapped in a bow embedded with beautiful crystals. Make your wife feel super special on her anniversary with this amazing gift.
1. 24K Gold & Silver Jewelry Box with Crystal Studded Tulip in a Pot Jewelry Box Figurine Lid by Matash

i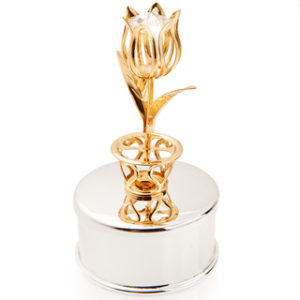 Price: $21.99
This is an extremely beautiful gift that you can gift your wife on your anniversary. This is a beautiful tulip crafted with 24k gold and silver. There are also designs other than the tulip that are available. But a tulip represents elegance, love and grace. It comes in a beautiful velvet pouch, put in a gift ready box. This is the perfect gift for your wife this anniversary.