Kids. Where would we be without them? Somewhere peaceful probably, but what is life without their tantrums. Kids grow so much within the blink of an eye and before you know it, it is your boy's fifth birthday and what do you get him this year? A race car? A chopper maybe? Or will legos do? What will keep your little boy occupied for at least a month? Here is a list of some amazing gifts that young boys will love and be intrigued with so that they get out of your hair at least for a little while. If not for a month.
50. Mobi Math Game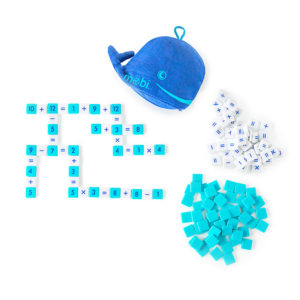 Price: $20
This is a fun game for the entire family. The game comes with a detailed instruction manual. This is bound to make your kids smarter while they are having fun.
49. Mini Dragon 3D Model Kit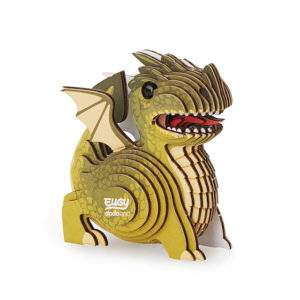 Price: $10
Let your son build his own 3D real life dragon with this kit with numbered pieces.
48. Penny Portrait Kit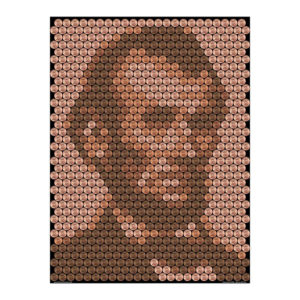 Price: $24
Let your kid create a portrait of the 16th President of the United States with nothing but pennies. This kit also contains loads of information about Lincoln and also chemical experiments that can be conducted with pennies and other items that can be found around the household. If your son is a budding scientist or a history buff, he will love this gift.
47. Sound-Activated Light Blocks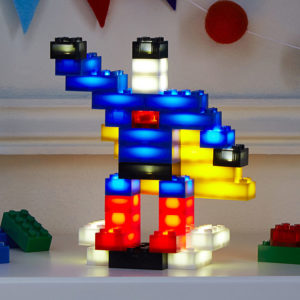 Price: $30
As you attach the blocks to the power base at the bottom, they light up. This is enough to hook kids and adults onto it alike. But additionally, this can also light up through sound interaction. Fascinating, right?
46. Activating Origami Set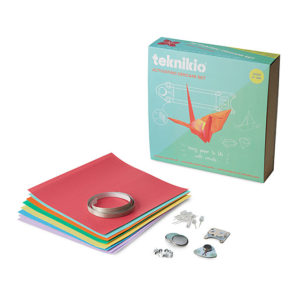 Price: $24
If your kid is into folding paper swans and boats, get him this unique origami set to encourage his talent.
45. Plush Organs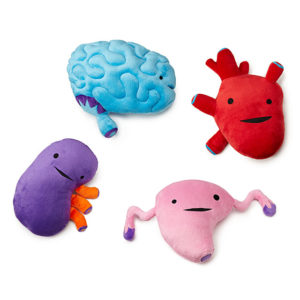 Price: $18
If you feel like your kid is a pre-pre-pre-pre-pre-med student, get him these organs to help him understand their functions. And when he does become a doctor, he can keep them in his clinic to make his little patients feel at ease.
44. Aristotle's Number Puzzle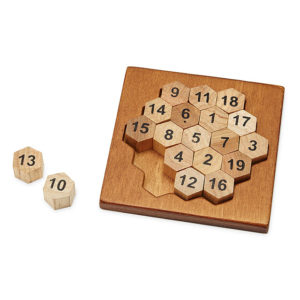 Price: $14
This is a puzzle that your little one will need your help to solve. But if your kid is slightly older and smarter, he will have no problem finishing this puzzle.
43. Monster Hand Tattoo Sets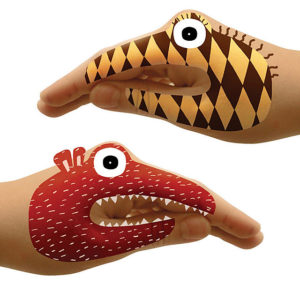 Price: $12
This is a simple gift that your boy will enjoy. Just stick the temporary tattoo on his hand and watch him be fascinated and chase you around the house trying to attack you.
42. Electric Light Blocks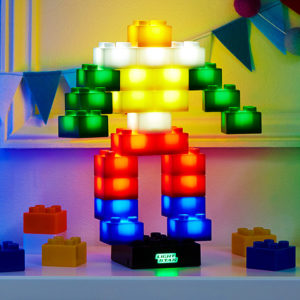 Price: $30
This is essentially a set of building blocks but much more fun and colorful. The base is battery or USB powered and so as your kid starts building, each block lights up when it is connected. Your kid can let his imagination run wild and build whatever he wants.
41. Shapes Tablet Game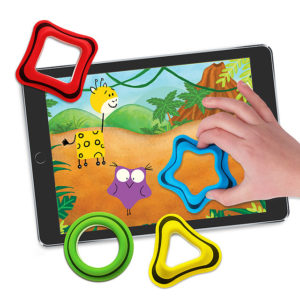 Price: $30
This set develops your kid's thinking ability and intelligence by combining geometric shapes with an app to make learning so much more fun for the kid.
40. Family Builders Block Set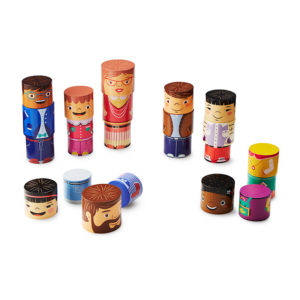 Price: $49.95
This kit helps your kid mix and match the heads and bodies to create a family that is most similar to theirs.
39. Pallina Dropping Ball Game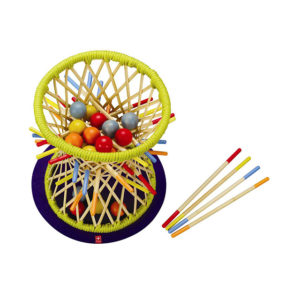 Price: $36.50
This game is for the entire family. Set the game up according to the instruction manual. Then, each member has to pick a color. The goal of the game is to pull out sticks of your color while making sure that the balls of your color do not fall down. The person with the maximum number of balls of their color in the net is the winner. This game develops the motor skills of your child as well. Can't wait to play with your kid right?
38. President Block Set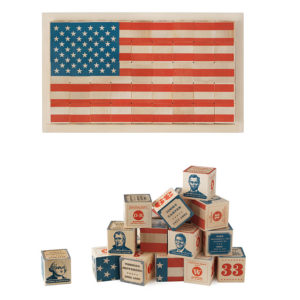 Price: $89
If your kid is super nerdy and smart, and interested in politics, Congratulations cos you have a prodigy. And you have also come to the right place to find an appropriate gift for them. These blocks can be stacked one on top of the other to form the flag of the USA on one side. The other sides have the faces of all the presidents and some interesting information about them.
37. Ice Cream Truck Playhouse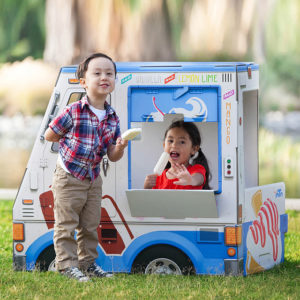 Price: $69
This playhouse lets your kid pretend to sell his favorite treat – Ice creams! Kids will love playing with this easy to build playhouse made of cardboard. The playhouse contains graphic designs that make it look almost like a real ice cream truck.
36. Dinosaur Duvet and Pillowcase Set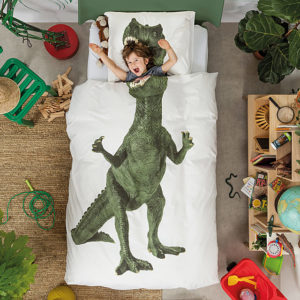 Price: $119
Is your son obsessed with dinosaurs? Does he say T-Rex more than he says anything else? Then, you should make him jubilant by getting him this amazing dinosaur duvet to teleport your son to prehistoric times every night and he will wake up with a roar in the morning.
35. On-the-Go Art Set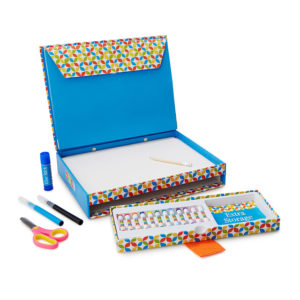 Price: $25
This is for the Picasso or Van Gogh of your house. If your son is exhibiting artistic skills, encourage him with this on-the-go art kit that he can easily carry wherever he goes. The case consists of eight projects inspired by famous artists along with a detailed instruction manual for your child to follow.
34. Walkie Chalk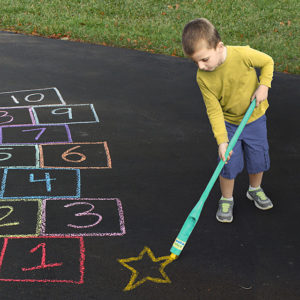 Price: $15
This chalk device makes it easy for your little boy to draw on any surface with chalk. It is easier for him to draw on the driveway and let his imagination run wild. This is one of the most favorite items on our list of best gifts for little boys.
33. Super Nerdy ABC Blocks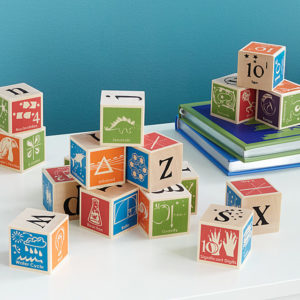 Price: $50
If your son is the smart kind, get him these blocks that'll make it easier for him to learn atoms and physics. By the time he is done playing with these blocks, your son may be smarter than you.
32. Build Your Own Robot Kit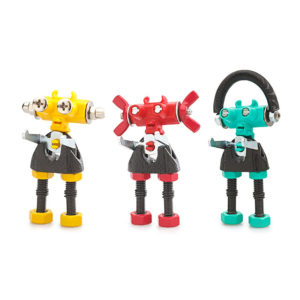 Price: $15
Your son can use the parts provided with the kit to build three robots or one huge robot or whatever he wants to build with the nuts ad bolts. There is no limiting his imagination especially if he is into sci-fi stuff.
31. Pixlplay Smartphone Camera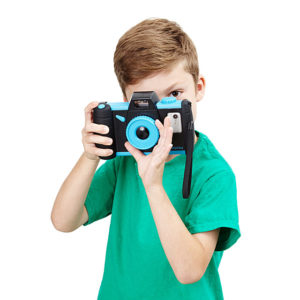 Price: $24.95
If your boy is interested in photography, get him this smart camera that works when you slide your smart phone in it. Your son can click as many pictures as he wants and also add some funny filters to the pictures he has taken with the app.
30. Magbot Magnetic Block Set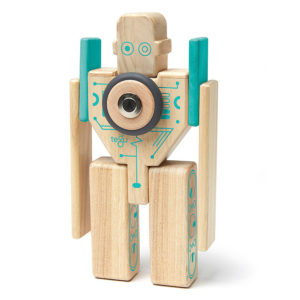 Price: $30
This bot is a magnetic puzzle that can be arranged it more than one way. This will have your son interested in robots and definitely magnets.
29. Galaxy Rocket Adventure Cape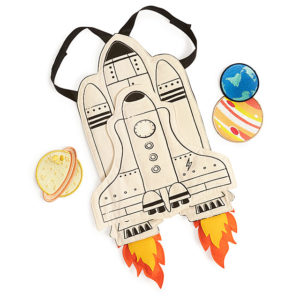 Price: $30
If your boy is into rockets and spaceships and probably wants to be an astronaut and land on the moon, he will love this rocket cape. It will make him feel like an astronaut and he will refuse to remove it even when he is going to bed.
28. Rainbow Sound Blocks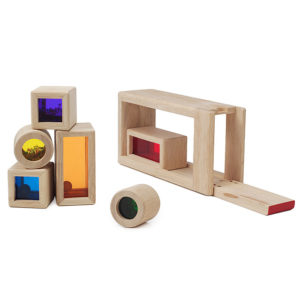 Price: $44
This is a fun educational toy with which you can teach color differentiation, motor skills, matching and sorting to your son. This set has all shapes filled with colors of the rainbow. It is a musical toy, a puzzle and a sculpture.
27. Free Play Magnetic Tablet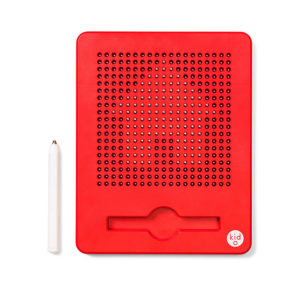 Price: $22
This is a cleverly designed tablet on which your kid can draw whatever they want and the little magnetic balls will pop up as they trace the holes with the attached magnetic stylus. Your son's imagination can run wild with this gift.
26. Construction Plate & Utensils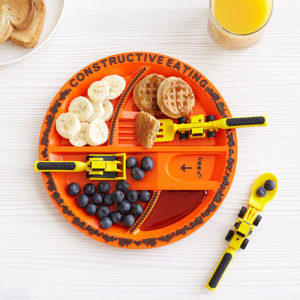 Price: $14.95
If your boy is fussy with food but has a thing for construction equipment, then get him this plate with utensils shaped like construction equipment so that your boy eats faster and also it makes it a lot more fun to feed him.
25. Little Patient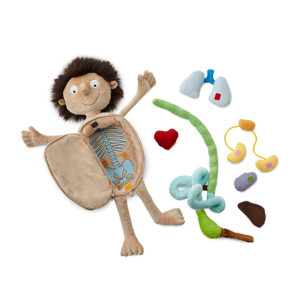 Price: $55
If your boy is the little doctor in your house and follows you around with fake injections and a stethoscope, then this gift is perfect for him. This doll comes with 6 color coded organs inside him that can be removed and put back in their proper places. Your kid will also learn the position and the function of the six organs in the human body.
24. Design Your Own Night Light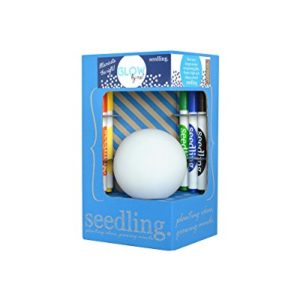 Price: $23.99
This kit comes with markers and a night light that your kid can design and color using his imagination. He can draw his favorite woodland creatures so that their shadows are reflected in the walls or he can simply draw circles and color them.
23. Design Your Own Marble Maze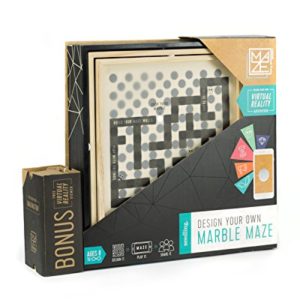 Price: $29.88
This kit contains all materials that your kid would need to build a maze. The maze could be really complicated or very simple. This kind of gift will improve your boy's intelligence as he tries to think of ways to make the maze harder to pass through.
22. World Map Jigsaw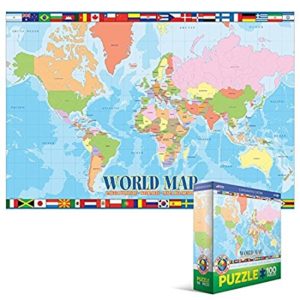 Price: $12.21
This is a 100 piece jigsaw that your child can do with ease because the map is extremely colorful and the image is on the box of the puzzle. If your kid is under 6 years old, they can finish the puzzle with adult assistance.
21. Make Your Own Water Globes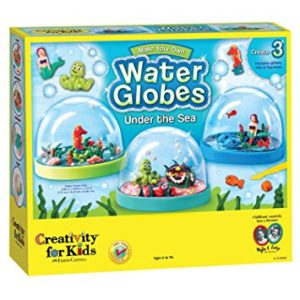 Price: $17.57
The kit includes everything that your child will need to make three water globes. It has glitter, clay, glue and anything else that your child may need to make an under sea world straight out of their imagination.
20. Sticky Mosaic Dinosaurs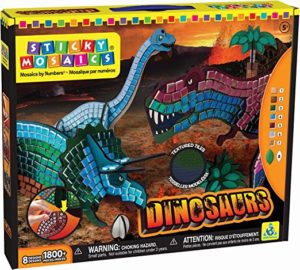 Price: $13.99
There are more than 1800 mosaic tiles in this kit and they can be beautifully adorned to make four 3D dinosaurs. The pack also contains many Jurassic accessories. If your son loves dinosaurs, he will definitely love this gift.
19. Prime Climb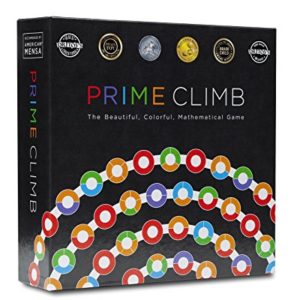 Price: $29.95
This is an advanced mathematical game that is usually for kids above the age of 8. But younger kids can play this game with some adult assistance. So if you feel like your kid is the smart kind, get him this mathematical board game and join him in the fun of mathematics. The game comes with a complete instruction manual.
18. Toy Car with Magic Pen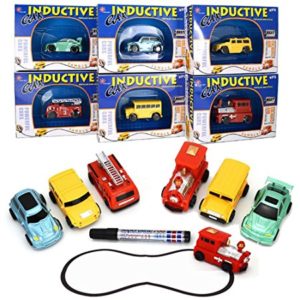 Price: $15.99
The kit comes with one car whose type you can choose and a magic pen. The car treads the path of the line drawn by the pen. Watch your kid be fascinated by when they watch the car follow the lines drawn by the pen without any tracks or pathways. The pack also includes a battery and a screw driver.
17. Nature Kaleidoscope Kit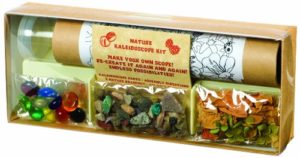 Price: $17.42
If your son knows what a kaleidoscope is and you know that he likes it, get him this kit. It comes with an assortment of stuff to adorn your kaleidoscope and its contents can be emptied and refilled as desired. It comes with a complete instruction manual to set up the kaleidoscope.
16. Color the Earth Inflatable Globe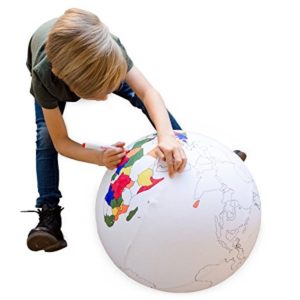 Price: $17.99
If your boy loves coloring and is fascinated by the world around him, get him this ball that can be inflated. Your son can learn geography by coloring the countries and naming the oceans. This gift is both fun and educational for your son. The kit comes with a permanent craft markers set. However, it does not come with a pump, but the ball can be inflated with a bicycle pump until it reaches about 16 inches in diameter.
15. Batcopter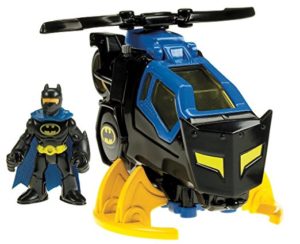 Price: $19.99
This toy comes with a batman figure. It also has helicopter blades that rotate. Also, the landing gear will enable the batcopter to grab villains from the ground. This toy will definitely be your boy's favorite especially if he loves batman.
14. Rocket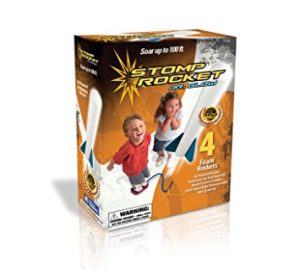 Price: $16
This rocket can be launched to up to 100 feet in the air. Even adults will be fascinated by this toy. And also, the rocket glows in the dark so your son can see it shoot 100 feet above even in the night sky.
13. 
Building Blocks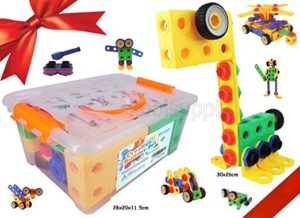 Price: $32.99
This is a 92-piece construction engineering building block set that will help your kid improve his hand-eye coordination, develop his fine motor skills and improve his creativity. Their thinking will also be improved. Also the kit comes with a building ideas book to help your kid build his dream home.
12. 
Bungee Jumper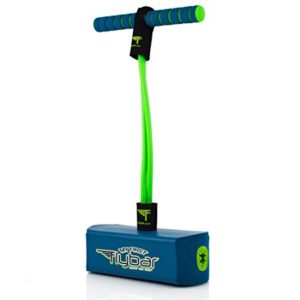 Price: $16.99
This is awesome because you can also jump with this. So this is not just for the kid. It can hold up to 250 lbs. It is great exercise for your kids and you and it also makes a funny squeeky noise with every jump that helps you count the number of hops your toddler makes.
11. 
Racing Car Take-A-Part Toy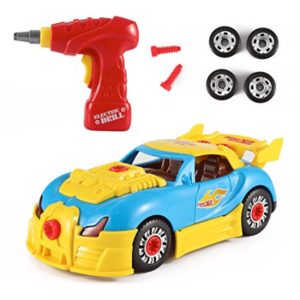 Price: $18.98
This take-apart race car comes with 30 pieces that can be taken apart and put back together to make a race car. The set comes with screws and a drill. The race car also flashes light and plays sounds. Ideal gift if your kid loves to take stuff apart and even though he may not want to put them back together.
10. 3D Cute Cartoon Watch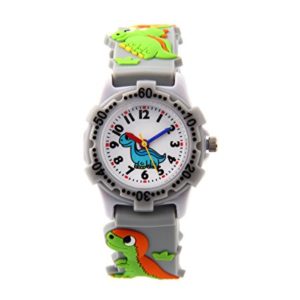 Price: $12.99
This cute cartoon watch comes in a host of designs for you to choose from. It is also water resistant for up to 30 metres. But it is not for swimming. It can withstand water splashes and immersion in water for very brief periods of time. The watch is also shock resistant, so it will not damage easily if it falls.
9. 
Race Car Radio Control Toy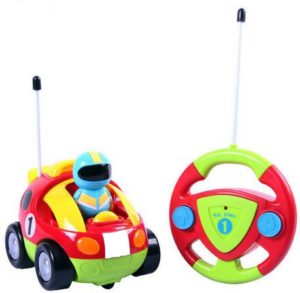 Price: $16.55
You could never go wrong with a gift like this. All boys will love remote control cars. More so if they are colorful like this one. If you think it's amazing already, wait till you hear the rest. This car can make honking sounds, can play music and can also flash its headlights. Your boy will drive it all over the house and definitely in between your legs.
8. 
Assorted Construction Vehicles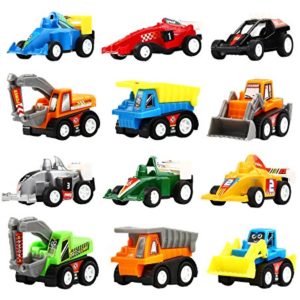 Price: $9.98
This pack comes with twelve automobiles that comprise of race cars and construction vehicles. These are very colorful and are of the pull-back model. Your boy will love them but remember that he will vroom them all over your precious furniture.
7. 
Transport Car Carrier Truck Toy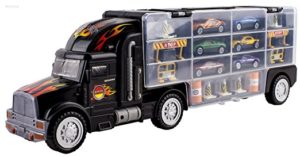 Price: $29.94
If your kid loves cars and drives them all over your furniture but you are still willing to get him this truck that can hold all of his cars which he can also drive around, get him this carrier truck for his birthday. This comes with six mini metal cars and has the capacity to store 28 such mini cars.
6. iPad Kids Case
Price: $18.99
For boys who do not eat or sleep without their or your iPad, this is a shock proof case that is designed to protect your iPad from unexpected falls. The case also has a comfortable grip to enable your toddler to hold it with ease. It also comes in different colors.
5. ATM Coin Bank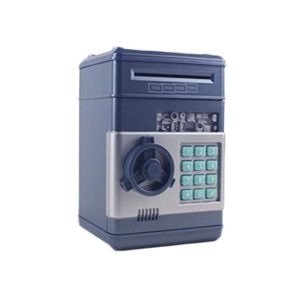 Price: $28.99
If your kid is all about the money. If you can see that he is already careful with money and loves saving it or if your kid is a spend-thrift already and you want to inculcate the habit of saving in him, get him this ATM like piggy bank and teach him the importance of saving money.
4. Dinosaur Figures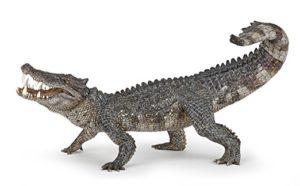 Price: $28.99
If the first word your son said was T-Rex, you should get him this dinosaur figure. This figure has a beautiful finish and develops dexterity. It also helps to develop the imagination and creativity of your son. Ideal gift for future palaeontologists.
3. Design your own Headphones
Price: $29.99
If your kid is addicted to the iPad or other gadget just like every other kid on the planet, get them these pair of headphones that they can color and design to suit their needs. So now, it is not just the youtube video that they get to pick, they also get to choose how their headphones must look.
2. Walkie Talkie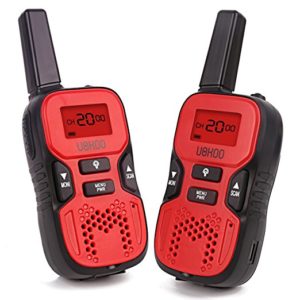 Price: $25.99
This walkie talkie comes in a pair and can be used in a 6 km radius. If you have two kids or your boy has a friend to play with, they will love this. The sound quality is also crystal clear and the device is small and handy and very easy to use. Especially for children.
1. Sphero Star Wars BB-8 Droid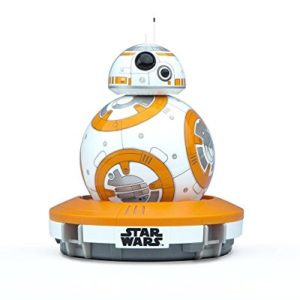 Price: $110
This is a star wars mini robot whose personality and movements are very advanced. They can recognize your voice and react accordingly. The app with which this droid can be controlled is both iOS and android compatible. So if your son is into robots and sci-fi stuff like that, he will definitely love this bot.
*products listed are for kids aged 3 years and above.