Probably one of the only reasons people get married is so they can get to experience a "Bachelor's Party". Agree ? Well, Jokes apart, Bachelor parties are long followed tradition where men celebrate their last night as a single, and go crazy with their closest friends. Now wouldn't you want to gift your best bud a bachelor's party gift that he remembers the rest of his life ? The memories, the laughters, the SECRETS, are all what makes a bachelor's party worth all they hype, and you should definitely consider gifting your bud something that he will never ever forget. So here we are with a list of  TOP 50 gifts for a bachelor's party. Read on and find out.
 50. Game over Bachelor Party T-shirt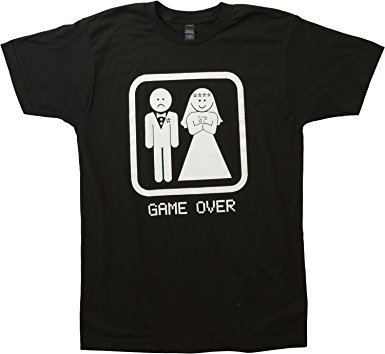 Remind your friend that his dating days are over and that he is bound to his marriage and chained for the rest of his life by gifting him this game over Bachelor party t shirt. His game is truly over once he gets married :P. so spice things up and have fun at the bachelor's party and make it more memorable by getting these customised T shirts that will forever remain a surreptitious memory. It is ideal for the groom's last night out and make sure his to be wife doesn't get a whiff of this :3 These are priced at 17.95$
49. The Beer Belt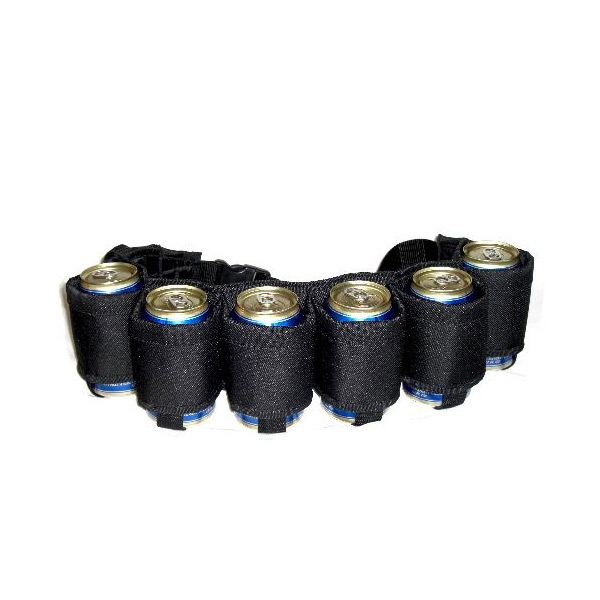 Man, this is one of the best gifts one can give and get during a bachelor's party. A beer belt with holders for over 5 beer cans. This is perfect for beer lovers, and if the groom is a lover of beer, then he will absolutely love this. It is perfect for a bachelor's night where everyone wants to party and get drunk ! Don't hesitate to buy this as it is of exceptional quality and each holder has an insulated lining to keep your beers cold. Walk around with 6 beers around your waist and chug them when you please. This is priced at 13.95$ only.
48. Drinking Horn Stand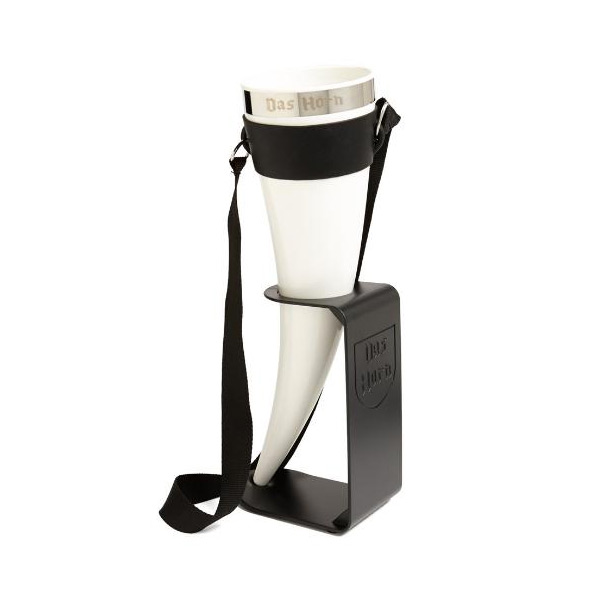 Want to have a blast at your bachelor's or want to gift your friends unique gift he will never forget ? Then gift him this Das Horn, a traditional Viking drinking horn stand that you can wear around your neck with the attached strap. This beautiful creation will hold your drink safe and you can either hold it in your hand r securely hang it around your neck. Place it at any place in your house after the party is over, and it will make a great showpiece as well. It is dishwasher safe as well, so cleaning it should be easy. It is priced at 24.99$
47. Groom Wedding baseball hat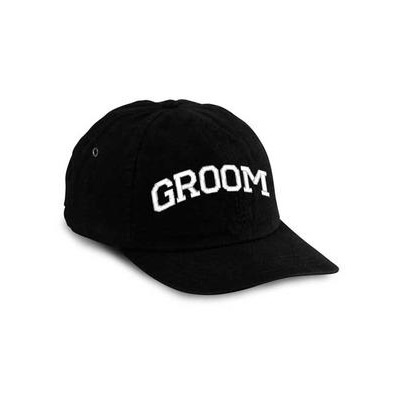 If the groom is an avid baseball fan, then this gift is totally ideal as it is a baseball hat with the word groom embroidered onto it. It is a black cap and will look stylish and cool and your friend will love it. It is ideal for bachelor parties, wedding showers as well as the wedding day. It is made from 100% cotton and is very durable and will last for years, and so your friend will remember this and smile for a very long time. It is a universal size that fits everyone and is priced at just 17.95$ so what are you waiting for? Get your best bud this.
46. The groom to be beer stein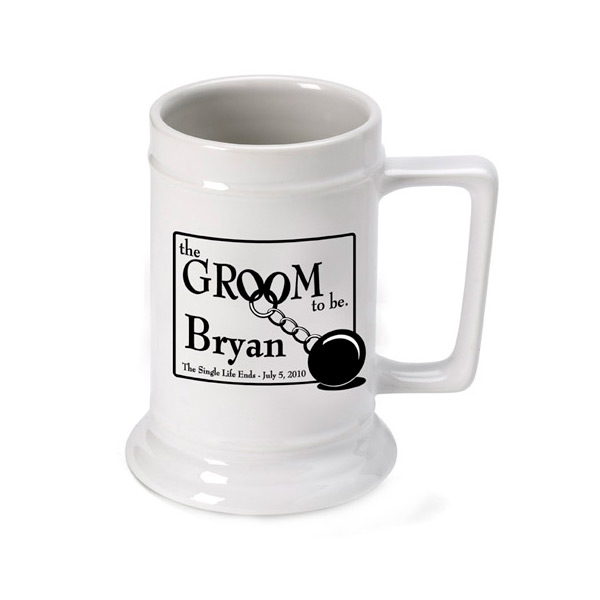 Now bachelor parties are supposed to be the night that is super memorable and one that is to be hushed and buried under in front of the bride. Why not share few laughs and secrets with this personalised groom to be beer stein ? The design suggests that he is to be chained for the rest of his life in the marriage making it quite comical and funny. It is customisable and add your groom's name and wedding date and watch him treasure this gift as a beautiful memory for the rest of his life. The personalisation comes under no extra cost. Priced at 29.99$.
45. Personalised T shirts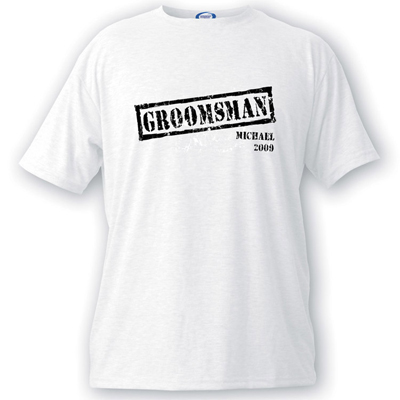 Get these personalised stamped wedding and bachelor party T shirts for the men in the family and make the night a memorable one. Available in all sizes, these T shirts adorns a design with the word Groomsmen as a stamp and the date of the wedding below it signifying the moment the groom is going to be jailed in the institution called marriage. These T shirts will make memorable gifts and is sure to bring a smile on the face of anyone who wears them, so why think twice ? make your bachelor's party memorable and get one of these. They are priced at 29.95
44. Groomsmen in trouble T shirts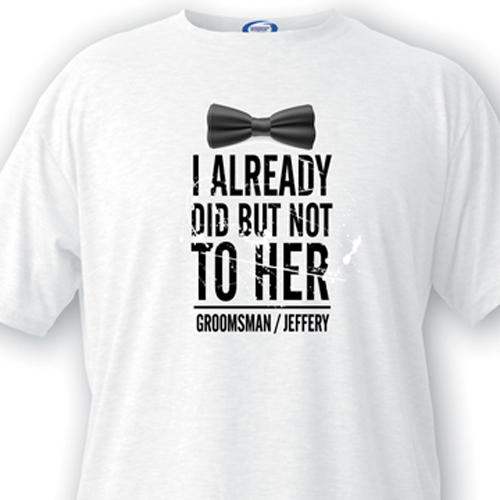 Are you the best man, eager to get your best friend/groom in trouble on his wedding day? Not in serious trouble of course, but if you want to have some fun and tease the groom a little then these T shirts will be perfect bachelor party gifts. It is a white T shirt that says " I already did but not to her". Know that you're in for some fun when you gift this shirt to the groom, and be prepared to face the consequences after. Available in all sizes, these cool T shirts will not only make the groom laugh at his so called misery, but will surely make him remisce those days of being single. These are priced at 23.95$
43. Personalised Beer Glass XL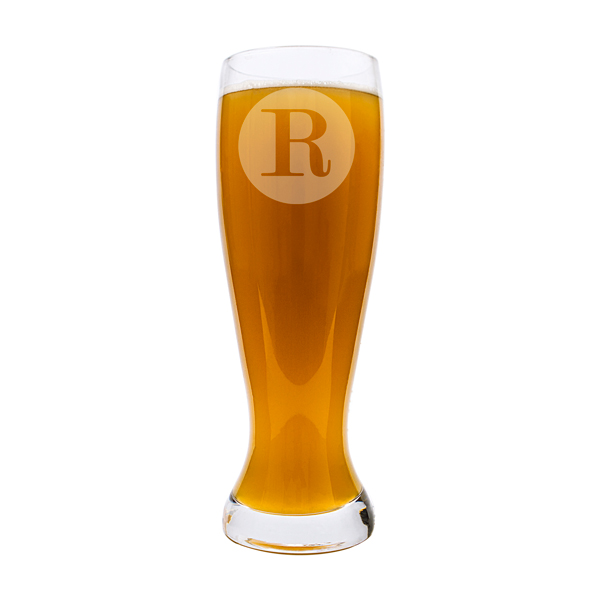 When you hear the words Bachelor and Party, the first thing to strike your mind would be beer and lots and lots of booze. Why not take that thought and convert it into one useful gift the groom will use during his party and after? This personalised beer glass in extra large size is ideal for all those beer lovers and is for one heck of a crazy night. It customisable with the option of engraving the groom's name and also upto 3 lines at no additional cost. The glass is quite large, and is sure to get your drunk. It is perfect to gift and is priced at 27.95$.
42. Bottle Opener Sunglasses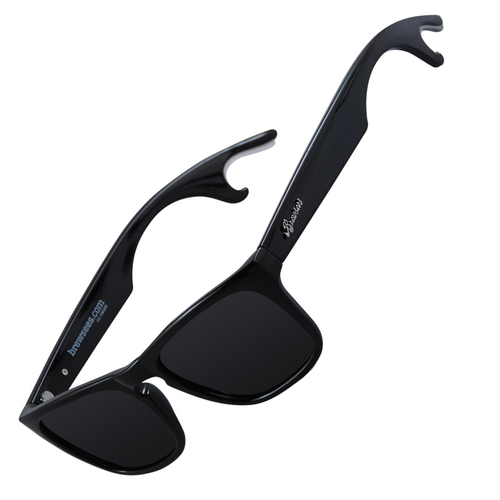 Getting these as a bachelor party gift is sure to make you the hero of the night. After the groom, of course. This 2 in one sunglass that as slyly also a bottle open undercover is just a uniquely perfect gift for every groom. Sunglasses that open beer bottles ? Amazing right ? Wear it on a hot day, and sit down for some beer and you don't a bottle opener, just them sunglasses would do ! it is perfect for gifting the groom, or anyone during a bachelors party and it will definitely be a gift one would treasure for a long long time. It is priced at 39.95$
41. Personalised cell phone flask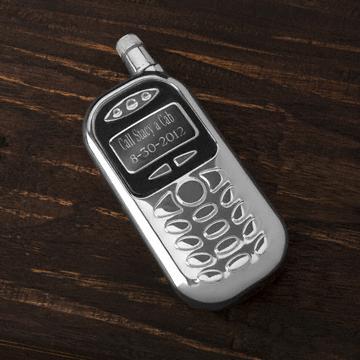 Finding a way to help the groom to perfectly camouflage his drink and get away without being noticed ? then you are in need of this personalised cellphone flask which is easily mistakened as a real cellphone. HIde your favorite drinks and slip out without getting caught. You can add upto 2 lines of your choice and hence is personalised and customisable. It comes with a leather pouch and so you can be sure of quality and durability. It is a gift that you will adore and smile about in a few years after marriage. So go ahead and make memories and buy this at 19.95.
40. Groomsmen coffee mug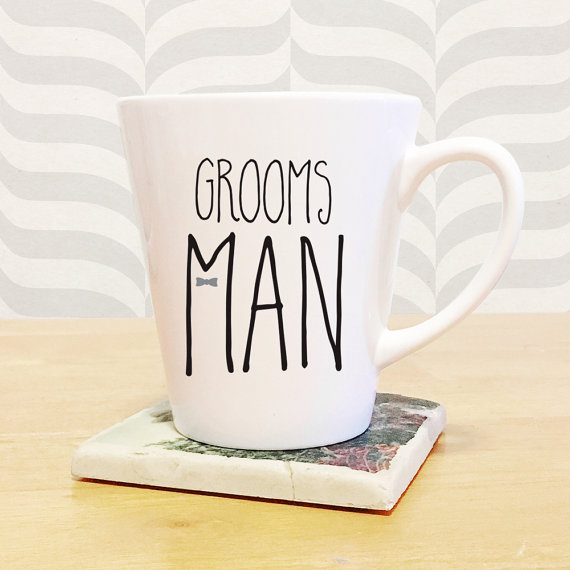 Need a gift for your Groomsmen for the bachelor's party, to thank them in advance ? This awesome 12 oz coffee mug makes an awesome present for him. The design of the coffee mug repeats all around in the front and back and comes in a white gift box sealed so it is perfect to just order it and is ready for gifting. The white cup looks so classy. And your groomsmen will cherish this gif and the day of your bachelors and wedding for a long time. Go ahead and get these cool gifts for your groomsmen and make your wedding memorable. These are priced at 16$
39. Bachelor party knives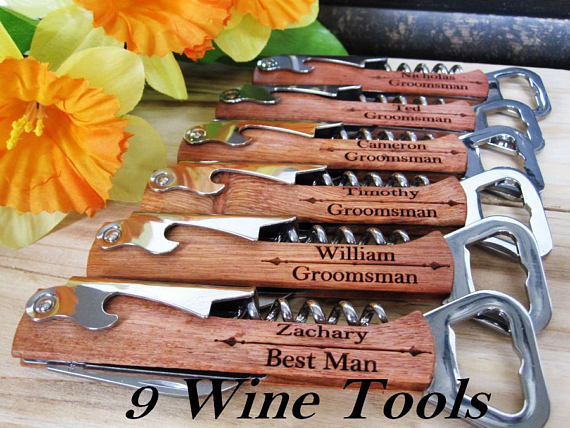 Gift the groom and his friends these classy bachelor party multipurpose knives that come in handy for various instances. It is a pack of nine with customisable names and specific roles for each person including groomsmen, groom, best man etc. With these names engraved in a wooden base, it gives a classy feel and is perfect for a bachelor party. As the description of this product says " This custom engraved wooden wine bottle opener includes a knife, corkscrew, and fold out bottle opener. Opener is 5 1/4 inches long" it serves as a perfect gift. As a set of 9 this is priced at 107.99$
38. Shot glasses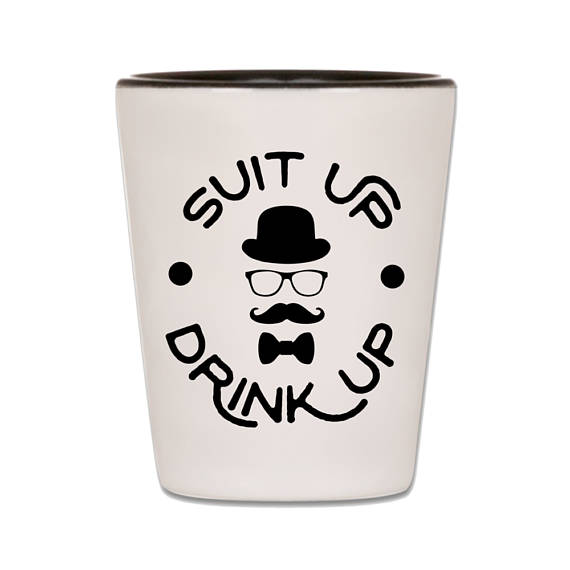 This suit up shot glasses is perfect for a bachelor party evening or just any occasion. You can never go wrong gifting these shot glasses because who doesn't love shots ? This gift is perfect for the groom and his groomsmen to enjoy the last drink the new husband to be has before his wedding. It comes in white with the caption " Suit up ..Drink up " that makes is it an ideal captioned gift. It is long lasting and durable and is made of ceramic. Since it is a handmade product it is priced at 7.95$ onwards.
37. Nine bachelor party gifts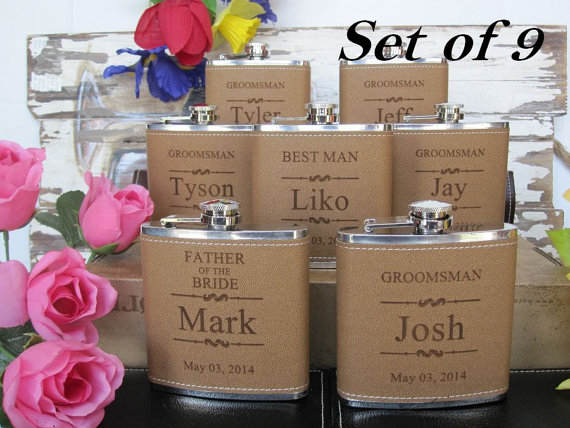 This 9 bachelor party gift set for the groom and his groomsmen is perfect for a wedding bash or even a bachelor party. It consists of 9 leather wrapped stainless steel flasks with the option to customise and personalise every person's name and their role in the wedding. It is absolutely perfect and the groom and his groomsmen will love it! It comes with a capacity of 6 oz, which is plenty to store your favorite drink. This is one of those gift sets, that everyone will cherish in the years to come so you don't need to hesitate before getting it. It is priced at 85.50$
36. Groomsmen gift set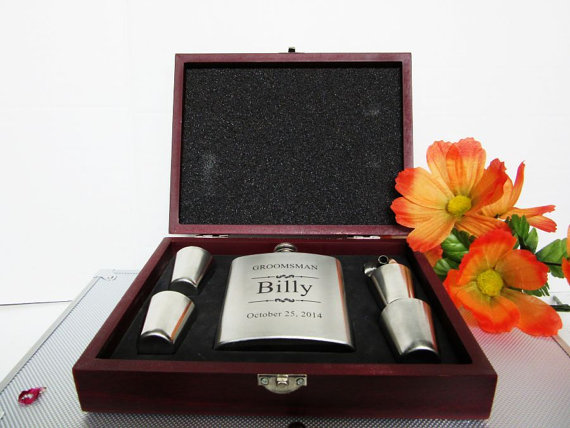 Surprise your pre-wedding bash or your bachelor party with this classy groomsmen gift set of 3. This one of a kind, groomsmen gift set is sure to make your wedding a memorable one. It is durable and is made of stainless steel, so drink away ! it is perfect to gift the mother, father of the groom, the best man or even the groom himself. It consists of 4 shot glasses, a funnel and a flask. It also has the option to customise the name and the role of the person. It is priced at 93$ and comes in a rosewood gift box.
35. Groom flask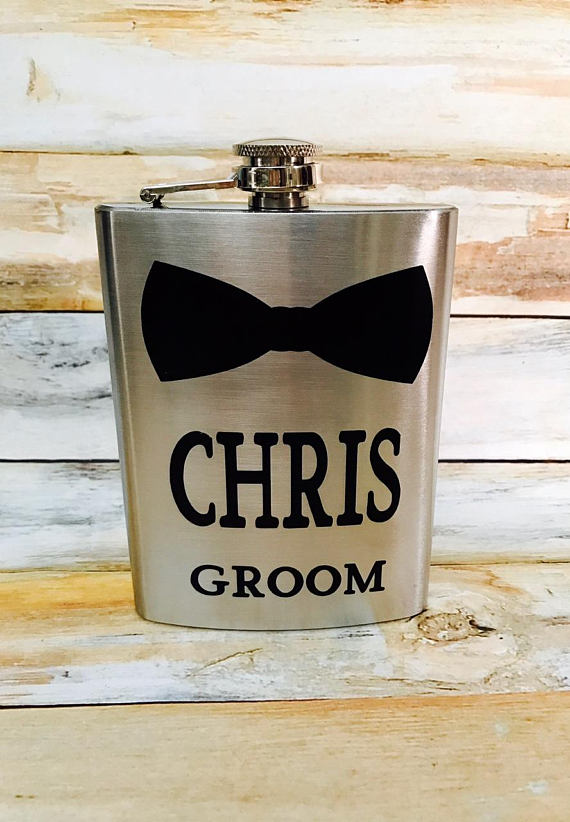 Gift the groom this manly and stud looking groom flask that's perfect to store your favourite drink. It can contain 8 oz of liquid and the best part is that this product is customisable. You can add the groom's name and make it more personal. Since this item is handmade, it is perfect and durable, sure to last long years making it even more memorable for the groom. It is a perfect gift for bachelor parties. The name and design are added on with black vinyl. This is priced at 14$ onwards, so go and grab them for your best bud who is yet to get married.
34. Caricature beer steins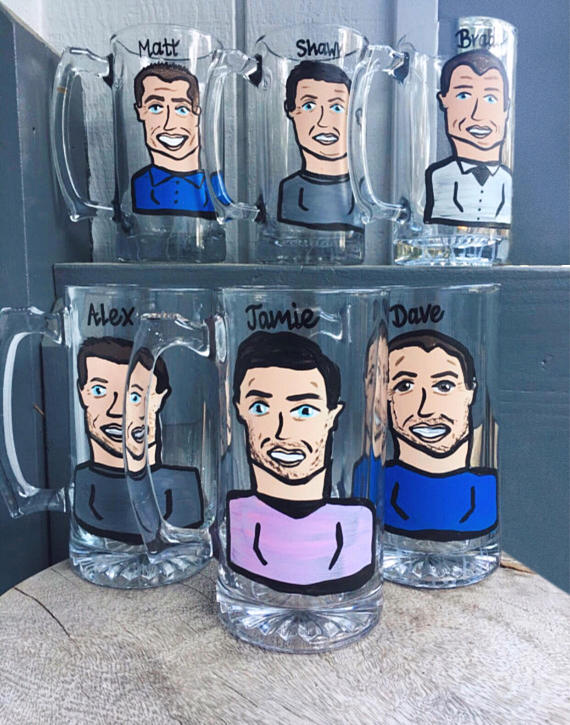 Seeing these gorgeous caricature beer steins you will definitely fall in love with them and they will remind you of your college days where doodling was cool. These beer stein glasses look very casual yet fun and are very personalised. You can include your names and eye colour to have the caricature look like you ! isnt that perfect ? This is sure to make you all have a laugh during the bachelor party and it makes a fabulous gift. These are priced at 16.50$ only, it is a perfect idea to gift someone this.
33. Husband to be shirt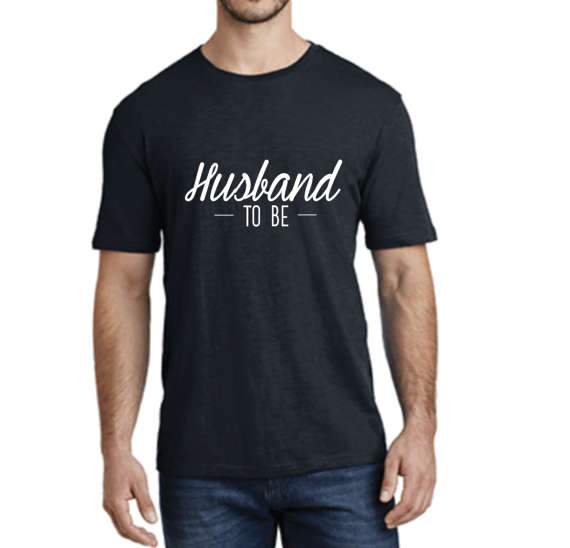 Go ahead and freak your friend out by making him feel afraid of commitment. No, I'm kidding, this shirt will remind him of the warm memories of his relationship and soon to make memories of the marriage. It is a perfect gift for a sensitive guy and he will cherish this for the rest of his life. The shirt is simple and elegant. It is made of cotton and polyblend and you get to customise the colour of the text. It is available in various sizes and is handmade. Go on gift the groom and see him smile as he reminds himself of his marriage. Priced at 13$.
32. Cold feet socks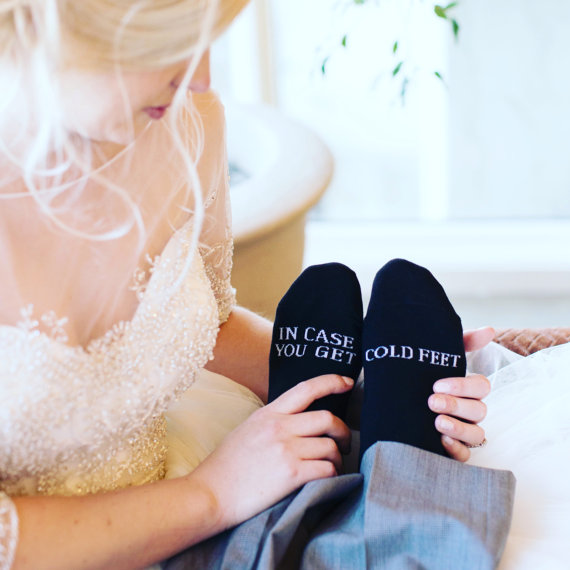 For an emergency like getting cold feet before your wedding, you might want to stock up on these fabulous cold feet socks. They are exceptionally designed to give you warmth and comfort and are oh so soft. You just might want to wear them all the time instead. It is a great bachelor party gift and the groom will absolutely humour your pun and reminisce in this sweet memory for a very long time. Don't hesitate to buy these pair of socks as they have promising quality backed up by many positive reviews.
31. Engraved wood opener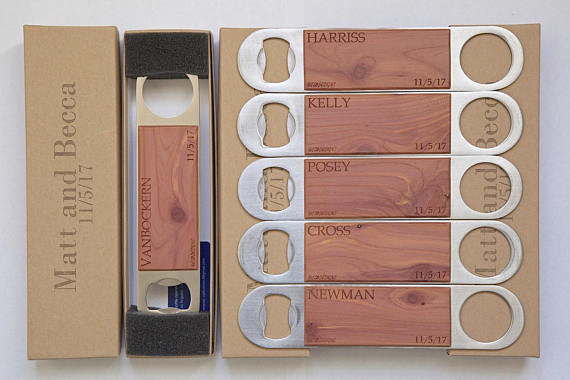 Get yourself or gift it during a bachelor party, these magnificent stainless steel bottle openers engraved with names that you get to personalise and customise yourself. These bottle openers are one of the most durable and fastest ways to open bottles. Even though these are great as gifts for any occasion, they are ideal for bachelor parties and come with a free engraved box with a high quantity purchased. They look super classy and will add look to your bar table. It is an ideal gift for those social drinkers so get them this at 17$ onwards.
30. Carved tobacco pipe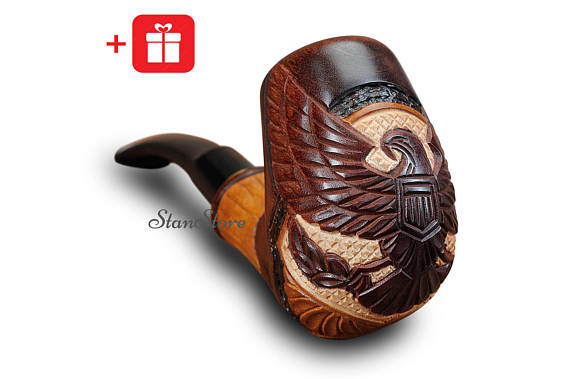 A fabulous gift for smokers, this hand engraved pipe from the masters in Ukraine and is made out of eco friendly materials and looks very stylish. The tobacco pipes are made to great standards and which leads to a quality smoke. You can choose from the wide variety of shapes. It will make a perfect gift for the groom, during his wedding day or preferably his bachelor party. Who wouldn't want to be seen with this classy smoke pipe, it will also look great as part of your collection. It is priced at 27.50$
29. I love my PsycHOTic wife shirt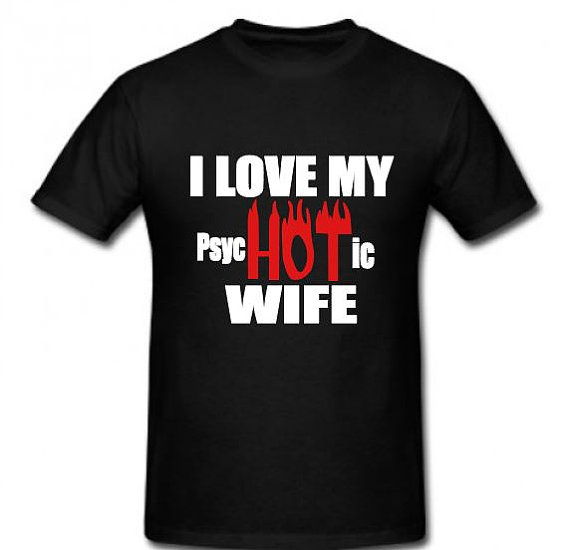 Get the groom this awesome T shirt that says ' I love my psychotic wife' and make him get lucky on his wedding night ! You'd surely be the one that the groom appreciates when he receives this gift. It is sure to be hit amongst the bride and her bridesmaids. It is definitely a funny bachelor party gift and can also used as a way to make up for the trouble you caused. It comes in various sizes and in 5 different colours. The groom will definitely love this shirt and will end up wearing it always with it being super comfortable. It is priced at 21$
28. Unique art book that says Beer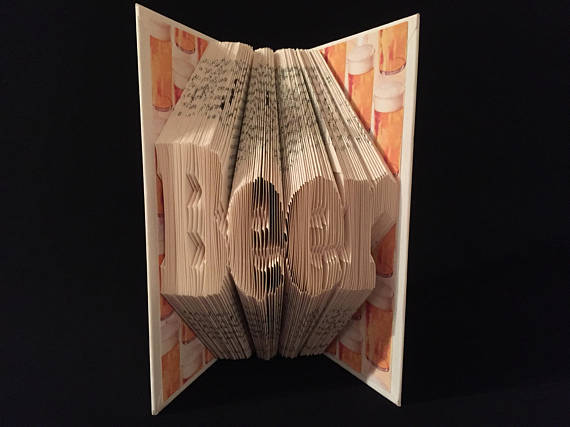 Sometimes it's best to think out of the box and get a bachelor gift that screams uniqueness. So if you're one of those people who wants to gift something unique then you should definitely go for this book that when opened it reads out BEER in folded paper. It is handmade and very unique. This is specially for all those beer lovers out there. Best part it its eco friendly and is made out of recycling paper. It customisable and you can pitch in your opinions to make it come out the way you want. It is priced at 50$
27. X box socks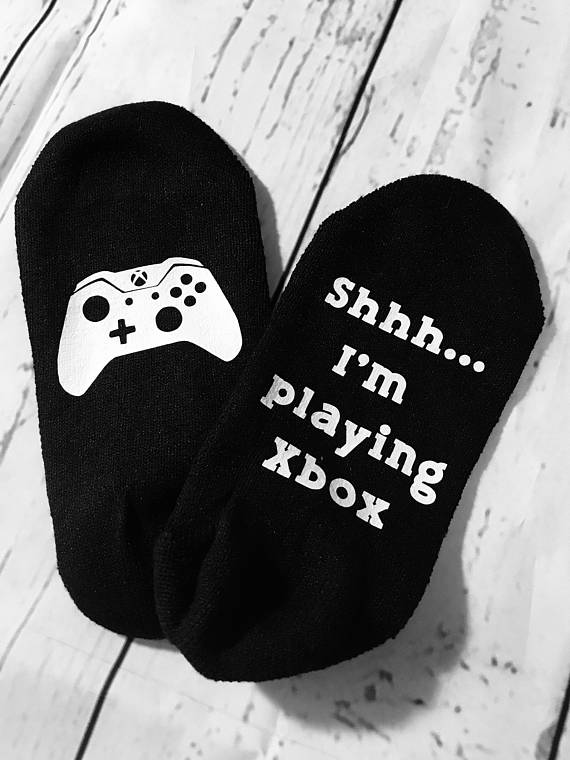 Perfect to gift the groom during his bachelor party, these X box socks will truly be any games favourite. They come in the choice of being either Xbox or PlayStation with your opinion considered it comes in various sizes so don't worry it'll be a snug gift. The socks come in either black or white and will make a lovely gift for a bachelor's party. So go have some fun and gift this cool present to the groom to be and enjoy your bachelor's party night ! It can also be gifted to the groomsmen as well.These socks are made of cotton and poly blend and are priced at 9$
26. Engraved money clip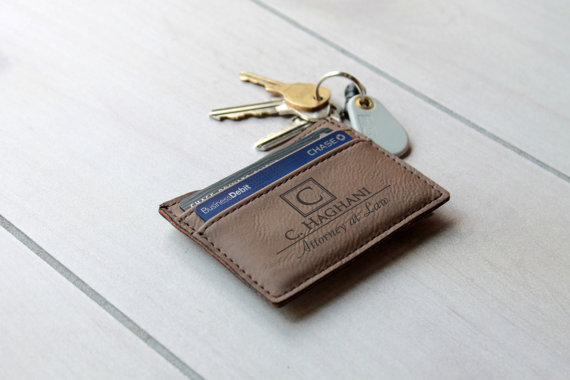 This leather money clip also called as a leather card wallet will make a perfect gift for the groom as well as the groomsmen. Since it is a very handy and useful gift where you can store all your cards like credit and debit cards, it will never go out of use and hence will be remembered always. It will make a memorable gift and will be cherished for long. It is made of leather and is handmade so it is also customisable with the name and date of the event making it personal. This amazing gift is priced at 16$
25. Groomsmen duffel bag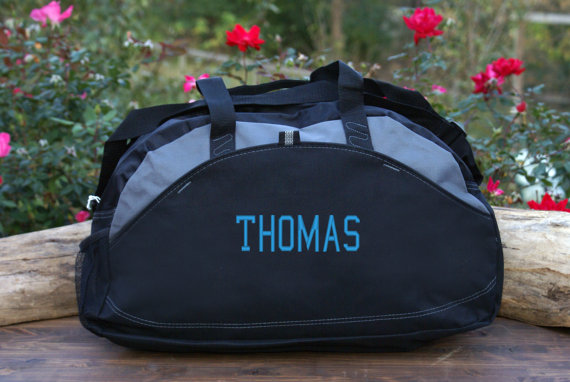 A wedding and bachelors night is one of the most important night for th groom and as groomsmen, or anybody for that instance you'd want to stock up the important things that may go missing during the wedding. Why not gift this handy duffel bag customisable with a personalised name to remind the groom of what he might forget and store it inside ? It is also perfect to use as a normal duffel bag after the event is completed. You can never get enough uses out of a duffel bag. It is durable and is multipurpose. It is priced at 15.95$
24. Ring bowl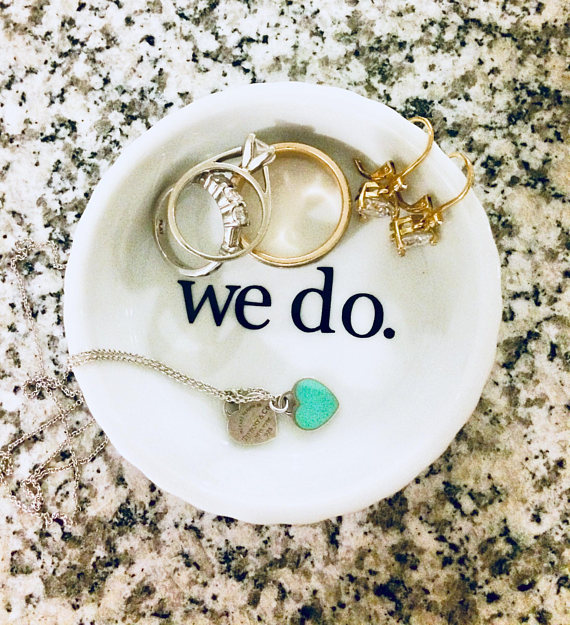 Want to get ahead of tradition and gift the groom this gorgeously pretty ring bowl where he can place the rings in for the wedding ? Who says you've to conventional and just give typical bachelor party gifts when you can be understanding and sensitive and gift your friend this beautiful ring bowl. It is made of white ceramic with the word We do engraved at the bottom of the bowl which just makes it so sweet. It is a RAE Dunn inspired ring holder dish that defines the importance of a relationship. It is priced at 8.50$
23. Groom and groomsmen caps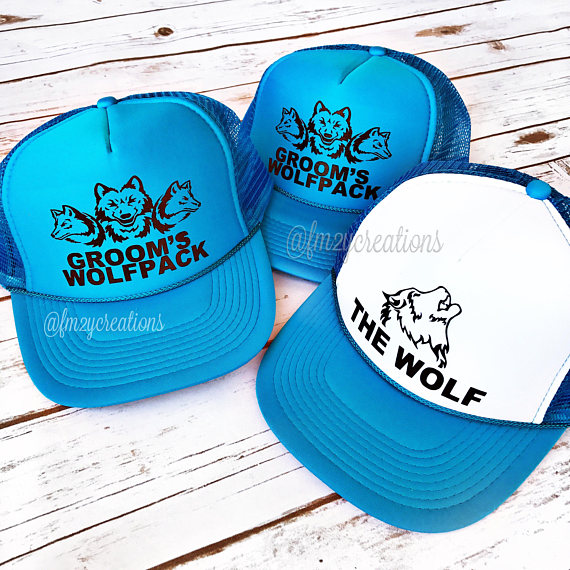 Want to have some fun and be back in style with these super cute and classy caps that are custom made specially for a bachelor party. Sport this one you will have all eyes on you. It is the perfect gift that will be cherished and remind the guys of the awesome bachelor party you had. It usually comes in blue and is customisable. The hats come in a universal size so it will fit all. It is made of polyester and nylon mesh back. Go ahead and have a blast at your bachelor party and make these caps a part of it. It's priced at 11$ each.
22. Wish you were beer sunglasses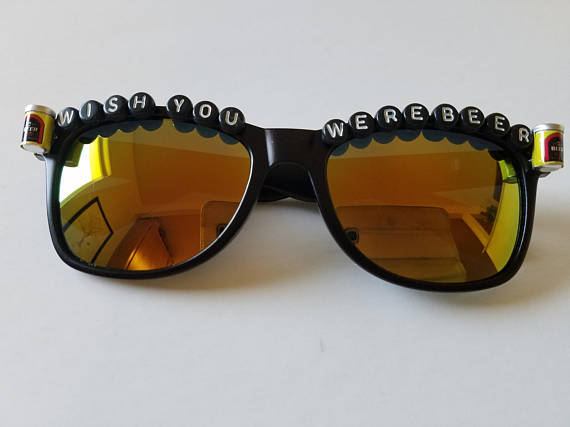 These glasses signify the real struggle every beer lover faces most of the time. Playing with the words ' wish you were here' these glasses literally scream out wish you were beer on the head of the sunglasses, making it super cool and classy. These glades are perfect for a bachelor's night where the groom and his groomsmen can sport these shades and look classy as ever. With an element of fun, these glasses reiterate the beer struggle and will surely end up making the night quite a memorable one. They can be customised as well and are priced at $15.
21. Caricature of groom and groomsmen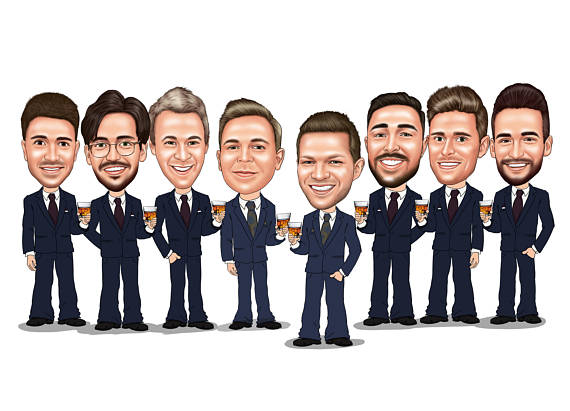 If you're looking for the perfect gift for the groomsmen during the bachelor's party, then look no further and get this custom made groomsmen caricature done ! All you need to do is send a picture of your groomsmen and see how flawlessly the caricature is made and is sent digitally to you. Further you can use the picture to print on T shirts, bags and mugs of your choice. Making it a very versatile gift, this idea is perfect if you love cartoon characters and are eager to your friends in such a fashion. This is priced at $60.
20. Cool bachelor party T shirt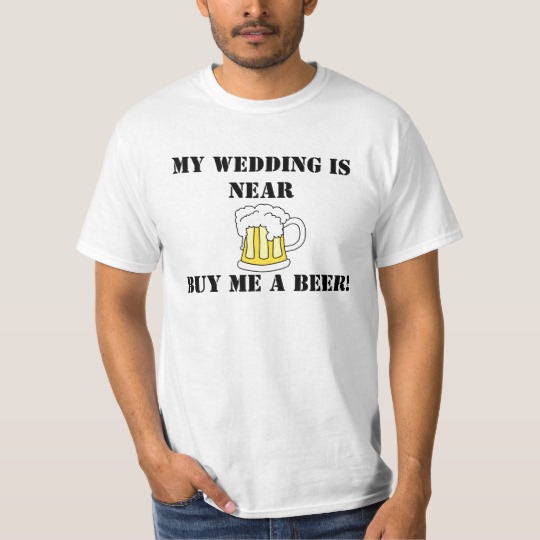 Get these adorably cute bachelor party T-shirts for example the one that says 'my wedding is near buy me a beer' for the groom and similar ones where you can customise your message for the groomsmen as well. They come in white and are completely customisable and durable as this gift will remain a memory and will be cherished for long years to come. So go ahead and get these T-shirts for the groom and the groomsmen as a gift and make the day memorable. It is perfect for any bachelor soon to be married and his friends. These are priced at $15.80.
19. Buy me a beer hat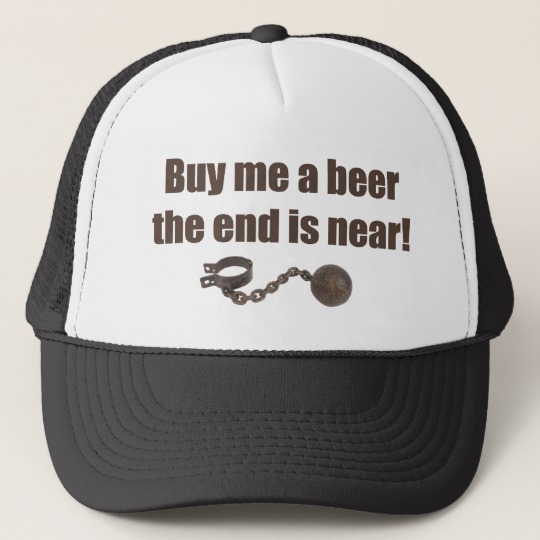 Another unique gift that you can consider buying for your groom and your groomsmen is this " buy me a beer " bachelor party hat e. with the picture of a shackle on its DomE. It can make a perfect gift not only for a bachelor party but a wedding shower as well and can be used during your day to day activities as well.   It comes in a variety of colours to choose from and you can also customise this and make it a bit more personalised. it will make a memorable gift during the bachelor party and is priced at $16.75.
18. Black Tuxedo Bachelor Party Wine Label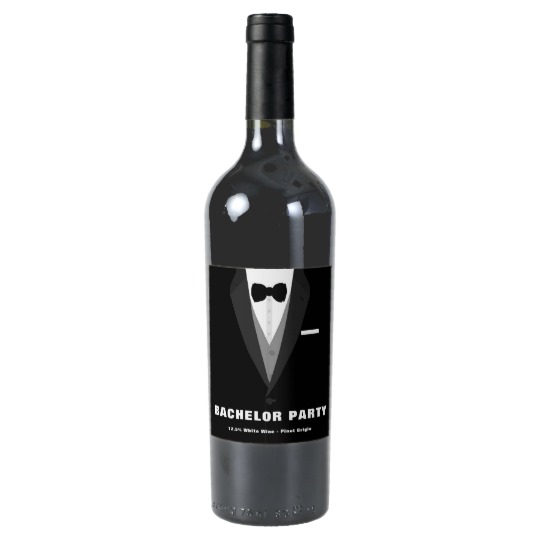 Get this wine or champagne bottle label easily customised for a bottle of wine or champagne and make it a customised bottle label which will be totally a trademark symbol for the bachelor party. It will make a memorable bachelor party gift. . It can also be designed as a tuxedo to give it a more professional and sophisticated look. But you can customise it the way you want with the text you want. It'll make an ideal bachelor party gift and is priced at $5.95.
17. Trophy Shorts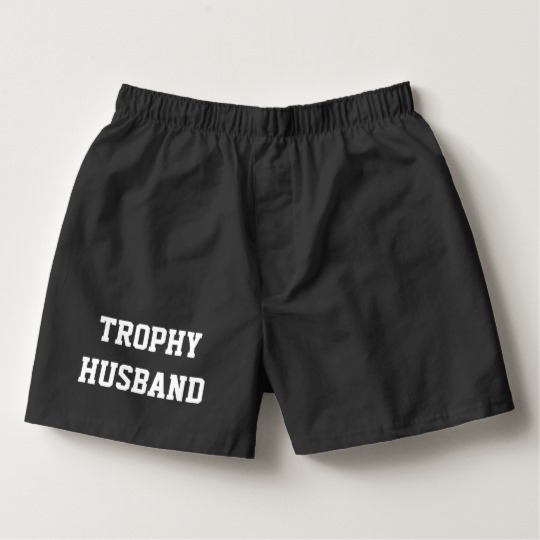 Want to have some fun and Frank your friend who is yet to be married? Then this trophy husband funny boxer shorts for men is the ideal gift to choose it is a black boxer where you can customise the text you want. Even though it can ideally be called 'trophy husband' , you can personalise it with the text you want. It is short on some chocolates from the crowd once this is gifted and are sure to leave a smile on the groom's face. This memory will forever be cherished making the bachelor party as well as the wedding day a huge success. These are priced at $19.70.
16. Engaged AF T shirt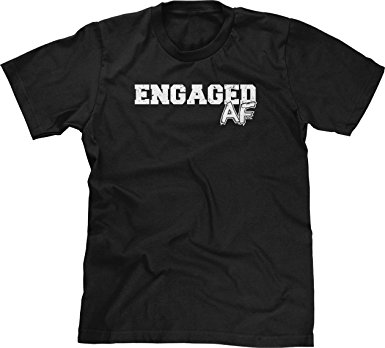 Get the groom this supercool T-shirt that says engaged AF on its body. This is a super cool shirt that is absolutely cool for bachelor parties as well as wedding showers. It looks sophisticated with an element of fun in it. Since it is perfectly double stitched, it is very durable and will last many more years to come. The shirt is made of 100% cotton and can be machine washed as well. It is definitely an ideal gift to a bachelor party and the groom will absolutely love it. . They come in variety of colours so it's completely customisable and personalised. The shirts are priced at $11.95.
15. Groomsmen Mason Jar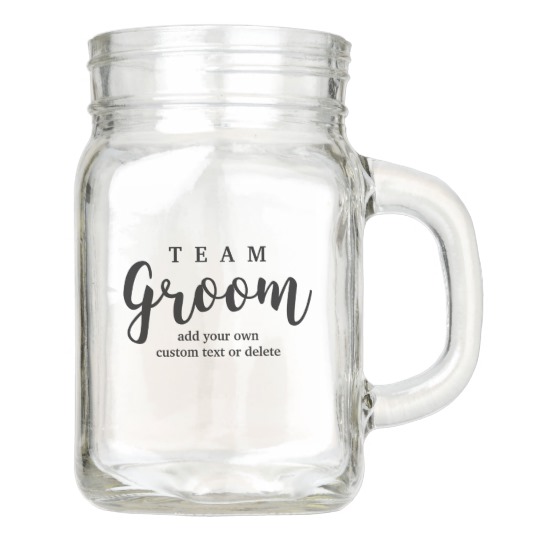 If you're thinking of gifting the groom or any of the groomsmen a perfect gift then this groomsmen mason jar is the perfect gift to give during a bachelor party. It comes with the design 'team groom' and you can add your own custom text so it is completely customisable and also personalised. It looks absolutely sophisticated and will definitely remain a cherishable memory to the groom as well as all the groomsmen for many years to come. So go ahead buy this gift and present it to your groomsmen and watch their faces light up with a smile. These are priced at $12.97.
14. Custom Monogram Name tag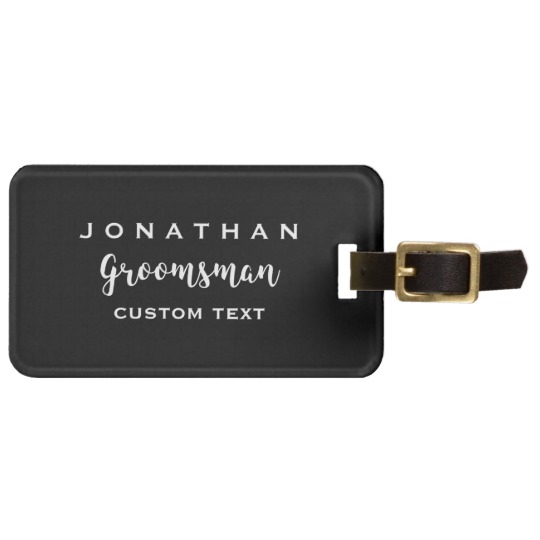 Want to be a little unique and give your a groomsmen something different unlike any other conventional gift? Then you have arrived at the right place because this custom monogram name tag is one of the most unique gift you can give your groomsmen as it is not your usual custom made T-shirts which is conventional. This is basically I love that start with a leather strap and you can have the text customisable. You can choose from different colours as well so this is completely personalised too. Best part is it is waterproof as well so you can attach it on your luggage and always remember the memorable day of your best friends wedding. It is priced at $11.60.
13. Beer Trucker Hat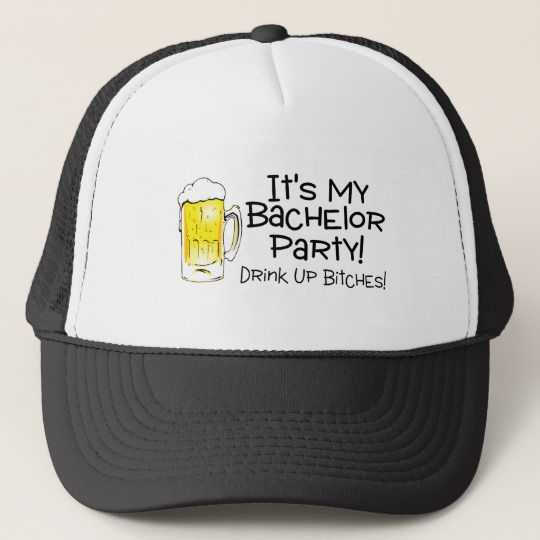 Another unique bachelor party idea that is sure to grab a smile amongst all your groomsmen is this 'it's my bachelor party in drink up bitches' party hat. One look at this party cap you will know that You are in for some fun. It looks completely adorable and will definitely light up the mood during a bachelor party. Once the groomsmen sport this cap they will surely represent 'team groom' and will definitely have a gala time at the bachelor party. It comes in several colours so you have a variety to choose from. It is also customisable. It is priced at $18.45.
12. Bachelor party Neck tie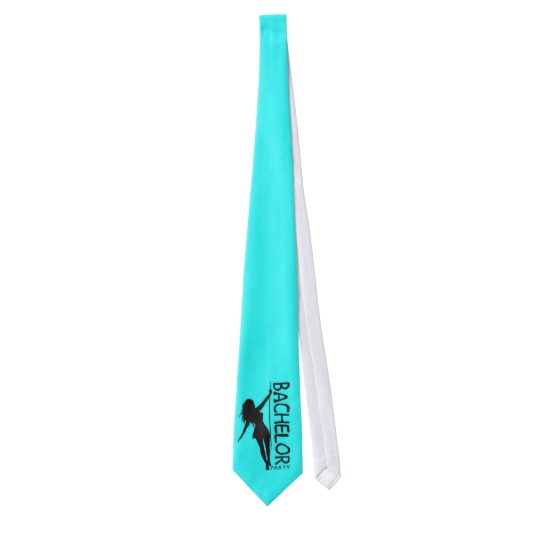 Go a step ahead and design ties specially for your groomsmen in the colour you like and have fun at your bachelor party. It makes the ideal gift for a bachelor party and you are sure to have a lot of fun wearing it. you can design these one of a kind ties to match your wardrobe and your style and you can browse through thousands of different colours. It is made from hundred percent polyester and it is comes in a silky finish. These make ideal gifts for a bachelor party where the groomsmen can wear it during the party itself and they are priced at $33.45.
11. Hawaii Map Wedding with Have Hold Keep Beer Cold Can Cooler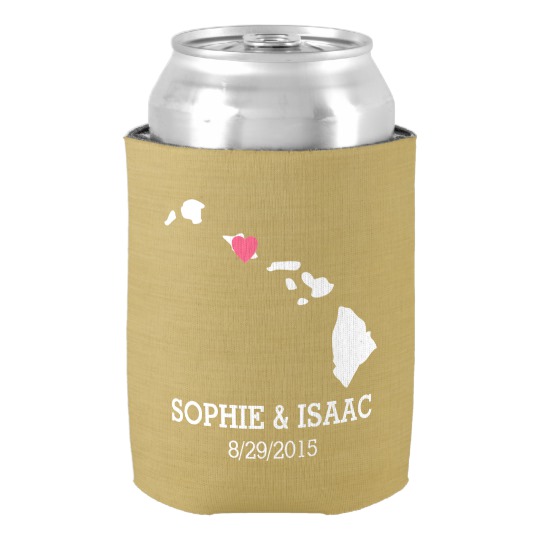 Get yourself and your groomsman this Uber cool beer can insulator that is super sophisticated and also really fun to look at. . So if you have issues about your beer can losing its coolness when you're in for a surprise because these insulators are perfect. This can cooler will keep your hands warm and your drinks cool. These can come personalised and completely customisable according to your choice of colour and design. discover comes with a picture of how are you Islands with a heart in the centre signifying the love that is to be shared during the wedding and also customisable with the groom's name and bride's name. They are priced at seven dollars.
10. Bachelor's party can sleeve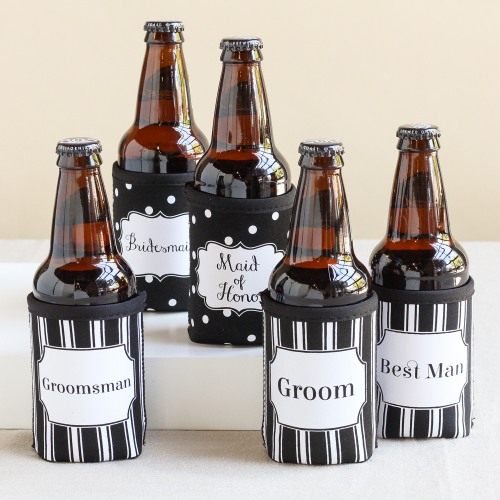 Personally if you like custom-made gifts like party can sleeves were you can customise your own text then this gift will be ideal for your bachelor party or wedding shower. These are ideally custom-made sleeves for your groomsmen and your family for the bachelor party. These are regular sized and fit any normal beer cans and bottles. You can customise each of these according to your taste and buy as many as you want. . Days will keep your hands warm and a drink school during your party and even on your wedding day if you choose to use them. . They are perfect and are priced at $7.61.
9. Cheers bottle opener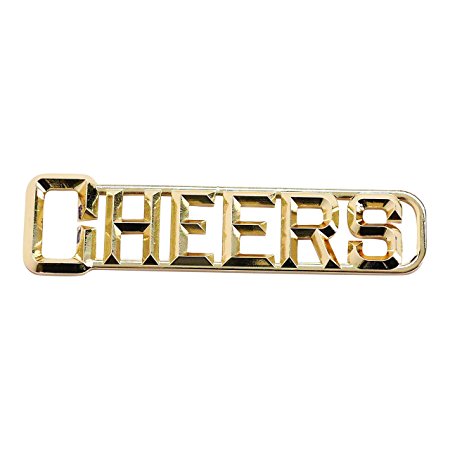 This is a super attractive can opener that will bring a smile to anyone who uses it. It looks very cute with its gold colour and the words 'cheers' moulded into the opener itself. It will automatically add a classy look to wherever it is placed and looks very sophisticated. You will definitely want to get your hands on one of this and also gift your groomsmen during your bachelor's party as they make ideal gifts.this can open a very bright in the mode and make it more bubbly making it a lot of fun during the party does bottle opener is priced at $18.
8. Black top hat and mustache BBQ apron for men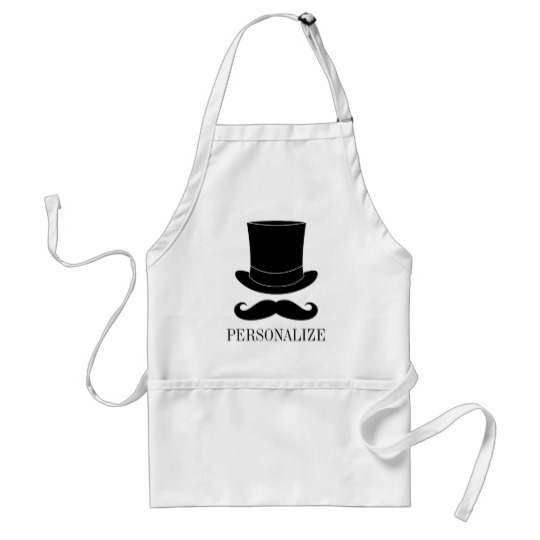 If the groom is a soft chef at heart then this personalised cooking apron will be the ideal gift for him and you will definitely be happy in seeing him smile when he receives this gift. With the option to completely customise and personalise it your taste and style this Apron will make a perfect gift someone who loves cooking. It comes with a preset design of a moustache and a hat which looks very cute. It also has three spacious pocket in the front to keep the chef's tools. So what are you waiting for if you are confused on what to give the groom then you might want to consider this option. These are priced at $20.95.
7. Team Groom Modern Wedding Favors for Groomsmen Reusable Grocery Bag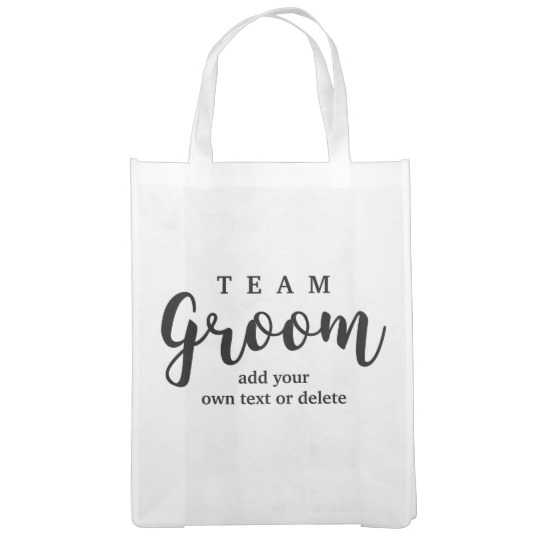 If you don't want to stick to traditional give a bachelors parties and you want to gift your groomsmen lot of goodies then you should consider getting this reusable grocery bag with a customisable caption at the front to keep bachelor party goodies in it and gift your groomsmen. I want that just be a lovely idea? They will not only be able to use it during the bachelor party but will also be able to use it during their day to day lives when they are out to get grocery. This makes a simple gift that is very useful and hence, these are priced at $6.30 .
6. Black Suit Red Tie and Vest All-Over-Print Shirt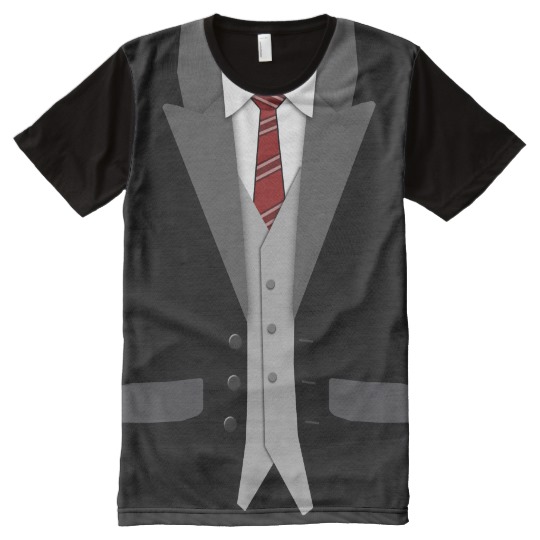 A mock up of a cool design with a black suit red tie and vest all over print, this shirt is an ideal gift for a bachelor party but you can go crazy with ideas you have and customisations you prefer on the same shirt. . You can go wild with your creativity and designed the shirt the way you want. It is available in all sizes and will make a memorable gift for your bachelor party. Once you wear this shirt you will find it hard to take off because it is so comfortable to wear. Be shut up priced at $39.95.
5. Game Over funny bachelor party shades for groom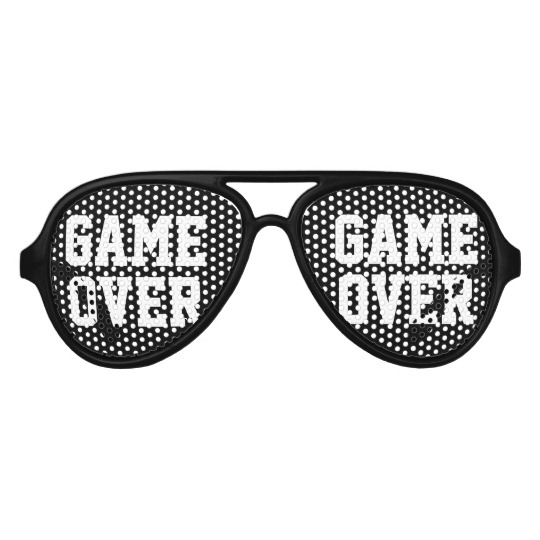 Get the super cool sunglasses that say ' game over ' and watch your groomsmen smile with glee. By having your groomsmen team wear these sunglasses, your group will be the hit of the day. It is super fun to wear these glasses and the party will be one to remember. You don't have to stick to the phrase You don't have to stick to the phrase' game over' in fact you can customise your own text to be printed on the sunglasses. These sunglasses will be a great addition to any event especially bachelor parties and they will be well remembered. These are priced at $12.65.
4. Pinstripe Suit Bachelor Party Best Man Square Pin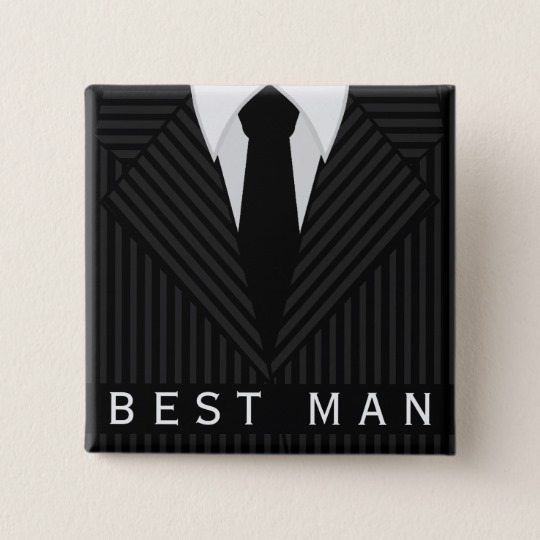 With these customisable button and pins you can do more than just express yourself clearly. You can customise these pins but I guess you can go wild with your creativity and make an ideal gift for bachelor party and this will definitely make the party a success. It is personalised and customised to your tastes. You can make the expense for absolutely anybody including the groom, the groomsman, the best man etc. So why stick to conventional bachelor party gift? You can use your creativity and come up with a cool gift like this and make sure everybody gets a unique present. These are priced at $3.80.
3. Cream Ivory Tuxedo Beach Wedding Tank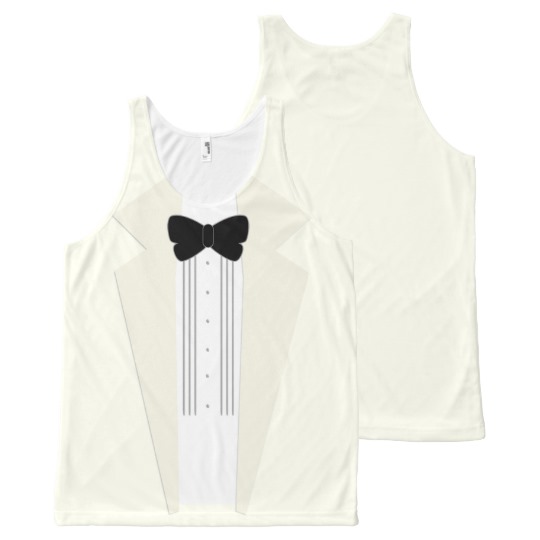 Don't restrict yourself to those conventional T-shirts and get your hands on these cool tank tops with overall prints that can make you the hit of the day. By wearing these you will not only look eccentric but they are also great conversational starters since you will be the person that is dressed very uniquely and differently. You can absolutely go wild with your creativity and designed to shut the way you like. You don't have to stick to the coat suit theme that is given with this as a mock up. These are priced at $36.95.
2. Groomsman Keychain
Want your bachelor party to be the hit of the day? Want to give your groomsmen and friends a gift that they will carry on with them all the time and will remember forever? Then this keychain will be the ideal gift that you can present to them. You can get these keychains custom made according to your groomsmen roles. You can get these keychains custom made according to your groomsmen rolls. Your friends and groomsmen will hang the their keys and will carry it with them everywhere they go and every time they look at this they will remember the marvellous day they spent during your bachelor party and wedding making this the ideal bachelor party gift. . these are priced at $9.95.
1. Beach Wedding Groom Flip Flops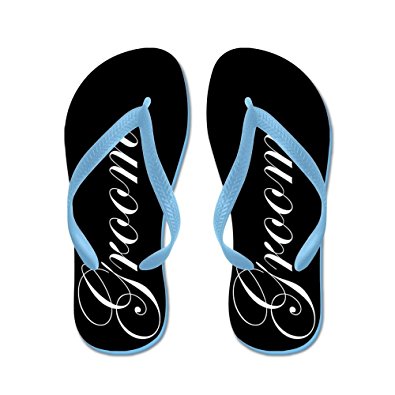 Do you know anybody that is having a wedding at the beach or is definitely having a bachelor party near the beach? Are you confused about what to get your friend for his bachelor party ? then we have an option for you .. these super cool flip-flops that are customisable will make a perfect gift for the groom and bride. They can also be used as bachelor party gifts. They don't necessarily have to be addressed to the groom but can also be addressed to the groomsmen with the word ' groomsmen ' written on the footwear. . In short, diesel make ideal bachelor party guests as they look very cool and stylish. These are priced at $16.95.