A father is stereo-typically considered strong and tough family guy, full of authority, and loaded with a bagful of threadbare jokes. To every child, a father is a father regardless of his profession, his footnote of authority, or his embarrassing sense of humor. They are regarded as the head of the family, the breadwinner, the selfless person, the authority to set the house in order, or that man-cave who starts nonsense chaos. To celebrate a father's existence not only during his birthday but on just some crazy days it's worth showing a gratitude, we would jump to the endless list of stuff we want to hand over to them. They probably won't care anyway, it is always the thought that counts.
The best gift for fathers are those little things that can bring a smile on their faces. What exactly do we give? Little gifts that are functional, gifts that are well-thought of, or gifts for a great comeback over their self-deprecating dad jokes. But the very best thing to consider is dad's best interest to come up with the perfect selection. Dads do not generally prefer house chores unless mandated by the superior a.k.a mother.
50 Best Birthday Gifts For Father
Dads live for the outdoors, and that is probably the most basic category when considering buying gifts for dad. Or probably some prank gift to crack them up a bit. Maybe straight A's would do. But in event of a looming F, maybe it's about time to browse for products to lessen the burden somehow. Here are some of the best gifts for fathers to turn tables around.
1. HQY Magnetic Beer Bottle Opener ($9.99).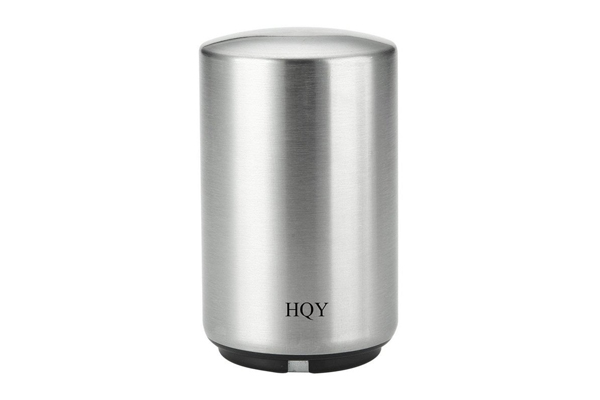 Give Dad something new and chic than the stuff he had been grown accustomed to like this magnetic bottle opener. This sleek and stylish can opener is very easy to use, more convenient, and uniquely fashioned than the traditional bottle opener. It is also portable and convenient that is best for a father's outdoor soda or beer time. The magnetic and spring mechanism enables opening without bending the caps off that are great for fathers who are also suckers for cap collection.
2. Redneck Backscratcher ($24.99).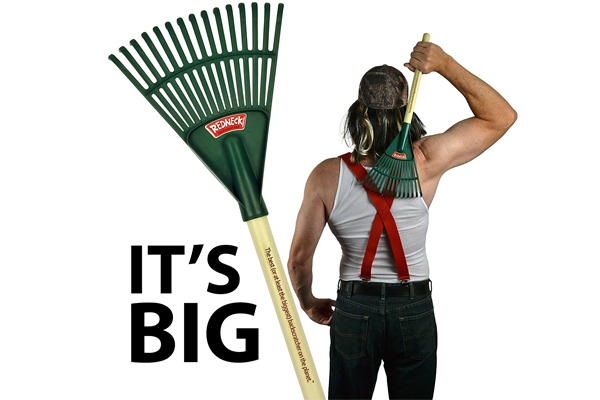 For fathers who are also the king of practical jokes, it's time to make a comeback to get them cracking. This oversized back scratcher that looks more like a rake with its size will not only become the butt of jokes but serve him a purpose as well. Or dual, should he really double it on the yard. It has some 15 tines totaling 7.5 inches wide to give him the best scratching experience. This gift will surely be very useful and pleasurable but will have you finger-crossing he will not name it after you.
3. EZ Drinker Toilet Golf Potty Putter ($10.99).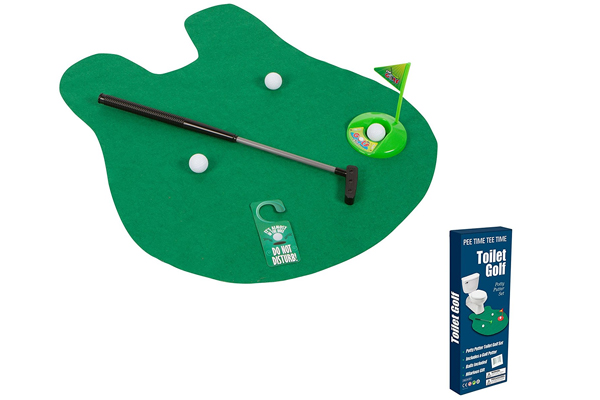 This how we have known fathers: they could hug the toilets all to themselves for hours doing their thing. Just like that. Give him something to ease his boredom, by this toilet golf putter practice set. Dad may not necessarily be a golf enthusiast, but he would surely multitask with this novelty gag gift to put his reflexes into practice. The set comes with a retractable golf putter, 3 golf balls, a flagstick and a mat.
4. Socks in a Drill Box ($19.99).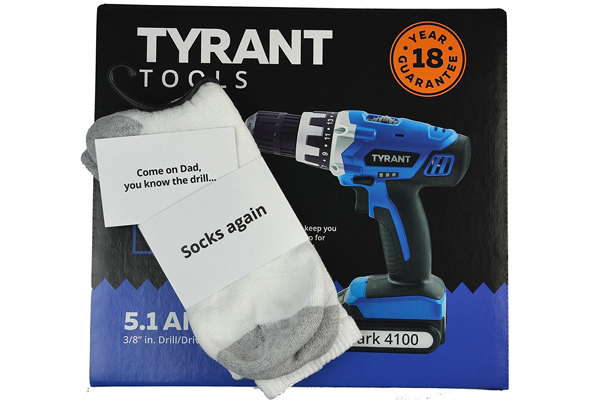 Prank dad big time with this fake heavy duty drill box. The tool box is made of sturdy material that is very similar to real tool container that contains an embossed card for greetings, a smaller card containing a funny dad joke, and real socks that are the ultimate gift for fathers.
5. WIZSLA Magnetic Wristband ($16.99).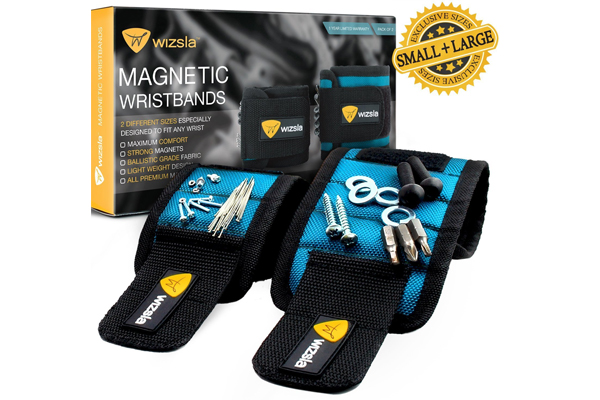 Make work easier for the handyman of the house with this magnetic wristband that is designed with a powerful magnet to hold screws, bolts, washers, and other small tools used for work. It comes in two different sizes to be usable for both large and small wrist sizes. The wristband is lightweight and durable for dad to be able to function efficiently without having been bothered by its presence. This gift is like giving your dad a hand with whatever project he has despite you not being around.
6. Best Buckin Dad Ever Laser Engraved Multifunction Knife ($16.99).
Gifts that are more personalized adds a sentiment to the thought. This 6-in-1 multifunction pocket knife is engraved with a short but proud title one could give to a dad obsessed with hunting. The slip-joint knife is very functional that includes a 2-inch stainless steel knife, flathead and Phillips screwdriver, bottle opener, can opener, and a corkscrew that he can use on his daily activities. It is also a guarantee that he will be using this for a long time because of its functionality.
7. SURKER Electric and Waterproof Rotary Shaver ($39.98).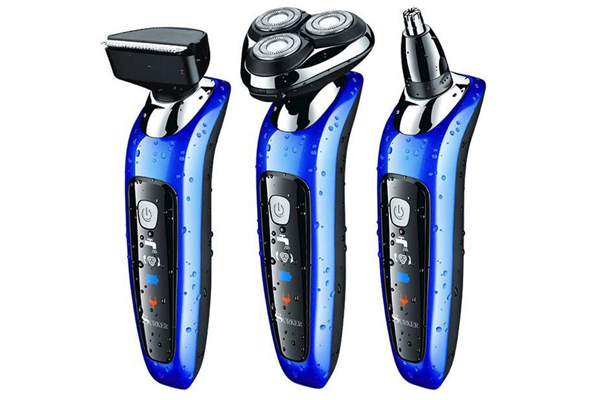 Encourage dad to his daily grooming by this 3-in-1 rechargeable shaver. It functions as a shaver for beard, sideburns or hair and nose trimmer that is good for his everyday usage. This is waterproof that can be used wet or dry depending on his choice and can be cleaned with water afterward. Let dad find comfort and convenience with this practical gift that he could use for his grooming needs.
8. Sperry Topsider Men's Billfish Shoes ($66.03).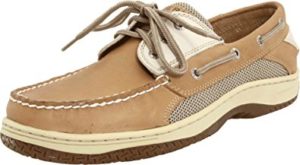 Turn dad's low-key look into a trendy upgrade with this billfish nautical shoes he can match with any of his outfits. The classic design made of leather and textile has rubber soles and a breathable mesh for added comfort. This design comes in many different colors to suit dad's personality. The design is a bit stylish and hippie from the common Topsiders dad may have long been using. Shoes are by far the most useable and practical gift for fathers on their special or just another ordinary days.
9. Marino Genuine Leather Ratchet Dress Belt withLinxx Buckle ($24.99).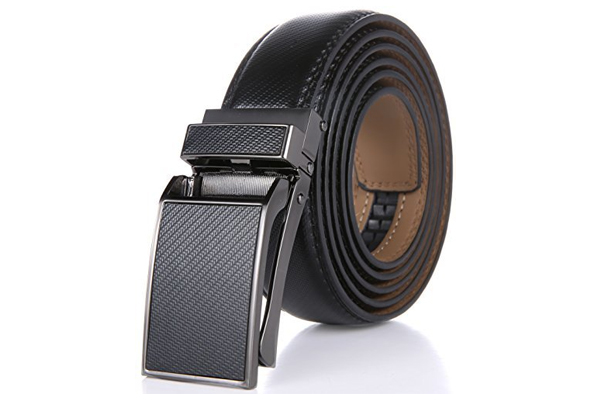 Adding a spice to a father's usual look is buying them wearable things that could get along well with their different outfits. Marino's genuine leather belt has a multitude of designs and colors to choose from. It is perfect for matching with attires you may also eyeing to buy for them. This belt has a unique Linxx buckle that enables automatic adjustment without the need for boring holes. The belt is enclosed in an elegant box with a leather key chain making it a perfect gift for fathers.
10. Foot Massager Roller ($14.95).
It relieves plantar fasciitis, nerve, arch and heel pain. Aging fathers are prone to experiencing the onset of nerve pains that always sets them off. This foot massage roller is a thoughtful package to help them ease their discomforts. This foot roller massager helps in stimulating the nerve endings and increasing blood circulation in the foot, ankle, and thighs to relieve cramping and pain.