Grandmothers are always loved and treasured no matter how young or old they are. Grandmas are very attached to their grandchildren to the point that they make it always a habit to spoil the little ones – and even until they aged into young adults. For many of us, our grandmas are the best and no one can ever surpass that greatness.
Hence, it is but just to shower our grandmothers with nice gifts whether it be her birthday, Christmas celebration or just an ordinary day of making her feel special. Since you are about to give your grandma a present, the biggest dilemma would be what to give to an old person. Surely, they won't appreciate gadgets and loud music as what most young people do. Because they were born ages ago before we ever see the first light of the world, our grandparents belong to a different set of generation and we should not expect them to have the same views and see things the way we perceived it now to be (but kudos to grandparents who are trying!).
Giving a gift to your grandmother may be a tough battle to deal with, but rest assured that whatever you give to her, she will always treasure it because it came from her little doting grandchild – you.If ever you are still at a lost on what to give your grandmommy, here is the list of the top 50 best gifts for grandmother.
1. Willow Tree Grandmother Keepsake Box ($13.86).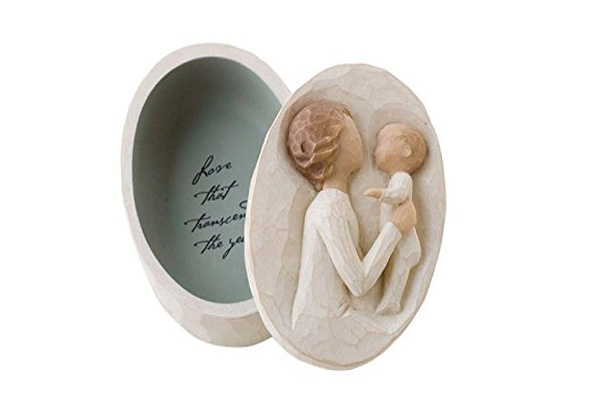 A keepsake box is a great gift for your grandmother considering that there are too many memories and stuff that she must need to set aside and keep. Little stuff such as a pair of earrings or little pieces of cut-out papers from yesteryears will surely fit this amazing 3-inch oval keepsake box. This item also comes in a box with an enclosed card and is ready to be given away to your beloved grandma.
2. Gender Reveal Party – Baby Announcement – "Promoted Grandma" Shirt – New Grandmother Gifts ($14.99).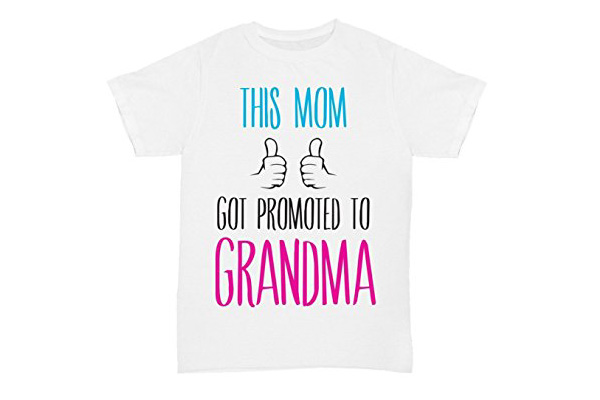 This gift is applicable to new and upcoming grandmothers. A delightful gift that will surely earn a squeal when the grandmamma sees it and knows about the wonderful news of a new baby coming into the family. This shirt is made from 100% cotton that will look so good on a doting grandmother that she will soon become.
3. Primitive By Kathy Box Sign A Grandmother ($7.25).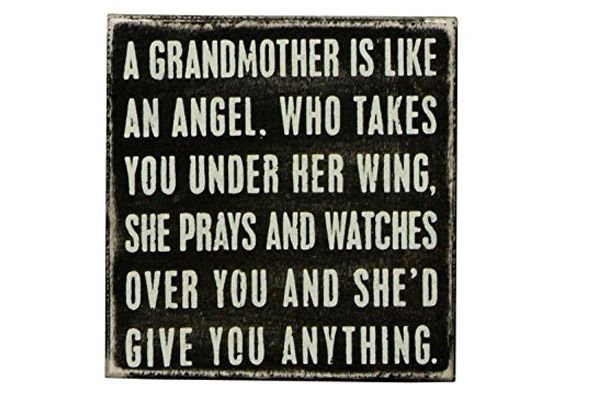 The message of this box sign is just so touching that we included it on the list. It describes the grandma as an angel who will always be there for her grandchildren. This is a brilliant gift item made of wood that can stand freely on a tabletop or be hanged on the wall. Grandmothers will definitely like this gift as it helps remind them how awesome they are for doing a big job in their grandparent's duties to you.
4. Grandma Butterfly Suncatcher with Pressed Flower Wings Embedded in Glass with Metal Trim – Grandma Heart Charm – Gifts for Grandma – Grandma Gifts ($14.66).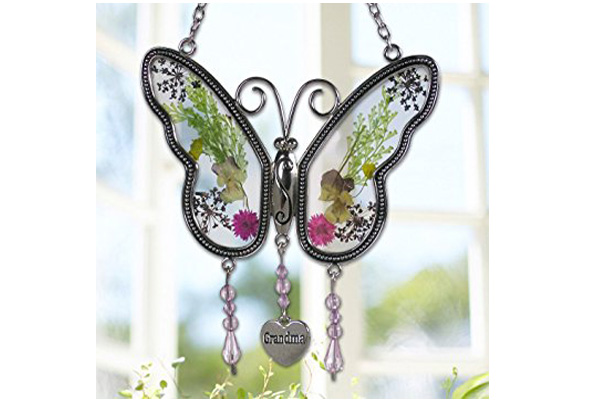 Most grandmothers like to see decorations hanging on their houses and rooms. This butterfly charm is a good addition to your grandma's home decors. The decor is uniquely designed and is prettily attractive too. Moreover, it is very easy for grandma to hang it anywhere she wants as it comes with a suction cup and hook too. Did we already say that the word grandma is engraved on a heart dangling from the butterfly's end? If not, then there you go – a lovely present for grandma, it is.
5. Cottage Garden Grandma Grandmother Champagne Silver Petite Rose Music Box/Jewelry Box Plays Amazing Grace ($24.95).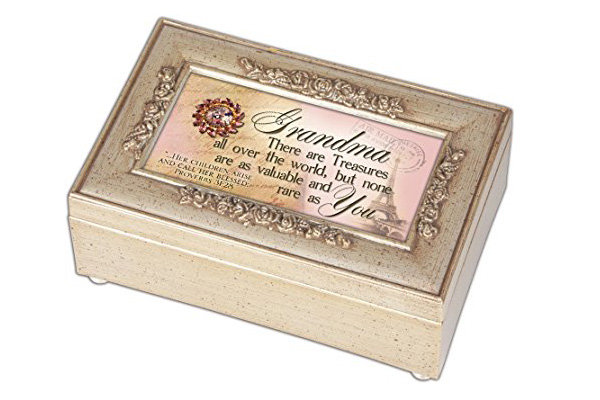 Amazing Grace may be too old school for most with its high pitch and slow melody, however, grandmothers really love this song to a fault! I don't know why they do like the song, but what I am very much sure of is the fact that your grandmother will like this musical jewelry box. It also comes with a customize message and photo that you can request to be placed at the front top of the box! The high quality musical movement is also visible under glass which assures you that everything is and will always be at its top performance.
6. Grandmother Coffee Mug with Decorative Box – Grandma Gift ($16.59).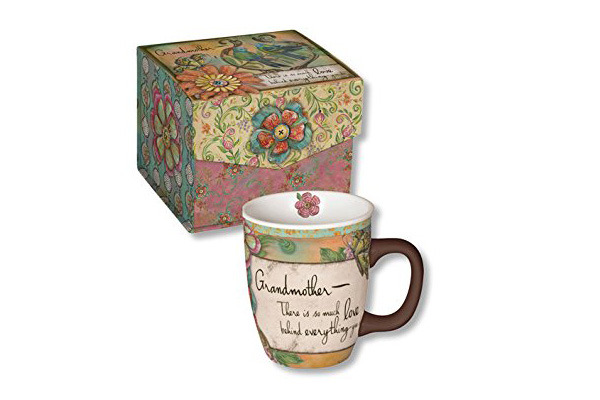 A cup of coffee is and will always be a staple of your grandmother's daily routine. If she is not fond of coffee, then surely she's having some tea instead, which still requires her to have a mug. This grandmother's mug is perfect gift for a grandma who loves to drink just that. The message on the mug is also a good way to convey how much you love your dear old granny. The gift comes with a beautiful box and all you have to do is to grab a card and put on some ribbon before you deliver it straight to her doorsteps.
7. Comfort Candles Grandmother by Pavilion Tea Light Candle and Stand, Butterfly Pierced Round ($29.06).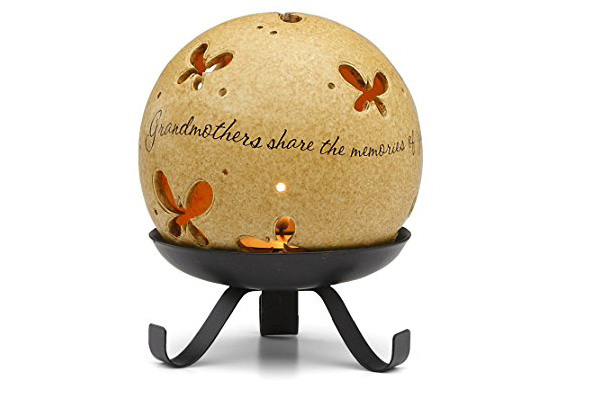 "Grandmothers share the memories of yesterday, the joys of today and the dreams of tomorrow," this saying is plastered around this round comfort candle. True enough, it summarizes the grandmother's role in our lives. This is also an ideal gift as it includes tea light candle and a stand. Moreover, it is a gift-to-go kind of deal as it comes in a packaged of a beautiful gift box.
8. The Grandparent Gift Life Story Frame, Grandma ($24.99).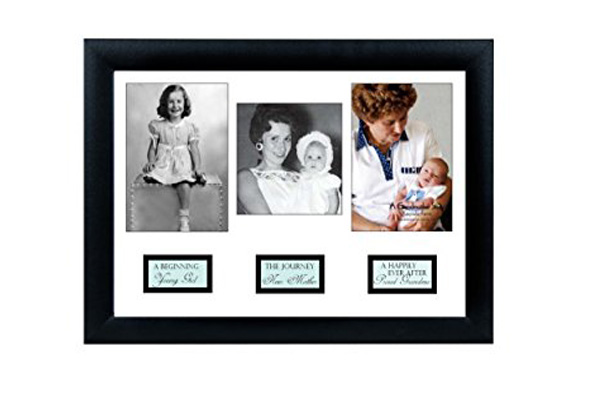 This photo frame will convey the story of your grandmother from her younger years as a child to being a grandma. The photo frame is divided into three parts: (1) a picture of her as a young girl, (2) a picture of her as a mother, (3) a picture of her as a grandmother. A plaque is already included to put a label on the pictures you used. The size of the frame is around 8×12 with the left and right opening measuring to 3×4.5 and the center opening at 3×3.
9. Enesco Foundations Grandmother Angel Stone Resin Figurine ($23.99).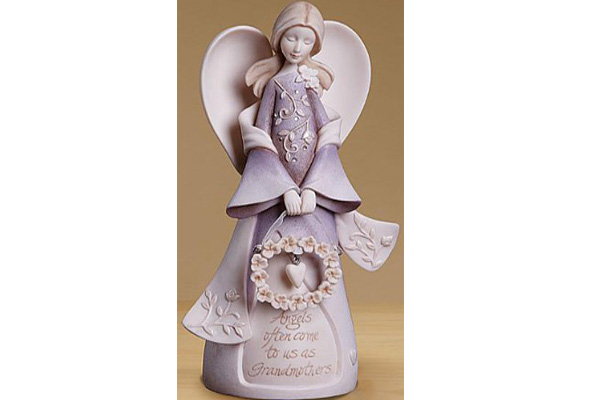 This wonderful item is a sculpted figurine of an angel grandmother holding a flowered wreath. The figurine boasts of a high-quality stone resin and a soft gentle touch of color. It is part of the Enesco Foundations collection, which makes it more of a collectible and prized item. The figurine also include sheer satin ribbon, crystal accents as well as a hanging heart pendant to show how much love there is between you and your grandmother.
10. Angelstar 15684 Grandmother Guardian Angel Visor Clip Accent, 2-1.2 inch ($11.05).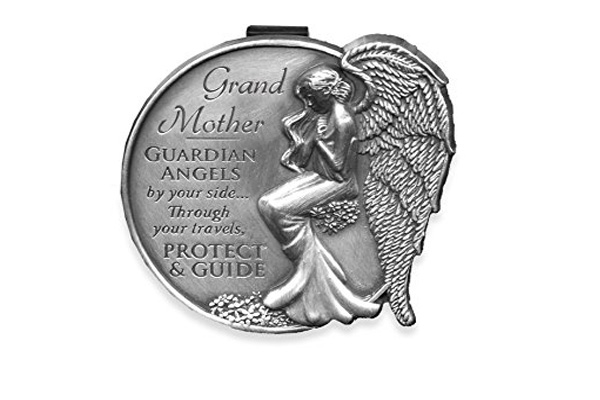 Grandmothers drive too! And for those grandmammas who are still active in driving, this visor clip will be handy when the sun is too glary for them to drive. The visor reads that a guardian angel should be by your grandma's side to guide her and protect her during her travels. It is one of the best ideas to show that you are thinking of your grandma wherever she may be travelling to. Wishing your grandma safe travels will make them feel loved and protected all the time, especially if they are going a long way from one place to another. It also comes on a gorgeous tent card making it an ideal gift of choice.