The phrase "Mother is a living angel on earth" is aptly said. She takes care of her children, sacrifices everything to see them happy & comfortable, and loves them unconditionally no matter what. She must have spent sleepless nights looking over her child who might have fallen ill. Her ability to smile even in pain is mind blowing. It is high time that you let her know how much you love her. Express how much you appreciate her role and how thankful you are for her presence in your life. Celebrate her, celebrate her love, and celebrate her care. She is the one woman who will do anything for you. For such a mom, it is fair to pamper her on special days. Here are a few gift ideas for your mom for this Mother's Day.
50 Best Birthday Gifts For Mother
Here are some of the best gifts for mother:
1. Throw Pillow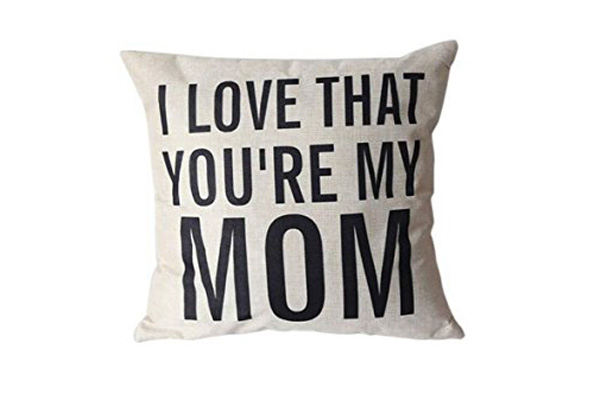 Mothers love their children unconditionally. Show your mother that you too love her, with decorative cotton linen, soft burlap material throw pillow. This cushion has an extremely attractive yet easily washable invisible zipper and with dimensions of 18 x 18 inches. Not only is the cushion compact and rich looking, but also has heart-touching printed writing that will warm your mother's heart every time she reads them. This will undoubtedly encourage her to decorate her chairs/car/sofa with it!
2. Personalized Jar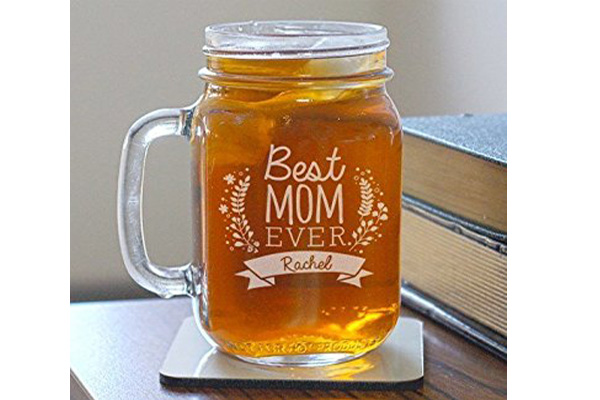 To sip on a lemonade or iced tea on a hot day is a blessing. Why not gift your mom with a personalized mug? She will love to see the engraved message with reads "Best Ever Mom" every time she picks her mug for a drink. And the best part for you is that the personalization is free! For your mom, this jar will welcome nostalgic memories of the good ol' countryside with the rusty feel her fingers will be feasted with. This jar can be used to drink tea, cocktails, soda, water and anything else her heart desires.
3. Socks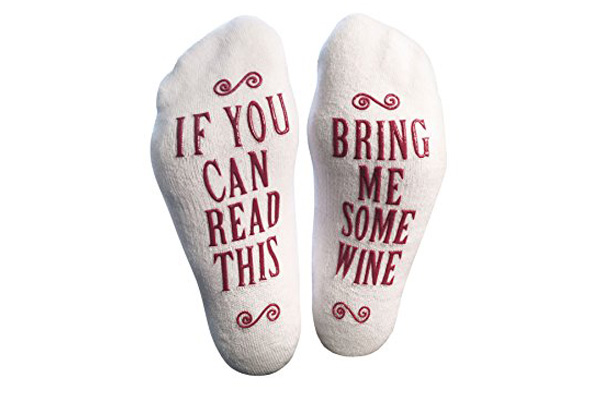 For the wine enthusiast mom, a Luxury Combed cotton socks will be a perfect gift, which will bring a smile on her lips. This will keep her feet warm and is available in the US sizes 6 to 12. It's adorable non-slip design is comfortable. The humorous words on the socks are a reminder of how carefree and happy she can be. This is a good gift for a fun loving mom.
4. Spatula set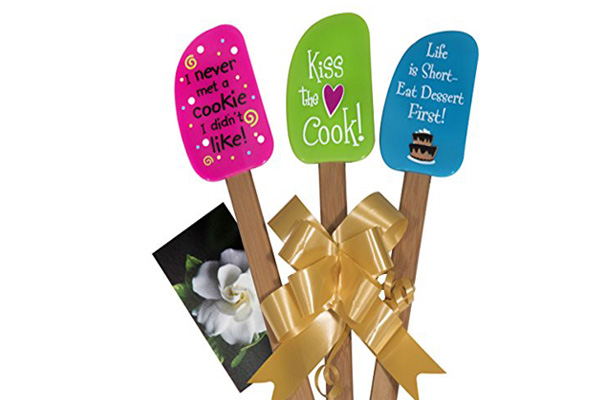 Who doesn't love mom's cooking? For the great cook of a mom, a wonderful gift option is this three-piece silicone spatula set, which can be used for baking, cooking, sautéing, etc. These will not readily melt but also retain any foul odor from cooking. These 12-inch spatulas have rigid bamboo handles, which aid swift sautéing and tossing of food, and the holes in the handles make it convenient to hang the spatulas after use. Furthermore, a color-photo gift card accompanies with this set of spatulas for you to customize. Grab them!
5. Ice-cream Machine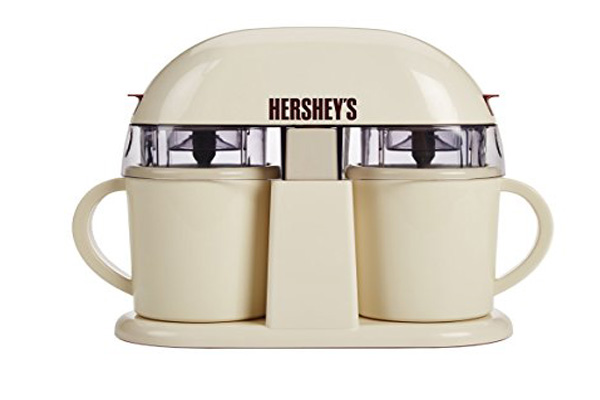 Hershey's Dual Single Serve Ice Cream Machine is something your mother will be proud to own. Make her happy with this special gift for her which she rightfully deserves. She can make two different flavors at one time, and the freezing mugs will allow her to serve and store with ease.
6. Artificial flowers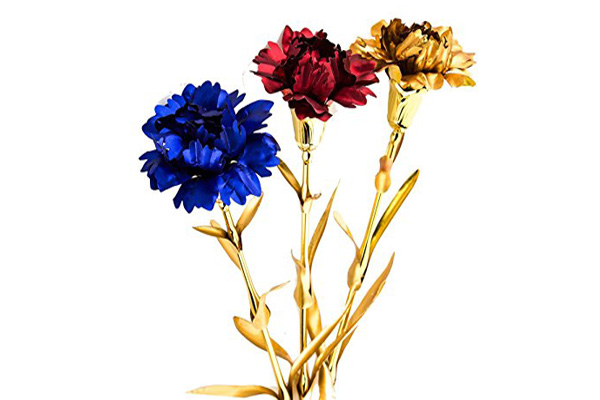 Carnation personifies love. Give your loving mom these 24K Gold foil three pack and 3 Colors Carnation flowers to show how much you love her. These flowers will last forever and so will your love – their color and shape are said to be never changing! They will never change color, never fade, never perish and will never die. If you desire to make a colorful bouquet, then double or triple your order and show your creativity in arranging them beautifully.  Moreover, your order is promised with 16 months of exquisite quality; e-mailing Amazon with a picture of quality deterioration and you will be sent a new set!
7. Sandwich maker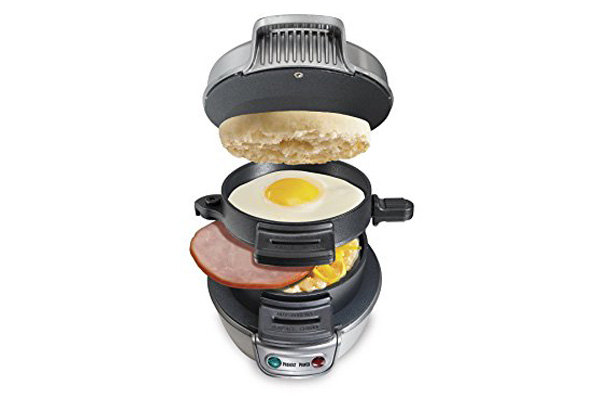 Before you step out, grab a homemade sandwich for breakfast and leave.  A cool gift for mom is this Breakfast Sandwich Maker which will surely stop her from worrying about what you ate for breakfast. With her magic hands, she can make the best sandwich using her fresh ingredients including eggs and much more. The best part is, this sandwich maker will instantly introduce variety into your life! Your breakfast sandwiches don't need to be monotonous bread ones; they can be made of English muffins, bagels, biscuits and much more! Not only that, all the individual removable parts are dishwasher safe; they're all durable. And last but not least, your sandwich maker comes along with a recipe book!
8. LED Decoration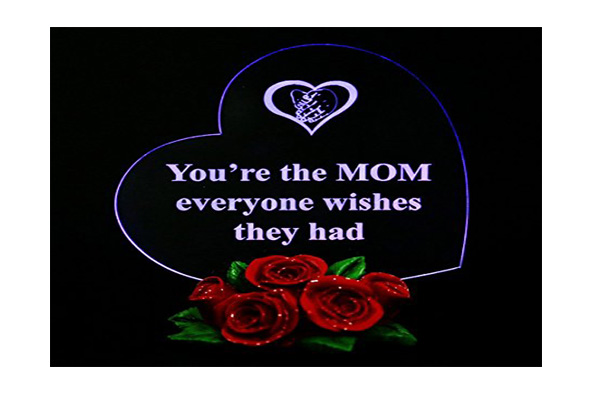 Everyone who has a mom is lucky. She is the epitome of love, care, and tenderness. Show her how much she means to you by gifting her this figurine which lights up into an acrylic mirror heart on LED. Don't worry; the lighting will not ruin your mom's vision. Dazzling & flashing lights are avoided. Further, eye protection is offered during manufacture. The base for the decoration is a rose which can be of any customized color and the laser etched writing is easy to clean. The dimensions of the mirror are 5.9 x 2.2 x 4.7 inches LxWxH. Your mom can use it to decorate her cakes, her tea table or dressing table.
9. Flameless LED Candles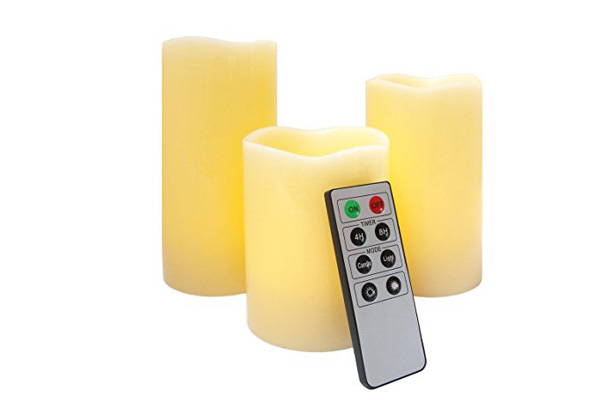 When you were little, mom made sure of your safety; now it is your turn to ensure her safety. Gift her with this Flameless LED Candles which comes with remote control. It does not have real naked flames (and hence is much much safer) but has flickering candlelight effect provided by batteries. It will still give your mom the feel of solid, standard candles as they are made of real wax. They come in two different colors – yellow and white, either of which you can pick depending on your mom's favorite! It works for 50,000 hours totally with a 4-8 hour timer, which will ensure brightness in your mom's life!
10. Scented Candles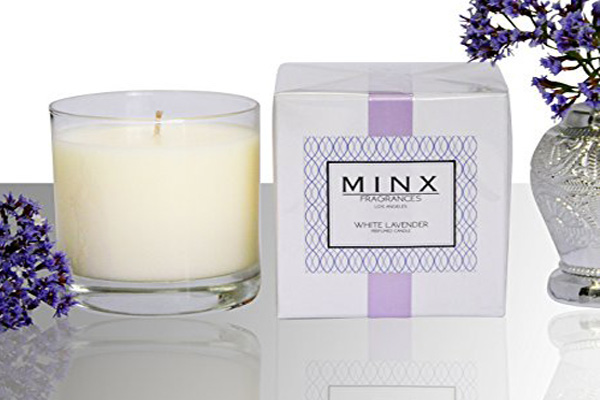 Everyone loves to be pampered from time to time. Mothers are no exceptions. Pamper your mom with this Lavender and Mint Scented Aromatherapy Spa Candle. This will leave fresh fragrance, and its calming scent will help in relaxing. The specialty of these scented candles is that they are made of premium soy wax which standardizes burning of the flame, catalyze the diffusion of the fragrance, and pollute less as they are made with natural lavender aromatherapy essential oils!