Grandfather is the best gift a child gets from his or her parents. It's the unconditional love that both the grandchild and grandfather reciprocate, that's mind blowing. There's no better place than grandfather's home during summer or winter breaks. These days with nuclear families, living with the grandparents is out of the question. It's during Christmas, Thanksgiving or Easter that families get together, and that's the time to show love to the old grandparents. If you have a grandfather, you have a friend. Here are some special gift ideas to show your love for your grandfather.
1. "The Grandfather "T-shirt
This funny Father's day spoof "The Grandfather" from Feelin Good Tees, is a wonderful gift for your loving grandfather. It is 100% cotton preshrunk jersey knit t-shirt, 50/50 blend fleece. It has a double stitch on sleeves & hems and seamless double-needle 7/8" collar. It comes in a variety of colors to choose from. Choose grandfather's favorite color and gift him this wonderful t-shirt to see how happy you have made him.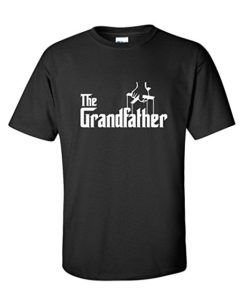 $5.99 – $18.99
2. The Grandparent gift Life story frame
This lovely life story frame will surely bring back fond memories for your loving grandpa. He will relive those memories and be assured that he will wear a smile on his lips every time he sees this. There are 3 opening mats where you can place the best pictures, like the picture on the day you were born, his own wedding photo or the day he became a dad. Any nostalgic picture should be what you choose to display. This is one of the best gifts for grandfather.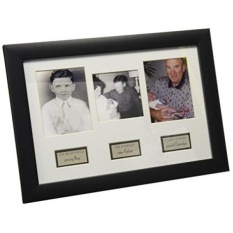 $24.99
3. Stainless Steel travel Coffee Mug
The words "Only the Best Dads get promoted to Grandpa" will fill warmth in the heart of the reader. Grandfather is always fun to be with and he is obviously the best.  Show your love for your grandfather with this stainless steel travel coffee mug, which holds up to 14 oz of liquid.  It is 6 inches tall and 5 inches wide.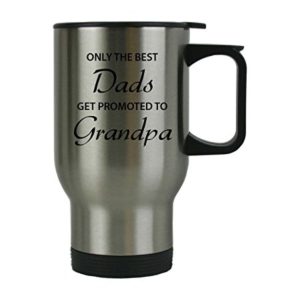 $17.95
4. Socks for grandpa
The "Do not disturb; Grandpa is resting his eyes" socks is a wonderful gift for a wonderful grandfather. He can wear these on cold days to keep his feet warm. These cozy and comfortable fitting socks are made of 77% cotton, 22% nylon, and 1% spandex. It fits the US foot size 6 – 12. Don't think twice. This is one of the best gifts you can give grandpa.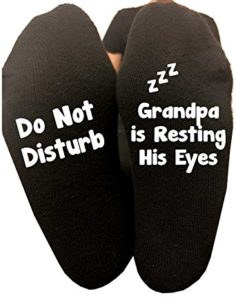 $13.50
5. Stainless Steel Grilling Spatula
The chef of a grandpa who enjoys cooking for you deserves this Stainless Steel heavy duty tool from Sportula. This barbeque grill spatula comes with a convenient bottle opener at the end. It is 18.5" x 4" in size. The next time you think of enjoying grandpa's food do not forget to take this spatula with you. Order one immediately, gift wrap it and be ready to meet grandpa with this wonderful gift.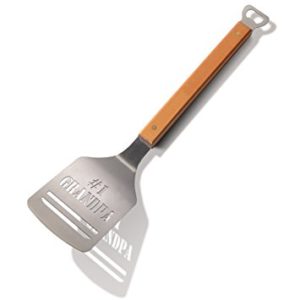 $19.99
6. Metal ball point pen with LED flashlight
SyPen brings to you an awesome gift idea for grandfathers. This metal ball point pen with LED flashlight will be very useful for grandpa at night or in places that are dimly lit. This pen operates on smart devices, works as a flashlight and can also be used as a ballpoint pen. Its small size enables the person to place in pocket or purse too. A very useful gift indeed!!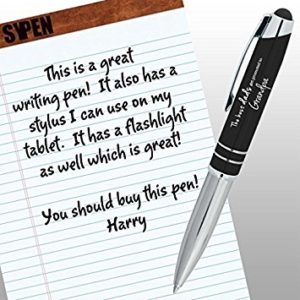 $12.99
7. Men's' Flat slip on Loafer shoes
This men's low top flat slip on loafer shoes from IDIFU is a good gift choice for grandfather. This fabric shoe with a rubber sole is made up of high-quality canvas material. It is comfortable and soft on the feet. The easy and convenient slip on design is durable, breathable and anti-skid. It is suitable for sports, walking and other activities. It comes in a variety of colors. Choose grandpa favorite color and surprise him with this awesome gift.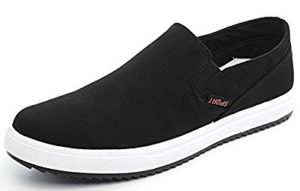 $29.99
8. Winter Cold-proof gloves
The Deerskin Suede Winter Glove from Skydeere provides ultra comfort and fitting. The 3M insulation protects hands in cold temperatures up to 0 degrees Fahrenheit. The suede deerskin leather is naturally soft and flexible with moderate abrasion resistance. Its double shirred wrist keeps out cold, dirt and debris. This is an appropriate gift idea for your old man. He will love it dearly.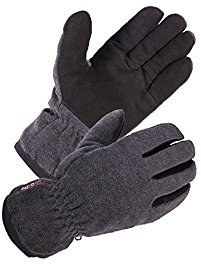 $35.00
9. Calvin Klein Quarter zip long sleeve sweater
The Quarter zip, long sleeve knit sweater from Calvin Klein is an excellent gift for grandfather. Made of 100% cotton, it will keep him warm in cold weather conditions. Its mock neck collar will protect the throat and save him from chest congestion. The ribbed cuff and hem will save the sweater from sagging after wash. Buy this sweater today and feel contended in gifting it to your loving grandpa.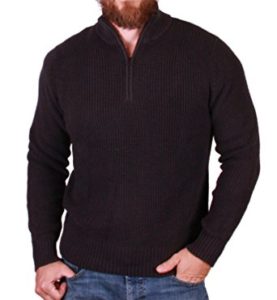 $16.98 – $34.99
10. Metal coin Guardian Angel
The guardian angel pocket token metal coin for grandfather makes a very special gift. This 1.25" angel solid metal pocket token has words that read "To my wonderful Grandfather – may your guardian angel be with you always" on one side. The opposite side of the coin has an angel on a glittery enamel background. It is packed in a flocked pad so that it stays special for that special grandfather. He needs your wishes and what else can convey your wishes than this lovely inspirational gift. Gift one today!!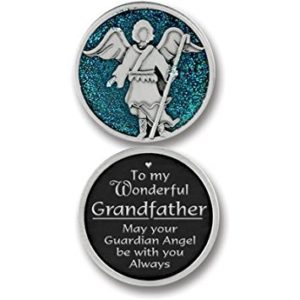 $10.95
11. Warm thick winter knit hat
This Acrylic knit and fleece lining warm thick winter hat for men is another great gift for grandpa. Made of thicker and comfortable acrylic knit, it is comfortable and warm. The soft fleece lining has good heat retention resulting in maximum warmth. It covers the ears so well that cold air does not hurt the ear. Grandpa will love this warm gift from you as he will be relieved from the hospital trips to check for cold and flu. It is durable, stretchy and elastic. One size will fit all as it stretches to the requirement of the head. It is great for outdoor activities. A must gift for winter.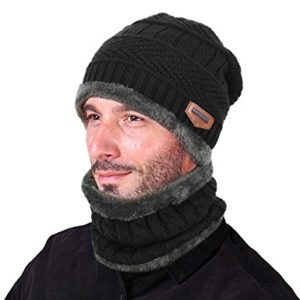 $11.49
12. Portable AM/FM Radio with digital clock and line input
Every house hold will have a radio, if not for anything else at least to listen to the weather forecast during the Tornado season or the Typhoon months. Gift this portable AM/FM radio with digital clock and line input to grandpa and put him out of his tension of his old radio stopping at the crucial time. This new AM/FM radio comes with a built-in handle so he can carry it around where ever he goes. It has built-in speakers with analog volume control and metal grills. It functions with built-in AC cable. It can also run on 3C batteries. Order one today!!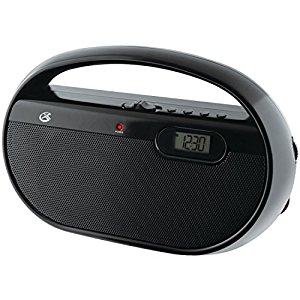 $12.22
13. Grandfather Throw blanket
This is a wonderful grandpa gift which reads "Grandfather, the foundation of our family, thank you for your precious time, unconditional love and guidance. It is made of woven cotton, it is machine washable. It comes in size 48 x 40 inches. Every time grandpa sees this throw blanket, he is going to feel the love you have for him and how much you have valued his presence and guidance. This is something you should not think twice about buying.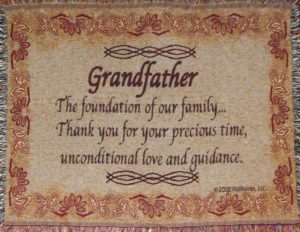 $36.99
14. Wall mountable vertical loading CD player with stereo speakers
Let grandpa enjoy some of his old songs with this wall mountable vertical loading CD player with stereo speakers. The vertical loading CD player, CD-R/RW compatible, AM/FM stereo receiver with digital display, Multi-function blue back-lit LCD display makes it one of a kind. It also has an auxiliary input jack for connecting the iPod, MP3 or other digital audio players. It also has a programmable memory. It includes alarm clock, stereo speaker system, stereo headphone jack, wall mount kit and remote control. Its output is 2x1W RM, power – AC 120V-60Hz, remote control – 2xAAA battery. You can please your grandpa with this wonderful gift.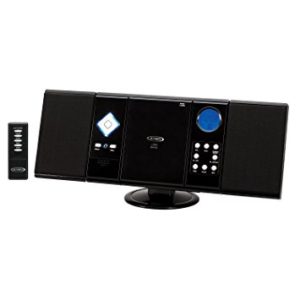 $38.79
15. Personalized engraved pub glass
Get grandpa this personalized laser engraved pub glass with his grandchildren's date of birth. This 16 oz pub glass is clear glass with Top diameter of 3.4", Bottom diameter of 2.4" and Height of 5.75". It is dishwasher safe. The engraved wording will not wash off. It is double happiness to see the beloved grand children's date of birth engraved on his glass while enjoying a drink. The perfect gift to buy!!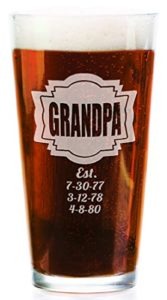 $13.55 + $7.60 shipping
16. Thick knitted winter scarf
Men's thick knitted winter scarf from Siggi is an essential gift for grandfather during winter months. It will not only keep him warm and cozy but will also keep him free from cold related ailments. It is made of 100% acrylic. This fine acrylic fabric is soft, warm and does not cause itching on the skin. The long scarf measures approximately 12.6" x 77" with fringe on both ends. This tightly woven scarf is long enough to wrap more than once around the neck to keep warm. It can be worn with both casual and formal wear. Order one for grandpa right away!!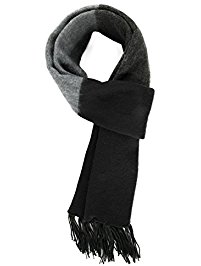 $13.98
 17. Rechargeable LED torch
The ultra bright handheld LED waterproof flashlight torch is a very useful gift for grandfather. It has high quality LED chip and is supported by AAA batteries or 18650 batteries. The special reflector design enhances light output intensity and can throw light to a considerable distance.  The aluminum alloy construction helps to avoid damage when dropped. It has a soft touch on/off button. It comes with facilities of 5 modes to choose from. The black and gold combination gives it a majestic look. Buy this essential gift for grandpa right away!!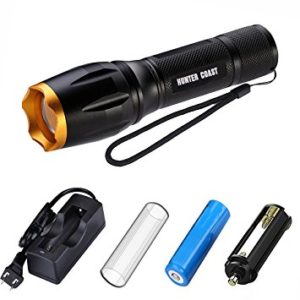 $14.99
18. Men's Extreme cold weather boot socks
Another essential accessory which is a must have in every one's wardrobe is socks to support during extreme cold weather conditions. As we age, the capacity to bear extreme weather conditions becomes less. This 70% Acrylic, 15% Wool, 14% Nylon, 1% Spandex socks are made in the USA. The fast dry technology dries away sweat. It is fully cushioned for warmth and comfort and it protects against the elements of nature. It comes with reinforcement throughout the sole. The Ankle vents reduce bulk and keep socks feeling fresh. There's nothing to think twice. Simply order a pair today.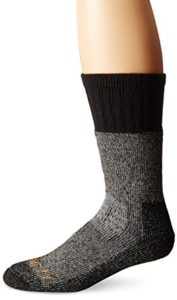 $12.99 – 14.00
19. Men's Fleece cargo sweatpants
As winter approaches it is only sensible to be well equipped to face the extreme weather condition. With the global warming, no one is sure how nasty the weather can get. To help grandpa this winter, order the Men's fleece cargo sweatpants from Dream USA. It has an elasticized drawstring waist. To give a cool and stylish look it comes with 2 cargo pockets and 1 back pocket. It is made of 60% Cotton and 40% Polyester. Sized M to 5XL is available. M (30"), L (32"), XL (34"), 2XL (36"), 3XL  (38"), 4XL (40") and 5XL (42") Buy one for his perfect size and let him feel cared for!!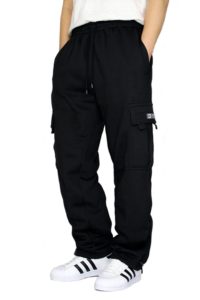 $23.99 – $26.99
20. Wall hanging digital alarm clock
Who does not have bad eyesight in old age?  It is a part of life. To help grandpa see the time, gift this Easy to read at night desk/wall hanging extra bright LED digital alarm clock. It comes with 2.8" large number, 3 adjustable brightness levels, USB cable and USB wall charger adapter. With its large and bright display, it is easy to read from afar. The adjustable brightness control – high, medium, low allows reading the time from a wide angle. The light will automatically dim about 20% from 6.00 pm to 6.00 am. It comes with snooze function too so that you can sleep in a little extra. It is easy to install and convenient to use. Best gift for the best grandpa!!!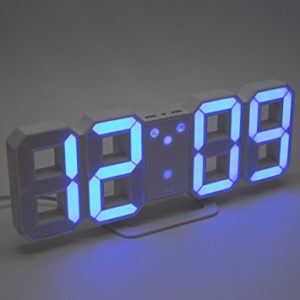 $34.50
21. Metal photo frame
A cute Metal photo frame with the words "When a baby is born, so is a grandfather" is a lovely gift to give grandfather. It holds the best memory captured in the size 6" x 4" horizontal frame.  It comes with a wall hanger for wall mounting. This excellent gift is sure to bring a smile on grandpa's lips. One of the most awesome gifts you can think of to give the most cared for grandpa in the world. Do not think twice. Simply order one for your loving grandfather right away.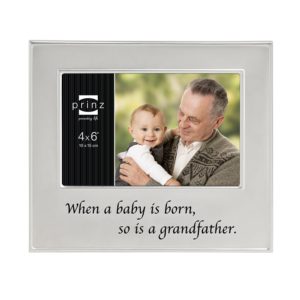 $ 13.99
22. Modern Abstract painting
Santin Art has come up with this wonderful modern abstract painting with is a wonderful gift to give to a wonderful grandfather. This painting of cloud and tree on canvas measuring 12 x 16 inches is stretched into 3 pieces and framed making it ready to be hung. It is gallery wrapped and stretched over the wooded frame on the back. It is a perfect gift to be hung either in the living room or bed room. Its beauty will mesmerize every pair of eyes that see it. This is a gift which grandpa will love to have.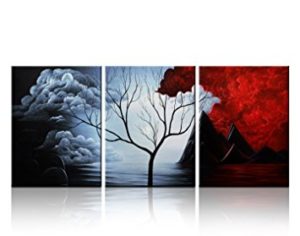 $11.49
23. Table lamp with touch sensor
A table lamp with the touch sensor is a thoughtful gift to give grandpa. This can be used as a table lamp, reading lamp or bedside lamp with 256 color changing LED lights. It comes with 3 brightness settings such as soft, cool and bright white light. One can select the auto cycles of 256 RGB color combinations or simply select a fixed color which suits the mood. It's 360 degrees touch panel base enables full control to easily switch light modes and power on and off. The package consists of AUKEY LT_T6 Smart LED atmosphere lamp, AC adapter, User manual and warranty card. Hurry and buy one for your grandpa today.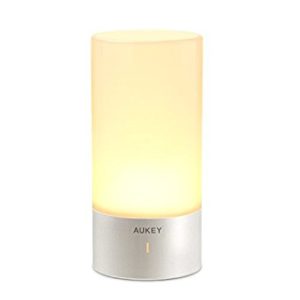 $25.99
24. Stainless steel insulated Thermos Cup Coffee mug
3ZFAMILY introduces the vacuum flask in stainless steel.  Its double wall construction and vacuum-seal technology help keep liquids HOT or COLD for 8 hours. This is the only mug with a vertical lid lock and this seal prevents leakage. It also allows one-hand operation. It fits most car cup holders and can be used while traveling, or at the office, school, gym, camping or hiking. A perfect and useful gift for grandpa indeed!!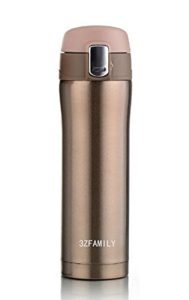 $13.99
25. Hand-held portable Mini Air fan
This 2 pieces blue color hand held portable battery operated mini air fan from KLOUD City is a good choice to gift grandpa on hot days. The fan leaf is made of soft sponge and thus would not hurt the hands. It comes with two adjustable positions. The reflective snap fits almost all wrists, arm, or ankle. It needs AA battery to run. This is indeed a lovely gift to keep grandpa from sweating and losing his cool.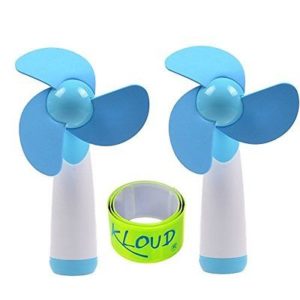 $9.97
26. Vintage Handmade Dip-dye Leather Wallet card holder
The royal looking vintage handmade dip-dye leather wallet card holder with detachable wristlet is an awesome gift for grandpa. It is made of top quality dip-dye leather to make it look stylish. The size 7 x 4.3 x 0.8 inches is just perfect to hold. It has 14 interior cards slots, 1 cash slot, and 1 interior photo or ID card window, 1 outside cash slot with zipper, 1 side zip pouch which fits iPhone7/6 Plus and 1 documents pouch. It can be easily carried as a clutch. Buy this keep-forever gift for your loving grandpa right away.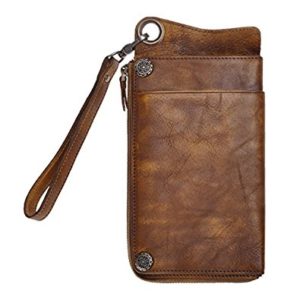 $62.99
27. Neck Pillow massager
Naturalico has come up with this ultimate massager which is a blessing to shoo off all sorts of aches and pains that come with old age. This can be used to relieve neck, shoulder or back pain and soothe the aching muscles. The Naturalico ultimate Shiatsu neck and the back massager is designed in consultation with expert Orthopedics and Chiropractors. This adjustable and skin safe electric shiatsu massage pad helps muscle relax and alleviates neck, shoulder and back pain. It also helps to unwind after a long and exhausting day. The 4 rotating nodes will give the feeling of being massaged by a masseur and the warmth will add to the rejuvenating experience. The Naturalico heated massage pillow is slightly curved so as to fit into the body curves perfectly and help complete and deep muscle relaxation. It can also be used to relieve the pain of the legs and feet. It can be easily carried as it is lightweight. All that has to be done is to plug it in and enjoy the massage anywhere anytime. This is an ideal and useful gift that you can ever give your grandpa and help him say goodbye to all his aches and pains. Order one right away without a second thought!!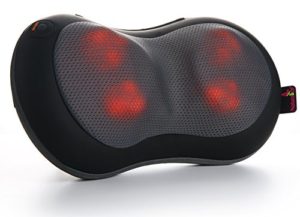 $34.99
28. Water resistant Luxury gold tone wrist watch
The Lancardo Upgraded 3ATM water resistant gold tone wrist watch with Japanese movement is a wonderful gift idea for grandpa. It is upgraded to SEIKO which is known for its durability and preciseness. It's IPG Vacuum and environmentally friendly electro plating helps in long lasting gold color and prevents from color fading. It is non-allergic on any skin. The gold plated stainless steel watch band feels better than alloy bands. It is water resistant too and suitable for daily use. Make grandpa feel proud in owning this classy looking water resistant gold tone wrist watch.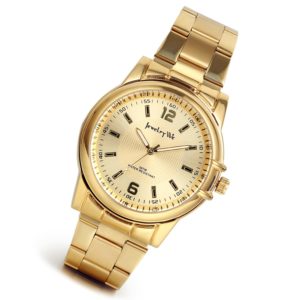 $16.99
29. Best Grandpa ever Hat cap and coolie gift set
The special edition 2-piece Hat cap and coolie gift set from This Wear is a warm gift for grandpa. This gift with the words "Best Grandpa Ever" is printed on the cap and on the neoprene coolie as well. It is 100% cotton twill with adjustable cloth strap and buckle closure. The stylish coolie can hold 12 oz cans or 12-16oz bottles. It can fold flat and so can be stored easily. The neoprene material allows liquids to stay cool for a longer time. It comes in 4 different shades to choose from. A must have for the best grandpa ever!!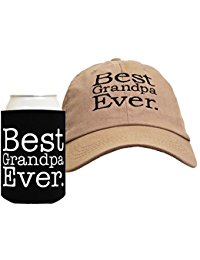 $12.99
30. Corduroy Chair pad
This expandable Polyethylene stuffed seat cushion is a good choice to gift grandpa. He can either use it on his chairs at home or his office. It comes in a set of four in a variety of colors. The corduroy material is soft and hence very comfortable to sit on. It can be machine washed. The strings at the top corners keep the cushions in place. It can be turned over from time to time so that it wears off uniformly.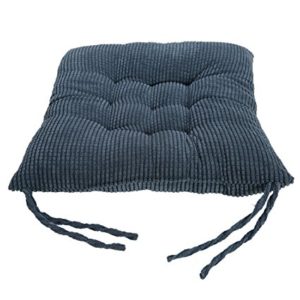 $37.99
31. Leather Wallet with Radio Frequency identification block
The RFID blocking leather Wallet from TRNDZ is an excellent gift idea for grandpa. It has an extra capacity which means he can carry multiple cards in one wallet, along with his money, driving license, smart card, fuel card etc. This card blocks the radio frequency identification (RFID) signal thus protecting the personal information that is stored in the cards. Made from 100% top grade Napa cowhide leather, this card protector wallet is soft and durable. It comes with 8 card slots and 2 large pockets for full-size bills. The invisible RFID shield protects the risks of identity theft, credit card fraudulent acts, electronic pick pocketing etc. This is one of the best gifts you can think of, to give to your loving grandfather.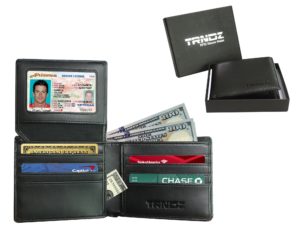 $9.95
32. Laptop Sleeve
Laptop sleeve from Case Logic is a very elegantly made classy gift idea for a classy grandfather. This is made of EVA Foam and is imported. It is 43 millimeters high and 414 millimeters wide. A seamless wrap of impact foam padding protects the top and bottom of the laptop thus acting as a shock absorber. It's envelope-style design and woven webbing along each side add elegance to the sleeve. The slim-line allows an easy fit into any bag or to be carried as such. Let grandpa carry his laptop in style. Order one for him today!!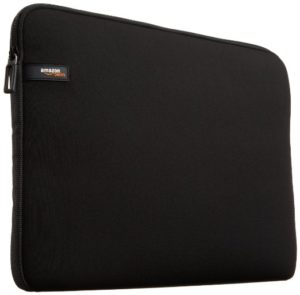 $12.00
33. Trimline corded phone
The 201M Trimline Corded phone from AT&T is a good gift choice for grandpa. With its 210M chord, it is easy to talk comfortably while lying down on the bed, or sitting at the table or a reclining chair. It has 3 one-touch buttons viz; 10 number speed dial memory button, Ringer volume control button and the handset volume control button. It can also be set to mute. This black color handset will suit almost any wall color. Buy one for grandfather right away!!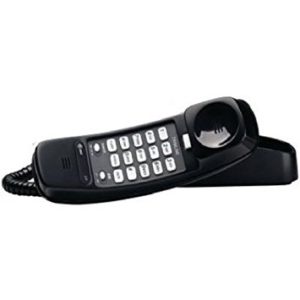 $9.31
34. Engraved Pen
The engraved gift pen with the word "Grandpa", from Inkstone is a beautiful gift idea for your loving grandpa. It is made of metal and the Gunmetal color with rose gold-toned accents adds to its beauty. It comes in a satin-lined presentation box. This elegant metal pen weighs approximately 55 grams and measures approximately 5.5" long. It has roller ball writing tip and the ink cartridge is easy to replace. Make grandpa feel proud of your love and gift this pen.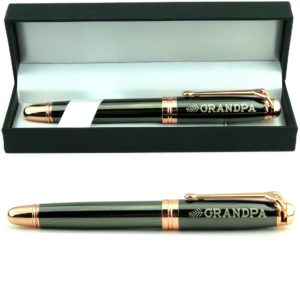 $19.95
35. Bullet Chillers with bottle opener
For your loving grandpa, this gift set of 6 bullet chillers with metal tongs and velvet bag is a wonderful gift idea. There is no more hassle of melting ice cubes. The whiskey bullet chillers keep the drink cold so that the full flavor of the drink can be enjoyed. These chillers can be used to cool whiskey, brandy, vodka, wine or even non-alcoholic drinks. This set has 6 beautifully crafted stainless steel bullet-shaped chillers, a velvet bag, stainless steel tongs to handle the chillers and a "50-caliber" bullet bottle opener. This is a gift which is bundled with everything you need for a great drink along with friends or family. This is a sure thing to be the talk of people even after they leave the house. Buy this wonderful gift for your wonderful old man today.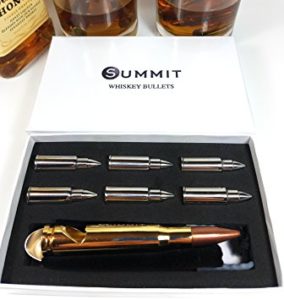 $27.99
36. Stainless steel pendant keychain
The words "Love between a grandfather and grandson is forever" engraved dog tag stainless steel pendant keychain is a cute gift idea for grandfather. It is lead free and nickel free. It does not rust or change color. The dimension of this pendant is 4 x 3.1 x 0.8 inches. This key chain will touch the heart of the grandfather who receives it. He will see the unconditional love and long lasting love and feel the warmth. Buy this exclusive gift for that wonderful grandpa right away.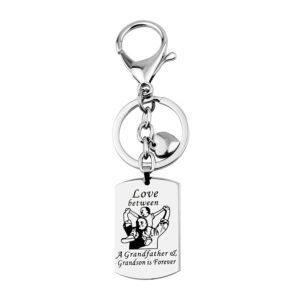 $10.99
37. Coupon Organizer and holder
The limited edition grocery coupon organizer binder and coupon holder is a very useful gift to give to grandpa. It has tall and durable plastic dividers and stretchy elastic sides. It comes with sticker labels and blank stickers too are provided to create own categories. The sturdy and dual purpose Velcro strap enables to close the coupons binder tightly and can easily be attached to any shopping cart. This will be an excellent gift for grandpa as he will never ever lose track of his coupons. Buy one for your grandpa right away!!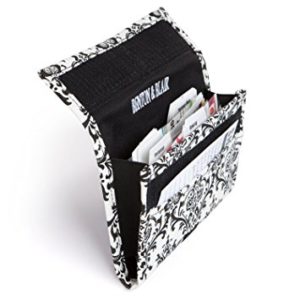 $15.95
38. Hand blown Glass teapot
Everything Zen, has come up with this perfect teapot gift idea. This premium quality hand blown glass teapot with stainless steel infuser and engraved bamboo tea pot coaster is indeed a necessity in the present times. Everyone wishes to stay healthy and we start a meal with a glass of green tea. This elegantly designed no-drip teapot holds 2 mugs of tea i.e. 27 fl oz/ 800 ml. A removable, 304 food-grade stainless steel strainer helps in full submersion of all types of tea. The bamboo coaster keeps the hot bottom of the teapot off the delicate surfaces. This is 100% heat-resistant microwavable glass. The short spout helps in easy cleaning. There's no need to think twice. Order this for grandpa now.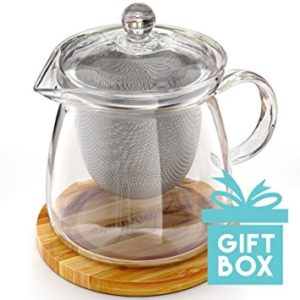 $39.99
39. Handmade Wooden Coffee mug
This classical Japanese Style mug for coffee, tea or soup is an awesome gift for grandpa. It can hold up to 250 ml of liquid. It is eco-friendly and hand – made of natural jujube wood. It is FDA compliant with no hazardous material and no residual smell. This comes as a set of Single Mug and Saucer. This is a perfect gift idea from @Ohana for the loving grandfather.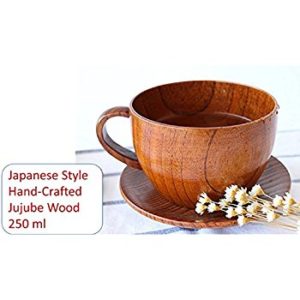 $26.99
40. Baseball hat
The embroidered decoration which reads 5 Star Grandpa is a smart gift for your smart grandpa. It is made of 100% cotton for cool comfort. It comes in a navy blue brushed bull denim. One size fits all as it can be adjusted. This lovely baseball hat will not only keep your grandpa cool, but he will look cool as well. Choose this stylish hat for grandpa now.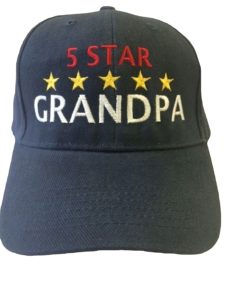 $19.95
41. 6 Piece flask set
This stainless steel hip flask set from Personalization Lab is a wonderful gift for grandpa. This can be customized with words of your choice and engraved on the flask. This is a 6 piece set which includes 6 oz flask and 25 ml 4 shot cups and funnel in a sturdy black box. This is a perfect gift for anyone who loves a good drink. Grandpa would love to have such a wonderful gift for sure. Order one for him today.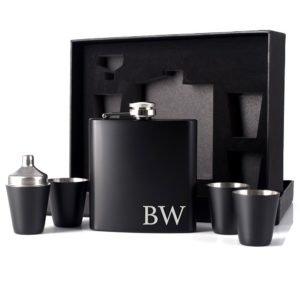 $22.95
42. Grandpa poem photography
This meaningful gift is a thoughtful way to appreciate your grandpa. Its unique artwork adds elegance to any room where it is hung. The chalkboard style adds a personal touch and the neutral black and white color palette fit well with any room's décor. It comes with a convenient hanger and grandpa can display it as soon as he opens the gift pack. It is strong to stand on its own, and thin enough to be framed. It measures 8 x 10" and can be hung on the wall or stood on the desk. This durable PVC mounted, chalkboard style artwork is a sure thing to cherish for years to come.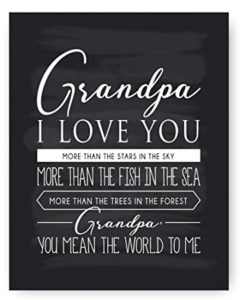 $24.99
43. Best grandpa ever BBQ Grill accessories
For a grandpa who loves to grill, there's nothing better than this BBQ gift set. This set contains 5 useful grill accessories, including a spatula, basting brush, BBQ fork, corkscrew, and bottle opener. This BBQ accessory can fold like a pocket knife. The spatula can be detached from the other utensils. The spatula measures 17" long and the fork and brush measures 14" when opened. The laser engraved wooden handle is durable and easy to hold. The stainless steel grilling tools are easy to clean and a convenient pouch is included for storage.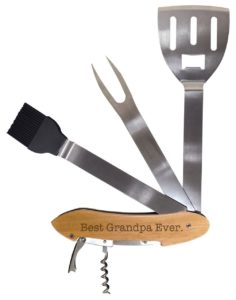 $29.99
44. Willow tree grandfather
Artist Susan Lordi's hand crafted figurine from Demdaco is an awesome give idea for grandpa. This figurine is a constant reminder of the unconditional love that you have got from your loving grandfather. This willow tree figurine is 6" tall. It comes all the way from Missouri hand crafted in the studio in Kansas City. This sculpture speaks volumes of the love, comfort, protection and care that grandpa has always given. It comes wrapped in a gift box and includes a card too.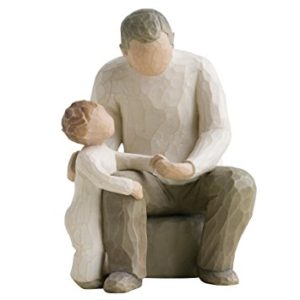 $25.47
45. Funny Apron for BBQ cooking
What's better than gifting a lovely apron for the wonderful man who is excellent in grilling Bacon or making BBQ chicken? This funny apron comes with the words "Best Grillin Grandpa ever" and can be used for years to come. This apron can be used for baking, cooking, grilling and barbecuing. This is made of super soft, silk cotton which is durable and lightweight. It measures 24" wide and 29" long and has an adjustable neck strap. It can fit up to 66" waist size. It also has 2 front pockets which measures 5" wide and 6" long and can hold recipe cards, grilling spices and a mobile phone too. You can choose from 4 different colors.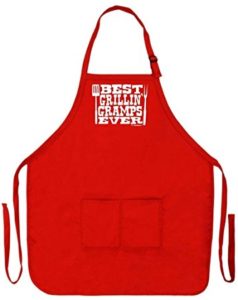 $18.95
46. Handmade glass cross
The handmade glass cross for grandpa is a sentimental gift idea. It is a 4" Blue Glass cross and the wordings on the plate is touching. It speaks about love, honor, and respect that you have for your grandpa. It comes in 5.5" x 5.5" White gift box with a clear lid.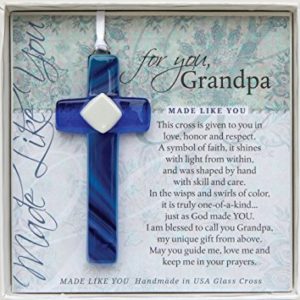 $14.99
47. Engraved Hammer for grandpa
Give this thoughtful and useful hammer gift for grandpa. It produces a deep, high-quality engraving in brown that contrasts beautifully with the light wood handle. It has a heavy duty polished steel head. The hammer head weighs 16 oz and features a smooth face and hardwood handle. The laser engraving is permanent and will never rub off. The hammer is 12.75" long.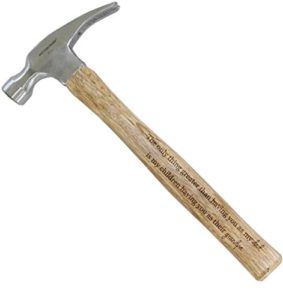 $29.99
48. Floor clock
An antique floor clock is all it takes to bring back grandpa's memories of the old times. The 1930 Ad Revere Telechron Floor clock is of the dimensions 8.5 x 11.75 inches which is an ideal size to fit into any conventional living or dining room. When it comes to antique pieces especially to gift your grandpa, authenticity is undoubtedly the area of most importance, and to ensure authenticity, a serial-numbered certificate of authenticity with full provenance will accompany the floor clock. Nonetheless, to make this gift even more ideal and special than it already is, it is packaged in a sleeve against an archival black board, which enhances the royal and majestic look during display as well as protects it during preservation.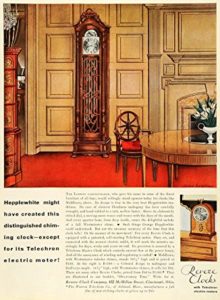 $43.95
49. Winter Forest landscape Rug
During winters, walking around becomes the most hated tasks as all you want to do is curl up cozily on your bed. However, an active grandpa wouldn't enjoy immobility and to make his winter a memorable one, the ALAZA Winter Rug would be ideal! It can be placed wherever grandpa moves around more, like the living room or bedroom. The rug is of the dimensions 5'3 x 4 feet and portrays a forest landscape with a fox bird. It is made of a multilayered soft sponge as well as elastic cotton. The rare combination of the two materials promises durability. The rug is fade and wear resistant so it will live on with your grandpa!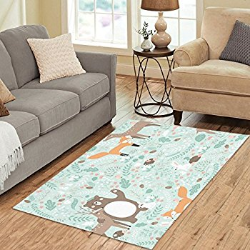 $43.99
50. Artificial Capensia Bush
Plants tend to represent purity and peace, and the Vickerman Artificial Capensia Bush is something grandpa will love to decorate his house with. The versatility lies in the fact that it can be placed anywhere around the house such as the entrance, near the sofa, near the dining, in the bedroom alongside the bed, in the corridor… literally anywhere. The plant is accompanied by a decorative Rattan basket. To make it look more natural, the plant has its 504 leaves varied in shade. The wooden trunks of the plant are made in the USA, where the whole plant is assembled.  The specialty of artificial bushes is that you don't have to invest effort in the maintenance as for real plants and moreover they will survive for much longer as well.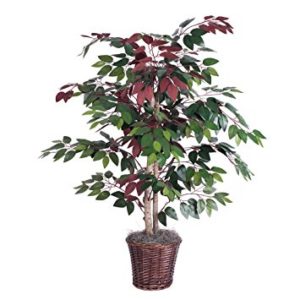 $38.28
With this long list of possible gift ideas for giving grandfather, it is easy to choose. For someone who has loved you profusely and has cared for you the best way to show your love is to gift him his favorite. Let nothing or no one stop you from buying a wonderful gift for the best grandfather ever.