Baby showers are usually thrown to women who are expecting a baby sometime soon. Baby showers also celebrate the transformation of a girl to a mother. Any baby shower is incomplete without exchanging of gifts. In fact, the main purpose of baby showers is to shower the mother-to-be with gifts, which are meaningful and practical. Gifts are often related to the babies, which are practical and well thought out gifts the mother could use once needed. Since the market is piled with so many options, it becomes difficult to pick the right present. To help you out, here are some of the best baby shower gifts for girls.
10 Best Baby Shower Gifts for Girls
Traditionally, there is a cake specially made for the occasion, followed by exchanging gifts (which are opened on the spot). Usually, the whole occasion is arranged and hosted by the to-be-mothers close friends. Since gifts play such a vital role in baby showers, ­­– it can be very deterring sometimes to find the perfect gift.
Baby shower gifts for girls can be hard to choose if a person doesn't have any experience with the said scenario. Most women aim for creative baby shower gifts for the mother, while some go for cute baby shower gifts. So, to save you from the torture of searching for the perfect gift for a baby shower. Given below is a list of top 10 baby shower gift ideas for girls:
1. A Cute Baby Diaper Bag
Price: $30
This premium quality diaper, messenger, changing, maternity, shoulder bag will make a great gift for any to be a mother. Getting the entire needed thing cleanly arranged in an easy to carry bag. A gift like this is bound to be well used and appreciated. All the cloth, zipper pulls, shoulder straps are made from top quality polyester. Bound to be durable and cute –this makes for a great gift.

2. A Gift Basket With Baby's Essentials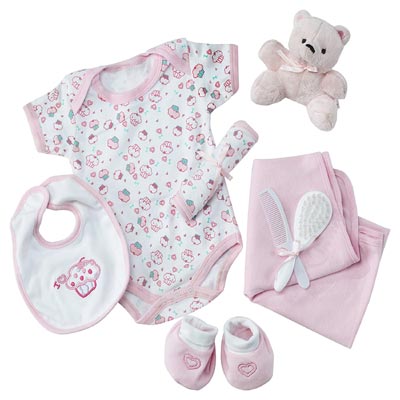 Price: $21.24
Made from 100% soft comfortable cotton, the contents of this gift basket are perfect for the little one. Ideal for newborns up to 6 months, the basket includes; a bodysuit, blanket, bib, burp cloth, comb, brush, toy, and booties. Guaranteed to impress this makes for an ideal gift for a baby shower. It is available in pink & blue colors and is ideal for machine wash.

3. A Pink Terry Hooded Soft Bathrobe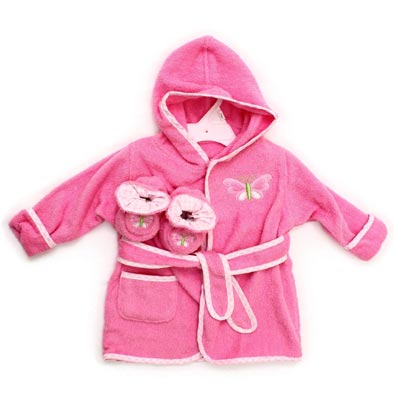 Price: $22.95
A bathrobe and a pair of little booties, both contrasting each other. Great for newborns up to 9 months. Features a hood to keep the newborn warm, made with a comfortable, soft, and absorbent material. Machine washable and available in many colors. This makes for a beautiful, fun little gift for the mother-to-be.
4. A Comfortable Tub For Newborn In Pink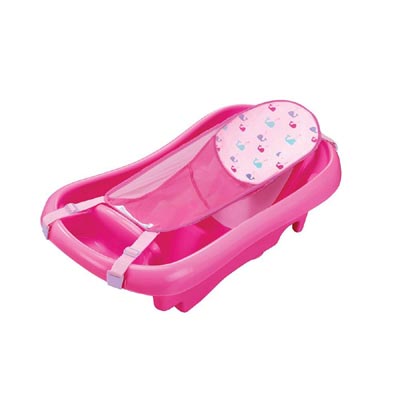 Price: $18
Available in Pink and Blue, featuring a mesh sling with a padded headset for the baby's comfort. The wash basin has a built-in area to store toys, shampoo, soap and other necessary items. The netting is machine washable and dries quickly. It is truly one of the useful and best baby shower gifts for girls. It holds babies from newborn to toddler stage. The bath sink is strategically engineered keeping the baby's comfort in mind.
5. An Octopus Shaped Baby Pink Soft Toy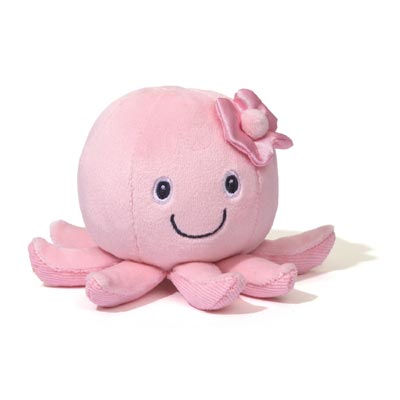 Price: $8
There's nothing in the world that can compare to a child's love with his first toy. This plush octopus is a huggable, high quality toy made especially for toddlers and newborns. The surface is washable. Makes for an adorable little gift for the little one.  Plush toys are known to be a baby's best friend. And this huggable octopus is great for the price.
6. A Little Black Dress With A Pink Bow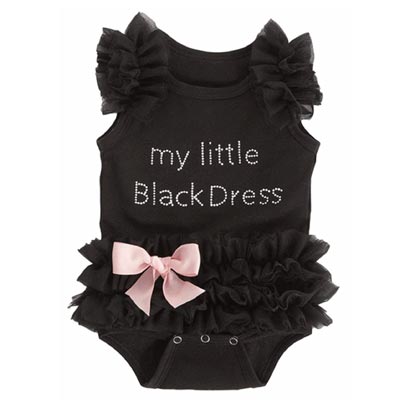 Price: $13.49 – $26.94
Made from 100% cotton this black bodysuit is just the gift a toddler needs, featuring a snap closure at the bottom and accented with tulle and ribbons. Embroidered with "my little Black Dress" on the front in white with a beautiful pink ribbon tie, the whole body suit stands out with its contrasting colors. Sizes available for both newborns and toddlers. Every newborn girl needs a little black suit for herself. The suit is very soft and comfortable. An adorable gift that both the mother and daughter will love.
7. An Extra Soft Baby Carrier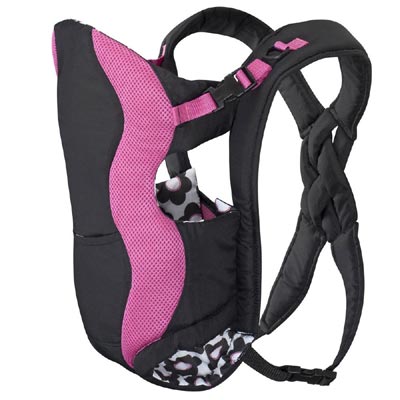 Price: $24
Available in Koi, Marianna, and Grey Chevron colors, this attractive vibrant Baby carrier is a precious gift every mother could use. The soft and breathable mesh panels, help keep the baby cool and safe. Also, features a removable bib, and the secure locks help keep the baby buckled in its place. Extra padding in the headrest and shoulder strap area reduce the stress of the carrier. The padded back straps are automatically adjusting for the complete comfort of the mother.
8. A Cute Skirt & A Hairband Set In Pink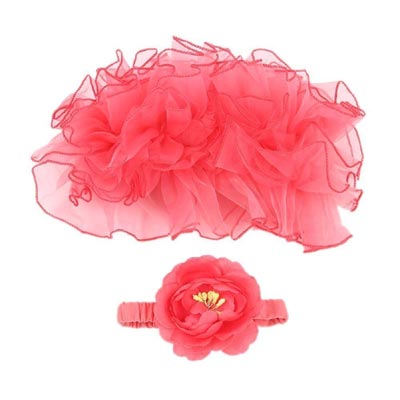 Price: $9
This hand knit crochet costume by Feiuruhf makes a splendid gift for toddlers and newborns, perfect for photo sessions of the babies. Makes for a beautiful long-lasting memory. Soft elastic straps made for the baby's comfort –this gift is bound to be appreciated.
9. A Cute Pair Of Pink Crochet Shoes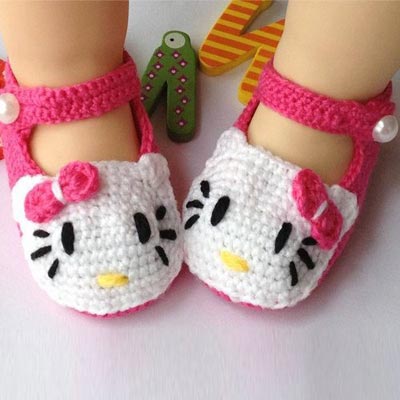 Price: $4
Suitable for toddlers from 6-18 months, these pre-walking shoes for toddlers are made from high quality cotton blends. This makes for a very adorable little gift, which is also much needed for a baby in his or her early months. Also available in a green frog design along with a pink kitty one. Soft and comfy –ideal for any toddler.
10. A Baby Gift Basket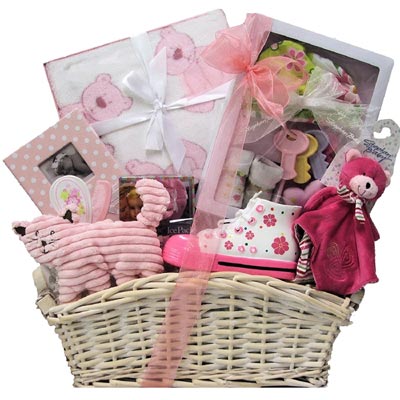 Price: $105
This beautiful baby girl gift basket contains a plush elephant, squeaker rattle, soft plush blanket, "It's a Girl!" book, a polka dotted piggy bank for the baby, a pacifier, 100% cotton washcloth, and many more things. This is an ideal gift basket for a mother-to-be who's expecting a cute little baby girl. Both useful and thoughtful at the same time.