Whether it's Chandler Bing and Joey Tribbiani from Friends or Meredith Grey and Christina Yang or even just Mark Sloan and Callie Torres from Grey's Anatomy, they've all left their marks on TV history and will stay in our hearts forever. While reading about these amazing duos, we're sure you all thought of someone. And what better way to show your bestie that you appreciate them than a nice gift? If you're crap at gift-picking, fear not, for we have put together a list of 25 best gifts for your friend.
These gifts are so fetch that even you'll be tempted to buy a couple for yourself 😉
Now, without further ado, here are the 25 best gifts for your friend:
25. Ibanez Acoustic Guitar Jam pack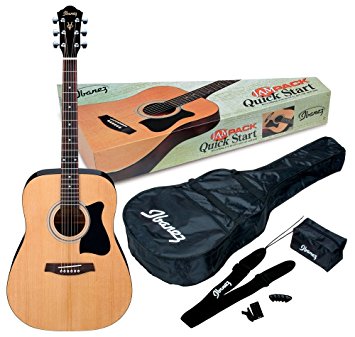 Price: $129.99
You can buy this gift for your brother from another mother or your sister from another mister, because it's not gender specific at all. Both of them would really appreciate it. And if your friend is a little shy, this would help them get out there because it's one of the most social instruments ever and would make its way into any catalogue of best gifts for your friend. The Ibanez Guitar pack is great for beginners as well as professionals. This jam pack comes with a gig bag of good quality and guitar accessories, so your friend can start playing immediately. They also needn't worry about getting things like tuners and guitar bags, because they come with the pack. Ibanez acoustic guitars are great for beginners as well as professionals. So even if your friend is a guitarist, he or she would love this guitar pack. And guitarists all over the world say that this guitar sounds as good and sometimes even better than guitars with double the price tag. It has a spruce top and has a classic look to it. The light brown guitar is everything that you'd want in a gift. Can you really go wrong with this?
24. ghd Platinum Styler Tropic Sky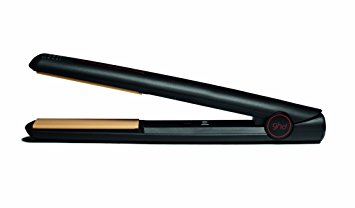 Price: $110
Okay, if you're someone who doesn't know the first thing about hair stylers, it doesn't matter, because you absolutely cannot fail with this styler. This styler is perfection. It has a mesmerising island print on it (Come onn, it's ISLAND PRINT. You know what that means! Vacaaaayyyy, baby!).
The ghd styler is equipped with tri-zone technology, which means that it prevents hair damage effectively and keeps it strong and shiny. It can be used to styler hair that's coloured also and gives a gorgeous finish after every use. Have you seen Beyoncé's hair? That's pretty much how your friend's hair will look in terms of gloss and volume after using this styler. This limited edition styler (RUN. Run and get this before it's gone.) also has a 30 minute sleep mode, so the chances of your friend burning her house down with this is very low. It leaves hair feeling conditioned and super smooth. And if you are still having second thoughts, firstly, how in the world?
And secondly, we dare you to find a list of best hair stylers that doesn't have a ghd one in it. You will not. So please, do your friend a favour by getting her this.
23. Calvin Klein Intense Euphoria for Men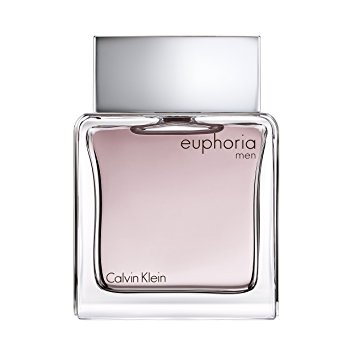 Price: $44 onwards
Everybody loves Calvin Klein, and if for some deranged reason you don't, well we're sorry to break it to you, but this is the equivalent of not liking puppies.
Now that we've established that, let's talk about the beauty that is this perfume. Calvin Klein as a brand is easy to love and this particular fragrance is no exception. Rich. Bold. Addictive. An eastern amber fragrance that mixes richer and deep woodsy spices, the Calvin Klein Euphoria perfume for men is everything borgeios. It's made up of Ginger Pepper Cocktail, Raindrop Accord, Chilled Sudachi, Black Basil, Cedar Leaf, Hydroponic Sage, Labdanum, Vetiver, Oud and Solid Amber. It oozes with sexiness and is a scent that you won't find elsewhere. It's bold, addictive and luxurious. If you haven't met someone for a long time, the details of their appearance fade away. But you will most likely remember how they smelt. And trust us, this is how one's smell ought to be remembered. We cannot think of a better perfume to be a man's signature scent and this is why this one's made it to our list of best gifts for your friend. If he wants to get the ladies or men (#LoveWins), he must go out smelling like this. In other words, this perfume makes the perfect wingman.
22. Ezcosplay Button Down Blouse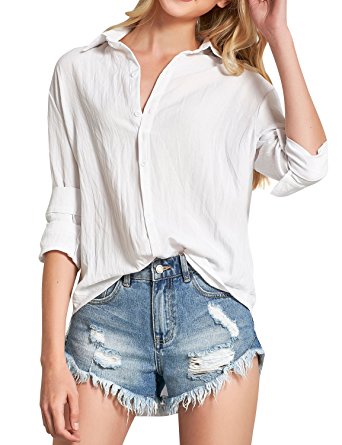 Price: $25.98
There's something about clothes that are white in colour. While LBDs are amazing, they require a lot of effort. And by effort, we mean shaving. Ain't nobody got time for that. So blouses and pants are always a go-to. This shirt by Ezcosplay is made of cotton linen and is extremely lightweight. It's a loose fit full sleeve button down shirt that will leave its wearer looking sexy, yet formal. It's great for casual occasions too, so one would say that this is shirt is not just a purchase, it's an investment. While there are not many websites which suggest that a plain white shirt is one of the best gifts for your friend, we've decided to change that by including this shirt because everyone needs a plain white shirt. Why just the LBD? This looks just as great. Pair it with black or navy blue skinny jeans and you're more than just good. Also if there isn't any occasion to celebrate and you just want to get your friend a gift, this shirt is the best pick. Your friend will be eternally grateful to you for getting her this blouse and will pretty much wear it everywhere. It's great for instagram pictures, so if you're getting her this, be prepared for a whole lot of mentions and tags!
21. adidas Performance Men's Baseline Fashion Sneaker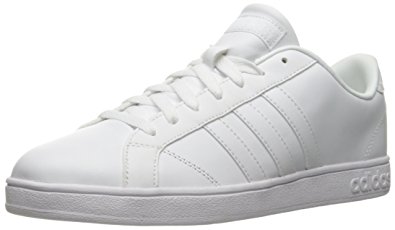 Price: $39 onwards
Made of leather, these adidas sneakers are nothing short of swag. It's the perfect blend of cool and
stylish and is of amazing quality. It's adidas. Enough said, right? But we'll tell you more. The shoe has rubber soles, which facilitates easy walking and running. We're sure you've heard many stories about bad gifts and that you've probably received and or given so many of them. You have no reason to be apprehensive about these sneakers because they look awesome and can be worn with almost anything. Whether it's a party at a friend's house or just a visit to the gym, your guy bestie can flaunt these kicks and will most definitely receive a tonne of complements on them.  Having said all of this, it's no surprise that this product has made its way into our record of best gifts for your friend.
20. iPod Nano

Price: $149.99 onwards
This iPod Nano too, much like the acoustic guitar is not gender specific and is a great gift for your friend. While we thought that the 6th generation version of the same could not be replaced and was simply the best, Apple has proved us wrong yet again with this amazing piece of work. Tim Cook, we salute you. Not that the entire credit for the iPod goes to just one man, but the way he unveiled it to us made us fall in love with it more. The iPod Nano looks much like the iPod Touch with its home button, but smaller and cuter. It's 2.5 inch display with a multitouch screen, makes it a wonderful product for a lower price. It facilitates video playback and can support bluetooth speakers and headphones. The iPod touch is too big to carry around whilst running, which makes the Nano the best choice.  A list of best gifts for your friend had to have an Apple product in it and we honestly cannot think of a gift that's more perfect than the Nano.
19. Tommy Hilfiger Mens Wallet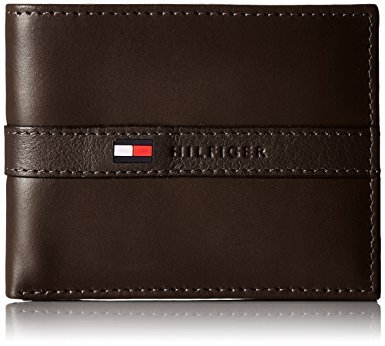 Price: $19.20
Ah, the classic Tommy Hilfiger wallet. A wallet can never be deemed s a bad gift because it can be put into great use for as long as something called money exists and we all know that it's going to for a long damn time. Who didn't fall in love with the way Robert De Niro carried himself in The Intern? Everything from the handkerchiefs and briefcases to the suits and him carrying his own robe while travelling was amazing and it made us genuinely miss a lot of fading trends, like classy wallets. Made of 100% genuine leather, this wallet highly durable. It's design is what some might call old school, but is of pure class. It comes in a gift box and looks great. Much like the way food smells contributes to 60% of how it tastes, the packaging of a product contributes to its quality. This wallet not only looks amazing, but also feels great. If you have no idea about what to buy for your guy bestie because you aren't exactly gifted with the talent of gift-giving (dat wordplay doe), buying him this wallet is 100% foolproof. Thank you, Tommy Hilfiger for manufacturing beautiful wallets and making our job of compiling a list of "25 Best Gifts for Your Friend" a whole lot easier.
18. Bath & Body Works Cotton Blossoms Body Lotion and Mist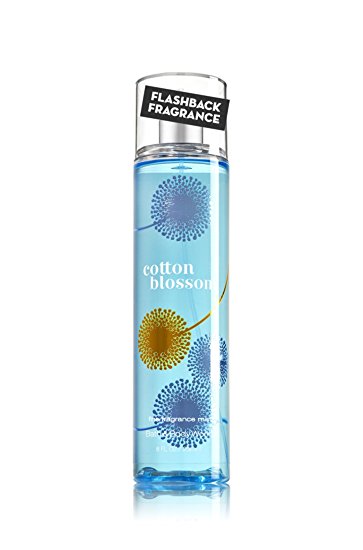 Price: $11.79 onwards
It goes without saying that Bath & Body Works, much like the name suggests, makes some of the best body lotions, shower gels, body mists, etc. The Cotton Blossoms range, however, gives the perfect blend of a flowery and fresh scent. This set of body lotion and mist is a perfect gift for your sista (Do people still say that? We don't know xD Let's just go with it). It is made Fresh Grass, Crisp Mandarin, Sun Dried Linen Accord,  Clean Cotton and White Musk, and smells of crisp air, cotton flower and soft white musk. If you've heard your friend crib about her dry skin, this is the best gift you can get her. And even if she doesn't have dry skin, these products make skin incredibly smooth and smell more than just beautiful. Your friend will definitely keep coming back to these after she uses them.
17. Bose Soundlink Mini Wireless Speaker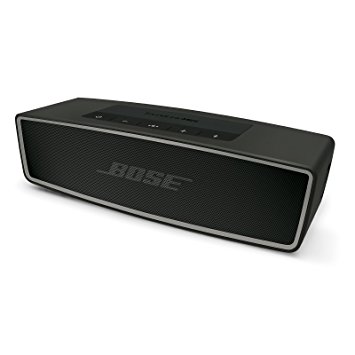 Price: $179
There's no better stress-reliever than music. Jamming out to our favourite songs is just the best feeling ever. Music has to be loud for us to really feel it in our veins, so the phone's volume just won't cut it out. But one can't possibly go around installing speakers everywhere. Technology has come up with a magical solution to this struggle (and entitled first world problem. But let's ignore that for now): PORTABLE SPEAKERS. Mind=blown. Okay, it's been a while since portable speakers have come up, but they really weren't that effective initially. However, now they're all the rave. This Bose Wireless Speaker can produce a very large sound and can pair with devices that are within a range of 30 inches via Bluetooth. It's not that heavy and one can carry them around with ease. Again, this one's not gender specific, which makes it one of the best gifts for your friend. With a battery life of 10 hours after fully charged, it's voice prompts talk you through pretty much everything and you can answer calls on speaker mode. It's super user-friendly and your friend can blast music whenever, wherever.
16. Lacoste Women's Square Scarf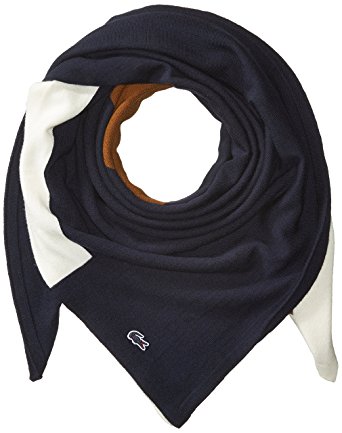 Price: $135
If you think scarves are not that great of gift, please watch The Confessions of a Shopaholic. You might buy one for yourself. Because everyone can't be 'The Girl in the Green Scarf', we have picked out this square scarf by Lacoste which is just as gorgeous, if not better. It is knitted and is made up of 55% wool and 45% cotton. The traditional scarves have quite lost their zeal and so this stylish square one is the perfect buy. Wearing a scarf makes a fashion statement and that's why i's in our list of best gifts for your friend. It's why you need to get it for her too.
15. Charles River Crosswind Quarter Zip Sweatshirt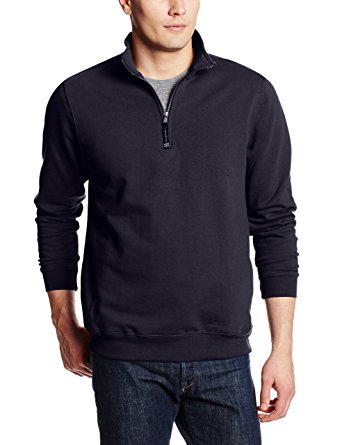 Price: $13.45 onwards
New clothes always make a great gift. One can never have too many clothes. NEVER. 'Tis the impossible. A sweatshirt is something you can get your male friend no matter how old he is. This Charles River sweatshirt is made of 60% of cotton and 40% of polyester and is equipped with side pockets. It offers a comfortable fit and is incredibly soft and durable. Its metal zip is of antique finish and the sweatshirt comes in various colours. It can be worn for a number of occasion, both formal and casual. Like we mentioned above, this item of clothing too is an investment because it can be worn almost everywhere. Your friend would absolutely love it and it might just become one of his most favourite clothes ever. We all have those days when it's too cold outside to wear just a shirt or tee, but not cold enough to wear a jacket over it. This sweatshirt will be your amigo's saving grace on those days. It's fashion meets comfort, so who wouldn't want this for a gift? After all this, even you may want to buy this for yourself. 
14. Jane Austen Coffee Mug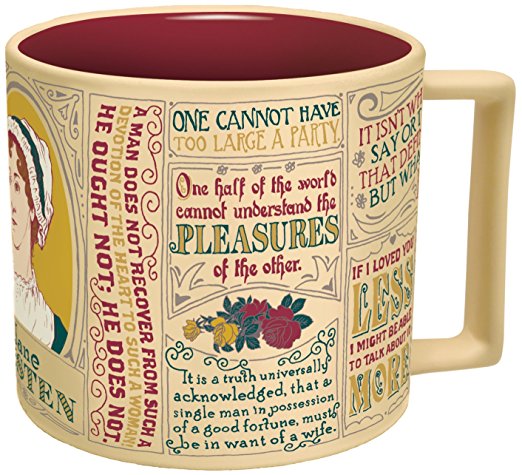 Price: $15.95
Coffeeeeee. Teaaaaaa. Hot chocolateeeee.
Mugs are great. Everything about them is. This mug is made of ceramic and has quotes from Jane Austen's books. You can get your friend more than just one because one cannot have too large a party. We think that more needn't be said about this and you should buy it stat.
13. HP Sprocket Portable Photo Printer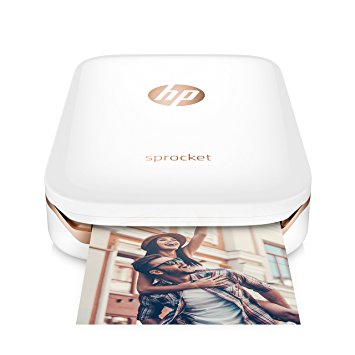 Price: $109
This requires NO INK. ZINK, baby! (Zero INK)
You set it up, charge it, and it's good to go. It comes with 10 sticky-backed photo paper sheets and  you can always buy more separately if needed. You can download the HP sprocket app and choose the photo you want to print. Then you connect your smartphone to the printer via bluetooth and choose the style. You can add emojis and stickers if you want to. Go crazy. It's your canvas, darling. And then you print it. Within a minute or so, your photo is ready!
You can have thousands of pictures on your phone, but it still won't match the feeling of flipping through a photo album and getting nostalgic over old memories.
This portable printer is an amazing gift and will make your pal more than just happy. We couldn't possibly make a list of best gifts for your friend without including such an amazing gadget in it. It's one of the most accurate examples to show us where technology has got us. It's so small that one can simply carry it around in their backpack or handbag. If you're still not convinced and are wondering if the quality of the pictures will be diminished, worry not, because the quality of the picture remains the same even after you print it. And imagine, the first picture your friend prints on this could be a cute picture of you two!
12. Urban Decay Naked Basics Eyeshadow Palette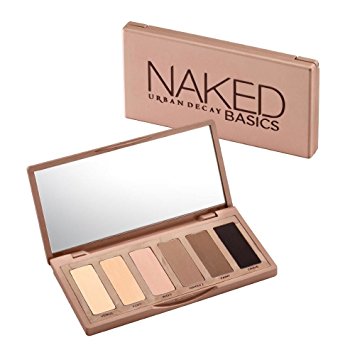 Price: $29
They say that the eyes are the windows to the soul. So it makes sense that one would want their eyes to look captivating af. And what better way to do that than put on some eyeshadow? No surprise that it's one of the best gifts for your friend. Now, if your friend isn't exactly fond of bold eyeshadows that are out there, you can still get this palette because it comprises of gorgeous matte nudes and is the first matte NAKED palette Urban Decay came up with and is one of the best till date. On the contrary, if she is all about those smokey eyes, you can buy her this one because this is a must have palette in every woman's beauty collection. The palette may look small, but has full-size shadow pans. They are profusely pigmented and stay on the eyelids for a long period of time. Its packaging is flipping B-E-A-UTIFUL and will make its user fall in love with it every time she takes it out. Beauty products can be a risky gift, because you never know for sure if they will work for the person you're buying them for. But like we mentioned above, this palette works for pretty much everyone. So don't worry, you will not go wrong with this.
11. Bar Kit by Bar Brat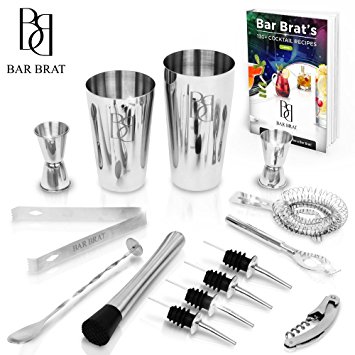 Price: $34.95
"One drink won't hurt."
                     – Beginning of every legen-wait for it-dary night ever.
Okay so, if your friend is someone who enjoys drinks and is always coming up with ideas for new ones, this is perfect for them. Or even as just a housewarming gift. Amongst the numerous thoughtless gravy boats that they'll receive, your bar kit is one that will most definitely stand out. Bar Brat has always been known for making great bar kits, and this one's no exception. It includes 2 double sided jiggers, a strainer, 2 cocktail mixing shakers, a corkscrew, a pair of ice tongs, a wine opener, and 4 bar pourers. Have you seen people jamming out to the Ketchup Song? (If you know the song by hear too, we can be friends.) that could be you and your bestie, except the ketchup would be replaced with cocktails. Amazing, right? This set also contains a recipe ebook by Bar Brat with over a 130 cocktail recipes that will be emailed to you after the purchase is complete. The packaging of these products is beyond just wonderful and this kit is undoubtedly one of the est gifts for your friend.
10. Preston Cross-Body Bag by Fossil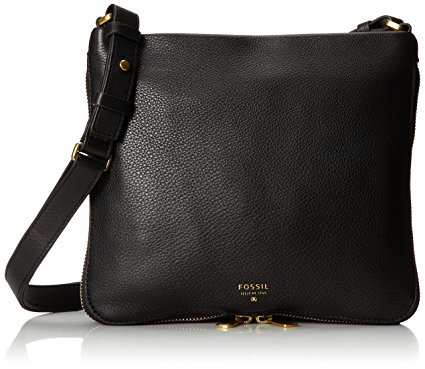 Price: $138.90
Carrying a backpack has become too mainstream, so we found this beautiful cross-body bag by fossil and can we just say, it is beyond alluring. This bag is made of leather and has a 23" shoulder drop. It comes in five attractive colours that you can choose from. Much like you can never really go wrong with clothes, you can't go wrong with accessories like bags. And it's Fossil. The bag would be great for everyday use and looks amazing. Don't you think your friend deserves to have something like this in her life? If you get her this gift, she could carry her baggage (both emotional and physical xD) in style. This square shaped bag can carry a reasonable quantity of things and is worth every penny. If you think your friend already has too many bags and getting her another one to add to her already overflowing collection would e an utter and a complete waste, we're afraid you are sadly mistaken. Because women can never have too many bags. Never in a million years.
9. Kane and Abel by Jeffrey Archer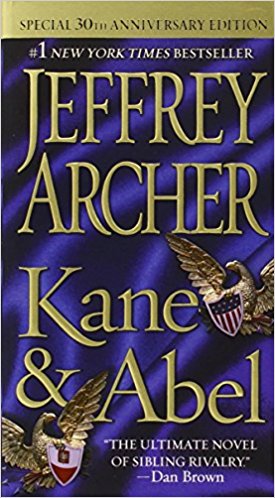 Price: $6.89
Buying a gift for a friend can be stressful, we understand. Speaking of stress, one of the best ways to get rid of it and escape into another world is to read a book. If your friend is a voracious reader, this could just be the best book they've ever read or if they are someone who'd just watch the movie instead (How in the world… Never mind), this could be an amazing start for them into the serenity that is reading. Kane and Abel is a book by Jeffrey Archer that's set in the tie of World Wars I and II. But it's not entirely about war or history, for it's a spectacular work of friction. It broadens your mind about so many things and is simply un-put-down-able, if that's even a word. The book relates to you like it's your cousin. It's about rivalry, betrayal, family, love, success, failure and so much more. Above all, if your friend thinks stocks is boring because they don't really understand it, reading this book would change their mind. No matter how many e-books you read, it will never match the feeling of reading a book. Also, can you hide a gun in an e-book? Just kidding just kidding.
This is a gift for all occasions and is one of the best gifts for your friend.
8. Womens Adrianna Sunglasses by Michael Kors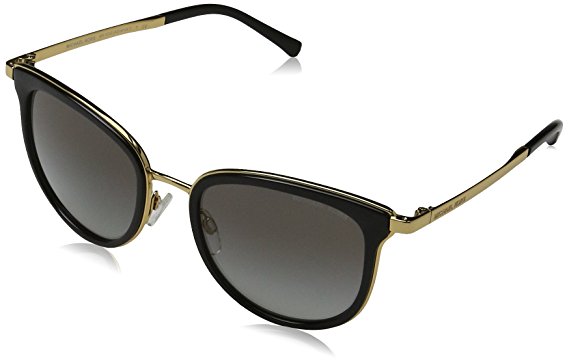 Price: $64.41
A pair of sunglasses is something everyone should own. Michael Kors bring out a tonnes of amazing products, but these Adrianna sunglasses are a favourite of many, including some of our famous celebs. So it's no wonder that this product's found a place in our compilation of the best gifts for your friend. These glasses have a composite frame with composite lenses and adjustable nose pads. The lenses also protect the eyes from UV rays. The Adrianna glasses come in a variety of designs and colour combinations, so you can choose the right one for your cute friend. It suits almost every face shape and if she enjoys being outdoors a lot, she'd sure wear this all the time. This pair of glasses can be worn all year around, not just in summer. More the merrier, right? Shades are always a great accessory and will never go out of style. After you gift your friend this, you will see her so happy and will thank us for sure. You are welcome in advance.
7. Fila Lightweight Rolling Duffel Bag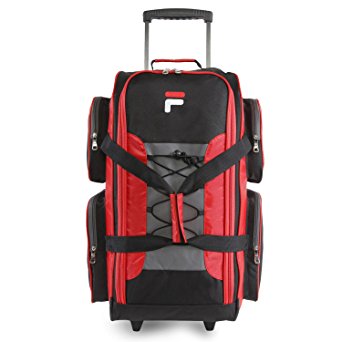 Price: $43.99
Travelling is more than just an experience, it's an emotion. So one wouldn't really want to be in the outdoors without being properly equipped with supplies. While Fila is a brand that's known to make sportswear of amazing quality, not many know that it also manufactures travel accessories like duffel bags. This lightweight bag might look small, but it can fit a whole lot of things. Whether your friend is someone who travels often or is someone saving up for a trip around the world, this would make a wonderful gift for him or her. Getting your friend something like a  a travel bag shows that you take interest in their hobbies and you're not just getting them a gift for the sake of getting them one. This bag's highly durable and can handle quite a bit of rough use. It's made of polyester and comes in a variety of colours. The bag, as the name suggests, is lightweight and is nothing like the bags which by themselves are heavy and mess with your airport experience. If your friend is not about wasting space with bags, they need not worry because this bag can be put in their closet or under their bed by flattening it.
6. Rampage Italie Riding Boots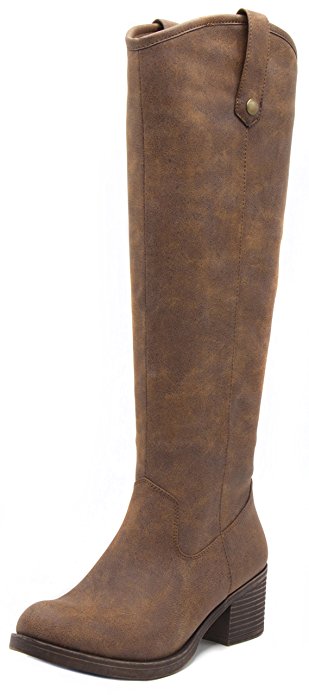 Price: $34.99 onwards
Cows are bae. Leather is bad.
If your female friend believes in this but still secretly loves the way leather looks, these boots are going to be one of the best gifts she'll ever receive. They are made of vegan leather and look absolutely stunning. Boots are a type of footwear that can be worn all year around and will make your friend's legs look sexier than ever. These boots by rampage come in three colours – black, cognac and dark brown tumbled. All these colours are pretty neutral and go with almost everything. They have heels that are two inches tall, which is not too tall or too short. Putting these boots on and taking them off is also an easy task because they come with a functional inside zipper. They look incredibly stylish and are suave. It also makes us incredibly happy that brands care about animals and are coming up with ways to save them by taking effort in making such products without compromising on their look. Even if your friend is someone who doesn't mind using and wearing leather products, she'd be happy if you got her these boots and told her that they were made of vegan leather. She might even stop wearing leather henceforth and resort to wearing vegan leather instead.
5. Fossil Nate Stainless Steel Mens Watch with Link Bracelet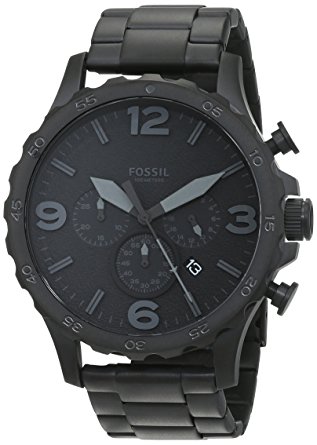 Price: $109
You know we couldn't possibly make a list of best gifts for your friend without having a watch in it. We included a lot of products that weren't really gender specific in this catalogue, so we decided to include a watch for the men. A Fossil product was already mentioned in this list, but we couldn't not include this watch because we're in love with it. The watch is black and has three sub dials which show the date, second and hours in military time. It is water resistant upto 165 ft and supports short swimming. Just like women can never have too many clothes and accessories, men too cannot own too many watches. In a world where almost everyone looks at their smartphones to check the time, this watch will make your friend want to look at it because it is absolutely beautiful. Such watches turn boys into men. Do your friend a favour and get him this watch. He wil forever be indebted to you for showing him the importance of time.
4. Kylie Cosmetics "Send Me More Nudes" Nude Liquid

 

Lipstick Set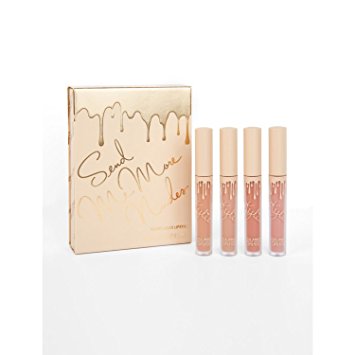 Price: $45
Everyone who looks at Kylie Jenner develops a crush on her. She went from bum to bootylicious so quickly and is always trending on social media. Her makeup line has been the talk of beauty enthusiasts all over the world for a while now, and her lip products in particular are a personal favourite of many. While wearing a bright lipstick shade may not be the cup of tea of many women, this nude lipstick set will surely not disappoint anyone. They are semi matte lipsticks and come in four gorgeous colours. They feel velvety and look subtle, yet attractive. Glossy lips are not really the trend these days, but this set is a boon for those who miss it as well as those who absolutely hated it. They stay on for a long time and require a touch up very rarely. And these shades also go with a large number of skin tones. If you're someone who hasn't the slightest idea about lipsticks, you can surprise your friend by getting her this set. Kylie Jenner has amazing lips and using her lipstick will make your friend's lips look just as great. Why should Kylie have all the fun?
3. Syma S107/S107G R/C Helicopter with Gyro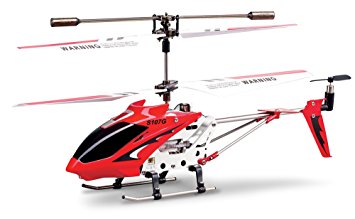 Price: $17.65
When we were kids, all of used to be really disappointed when we got anything other than toys as birthday gifts. Like what was the point of having a birthday party and inviting all your friends over if you couldn't eat a whole lot of cake and open awesome toys and play with them all evening?
Growing up, our priorities changed and we stopped receiving toys somewhere along the line. It's sad, but who says what you can gift each other toys after growing up? All of us are still kids at heart, aren't we? This remote controlled helicopter by Syma is a wonderful gift. Its flight is stable and is great for people who are new to helicopter flying. You don't even have to install a helipad xD The remote is battery operated. It comes in five different colours, namely red blue, whit, green and yellow. We've all played with some sort of remote controlled car, but only a few of us probably played with a remote controlled helicopter, so it's a good blend of the old and the new. You can buy one for yourself too and you and your mate can have epic helicopter races. Just be careful to not end up crashing them on the ground or getting them stuck o trees tough!
2. Beats Wireless Headphones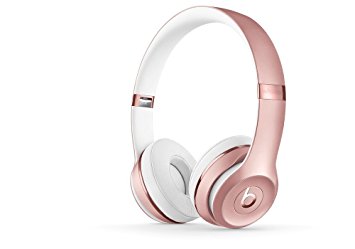 Price: $179.99
While earphones are small and convenient to carry around, headphones produce a standard of sound that earphones simply cannot meet. Wires can also be a hindrance while working or just relaxing, so Beats has come up with wireless headphones to help us out. You can carry a portable speaker everywhere, but you won't be permitted to play loud music everywhere. In such situations, headphones are the best solution. These headphones produce a quality of sound that is unparalleled and takes you to another world. It an connect with your smartphone via bluetooth and you can attend phone calls, control your music and activate Siri with the multifunction buttons on the headphones. Once fully charged, these headphones last upto 40 hours and can be used for a number of days without charging. It comes in a range of colours, but most importantly, it comes in rose gold (Best colour ever. So aesthetically pleasing). Even if your friend already ha a pair of perfectly functional headphones, we assure you that they'll be more than just pleases with the quality and durability of these headphones.
1. Waterman Hemisphere Blue Fountain Pen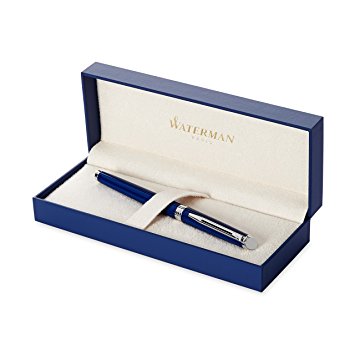 Price: $78.37
Topping our list of best gifts for your friend is this fountain pen by Watermark.
Stationary shopping. Right from when you're just a school kid to when you're a working professional, buying new stationary has always been a constant. Only difference is that you can buy luxury pens once you start working and paying your own bills because no one can stop you. If your friend is employed or not is irrelevant because pens make a great gift regardless. No one uses fountain pens anymore because no one's got the time to fill them with ink. But we can't just let them die. So you can bring it back by getting your friend this pen by Watermark. Manufactured in France, this pen is just as beautiful as the city. It is deep blue in colour and has a nib made of stainless steel engraved with the Waterman logo. Writing with this pen feels so smooth that you feel like you are writing on water. The feeling of penning your thoughts down with this pen or just signing your name with it will give you so much satisfaction. Writing with a fountain pen is also said to improve one's handwriting skills, so this gift will also be of help to your friend.