Gifts are considered an integral part of any relationship –be it platonic, by blood, or by love. Gifts help remind the person as to how much he or she means to you. Exchanging gifts with each other occasionally help strengthen the bond of friendship or love between two people. It is no hidden secret that everybody loves getting gifts. But, talking about women in specific, they love the most. So, if there is a special lady in your life to whom you want to show gratitude, then a "present" can be it perfect. To help you out, here are ten special thank you gifts for women that you can choose from.
10 Best Thank You Gifts For Women
Gifts make them feel, special, remembered and loved. The whole thought of getting special attention through a gift really makes women very happy. In fact, gifts are the greatest way to thank them. Exchanging gifts is an essential part of any healthy relationship –platonic or not.
Gifts are also used as a way to express appreciation for a person. What better way to thank women apart from giving them unique thank you gifts? Thank you gifts are the best way of expressing your appreciation towards something. But for an average person, browsing the internet regarding the best thank you gifts for women can be a bit daunting, especially if he is a man or someone, who isn't really aware of what the particular woman's taste is. Gifts are meant to be thoughtful and unique. So, to get the best thank you gifts for women –don't worry about her likes and dislikes, as most women are the same.
Here's a list of best thank you gift ideas for women:
1. An Amazing Ceramic Travel Mug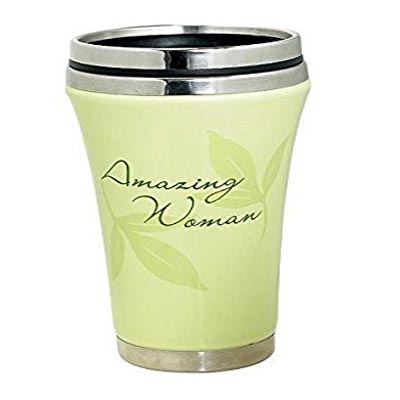 Price: $21
This unique travel mug holds up to 12 ounces and has "Amazing Woman" written on it –which is exactly who the gift is intended for. It includes a ceramic outer shell and a stainless steel lid, which makes it a very comfortable and useful gift. Also, features a plastic travel lid just in case. Ideal as a thank you gift to an "amazing woman", it measures about 6.25". This gift is compact, easy to carry and the perfect gift for any traveler.
2. A Scented Cucumber & Basil Spa Gift Set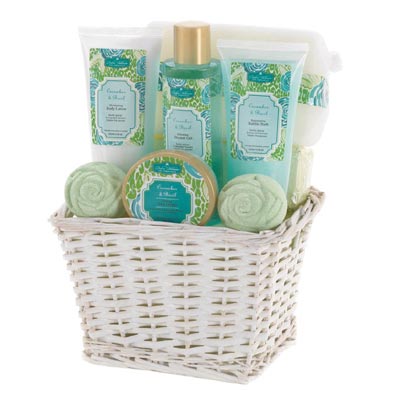 Price: $40
This spa gift set makes it feel as if you are at a spa inside your home. Featuring luscious fragrances of cucumber and basil, this gift set is perfect for a woman who loves self-grooming (which we guess most women do). It doubles as a wonderful thank you gift. It contains a shower gel, bubble bath, bath crystals and a body lotion. The entire stuff needed to make a spa at home.
3. A Chocolate Assortment Gift Box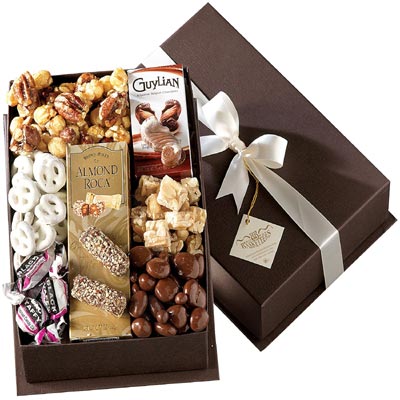 Price: $29.59
 This box of lovely treats is a great fit for any occasion. Hence, it works great as a thank you gift as well. All the contents are neatly packed inside a beautiful dark brown box. The contents of the gift box include peanut crunch, assorted toffees, chocolate covered cherries, Almond Roca, yogurt pretzels, Guylian Belgian chocolates, and some almond pecan popcorn. Neatly packed with a bow tie and a ribbon, this is exactly what a woman needs.
4. Thank You Candle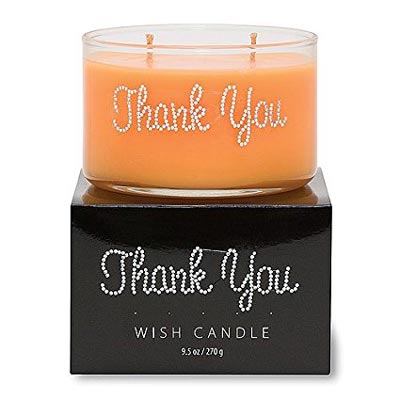 Price: $20.41
This candle works as a very thoughtful thank you gift for women, who are fond of light. This beautiful candle features two cotton wicks and is made from a soy wax blend –which produces a very luscious aroma of warm roasted chestnuts. It weighs 9.5 oz and makes for a very beautiful decoration item. The candle is placed on a base which says "Thank You", and the glass container of the candle also says "Thank You", a perfect way to express your thankfulness to a woman.
5. Green Tea Spa Gift Basket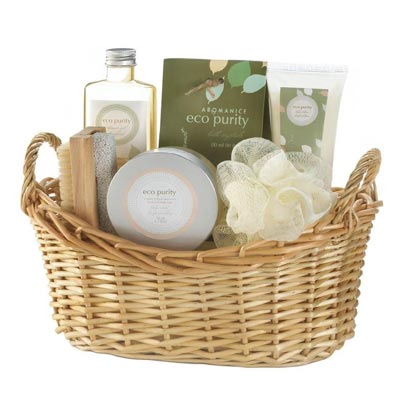 Price: $34.89
This green tea and spa gift basket is tailor-made for the nature lover. All the contents of the gift basket are enclosed inside a beautiful bamboo basket, which adds the beauty to the gift even more. The gift basket features a shower gel, body scrub, bath crystals, body lotion, wooden nail brush and a loofah sponge. Very ideal as a thank you gift for a woman, who loves to maintain her appearance. A very useful gift which is guaranteed to be appreciated.
6. Credit Card Protector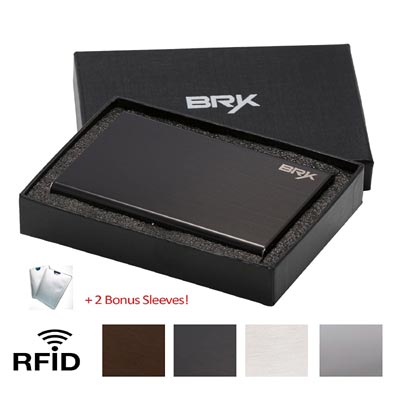 Price: $16
 This credit card protector is just what every woman needs. With a sleek and professional design, this card holder protects a woman's cards from thieves who use malicious devices to get hold of the credit card numbers. It makes for a very slim and stylish card holder as well. It also includes a lifetime guarantee against any mishaps. Perfect for a woman who enjoys shopping, it works great as a thank you gift.
7. Ivory Jewelry & Keepsake Box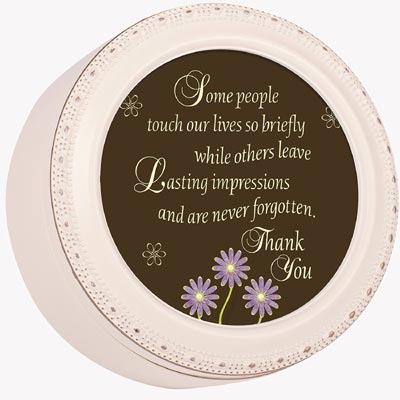 Price: $14.95
 This keepsake box can be personalized by getting anything writing on the lid. It makes a perfect and well thought thank you gift. Made from the top quality durable material, this keepsake box is made to last. The finishing on the box is done from ivory and gives a very sophisticated and detailed look.
8. A Silver Pendant Necklace (18-inches)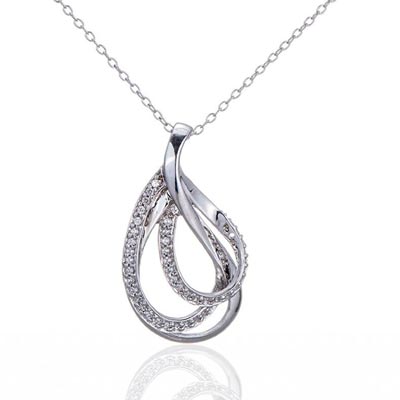 Price: $29.99
 This rhodium-plated sterling silver necklace is a very generous gift, fitted with white cubic zirconia –it is a very nice piece of jewelry. Guaranteed to be loved and appreciated by every woman. This is the best way of expressing your thankfulness towards a lady.
9. A Faux Leather Picture Frame (4 x 6)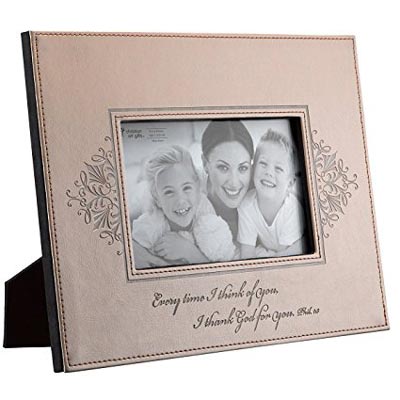 Price: $17
This beautiful and premium quality photo frame incorporate a verse of Philippians 1:3; "I thank God for you". And this is exactly what the message is supposed to be when gifting this photo frame made from man-made materials to a woman you want to thank.
10. A Secret Clock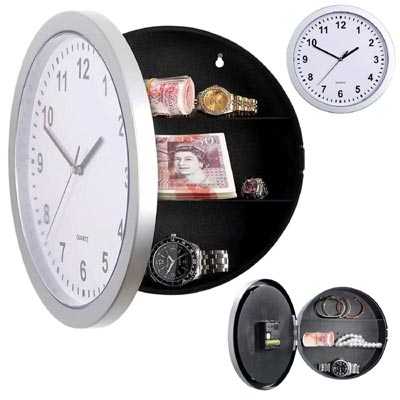 Price: $19.99
This is a very thoughtful, useful and unique gift. This practical home security solution is guaranteed to be appreciated by every woman. Modern, trendy and decorative, this gift doubles as a clock and as a hidden compartment to store valuable items.