11. The Weeknight Dinner Cookbook: Simple Family-Friendly Recipes for Everyday Home Cooking ($14.66).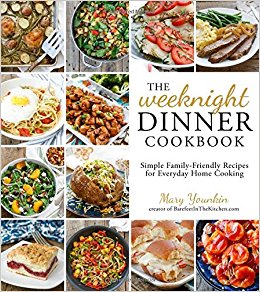 A cookbook is a great gift for a new couple to ensure that they can eat good meals together as well as learn new dishes to enjoy making together. The dishes from this cookbook are quick and easy to prepare, but the taste are all flavorful and delicious. All recipes are made from scratch, but rest assured that the book separates each of them by cooking time for you to be able to know what dishes suit your needs and time as of the moment.
12. Perlli Salad Bowl Set on Ice Chilled Serving Bowls – Multifunctional ($29.99).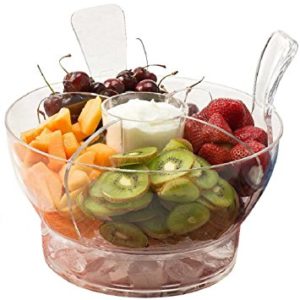 We all know how salads are staples on every dinner table. From all the salad bowls being sold, this one surpass the rest because not only is it affordable, but it is pretty conventional too. It has 4-way divider if you want to serve appetizers in different sections, but these dividers can be easily removed for a perfect salad mix to be served. It can maintain the food's coldness for more than 6 hours to ensure that they are kept scrumptious and delectable. It also includes serving utensils, dip cup and some spacious dome lid.
13. Famous Coffee Beans Beige Non-slip Kitchen Rug (Non-Skid) Kitchen Area Rug Rubber Back 3'3"x5' ($29.95).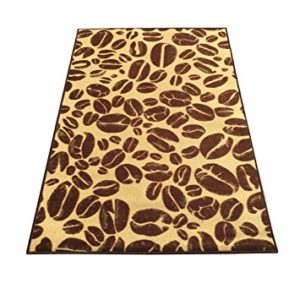 Beige always come in handy with whatever home design a person has. Hence, this coffee beans rug is a great choice if you want to present the newlyweds something that is unique and nice to compliment their home. This rug is quite safe considering that it does not skid. It is also easy to clean and stain resistant too! Moreover, the rug is said to be anti-bacterial, which eliminates any germs and pathogens along the way for a safer and healthier home.
14. Black Teavana Perfectea Maker: 16 oz ($19.95).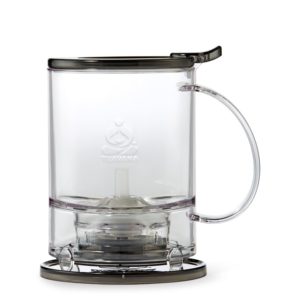 For tea lovers, this tea maker is definitely a great choice for a wedding present. It provides an efficient, simple and easy way to steep tea by simply adding the tea and correct temperature of water on the tea maker and onto the couple's favorite mugs. It has a patented drain mechanism which strains tea into the cup, but keeps tea leaves inside the tea maker. It is also a 4-piece tea maker which makes it easy for you to disassemble, clean and reassemble.
15. TCL 40S305 40-inch 1080p Roku Smart LED TV (2017 Model) ($267.26).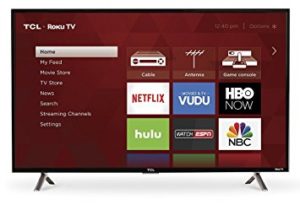 If you are an extravagant giver, then this particular television set is definitely a good choice to give as a wedding present. This smart TV offers access to an extensive 4000+ streaming channels which gives you more than 450,000 movies and TV series. It also has a high resolution with 1080p Full HD for a lifelike picture. This gift will either give an extra boost to the couple's living room or add more cool in their own bedroom, wherever they wished to put it on.
16. Custom names and date, hand stamped forks: vintage set by Lorelei Vella "flirtation" ($28).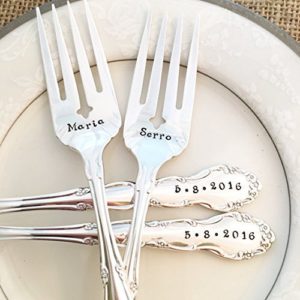 These are silver-plated forks that are perfect as a wedding gift or even as souvenirs. You can request for the names of the bride and groom to be hand stamped with the use of metal stamps, hammer, steel block and human hands for a perfect look. The date of their wedding can be printed on the fork's handle too, so that they will always remember when they tied the knot and that you were there to witness their union firsthand. The materials for this couple forks are vintage silver plate, but rest assured that they are never used and are all brand new.
17. Glodeals Elegant Stainless Steel Swan-shaped Tableware Set Holder for Fruit Fork/Spoon 6pcs, Wedding Gift Couple (Corrugated swan set with 6 spoons) ($29.60).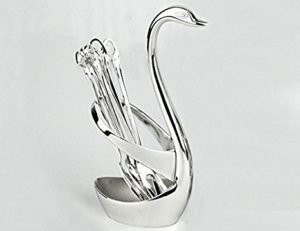 Swans are beautiful and mesmerizing creatures, and this gift will be a perfect addition to the new couple's tableware collections. Of course, they will receive a lot of dinner wares and utensils since most people will obviously give them those. However, this unique fruit utensils' holder will stand out because of its uniqueness and quality. Even if they won't use it, it will still be suitable as a kitchen decoration and will add elegance to their home.
18. Luxor Linens Signature Egyptian Cotton 6-piece Turkish Towel Set with Couple's Embroidery ($74).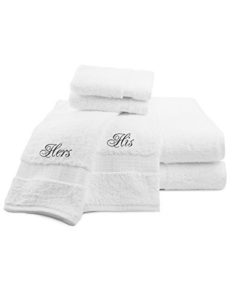 The towel set is a safe choice if you are undecided on what to give from the many choices listed here. The set has 2 bath towels, 2 wash clothes, and 2 hand towels. All of the towels are made with 100% Egyptian cotton and is made from Turkey. They can be machine washed and dried too. It also has a printed Mr and Mrs label to ensure that the couple will know which is his and which is hers in the bathroom.
19. Pyrex Easy Grab 28-piece Glass Bakeware and Food Storage Set ($45.99).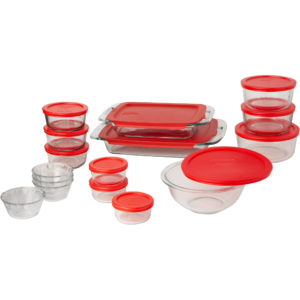 Pyrex is usually a staple in any American homes because it serves as a food storage and food preparation in one. All of the 28 pieces are made of nonporous glass that does not stain, warp or absorbs any odor. They are also microwavable, oven preheated, dishwasher, fridge and freezer safe. The lids, which are made from plastic, are free from BPA and are top-racked dishwasher safe too. Moreover, this product is purely made in the USA and comes with 2-year warranty.
20. BINLUN Rose Gold Silver His and Hers Gifts Couple Watches Waterproof Leather Bands Watch Set with Date ($119.99).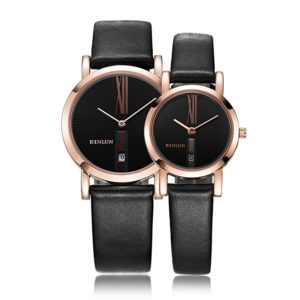 Giving watches are tricky, but it is one of the best gifts that you can probably have when you're invited to a wedding because there are seldom used as wedding gifts. A couple's watch is a good choice if you want to stand out from the crowd of givers. This BINLUN watch has imported Japanese quartz movement. It is also scratch resistant with its synthetic sapphire crystal and stainless steel case. The watch is also water resistant up to 30m deep and can withstand rain and other water splashes too. However, they should not be worn during shower or when out for a dive. The watches come in 2 year Amazon.com warranty provided by Asurion Consumer Solutions, Inc for all of the states with the exception of Florida Warranty for Florida buyers will be dealt with differently by Asurion Consumer Solutions of Florida, Inc.