21. Cuisineart CGG-180T Petit Gourmet Portable Tabletop Gas Grill, Red ($86.98).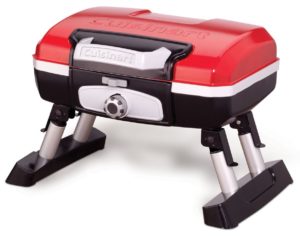 A griller should always be present in someone's house, especially if it is a family home so that the couple and their future children can enjoy some quality bbq time. This portable gas griller is so handy that they can bring it anywhere the family wants to go such as picnics and camping. It has a 145-sq inch grilling area as well as foldaway legs to make it more convenient for transportation. It can cook 8 burgers, 8 steaks, 4 pounds of fish and 6-10 chicken breasts all at once! This surely is a great wedding gift for any couples out there so to speak.
22. Stainless Steel BBQ Grill Accessories: 12 piece utensil tool set for indoor outdoor cooking – includes spatula, tongs, skews, brush & carving knife ($46.61).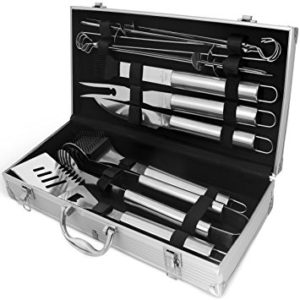 This stainless steel bbq grill accessories is a perfect gift! If they got a griller, a set of grill accessories is a must have too. Stainless steel is used to make the products to ensure that they won't rust. Each of the accessories' handle has a steel loop so that you can easily hang it when cooking. The spatula also has a bottle opener so that drinks can be easily opened whenever needed. The set includes its own case to keep it organized and convenient for transportation and storage.
23. Koldfront 18 bottle free standing dual zone wine cooler, black and stainless steel ($189).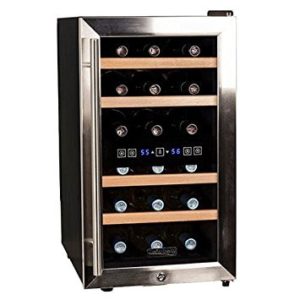 For wine lovers, a wine cooler is a perfect wedding gift – and a much loved too. This wine cooler features a dual zone thermoelectric cooling with control panel equipped with LCD that shows the temperature for both zones. It also has a tempered glass door and safety lock. The top zone can have a temperature range of 54 to 66 F, while the lower zone is between 46 to 66 F. This wine cooler is designed for standard-sized Bordeaux bottles only, and if they have bigger wine bottles, a shelf might be removed.
24. Rachael Ray 10-piece cucina nonstick bakeware set, latte brown with cranberry red handle ($76.25).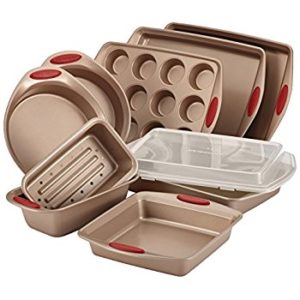 Baking sets are important in any households. This Rachael Ray set has durable carbon steel construction and rolled-rim edges which are made for daily use. Both inside and outside of the wares are nonstick for easy cleaning. There are also silicone grips that make it easier to grasp even with potholders on. The wares are safe to be used in oven for up to 450 F.
25. King Beer Queen Wine Glass ($14.99).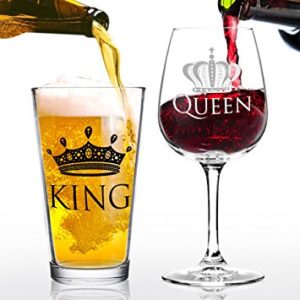 This beer and wine glass set is perfect for a newly married couple as they can enjoy their personal choice of drinks. The king and queen emblem also signifies that they are together as one – a king without his queen is nothing, and a queen without her king is no one. The large prints are easy in the eyes and do not wear off. They can be cleaned through dishwasher as long as they are placed on the top rack only. Furthermore, the glass set comes in with a sturdy gift box, which makes it easier for you to give away.
26. Wedding and Anniversary Gift by Unconditional Rosie – Set of two matching stainless steel flasks ($39.99).
The thermo set comes in a gift box and is perfect for any couples out there – whether it is their anniversary or they are celebrating their wedding day. The box is already beautiful making it a gift-ready package. This flask is perfect for coffee and will keep it warm for quite a long time. It is also made with durable stainless steel, is leak-proofed and BPA-free.
27. Hamilton Beach 63325 6-speed stand mixer ($79).
Hamilton Beach stand mixer has the same action as Kitchen Aid stand mixers though at a lesser price. The mixer has a complete bowl coverage which makes sure that everything is covered and mixed very well. It also has a powerful 300 watts motor as well as 3 attachments for mixing versatility. This mixer boasts of a better mixing quality than other 2-beater stand mixers, and is a perfect gift for a newly married couple.
28. Candelabra wine bottle topper ($24.95).
This candelabra is a unique choice for a wedding gift. It serves as a great decoration at the home of the newly married couple and will help light their household in a more distinctive manner. It can be a perfect centerpiece for a romantic table setting and just right for a wine loving couple as they can use their wine bottles to compliment this excellent piece.
29. Enkeeo Outdoor Cotton Hammocks Double 2 person 330lbs portable compact travel camping hammock with tree ropes and carry bag for patio yard garden beach ($18.99).
Hammocks are very nice presents for any occasion especially if the people you'll give it to love the outdoors. Whether it be placed on their patios, yards, or be brought on camping trips, this 2 person hammock will make the newlywed couple cozy in each other's arms. Won't it be nice to cuddle with the one you love on a hammock that you received during the day of your union? It sure definitely is and so this hammock is worth a catch.
30. Leaf design sofa side table ($19.99).
A unique table that can be slide up easily on the chair or sofa for convenience. Due to its sliding nature, it is easy for you to grab the remote, snack or whatever it is that you need from it. The table was designed in a way that the bottom slips under the sofa or chair for a close up fitting. It is also elegantly made with dark stained wooden top as well as burnished metal sides with a very detailed leaf design. This is without doubt a nice treat for the wedded couple to have as a furniture piece in their matrimonial home.