21. When a Child is Born, So is a Grandmother (Main Street Editions Gift Books) ($8.49).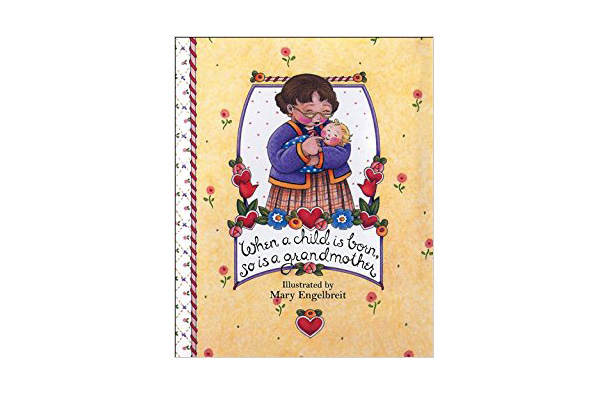 This book will be a nice gift for a new grandma or soon-to-be grandma. The book chronicles the essence of a tight bond between the grandmother and her grandchildren. As parents do the scolding and discipline, it is up to the granny to do the spoiling. And surely this book will help her learn the lessons of that kind of love that only she can give and share to her precious grandkids. Reading things such as this book will help the grandmother understand her connection to her grandchildren better. Though they are able to connect on their own, this book will still help shed insights and improve relations between them and their grandkids.
22. Grandma Gift Vintage Gold Magnifying Glass Round Pendant Sweater Chain Necklace ($6.90).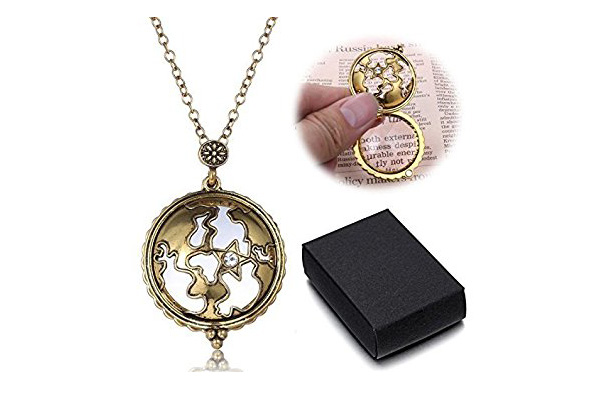 It is not new to us that old people will develop eyesight problems as they age. Hence, we won't be surprised if our grandparents will tell us that they have blurry eyes or could not see as much as they used to do. Even with the help of eyeglasses, there can still be some eyesight problems that may arise and carrying that huge magnifying glass is too much of a hassle and a shame. This magnifying necklace will do the trick. Not only is it a good accessory to improve your granny's wardrobe, but it will also serve a very functional tool to help her see what she needs to see.
23. LEGO City MiniFigure: Grandmother & Grandfather Couple Combo (60134) ($9.49).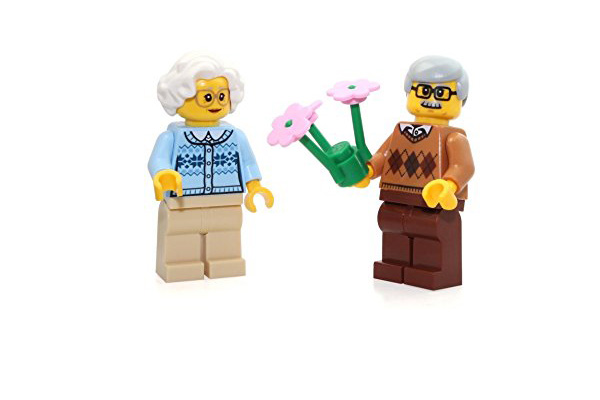 Who says LEGOs are for kids alone? This Grandmother and Grandfather LEGOs is a great gift for your grandma. Even if she could not play with it, this will serve as a home decor and a reminder of how lovely and sweet couple your grandfather and her is. Both LEGOs are 100% authentic LEGO product, and stand at around 2 inches tall.
24. Just Between Us: Grandmother & Granddaughter: A No-Stress, No-Rules Journal ($6.75).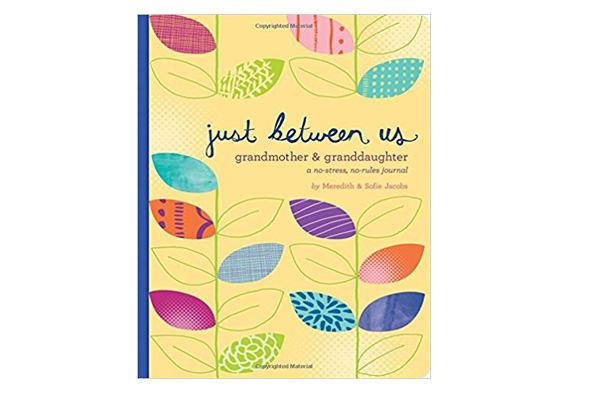 A journal is an excellent way to help grandmothers and granddaughters create the best memories together. The journal serves as a guide to an ideal grandma-granddaughter relationship as it will pave way for them to share stories, answer questions, record wonderful memories and even to offer advices to each other. There is also a portion where childhood dreams and family history can be discussed along with other likes such as recipes, books, music and more.
25. Grandmother & Granddaughter Infinity Heart Pendant, Unique Gift for Grandma ($34).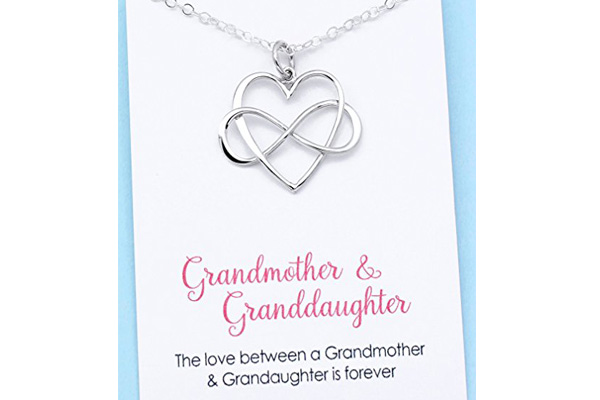 The love between a granny and her granddaughter will remain forever and this infinity necklace will prove just that. Like the infinity symbol, your bond with your grandma is for eternity. From the memories you cherished with her when you were still young up to the time you create your own family and she was there to offer you advices, this sterling silver necklace will be a witness to it all.
26. 3DRose Inspirationz.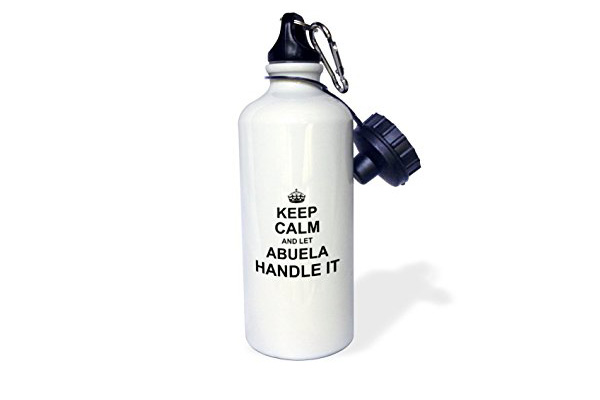 Store Personalized Name design – Keep Calm and let Abuela Handle it funny grandma gift 21 oz Sports Water Bottle. Made from stainless steel with a 21 oz volume capacity, this water bottle will ensure that your granny will be kept hydrated for the entire day. It is important for her to keep drinking water as it will help her health immensely. Warm weather and hot days are always around the corner so it is also best for your granny to have some handy hydration beside her. Since you have a water bottle to remind her that, surely she will start getting her right doses of liquid.
27. C Crane CC Skywave AM, FM, Shortwave, Weather and Airband Portable Travel Radio with Clock and Alarm ($89.99).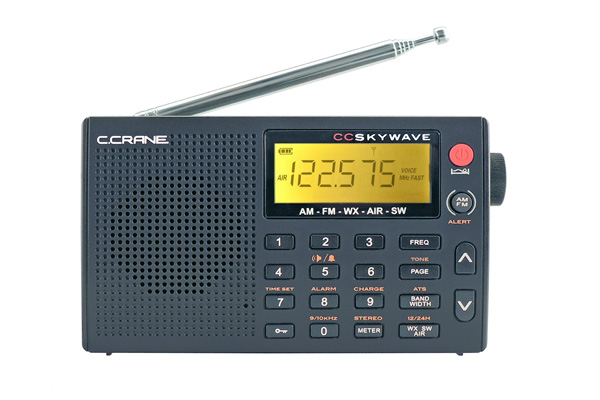 Old people, no matter where they are in the world, love to listen to the radio. From AM dramas to FM DJs, they would love to spend an hour or two of radio time. A small lightweight and portable radio, with an additional bonus of clock and alarm, is a great gift to satisfy your granny's love for music and sounds. When using a battery, the radio can run up to 60-70 hours at moderate volume. The product also includes a 1 year warranty and other radio accessories such as earbuds and carry case for a more organized and convenient transport.
28. Ninja Professional Blender and Nutri Ninja Cups BL660 ($99.99).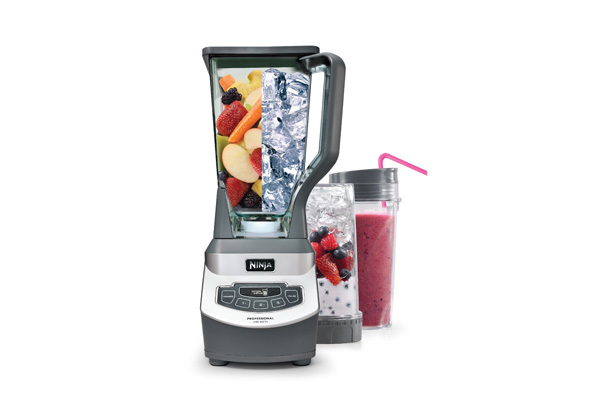 Fruit lover grandmoms needed this Ninja Professional Blender and Nutri Ninja Cups BL660. Consider their health, as well as their age. Maybe they can't perfectly grind fruits using their teeth or dentures so here is the answer. They can slice their favorite fruit, put it in the blender and tada! A fruit shake or if they wanted a little experiment, a fruit mix. The item includes a 1100-watt base, 72 0z. total crushing pitcher, 16 oz. nutri-Ninja cups with To-Go lids. You also do not need to worry about your grandma having difficulty washing it since it is dishwasher safe and is very easy and convenient to clean.
29. Spiralizer 5-Blade Vegetable Slicer, Strongest-and-Heaviest Duty, With 2 Exclusive Recipe E-books ($29.99).
A salad, or spaghetti lover granny? This Spiralizer 5 –Blade Vegetabble slicer is a perfect gift for her. It is a 3rd generation 2017 model and stronger than previous models. They can replace pasta noodles by veggies with the use of this tool. It comes with a recipe ebook filled with mouth watering, nutritious foods. And in addition, it has a lifetime no hassle replacement policy. The product was also featured in different shows such as The Doctors, Ellen and The Food Network, as well as on national magazines and newspapers in the country. This only proves that this item is one of the best in the market and will surely keep your gran healthy.
30. Oster Belgian Waffle Maker, Stainless Steel ($17.01).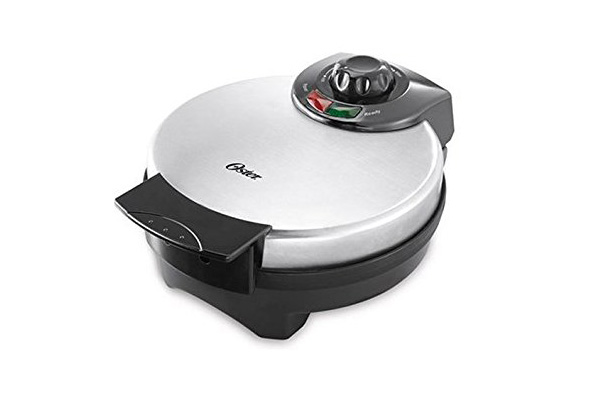 Grandmothers who love baking for her grand children will also love this Oster CKSTWF2000 Belgian Waffle Maker for only a cheap price. It has an adjustable temperature depending on the crispness and fluffiness they want for waffles. It has also a nonstick cool touch handles, power light indicator and 8-inch round baking plate.