11. Personalized Grandmother Necklace – DII – Mom Gift – Handstamped Handmade – 5/8 7/8 1 1/8 inch Cupped Discs – Custom Birthstone Color – Fast 1 Day Shipping ($28.98).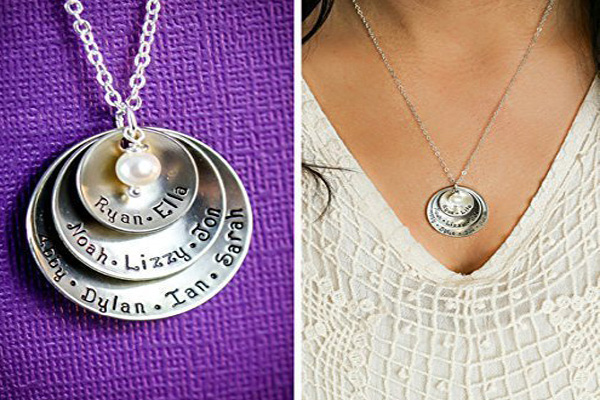 This customized necklace which can be stamped with your name and the other grandchildren's name is a nice gift to your grandma to help her remember every one of you. The necklace is assembled by hand using nickel silver material. The design such as the crystals and chains are also cut, wrapped and pulled together through amazing handworks. A necklace is a nice piece of jewellery which your grandma can use to accessorize her daily outfit and look fab on it.
12. Special Grandmother Flower Soap Set ($6.63).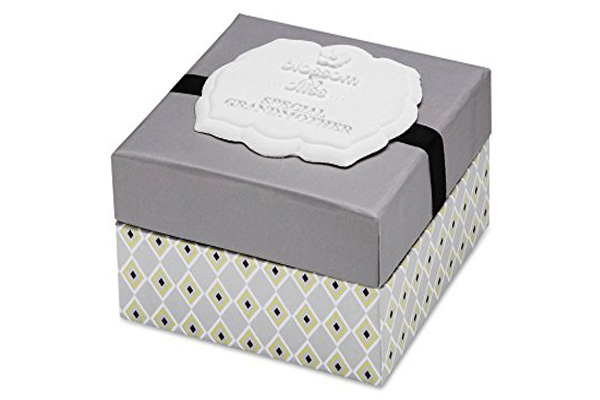 If you are on a tight budget, this is perhaps the best gift that you can give to your grandma. It is a soap gift set which contains 4 soap flowers (2 yellow and 2 white) for an ideal gift to one of the most amazing women in your life. This gift comes from Pavilion Gift Company's Blossom and Bliss collection, thus, it ensures great quality and mesmerizing scent. A flower soap set with its sweet fragrance is a good addition to your grandmother's shower routine as it will make her feel more refreshing and nice. It also comes in a beautiful and elegant silver box intended for a special grandmother.
13. Only the Best Moms Get Promoted to Grandma 4×6 inch Wood Picture Frame ($19.95).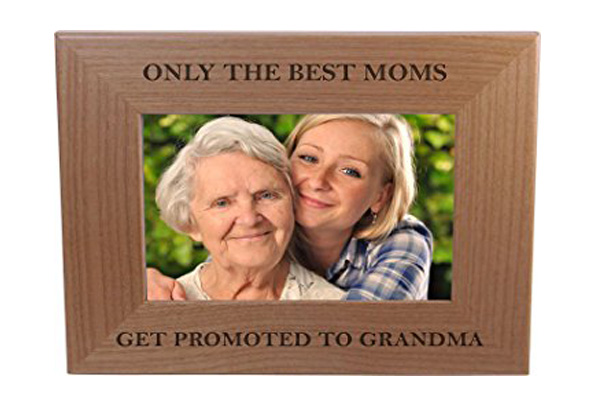 A photo frame is a good way to cheer your granny up with a nice family picture of you. It is a very classic and timeless gift that each and everyone will surely enjoy as they can see memories inside the photo in the next years to come. The frame is around 4×6 inches in size and the words on the wooden frame is laser engraved making it durable as it won't fade and fall off like other painted or printed items in the market.
14. Abuela Grandmother Love Hearts Cell Mobile Phone Jack Charm Universal Fits iPhone Galaxy HTC ($4.99).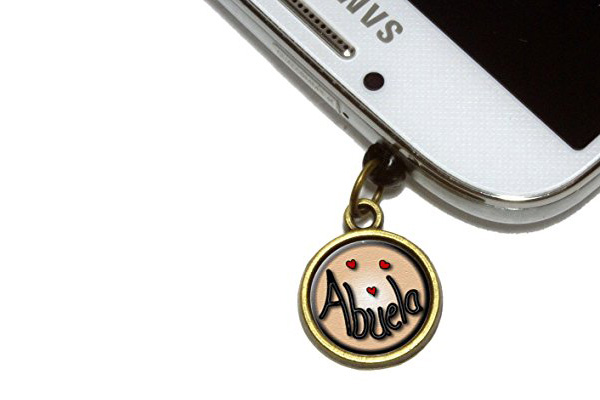 We said earlier that grandmothers usually do not like gadgets, but that doesn't mean that they are phoneless! Most grandmas nowadays have phones in their hands regardless if they know all of its features or not. If your grandma has an iPhone, then this phone charm with the word abuela – means grandmother in Spanish – is a good choice for a gift. The product is made of both metal and plastic and will ensure that your grandma will always remember to give you a call to check on you.
15. Pavilion Gift Company 19092 Beloved Grandmother Terra Cotta Candle Holder ($16.02).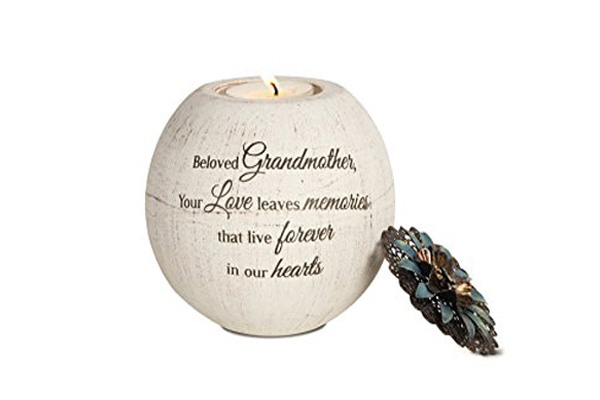 Another gift sake from Pavilion is this simple yet elegant candle holder. It reads, "Beloved Grandmother, Your love leaves memories that love forever in our hearts." As memories of growing up usually fade or become a blur, this ideal gift will help assure your grandma that she will always be remembered no matter what happens. It also comes with an attractive box and is ready for gift giving as soon as you received it.
16. Grandma Message Stone 3 ½" ($9.99).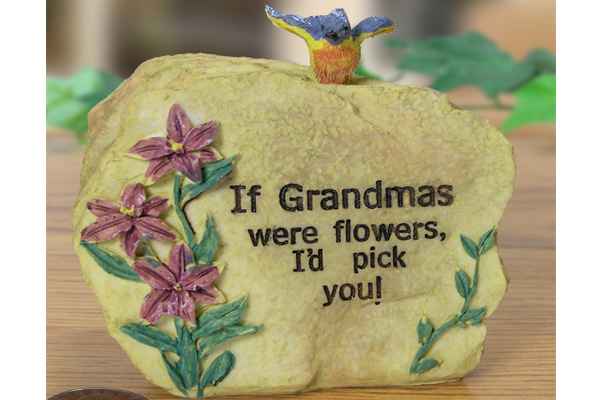 Grandmothers are easy to please especially when it involves flowers and gardens. This garden stone is a great garden or house decorative which will make your grandmother squeal with delight. It is a realistic polystone rock with a carved message on the front saying, "If Grandmas were flowers, I'd pick you." This will make your grandmother happier and prouder that she is your grandma.
17. 100% Organic Blend of Olive, Lavender, Almond & Grapeseed oil with Vitamin E Daily Moisturizer ($14.99).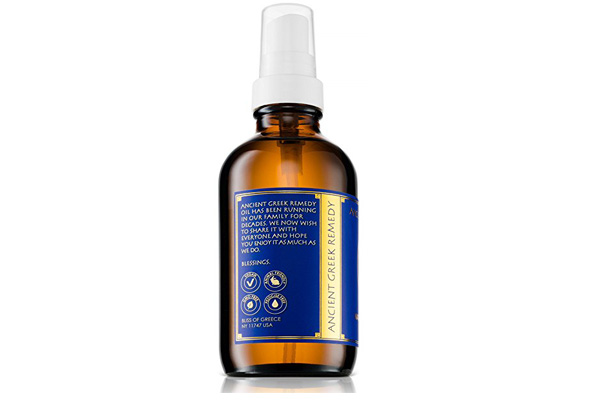 As people grow older, their skin becomes dry, hair becomes thinner, and nails become brittle. This daily moisturizer will help your grandmother deal with all of those issues in one bottle. This organic moisturizer is wonderfully created and totally vegan. It is Non-GMO and paraben free, which will assure you that it is practically safe to use for sensitive skins as no harmful chemicals are added.
18. I'm Your Favorite Grandchild Funny Coffee Mug 13 oz Capacity Glass Gift Mugs Humor US Home Goods ($12.97).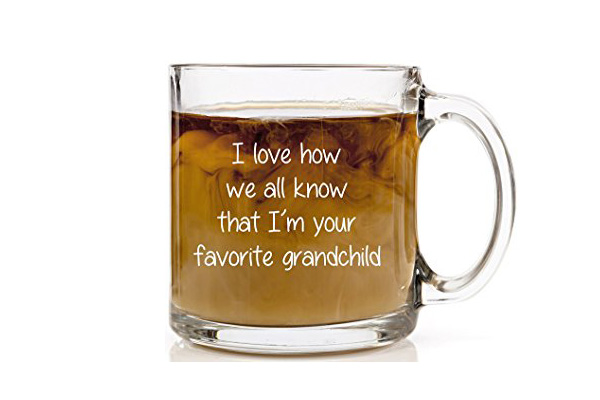 A good laugh is always an excellent gift. Make your granny laugh with those humor mug. You might or might not be her favorite grandchild, but who cares anyway? She might decide a yes after she receives this self-proclaimed gift mug from you. Every drink using this mug will make your grandmother smile and think of you often too.
19. ROMWE Women's Floral Print Short Sleeve Tops Striped Casual Blouses T-shirt ($9.99-$12.99).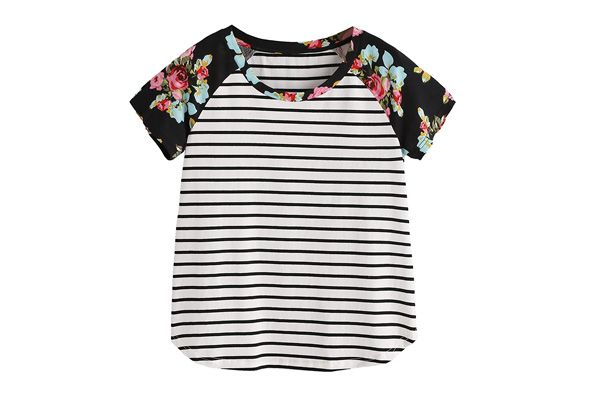 Granny needs a shirt! Since grandmas are old, they sometimes find it tiring to go shopping for their wardrobe improvement. And so you need to rescue grandma's failing wardrobe by adding bits and parcels of clothes to it. This floral and striped top will definitely good look on your grandma. People like her loves floral designs as it is timeless and doesn't age as they do. Just remember and be aware of her size so that you will know the perfect clothing size to buy.
20. Shappy 73 Pieces Basic Sewing Knitting Crochet Tools Set Sewing Kit Accessory with Case ($6.98).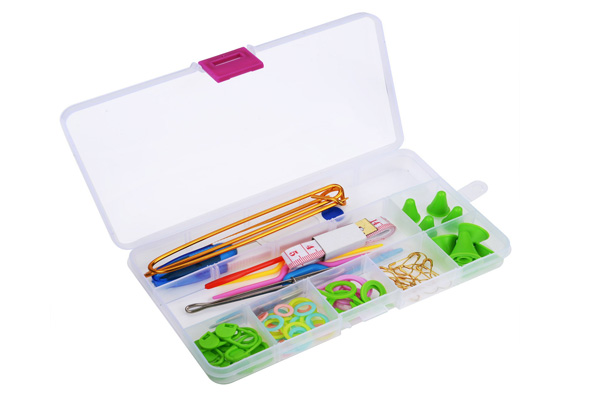 This is a portable sewing case that is easy for your grandmother to carry wherever she goes. Sewing, knitting and crocheting tools will help ease your grandmother's boredom wherever she maybe as she can keep herself busy with doing some sweaters or bonnets for you and the rest of the family. This set includes all the basic needs for this craft so that your grandma won't worry about anything. Just make sure that your grandma still has a good eyesight for her to be able to do this craft. It'll be useless to purchase a kit if your grandma already stops sewing, crocheting or knitting due to eyesight problems.