31. Wilton Recipe Right Nonstick 12-Cup Regular Muffin Pan ($6.38).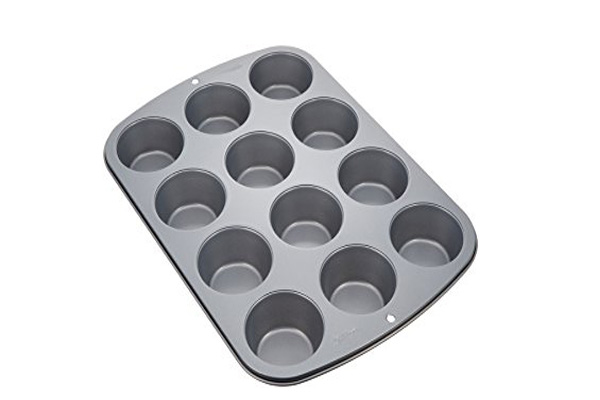 Children do love muffins, so as grandmoms. This nonstick muffin pan is already a good deal. Grannys will love to bake muffins for her grandchildren after school with this tool. It is an easy cleaning, dishwasher safe material. It also has a heavy-gauge construction that can guarantee an even-heating performance for wonderful and delicious muffins ahead. So if your granny enjoys baking some home-made goodies for you, better grab this item now as there is no better food than home-cooked meals.
32. Scentiments GRANDMA Gift Candle Vanilla Scented Fragrance ($. A perfect gift for a perfect grandmother ($18.97).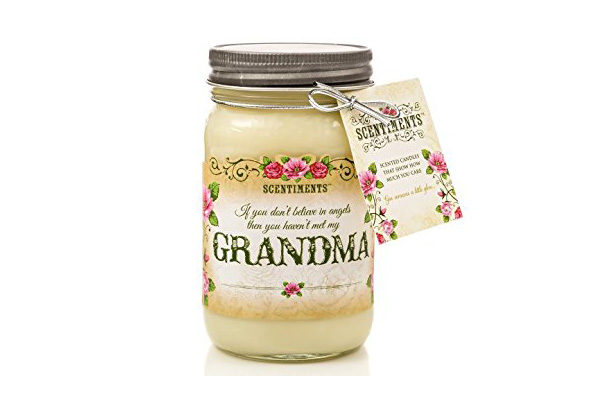 They brought light to your life, and now you can return the favor by offering them light with this simple yet beautiful present. This scentiments GRANDMA Gift Candle Vanilla Scented Fragrance is 16 oz. It comes with a gift card you can personalize. It is also recyclable. Once the candle is gone, the mason jar from which they are placed can be use as tea bag holders or a button keeper.
33. Grandmother Gifts for Grandma Heart Shaped LED Décor ($12.99).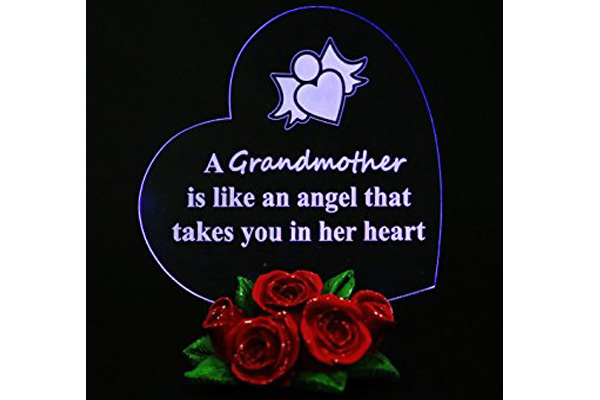 "A Grandmother is like an angel that takes you in her heart", a message etched in this acrylic mirror and a perfect for desk décor. This it has a perfect lighting for dark environment.  They can use it as display at the top of their bedside table and will remember whoever gave her this present. Battery is already included on this item, and they can last up to 72 hours.
34. Pavilion Gift Company 78017 Grandmother Angel Figurine with Twine String, 4-1/2" ($3.34).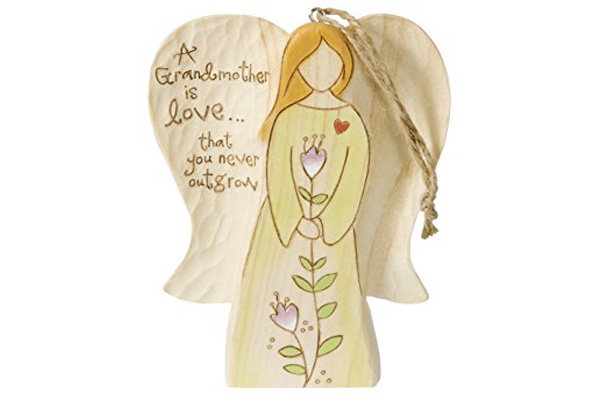 Angel items are great choices of gift for grandmothers, hence, there are lots of angel stuff on this list. This is because grandmothers are more likely an angel to us. "A grandmother is love, that you never outgrow." Text written on one of the wings of an angel. It also includes a twine string for hanging as well as a pretty gift box that is ready to go.
35. Cathedral Art GVC109 Glow in The Dark Guardian Angel Visor Clip, Grandma 1-3/4 inch ($10.25).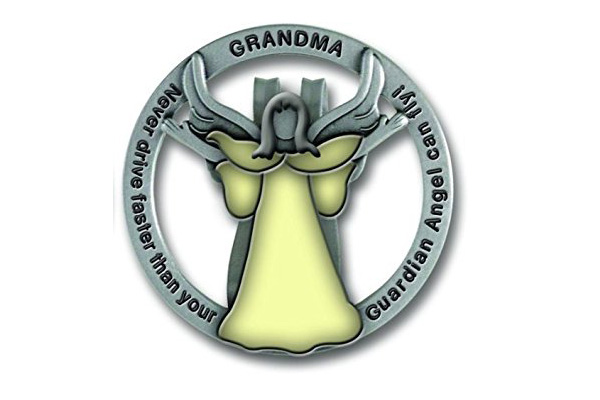 Take grandmoms in our heart, they are our angel during our darkest hour. Now you can be an angel to her.  If you do not like the above mentioned visor, then you can definitely have this angel visor one.  "Grandma, never drive faster than your guardian angel can fly." A meaningful message etched in the item. It can be attached to her car visor and can hold papers as well as for her safe travel. The visor includes a back clip to make sure that it is strongly secured in the area and that you won't get distracted by it while travelling.
36. I Love You A Bushel & A Peck Wood Finisg Jewelry Music Box – Plays Tune You Are My Sunshine ($31.85).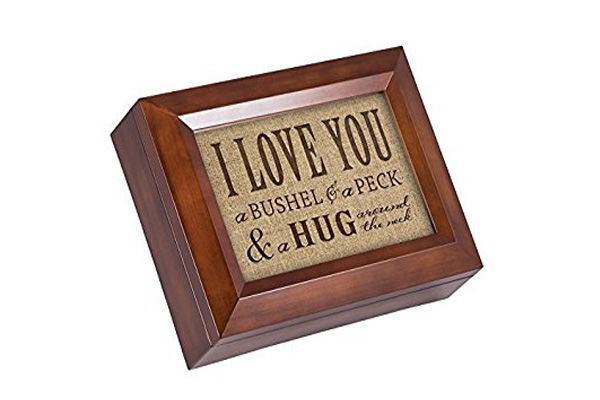 If you do not like the Amazing Grace background music for the other musical box and would rather prefer a more upbeat song, then this one is a good choice. Grandmothers can put their jewelries here and can listen to the tune of "You are my Sunshine." It will remind them that they became sunshine to your life. Its dimension is 8x6x2.5 inches and has a photo frame lid where you can replace a 4×6 personal photo.  This certainly is an elegant present for your grandmama.
37. Poland Love Forever Long Stem Dipped 24k Gold Foil Trim Rose, With the Clear Crystal Stand ($36.99).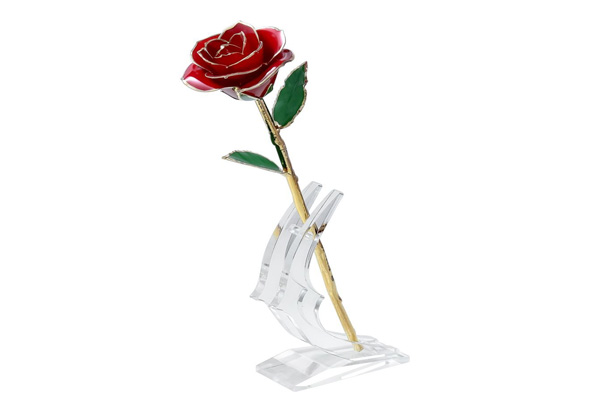 An astonishing and elegant rose plated and dipped in 24K gold to preserve the rose for a lifetime. It measures 11 inches and includes a sturdy flower box. The color of the rose is deep and luscious red, and there are gold trimmings on all of the petals' edges. You might think that this is not a real rose, but it is very much real. The rose is an actual fresh rose and you can even see the vein clearly on the petals. Grannies will love this so much.
38. Omnihone Essential Oil Diffuser 300mL Cool Mist Humidifier Ultrasonic Aroma Diffuser, Waterless Auto Off, Wood Grain, Brightness Adjustable ($17.99).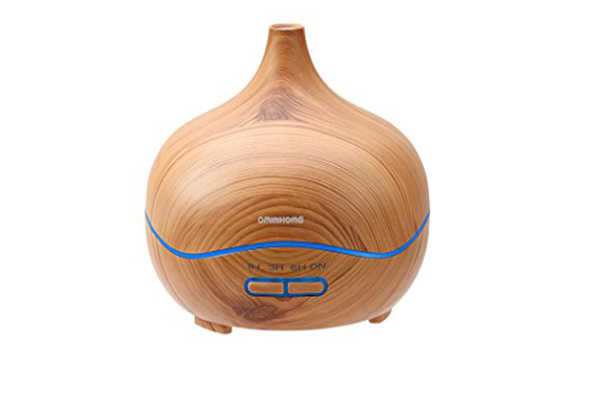 Grandmothers need a fresh scent and aromatic atmosphere and this is the perfect gift for her. This home décor includes aromatherapy, humidifier, air purifier, anion generator, and cute night light. Your grandma won't be disturbed in her sleep because its sound is only 35decibels. It has also an auto off feature for potential security problems if it becomes waterless already. This product is very user-friendly and it is perfect for grandmothers who hate learning complex operation manuals.
39. Handmade Preserved Fresh Flower Rose with Acrylic Crystal Box – Romantic Small Gift Ideas ($9.99).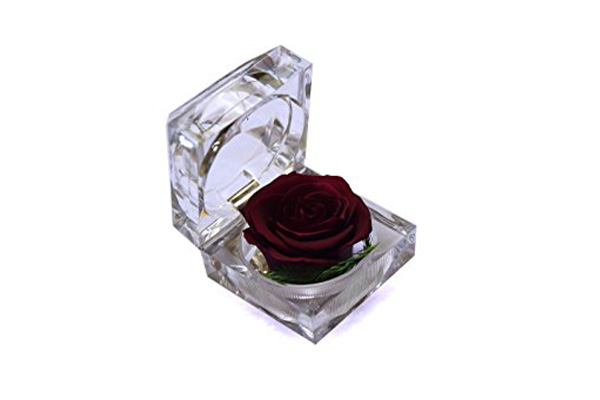 This eternal flower is a perfect gift for grandmoms whose love is eternal. It might be small, but it will bring big impact to them. That even in this simple gift, they'll feel special. The preserved rose will not dry and will not fade. Instead of giving an actual rose that may cause some allergies due to the presence of pollen, it is best to give this one instead as it has anti-allergy properties too. Moreover, it comes in acrylic clear crystal case and a metal gift box which is an elegant way to shower your grandma with an ideal gift.
40. EGI – Set of 3 Flickering Flameless Candles With Remote Control and Timer – Romantic LED Candles – With Live, Love, Laugh Decal – Made with Real Wax ($19.95).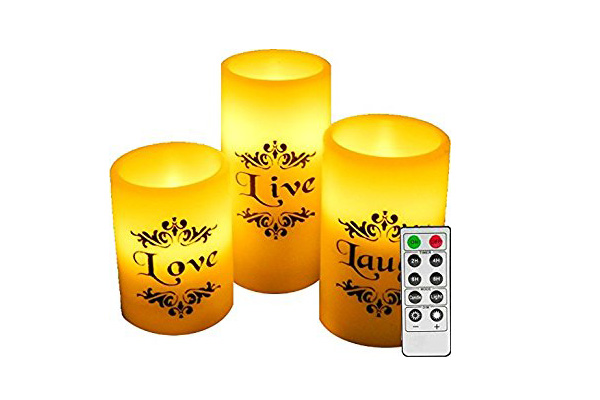 This is a perfect gift for special moments, most especially during birthdays. It is a perfect room decoration on table top. Grannies will love it so much because the item includes remote range by 20ft! It also has a natural flicker as well as timer. And it is made in real wax which makes it close to a real candle.